People have grown more and more sun-phobic while forgetting the powerful healing benefits of sunshine. One way to reap the benefits of light, without the risk of skin cancer is using infrared light.
Those of us who experience Season Affective Disorder may benefit from 15-20 minutes of daily infrared light therapy. Lifting the mood is not the only benefit of healing light therapy, check it out:
Benefits of Infrared Saunas
Boosts the immune system
Improves overall well-being
Detoxifies the body
Weight loss & increases metabolism
Lowers chronic pain
Reduces side effects of diabetes
Eases joint stiffness
Reduces stress
Increases collagen production for better looking skin
What are infrared saunas?
Regular saunas use heat from a fire, hot rocks, or other materials to raise the temperature inside a small room, often made of wood. Sweating in a regular sauna is thought to bring benefits due to the release of toxins.
Infrared saunas, on the other hand, use heat and light to accomplish the same type of detoxification. The light from an infrared sauna penetrates the skin without heating the air inside the sauna chamber. Lower temperatures mean that a person who is not heat-tolerant can reap the benefits of saunas.
Infrared saunas are more effective than heat saunas in that they help the body perspire at about 80% water and 20% waste and toxins, where traditional saunas are approximately 97% water and 3% waste and toxins.
What's the difference between far infrared and near infrared?
The wavelength of the light is what differentiates between far and near infrared. Near-infrared has wavelengths closer to the red wavelength, which contains more energy. Some experts say near-infrared wavelengths penetrate up to 4 inches into the body. In addition, near-infrared is said to stimulate the mitochondria so that they release nitric oxide and boost ATP production which has a healing effect on cells.
The majority of infrared saunas are "far" infrared which is a lower-energy infrared wavelength. Far infrared sauna light heats the body which causes detox by causing the human body to perspire. When the body produces sweat, it removes harmful elements out of the body's fat stores rather quickly. However, because far-infrared uses low-energy wavelengths some experts say it provides minimal health benefits.
Some experts suggest that far-infrared saunas also give off electromagnetic fields (EMFs) which do more harm than good.
A "near" infrared sauna uses light within the same spectrum as sunlight. Almost 50% of the energy from the sun is in the near infrared spectrum. Because our bodies use this particular type of energy to produce vitamin D, it is crucial for maintaining health. Near-infrared provides relief for many issues due to its effective penetration of the body tissue.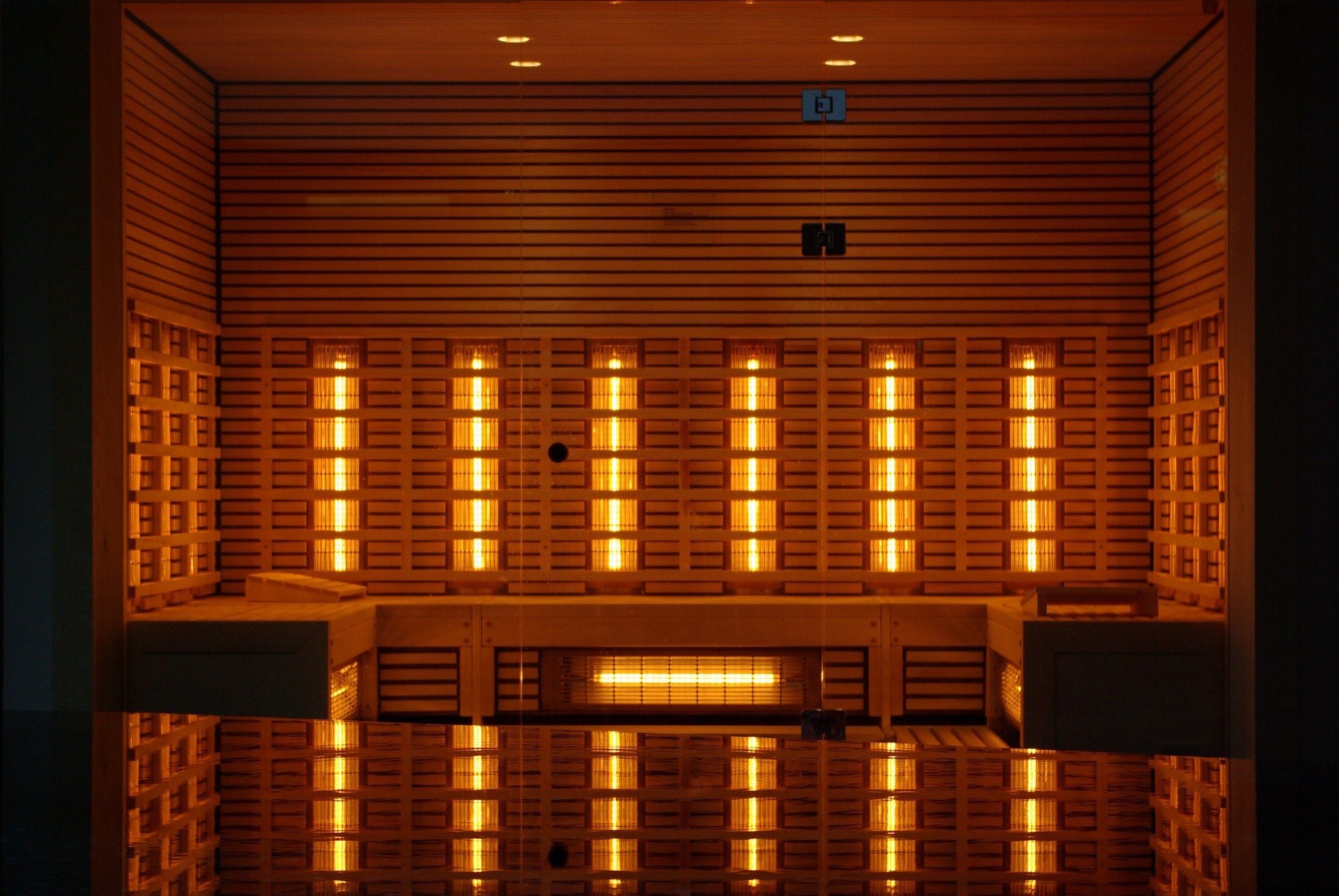 The near-infrared sauna uses light to activate a biological process in which healing takes place. When used correctly, infrared saunas are considered one of the safest and most effortless ways to detoxify the body of harmful toxins.
Near-infrared is believed to penetrate the skin and reach deep inside the body to produce a heat that promotes healing. Near-infrared are comfortable to use and are easy and safe to use.
Full spectrum infrared saunas offer near, mid and far infrared.
Detoxifying through the skin also eliminates complications that often come with toxins being stirred up internally in your system (and generally causes unwanted symptoms), by giving toxins an easy exit through your pores. More pleasant than a internal cleansing, that's for sure.
More research needs to be done for conclusive evidence of the benefits of infrared sauna treatment. Although, many experts do recommend using infrared saunas for the elimination of various toxins, including medications, heavy metals, alcohol, nicotine, and other carcinogens in the bloodstream
Some fitness centers, spas, or saunas may provide the use of an infrared sauna or you could consider purchasing one for your home. Look for a sauna that are designed to provide the lowest possible EMF and ELF exposure.
In the beginning, try infrared therapy for about 10-15 minutes per day, working your way up to 30 minute sessions. Make sure to hydrate throughout the day with lots of mineral water.
If you have heart problems, take medication, have sensitive skin, or have any other health condition, it's best to talk to your health care provider before starting using infrared therapy.