First what is rosacea? How do I know if I have it?
The most common signs of Rosacea include a flushed, red face with sensitive, dry skin. Small bumps or pimples may also occur similar to acne-like breakouts, often with visible blood vessels. The skin may burn, sting, or feel itchy, and sometimes all three at once. A dermatologist can determine if you have rosacea by examining your skin and asking you questions.
So what causes rosacea?
Skin disorders such as eczema, psoriasis, dermatitis, or itchy skin are all symptoms of poor liver function. Rosacea and even acne can also be caused by an overworked liver.

Is Rosacea caused by liver congestion…
A dermatologist may help you determine a treatment route that works for you. I've gone to dermatologists specifically for Rosacea a number of times.
A dermatologist may prescribe oral antibiotics such as tetracycline, doxycycline, and minocycline. They may also prescribe medication in the form of a topical application such as metronidazole gel in an attempt to calm any inflammation in your skin. If you try to avoid the overuse of antibiotics, you may want to seek another route to calm inflammation.
In addition, dermatologists often prescribe other medication in the form of gel or creams such as Azelaic acid to apply directly to the skin. These topical medications are not typically considered safe for pregnant women and may cause side effects. Again, these methods of treatment are not for me.
Look for Redness Relief
My skincare routine consists of a few powerfully effective products chosen for the moisturizing and ongoing hydration that they deliver. Products which contain calming ingredients are worth looking into. Try to choose fragrance-free when possible as it may irritate your skin.
Over the years, I've tried so many different products to reduce redness.
One of the largest studies in rosacea patients was conducted in 1997 by the National Rosacea Society involving 1023 patients; of these, 82% reported irritable skin, with burning or stinging sensation, when using cosmetic products, especially those with the greatest potential to interfere with the skin barrier, such as exfoliating, soaps and tonics. 2
The skin barrier is what we need to work on keeping intact so that we can use products that help to improve the symptoms of rosacea flare-ups.
Ingredients Matter
Ceramides are the molecules that hold your skin cells together. Think of them as your body's unique sealing agent. A waxy lipid particle that keeps the bad stuff out (toxins, bacteria) and the good stuff (hydration) in. Lower ceramide levels are associated with skin dryness and reduced skin barrier function.
People with rosacea tend to have lower levels of ceramides. Most people with rosacea tend to have dry skin. As we get older we tend to have lower levels of these ceramides which can lead to flaky dry skin.
Some skin care products contain ceramides, and you can also find supplements that contain them. You may find them in products formulated for anti-aging as well.
For these and other topical products avoid menthol, fragrance, chemical exfoliants, alcohol, and other drying agents or irritants.
However, it is not necessary to search for oil-free products. If you do happen to have oily skin or prefer oil-free, there are plenty to choose from.
According to estheticians, the ultimate skin care routine consists of multiple steps. However, when you have a particularly bad flare-up you may want to avoid rubbing your skin any more than you have to.
In the case of severely irritated skin or breakouts, you might want to do the minimum for your routine:
a gentle cleanser
hydrating moisturizer that will eliminate dryness
Proceed with Caution
PATCH TEST a new product to see if your skin will react to it. Start with a small amount on your neck just below the jawline, not on your arm, as facial skin may react even if your arm doesn't. If you feel burning, itching, stinging, go ahead and rinse it off.
The Detox Market (where I buy my skincare products) will accept returns and exchanges within 30 days from the shipping date or in-store purchase. If you try something and it doesn't work, you can exchange or get a store credit.
Another tip, avoid rough cloths on your face when cleansing. If my skin is really sensitive, I will wash my face with my hands and avoid the cloth. Use a makeup sponge or your fingertips to apply makeup if synthetic brushes irritate your skin.
My skin care routine differs depending on whether I am removing makeup or just cleansing my skin. In the morning I do a less intensive cleansing routine that is mostly to moisturize my skin. At night the routine is a bit more involved as I need to remove make up and SPF residue from the products I've used during the day.
You've probably tried tons of skincare products, just like I have. With the help of my daughter, who is an esthetician and has studied dermatology, I have created a routine that works for me. These products are a bit more expensive than what you'll find at drugstores, but not as expensive as what my dermatologist tries to sell me. In addition, these products are toxin-free and in some cases use organic ingredients.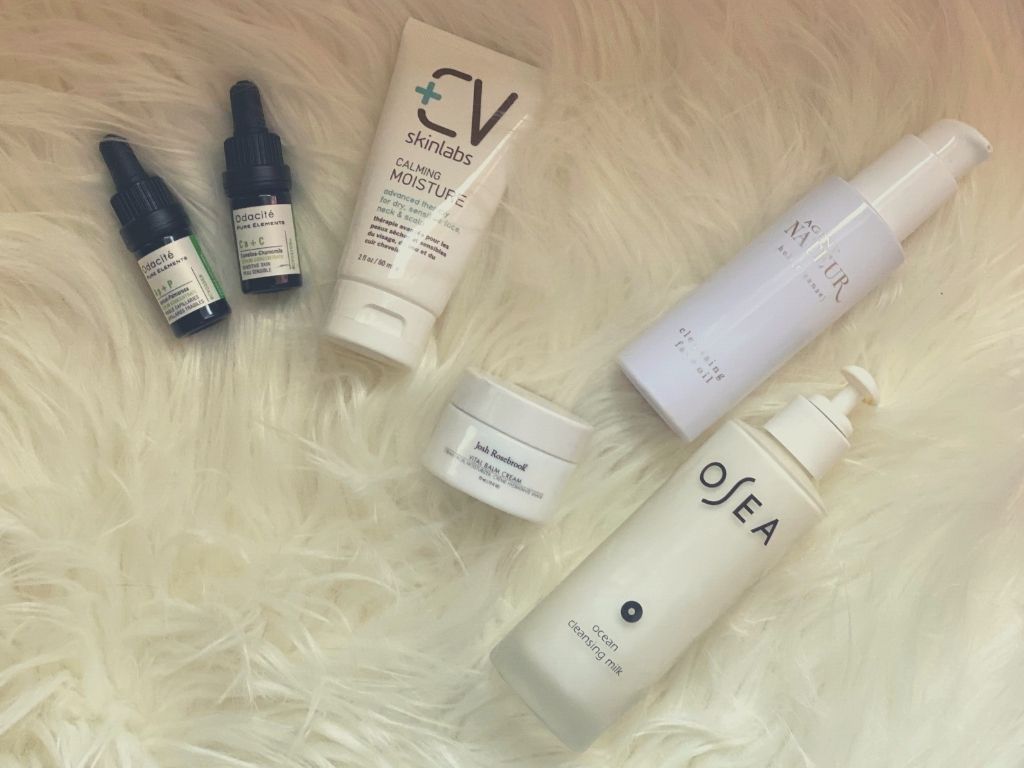 Rebecca's Skin Care Routine
Skin Care Routine for Rosacea a.m.
Cleanser – Ocean Cleansing Milk – An ultra-gentle cleanser for those with sensitive, mature or sun-damaged skin. Highly effective and calming for rosacea. Osea's Ocean Cleansing Milk is a creamy wash that quickly soothes inflammation and redness while moisturizing dry skin. DPHP a plant-based amino acid compound is added to firm and restore elasticity.
Moisturizer. CV Skin Labs Calming Moisture is an antioxidant-rich moisturizer that calms redness and deeply hydrates. The ingredients repair chronically dry and flushed skin and leaves behind a healthy glow. It was created for all sensitive skin types, so it is ideal for soothing irritated skin. (Including from microdermabrasion, laser treatments, retinol use, chemical peels, excess sun exposure or chemotherapy.)
Serum with hyaluronic acid or one that contains the antioxidant vitamin c
Moisturizing primer with broad-spectrum sunscreen for the face. Worn alone or under foundation, it has light-diffusing minerals that improve the appearance of my skin. This CC Cream contains organic aloe juice to hydrate, decrease inflammation, ease redness, and diminish the appearance of small lines. Bonus, it contains 10% zinc oxide to protect the skin.
Skin Care Routine for Rosacea p.m. (when I am taking off my makeup)
Other Tips to Reduce Symptoms of Rosacea
Dermatology is not the only route for managing symptoms of rosacea. Here are some alternative routes I've taken to improve the appearance of my skin.
Flare-ups can occur after drinking coffee, alcohol, or spicy foods. Instead of eating these, try following an anti-inflammatory diet for a month to see if it results in fewer occurrences.
Sun exposure can exacerbate redness in the skin, especially for those of us with rosacea. Always apply an SPF to facial skin, you can use a moisturizer or primer that contains zinc oxide.
Rosacea-prone skin is also heat sensitive, so you may notice after being in a hot room, your face tends to flush. One trick I use to keep my face from getting overly red in a hot room is to have ice water nearby to drink. If the ice cubes are small enough, hold one in your mouth occasionally to cool your face from inside out. (It may sound silly, but it works!)
Drinking plenty of water to help keep your liver flushed of toxins.
Get tested for H Pylori – "Epidemiological investigations and experiments have confirmed that H. pylori infection is associated with the development of rosacea." The study concluded, "It is suggested that rosacea patients should be tested for H. pylori infection, the H. pylori-positive rosacea patients should be treated with the eradication of H. pylori, so as to enhance the therapeutic effect of rosacea" 1
Consider the possibility that you could have low stomach acid or low enzyme activity in your digestive system.
Use quality skin care products. I have learned to always select products for sensitive skin.
Supplements that can help
Supplement with Cordyceps. A mushroom superfood that has powerful anti-inflammatory properties and may benefit acne and rosacea as well as gut health. (I began taking it for stamina before I realized it was also helping to reduce inflammation!)
Niacinamide twice daily at 500-800mg twice daily has been said to help due to antioxidant and anti-inflammatory properties.
Bottom Line
Having rosacea makes skincare a bit more complicated, but it can be managed. You can still love the skin you're in with a little TLC.
Skincare can be a bit pricey. I use these products sparingly. For me, they are worth every penny when it comes to the confidence I gain when my skin looks good. Personally, I'd rather give up coloring my hair than to skimp on skincare products.
No matter what you choose to care for your rosacea; take care of your skin from the inside out. Drink plenty of water, eat nutrient-dense whole foods, and take care of your liver. Some foods that naturally help improve skin barrier include avocados, eggs, wheat germ, brown rice, and sweet potatoes.
As for your skin; using body lotion on the face is not advisable. Make sure to choose a moisturizer that is specifically for the delicate skin on your face.
Sources
1 – https://www.ncbi.nlm.nih.gov/pmc/articles/PMC6042414/
2 – https://www.ncbi.nlm.nih.gov/pmc/articles/PMC4782648/