Last Updated on June 29, 2022 by Rebecca Huff
Everyone in the family will be happy with these make your own sushi bowls since there are options for both sushi-rice and a low-carb option for those of us following a grain-free, paleo, or ketogenic lifestyle. The beauty of this recipe is that it uses smoked salmon; that means you can keep the ingredients in the fridge and throw it together at a moments notice.
If you are new to preparing sushi or sushi rice, the first thing you will want to do is rinse the rice. In our video demonstrating a sushi recipe for beginners you will see how we prepare regular sushi rice.
The ingredient in these sushi bowls that makes this recipe special is definitely the low-carb rice. Don't be limited by my recipe, use your own imagination to come up with different ways to make a sushi bowl. If you don't have miracle rice, it's no problem! Just use riced cauliflower to fill the bottom of the bowl. The addition of the seasoning, coconut aminos and rice vinegar will make it taste so much like your favorite sushi roll, you won't care that it's not sushi rice!
I like to add extra seaweed such as Wakame or Dulse flakes. If you want to go for a fusion sushi bowl, you could add in some kimchi, tastes delicious. Another option is pickled sushi ginger. We always use Yum Yum Sauce on stir-fry and it goes great on sushi bowls as well.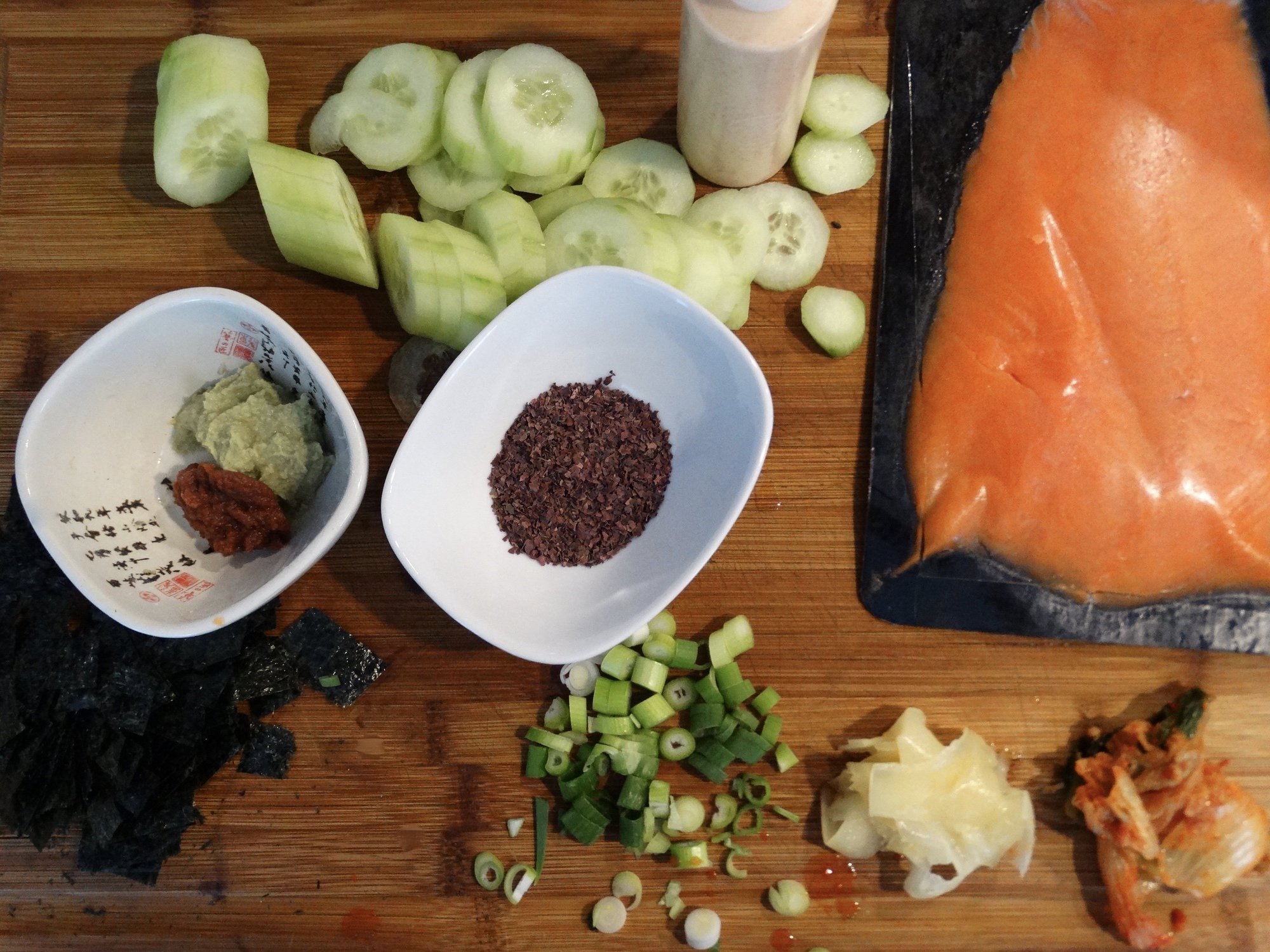 I typically do not measure ingredients, but eyeball them. If a recipe becomes a favorite I'll try to come up with more exact measurements so that others can get the same results. I do recommend using your own taste buds as your guide especially in a recipe like this. You may even like to add a tiny bit of sweetener (whatever you prefer) to the riced cauliflower to make it taste more like sushi rice, though I have found that coconut aminos lend a sweetness to the dish that makes additional sweetener unnecessary. That will not happen if you substitute soy sauce or tamari.
Here's a short video to give you an idea how they can be varied to accommodate different dietary preferences within the same family.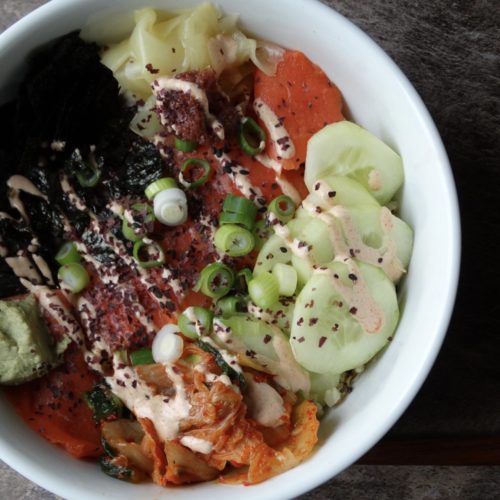 Sushi Bowls

Dairy Free

Gluten Free

Keto

Low Carb

Sugar Free

Trim Healthy Mama
Let's face it, sushi is delicious but rolling it is time consuming. Why not grab all that flavor and throw it in a bowl? Here's one of my all time favorite go-to meals.
Ingredients
2

cups

riced cauliflower

1

package Miracle Rice

optional, if preferred, simply use 100% riced cauliflower - 1-2 cups per person

1

cup

cooked rice per person

cooked separately for those not following low carb

Rice wine vinegar

Toasted Sesame Oil

Coconut aminos

Everything But the Bagel seasoning *see note

4

oz

Smoked Salmon per person

1

small cucumber per person

1/2

avocado per person

Nori

one square per person

Wakame

optional

Wasabi

optional

Umeboshi plum paste

optional

1

recipe Yum Yum Sauce

optional
Instructions
Prepare sushi rice for family members not eating low carb, if using.

Add 1 teaspoon toasted sesame oil to sauté pan heat to medium, then add riced cauliflower.

Prepare low carb "rice" by double rinsing Miracle Rice and adding it to the pan with cauliflower.

Season "rice" with 1-2 teaspoons rice wine vinegar, 1 tablespoon coconut aminos, 1 tablespoon (or more) Everything But the Bagel seasoning. *see note

Meanwhile, peel and slice cucumbers, avocado, and slice salmon. 

Mix wasabi if using powder.

When rice is cooked prepare bowls by putting 1 cup per bowl, then arranging sushi ingredients on top.
Notes
If you don't have Everything But the Bagel Seasoning, just use sesame seeds, garlic, onion powder and a pinch of salt.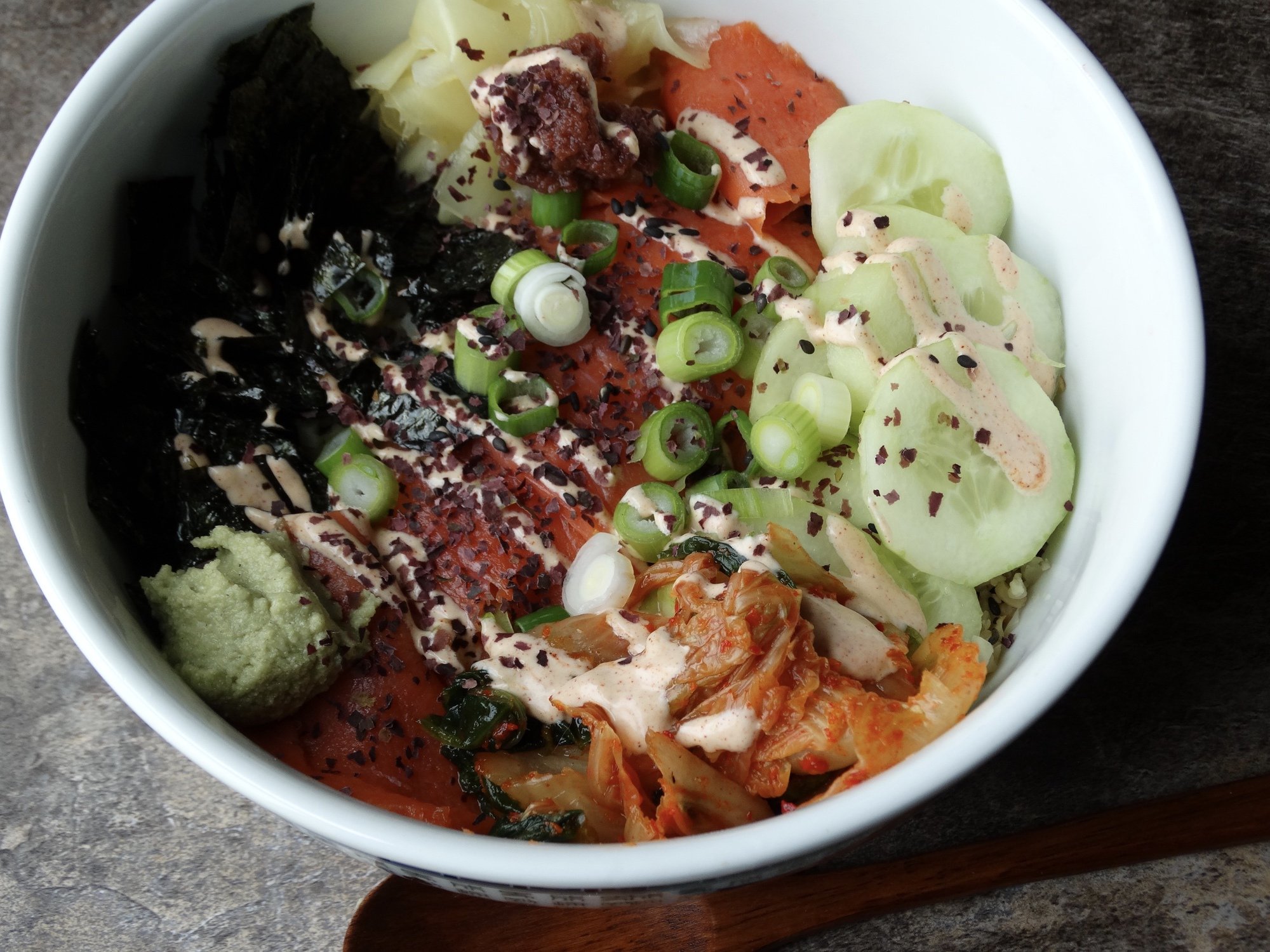 Family Sushi Bowl Recipe Supply list:
affiliate links
Miracle Rice (I order it in a 6 pack): https://amzn.to/2DTXnb3
Zojirushi 10 cup rice cooker: http://amzn.to/1KL6B5x
Rice Washing Bowl: http://amzn.to/1KL6Lde
Rice Paddle: http://amzn.to/1JwZzF9
Eden Wasabi Powder: http://amzn.to/1JwZCRn
Sushi Sonic Real Wasabi: https://amzn.to/2umyLbd
Umeboshi Plum Paste: https://amzn.to/2I2HMYY
Organic Pickled Ginger without food colorings and other nasties: http://amzn.to/1JwZDVk
Nori sheets: http://amzn.to/1V7XvHF
Sushi rice: I purchase this rice at my local Asian Market in a 10 pound bag, but here's a 5 pound bag: http://amzn.to/1KL7gnE
Wakame: https://amzn.to/2pJdW4n
Wilton Squeeze Bottles are what I use for applying sauces: https://amzn.to/2pJWZqp
The coconut aminos I use come from Trader Joe's but here's another brand I use: https://amzn.to/2Gac3J1
I tried to list everything that I used here, but if I left something out, mention it in the comments and I'll try to find the link. We make these all the time so I make many variations of the sushi bowl. Sometimes my kids like to add a little cream cheese like in a Philly roll.
Nutrition information without optional items

Nutrition information with optional items, including yum yum sauce
If you give this a try, make sure you let your camera "eat first" and share the picture on social media, I'd love to see your bowl creation so tag me!
People always ask where I get my cute bowls; we love to shop at our locally owned Asian stores for bowls and chopsticks. Google Asian supermarkets and see if you can find some near you!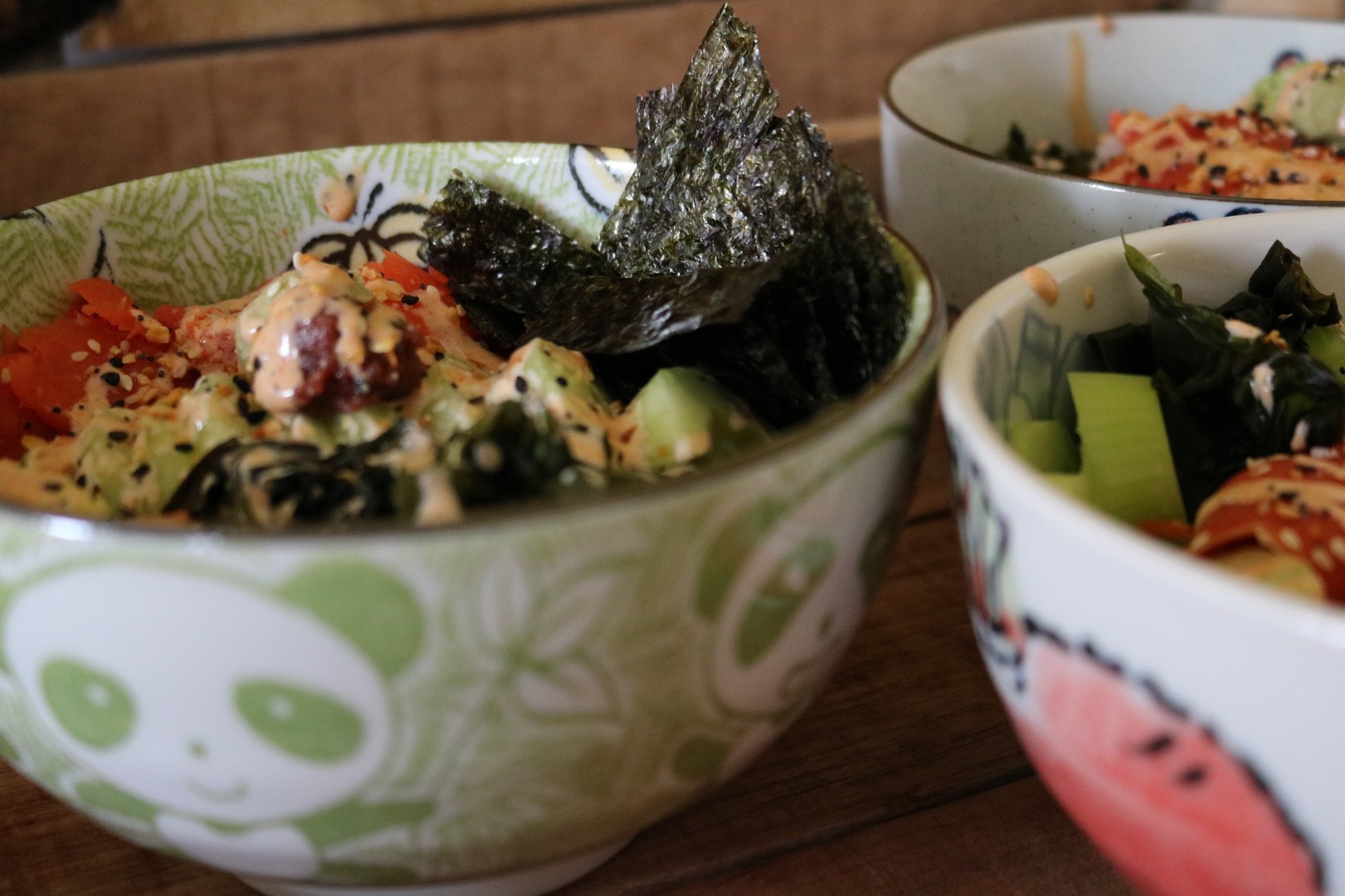 Pin this post and share on social media so your friends can make sushi bowls too!