Podcast: Play in new window | Download
Subscribe: Apple Podcasts | Google Podcasts | RSS
Last Updated on September 23, 2022 by Rebecca Huff
We are all aware of the drain on earth's resources but maybe we don't see it in relation to our everyday activities. Take cleaning for example. How often do we consider the environmental impact of single use cleaning products?
Our forests are in crisis. Nearly half of all global forests are under threat of deforestation and forest degradation, which represents a major risk to global climate, biodiversity, water, people, and businesses who depend on healthy forests. (1)
Single use cleaning products are not sustainable and are not part of an eco friendly cleaning routine. Replacing harmful chemicals and finding more natural cleaning solutions should be at the top of everyone's to do list.
But how do we go about successful household cleaning without those blue cleaning sprays we've been using? I've listed some helpful ideas below.
Eco Friendly Cleaning or Green Cleaning
You'll find more and more options for "eco friendly" or "green" household cleaners on the market. Before you start tossing them all in your basket, read up on the terms to look for when making the change.
These terms are not regulated, however, the idea is to use products that have the least negative impact on the environment, animals, and humans.
Some people may define eco friendly cleaning as simply "all-natural" products. This term is also not regulated and is commonly used in greenwashing.
The FTC has created a handout to help in marketing that suggest the words "eco-friendly" and "green" are difficult, if not impossible to prove. This states that companies should avoid using unqualified general environmental benefit claims like 'green' or 'eco-friendly.'
Natural cleaning products will not pollute the air with VOCs. Volatile organic compounds (VOC) in cleaning products affect indoor air quality. If you have an air quality monitor, you will notice a spike when you use harsh chemical cleaning products.
VOCs also contribute to smog formation in outdoor air and are not considered a sustainable cleaning method. (You may have heard of VOCs if you've ever looked at wall paint, most companies have high levels, so we opt for paints from ECOS paint company.)
Look for cleaning products made with plant-based ingredients which are biodegradable.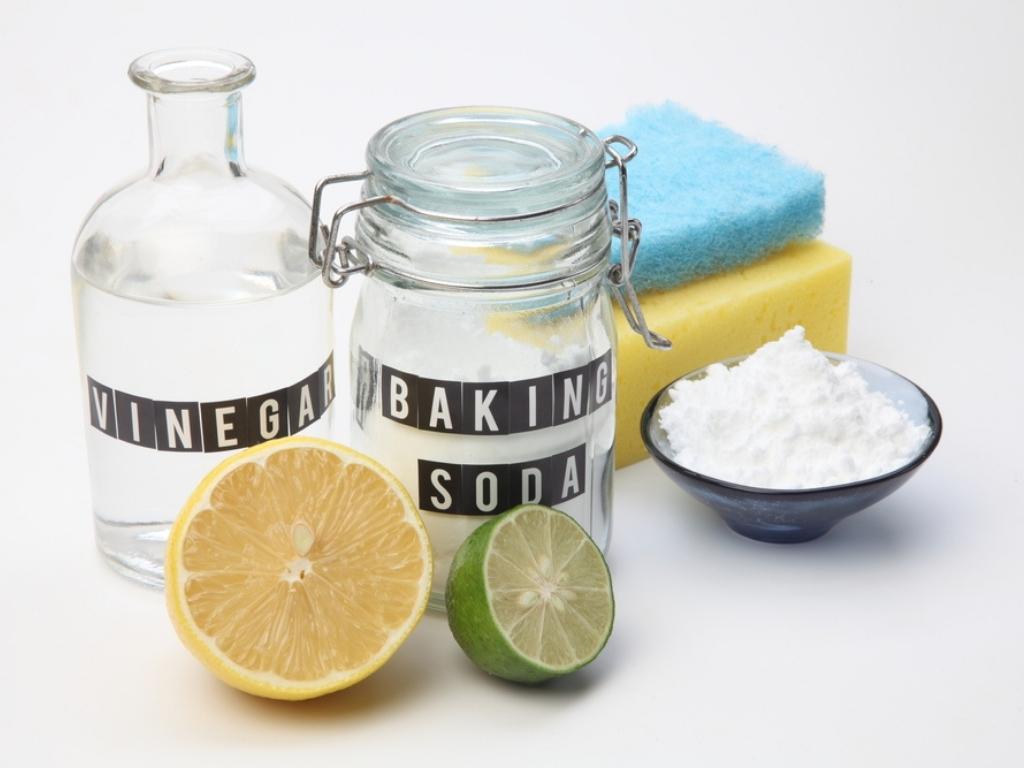 Part of the goal in reducing waste is to choose quality over quantity.
Recently I received a box of cleaning products to try from NatureZway, including cleaning cloths, floor wipes, bamboo toilet paper, scrub brushes, and compostable waste bags. You can check up on the company's certifications here.
Naturezway also sent some not paper towels that I was able to give to friends and relatives. (I already use cloth rags that I wash and reuse.) The company's reusable towels are made from bamboo – and not the kind panda's eat! Each one can be used up tens of times, according to the package up to one hundred times. This is a good place to start if you are making the transition from regular paper towels to reusable.
What makes bamboo better than trees for cleaning products?
Bamboo is a super fast-growing, renewable, and easy-to-grow grass that requires zero chemicals and pesticides. There are 91 genera and about 1,000 species of bamboo. Bamboo grows in colonies and does not require replanting. The Guinness Book of World Records awards Bamboo as the fastest growing plant on earth, with some species growing 35 inches per day.
Bamboo growth also contributes to cleaner air as it absorbs carbon dioxide and releases 35% more oxygen into the atmosphere than an equivalent stand of hardwood trees.
Bamboo cleans the air, but what about counters
At some point after I received these bamboo cleaning products, I had a coffee spill. I haven't kept "paper" towels in my home for a number of years. Intending to put the towels to the test, I cleaned up the coffee with one, rinsed it out, and hung it to dry. To my surprise, it came clean. (Listen to the podcast or watch the video to hear what Japanese do to test it out!)
On to more challenging tests…
After making some paprika chicken in my iron skillet, I wiped out the pan with one of the bamboo towels, rinsed and hung to dry. No problem. If you've ever wiped out an iron skillet, you'll understand why I'm impressed.
Soap and Reusable Towels for Cleaning instead of Disposable Disinfectant Wipes
I'll never forget the first time I saw someone using a disposable disinfectant wipe. The person cleaning used about four or five of these disposable wipes to clean the kitchen counters after a regular meal. (Not even raw chicken!)
The package indicates that they are disinfecting wipes. Even back then, I remember thinking how odd it was to use a disinfectant since no one was sick. More odd was that it was disposable. That incident occurred many years ago, and now using disinfecting wipes for everyday cleaning is the norm.
According to the instruction on the back of the plastic tube, the surface must remain wet for 10 minutes to disinfect. So, I'm not sure people are using these properly. Most of the time, I see people using these with their bare hands. The container says to rinse hands and surfaces after use. Why? Because the EPA classifies disinfectants as pesticides.
Disposable Disinfectant Wipes Bad For Environment
Sadly, these cloths are made from synthetic materials and are not biodegradable. Now when kids start school each year, teachers ask for them along with the other school supplies such as paper and pencils. Using these disposable disinfectant wipes for everyday clean up is completely unnecessary.
At the very least, antibiotic wipes do not appear to help us and, it may be that they are actually hurting us. Scientists Discover That Antimicrobial Wipes and Soaps May Be Making You (and Society) Sick. Another problem is that disinfecting wipes include some toxic ingredients, such as quaternary ammonium compounds – or "quats" – which can cause asthma, allergies and irritation of the skin, eyes and lungs, one more indoor air pollutant you can avoid.
Why not just go ahead and use soap and water? Isn't it just as good?
"There's no data demonstrating that these drugs [in the disinfectant wipes] provide additional protection from diseases and infections. Using these products might give people a false sense of security," Michele says. "If you use these products because you think they protect you more than soap and water, that's not correct."
Reusable, all purpose cleaning clothes like these from NatureZway work perfectly and I have zero guilt because I'm not throwing away hundreds of disposable wipes every day. Just throw them in the washing machine and hang to dry and reuse.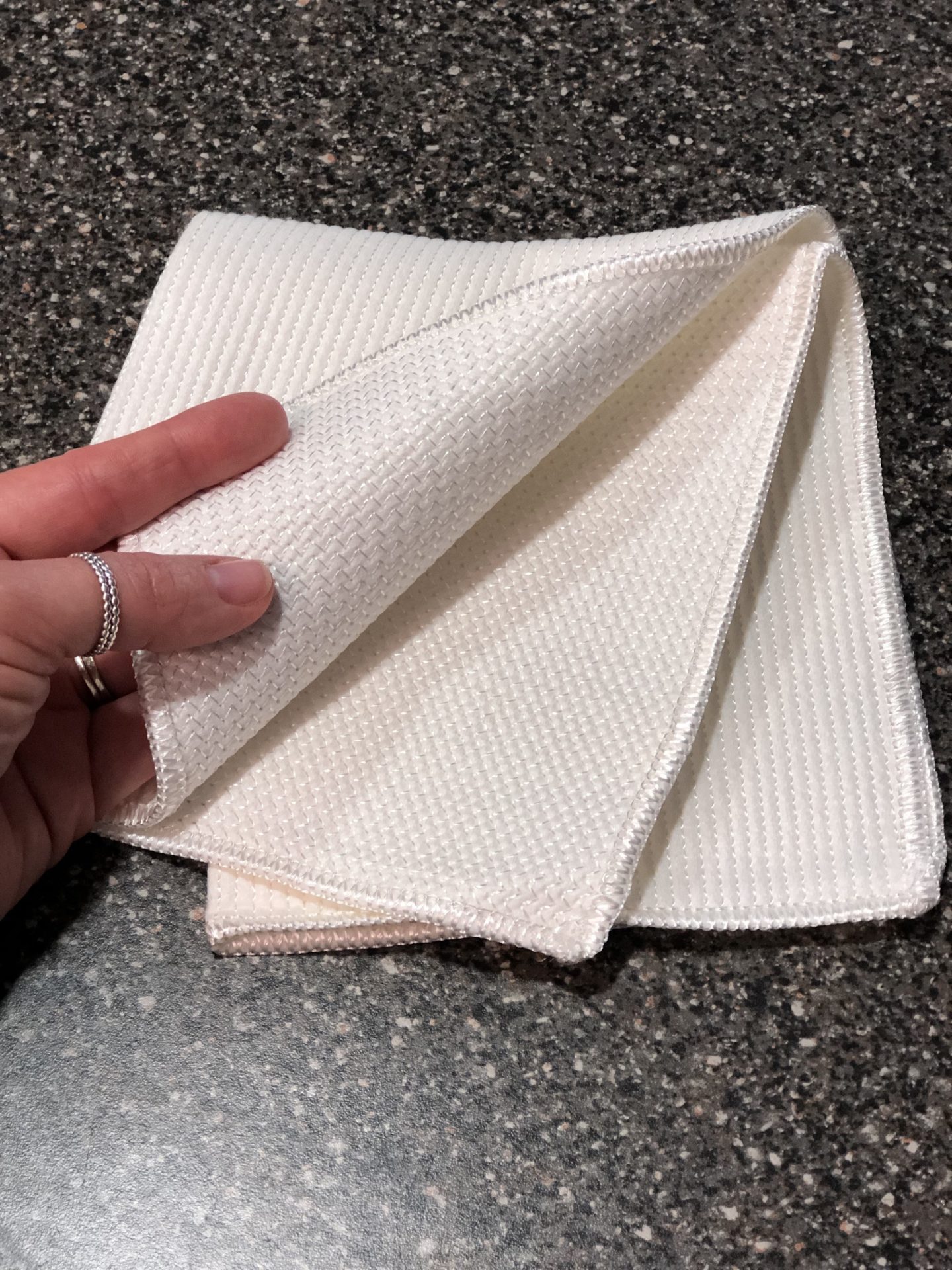 For everyday cleaning I use soap and water, sometimes a few drops of an essential oil. For disinfecting, I use Hydrogen Peroxide or White Vinegar.
I try to avoid bleach as it is a harsh and usually unnecessarily bad for the environment, including earth's atmosphere and ozone layer.
Hand soap does not need to be antibacterial. In fact, overuse is causing problems for humans and the environment. These include:
targets bacteria, not viruses, and there is no evidence that it is more effective than regular soap in the prevention of colds and flu
kills good bacteria too, which hinders the development of a strong immune system in children
creates super bugs – or antibiotic resistant bacteria
can harm algae, which make much of the world's oxygen and are the beginning of the food chain
Grab a starter kit from Grove Collaborative and start using plain soap in a refillable pump dispenser.
Glass Cleaner
Instead of harsh chemicals that I use old newspaper or lint free cloths along with a spray I put in a refillable bottle. I mix the following in glass bottles:
2 cups filtered water (or distilled)
2 tbsp white vinegar
2 tbsp rubbing alcohol
2 drops essential oil, optional
If you don't want to bother mixing your own, you can find excellent unscented window cleaners at Grove Collaborative.
For the outside windows, you may need a heavy duty window cleaner to cut through the grime. In this case, I mix the following:
1 gallon water
1/2 cup rubbing alcohol
window squeegee (Amazon affiliate link)
Keeping the kitchen clean in an eco-friendly way
Early this year, I switched from liquid dish soap to a soap block that I use with a kitchen scrub brush. The soap block works nicely, and it doesn't come in a plastic jug like liquid dish soap.
The eco-friendly scrub brushes from NatureZway work perfectly with my zero waste dish soap. All the NatureZway brush handles consist of natural bamboo, and the bristles are Tampico Fiber. To clean my dishes, pots, and pans, I rub the brush on my soap block (which is vegan and cruelty-free) and scrub away!
NatureZway also has a bamboo sponge if you prefer to use one instead of a brush.
For tough stains on pots and pans, I make a paste with baking soda and soap. Allow it to sit for a while and typically cooked on stains will rub right off.
Replacing Plastic Jugs in Cleaning Products
For the dishwasher, I use Dropps as they were awarded the EPA Safer Choice Partner of the Year in 2017.
I also use Fragrance Free Dropps or Tru Earth laundry strips for washing clothes, sheets, and towels. Both products are phosphate free and just as effective as what you buy in jugs, only more sustainable.
The fragrance free versions are safe for those with allergies or multiple chemical sensitivities. These laundry products create less waste to ship than a heavier, diluted version of laundry detergent maximizing sustainability.
This eliminates the plastic bottles, again, a big plus for the environment.
Instead of a designated stain remover, I keep a list in the laundry area that explains how to get out a variety of stains. This magnetic chart is the one I keep in my laundry area. You'll find that it only requires simple products like hydrogen peroxide and distilled white vinegar. The quicker you treat a stain, the better results you'll get.
Instead of fabric softener, I use wool dryer balls and essential oils. However, if you cannot live without dryer sheets and fabric softeners, I recommend using Dropps.
Multi-Purpose and Floor Cleaner
The multi-purpose cleaner I turn to time and time again is distilled white vinegar and water. It's cheap and easy to use. Plus it replaces dozens of other bottles.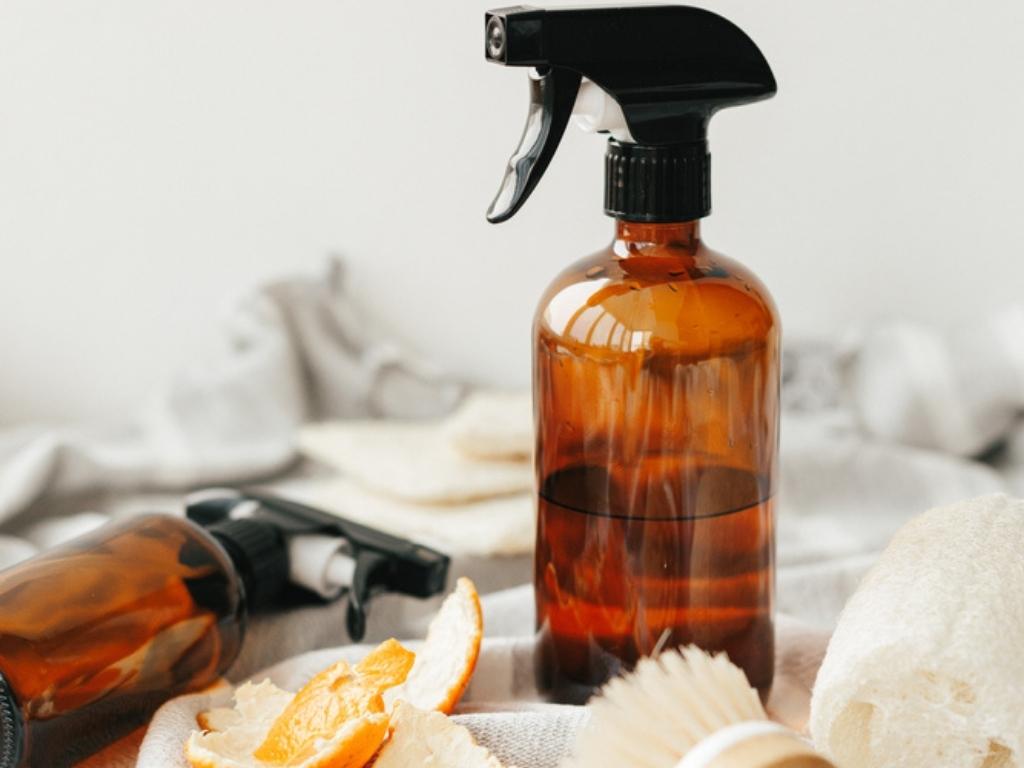 Another surface cleaner I often make is to add orange peels to a large bottle and fill it up with white vinegar. Let this set for a couple of weeks to extract all the orange peels magical powers. This can be strained and then diluted in a glass spray bottle. (I have the exact recipe on the last page of the clean swaps guide.)
Download my guide to earth friendly swaps to get a 40+ page list of products I have been using for years.
DIY not for you? Try Tru Earth Eco Strips. Just toss a strip in a spray bottle, add hot water, and shake. The tiny strips contain all the cleaning power of big brand multi-surface cleaner, but with none of the water, and none of the plastic. The epitome of sustainability.
Bathroom Cleaner
You can clean and disinfect your bathroom with three simple ingredients. Baking soda, white vinegar, and tea tree essential oil. This is the best eco combo for general cleaning and disinfecting.
Vegetable Scrubbing Brush
For cleaning vegetables, I fill my sink full of water, add a splash of white vinegar to soak the veggies. After about ten minutes, I scrub the veggies with the Tampico fiber brush. Give them a rinse and you're good to go.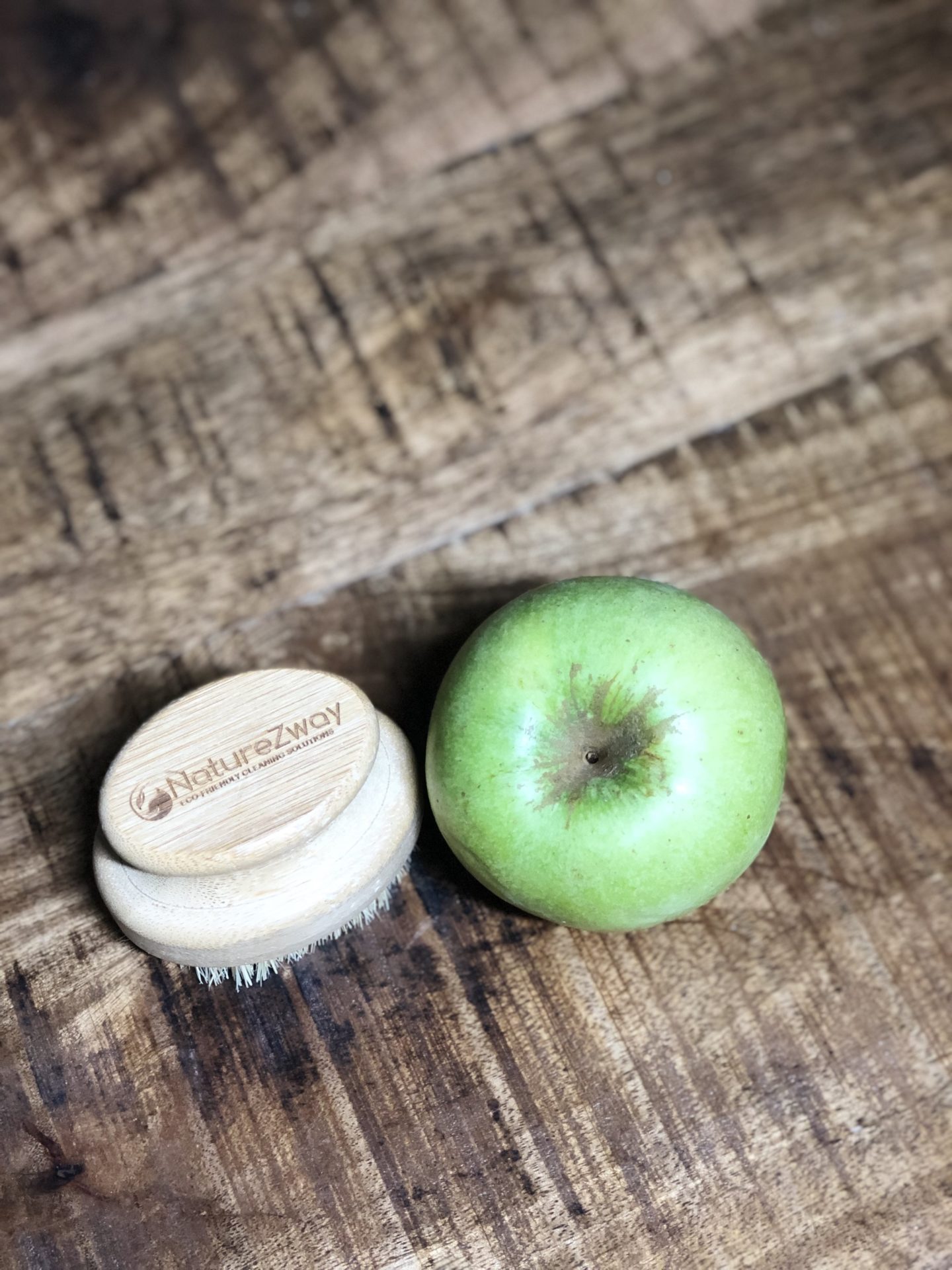 Compostable Waste Bags
Another product from NatureZway that blew my mind is the compostable waste bags. Keeping food waste out of the landfill is probably one of the easiest ways you can do something good for the environment. Easier than remembering your reusable bag when you go grocery shopping.
Keep a waste can in your kitchen lined with a compostable liner. Use this lined can to collect food scraps, dryer lint, toothpicks, coffee grounds, eggshells, and anything else that is compostable. This bag can later be carried to your local composting facility or put in your backyard compost bin.
Compost is organic material that can be added to soil to help plants grow. Food scraps and yard waste together currently make up about 30 percent of what we throw away, and should be composted instead. Making compost keeps these materials out of landfills where they take up space and release methane, a potent greenhouse gas. Source
Creating compost is as valuable as it is variable. There are many ways to break down organic matter. Dirty Dozen: 12 TOP Composting Methods [Pros, Cons & Costs] Subscribe to A Healthy Bite for more environmentally friendly interviews like this one in the near future.
Eco-friendly pet products
Did you know that the pet population is near being equal to that of the human population? Now stop to consider all those responsible dog owners picking up dog poo in plastic bags and chunking them in the waste bin. Many environmentalists say flushing dog waste is the best alternative. This was a new one on me when Sean mentioned it in our interview!
NatureZway pet waste bags are flushable and will break down in water. They are made from a water soluble, eco-friendly alternative to plastic which is 100% BPI certified compostable. Check locally for industrial compost facilities that accept pet waste. If you do in fact flush your dog waste down the loo, it is best not to tie or knot the bag before flushing.
---
You can expect a full report outlining on my waste free site about how to deal with dog poo in the near future sparked by this conversation with the Founder of NatureZway.
Check the Environmental Protection Agency for a list of environmentally friendly cleaning supplies, so you can choose what suits your preferences.
Meet the Founder of NatureZway – Sean Solouki
Several years ago, Sean Solouki decided that he wanted to make more of an impact on the world. Listen in as he answers some of my questions about NatureZway products, the environment, packaging, and the good things to come.
Be watching for more NatureZway products to come as they recently partnered with Kathy Ireland World Wide in an effort to provide a wide range of environmentally sustainable products for your healthy cleaning pleasure!
Show Notes:
First, I know you were on a trip to China but tell me a bit about what inspired you to create these eco-friendly cleaning products?
You make your products with renewable and sustainable materials. What can you tell us about your first product – reusable bamboo towels?
Can you explain to us how bamboo is more eco-friendly and sustainable than other products say like paper or microfiber?
You manufacture these products with bamboo but not the type of bamboo that pandas eat – how did you decide what kind of bamboo to use in your products?
You offer different types of compostable waste bags, can you tell me how do we use these?
How do we use them? So people who are using the compostable dog waste bags – where do they dispose of it?
Compostable trash bags vs. biodegradable bags
You make the cleaning brush product handles from bamboo, and the bristles come from Tampico – what can you tell us about this plant? Why would we choose this over nylon-bristled cleaning brushes?
I noticed your website has the confidence in textiles seal — can you tell us about that?
Where can people find your products?
Do you plan to add other products to your line? I noticed you had business products. Is there a chance that you may start shipping your products without the plastic wrap in the future?
The eco-friendly all purpose cleaning cloths are super absorbent and safe on all surfaces.