Last Updated on November 2, 2022 by Rebecca Huff
Tabbouleh is traditionally made with parsley and is a Middle Eastern dish. There are many variations on Tabbouleh, including the spelling, depending on the region. In Turkey and Armenia, the dish is heavier on the grain, whereas in Syria and Lebanon, cooks tend to use more parsley.
My tastes fall somewhere in the middle, and instead of Bulgur, I use Sorghum. First, sorghum is gluten-free, non-GMO, and is a drought-tolerant, sustainable crop.
Beyond that, it is grown abundantly in the USA. Bob's Red Mill tests its products to ensure they meet the U.S. Food and Drug Administration's "gluten-free" standard of fewer than 20 parts per million gluten. So, if you've been diagnosed with celiac's, Sorghum is a grain you might want to look at.
Sorghum is nutritionally similar to ancient grains, with lots of fiber, protein, iron, magnesium, B6, and phytochemicals. Read more about sorghum from Food Navigator. Sorghum was one of the five foods to try in 2017 that I have incorporated into more of my meals over the past few years.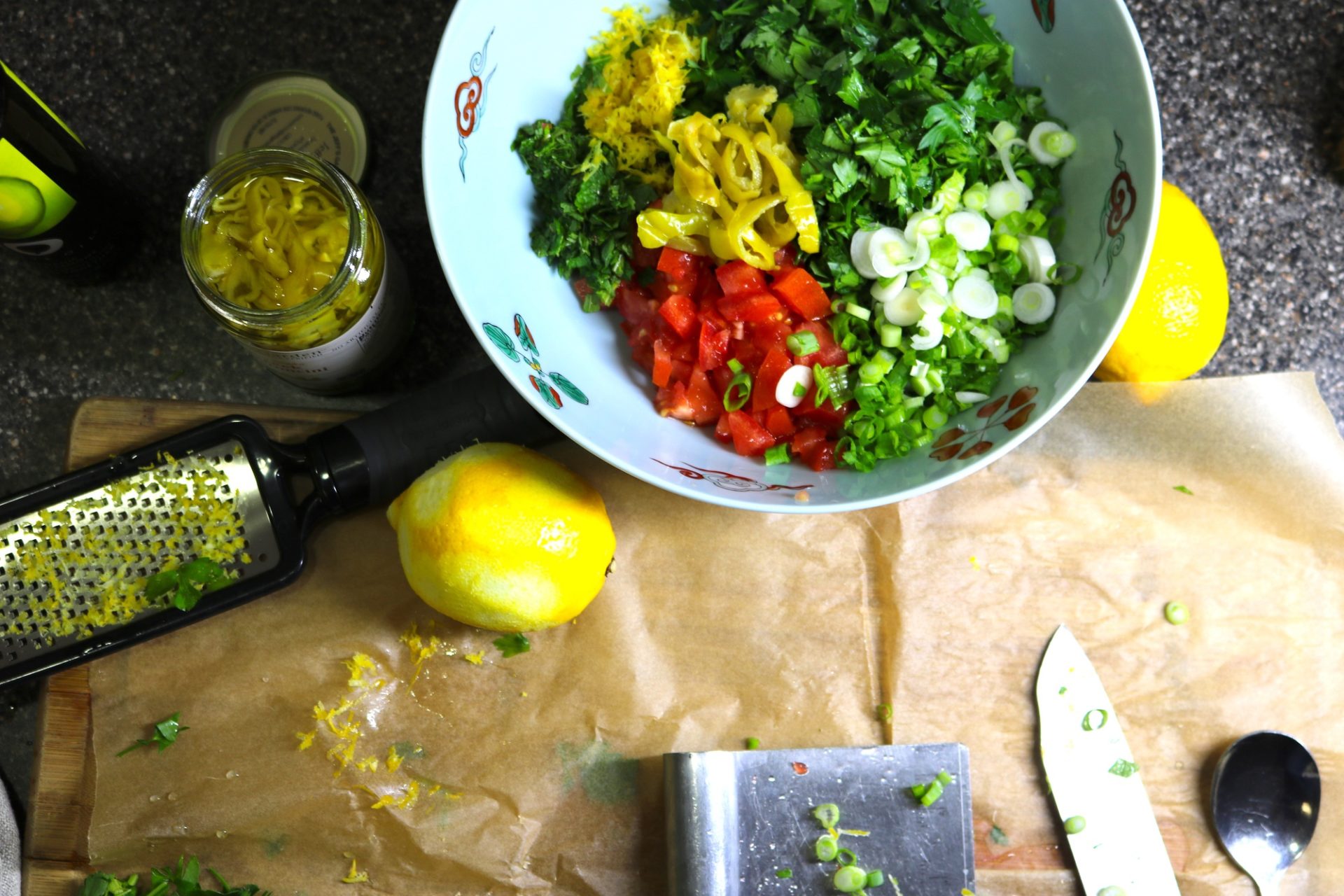 Parsley is low in calories but high in nutrients. It's worth adding to your diet regularly. When I prepare this dish, I save the parsley stems and leftover mint to add to soups. This time, I juiced the leftover parsley and mint stems along with some cucumber, celery and pineapple. Very refreshing!
Some of the benefits of parsley include:
Cancer-fighting properties
Inflammation buster
Immune System booster
Promotes bone strength
Helps those with anemia
Relieves diarrhea and aids in digestion
A natural diuretic so flushes the body to improve kidney and liver function
Reduces bad breath
Full of vitamin C that reduces the appearance of aging such as wrinkles and dark circles under the eyes
Antibacterial and antifungal
Promotes healthy skin, reduces blemishes
For this Tabbouleh, I used California Yuzu Rice Vinegar to give it a zingy taste. The addition of the Greek peperoncini and the Meyer Lemon Olive Oil also add to the flavor. Don't worry if you cannot find these specific ingredients; use regular olive oil and vinegar. Keep the lemon zest so that you can get the tantalizing lemony flavor.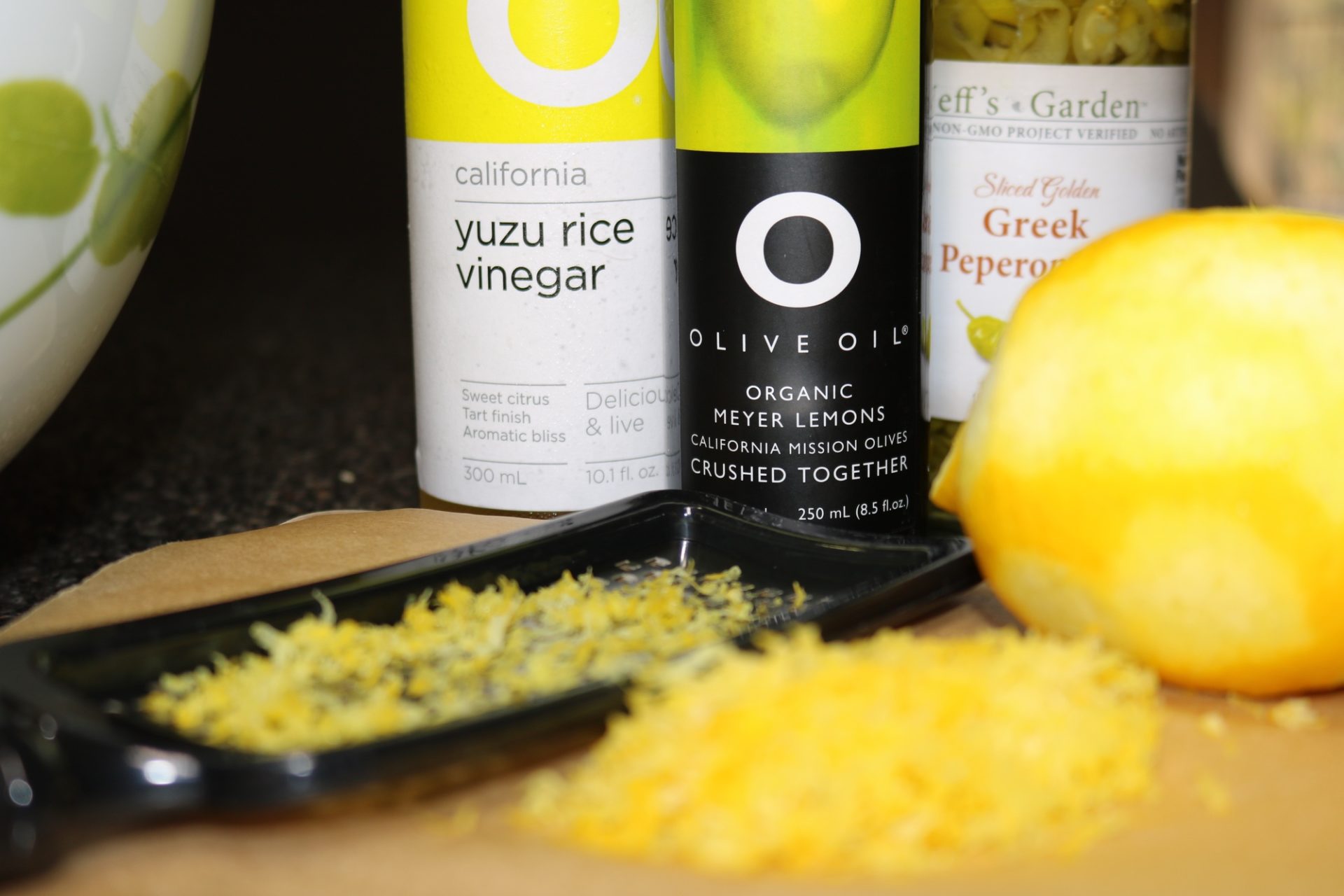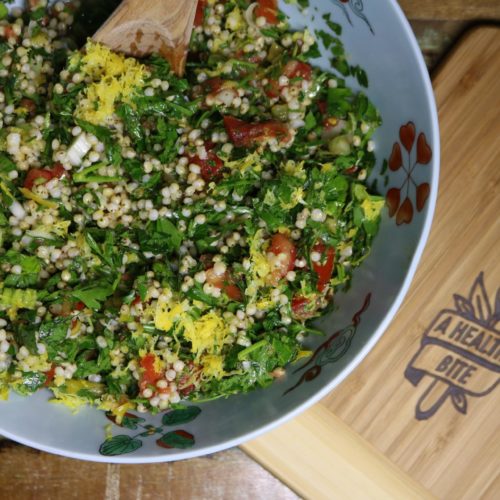 Tantalizing Tabbouleh with a Lemony Twist

Dairy Free

Vegan

Vegetarian
Tabbouleh gets a zingy lemony twist in this unique recipe. Swap out the grain for whatever you like but the sorghum is pretty darn good.
Ingredients
1

cup

sorghum

3

cups

water or broth

1

bunch green onions sliced thinly

3

medium tomato

diced small

zest of two lemons

juice of two lemons

7-8

mint leaves

chopped

2

tablespoons

Greek pepperocini

4

tablespoons

olive oil *see notes

1

tablespoon

vinegar *see notes

Salt and pepper
Instructions
Measure and rinse Sorghum, add to pot with water or broth. If using water, salt the water.

Bring to a boil, cover, simmer for about an hour or until tender.

While the sorghum is cooking prepare the salad ingredients.

Wash and chop parsley, mint, tomatoes, green onions, and pepperocini – add to large bowl.

Zest lemons, set aside.

Juice zested lemons into a small bowl.

Mix olive oil, vinegar, salt and pepper into the bowl with the lemon juice, stir well.

Pour dressing over salad, stir in lemon zest, keep refrigerated until sorghum is ready.

Drain and rinse sorghum with cool water.

Give the strainer a shake to get the water off the sorghum, then add to salad.

Mix and enjoy!
Notes
This recipe can be made lower in carbs by simply swapping the Sorghum out and using cauliflower in it's place. Just pulse it in a blender or food processor till it resembles tiny grains, use about 2 cups.
Nutrition
Calories:
170
kcal
Carbohydrates:
24
g
Protein:
3
g
Fat:
8
g
Fiber:
5
g
Because it is predominantly leafy greens, Tabbouleh is best eaten fresh. However, it will be good for a couple of days in the fridge. To prevent food waste, you might want to cut this recipe in half unless you have a houseful of always-hungry people like me.
I enjoy eating Tabbouleh on its own; it just feels like a bowl of sunshine!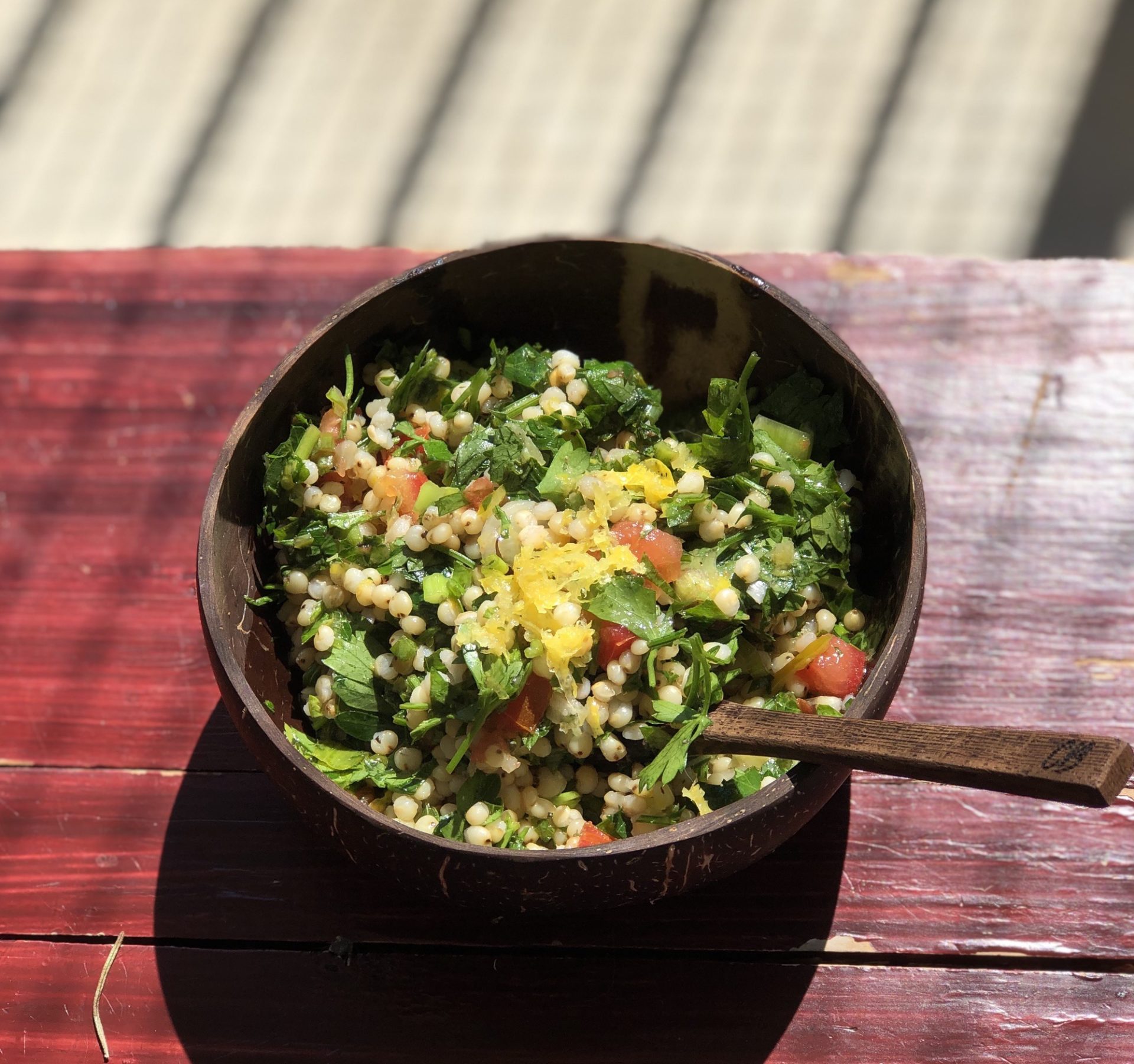 Tabbouleh is technically a side dish, served as an appetizer in the Middle East as part of Meze or Mezze, a table full of many small dishes. Tabbouleh pairs well with Naan (a type of flatbread) or pitas, hummus, other chickpea dishes, falafel, Halloumi cheese, black olives, or meats.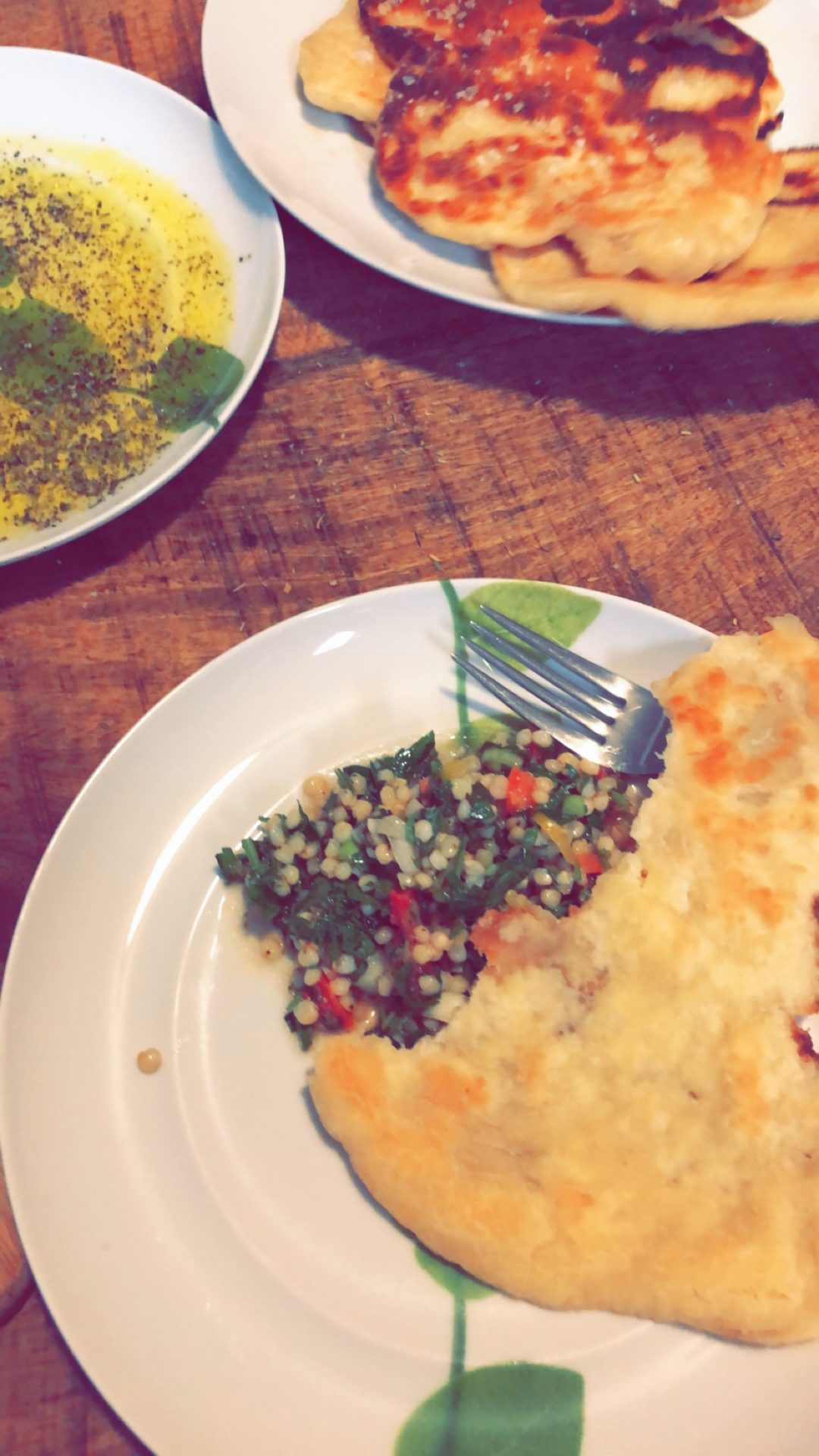 Try Tabbouleh with this Gyro recipe. If you like the flatbread look, join A Tasty Bite Cookbook Club. The recipe is for Yogurt Flatbread, which is so tender and delicious. My children, like most, enjoy the gluten-y things in life. My two youngest specifically ask for "food with carbs" and enjoy using the flatbread to soak up the tangy juices from the Tabbouleh.
If you'd rather stay away from "food with carbs," then substitute cauliflower in place of sorghum. No problem-o!
Pin this post to your Pinterest Board – or create one with lots of veggie recipes like my Eat the Rainbow Board: