One of the things my family loves to tease me about is that I make up some fantastic dish that everyone loves, but I forget how I did it. It's been such a habit of mine over the years that it's a running joke.
Which is why it's so amazing that ten years ago, I actually thought to write this one down! Ironically, it was while living in a little apartment in Florida on my own for a few months and I couldn't seem to adjust to cooking for one person.
One night I came home from work starving and found most of these ingredients in my fridge. That's how creamy chicken with sundried tomatoes recipe was born.
I grabbed a slip of paper and jotted down exactly what I used to prepare the recipe. However, I did not write down the instructions. Thankfully, it wasn't too hard to recreate. Bonus for you is that it's super easy to make and unless you cook your veggies separately, it's a one-pan meal!
This is perfect for low-carb dieters or those following a Ketogenic diet or even Trim Healthy Mama as an S-meal.
If all of that diet stuff means nothing to you, it might delight you to know that I serve this over pasta or rice for my children.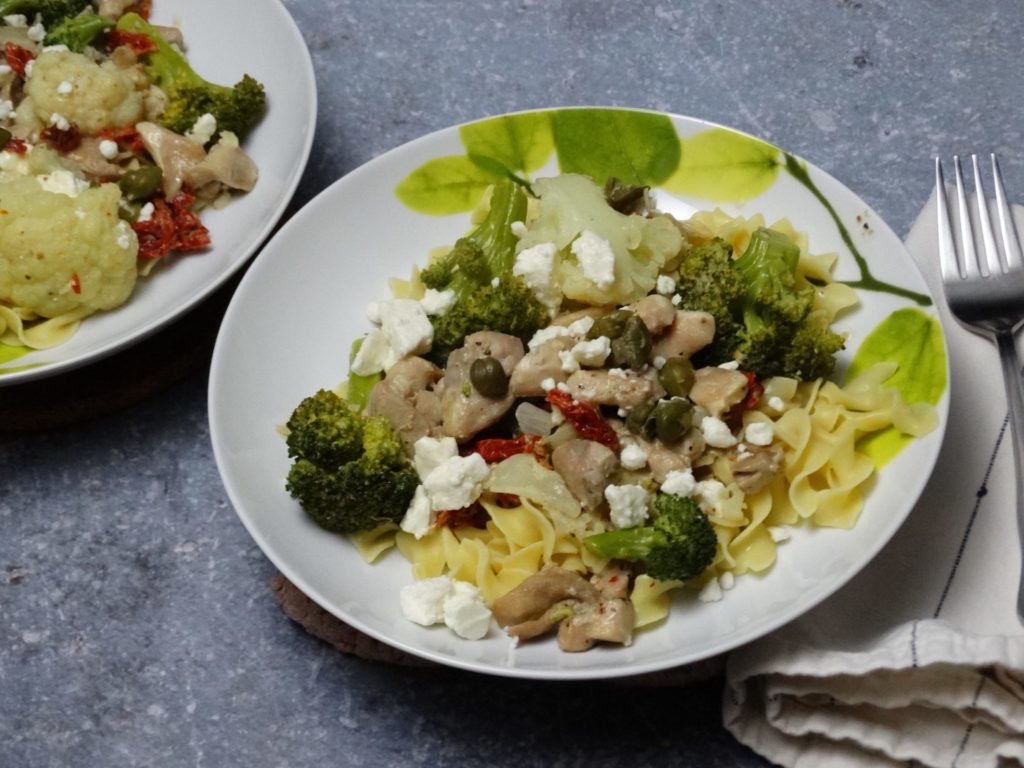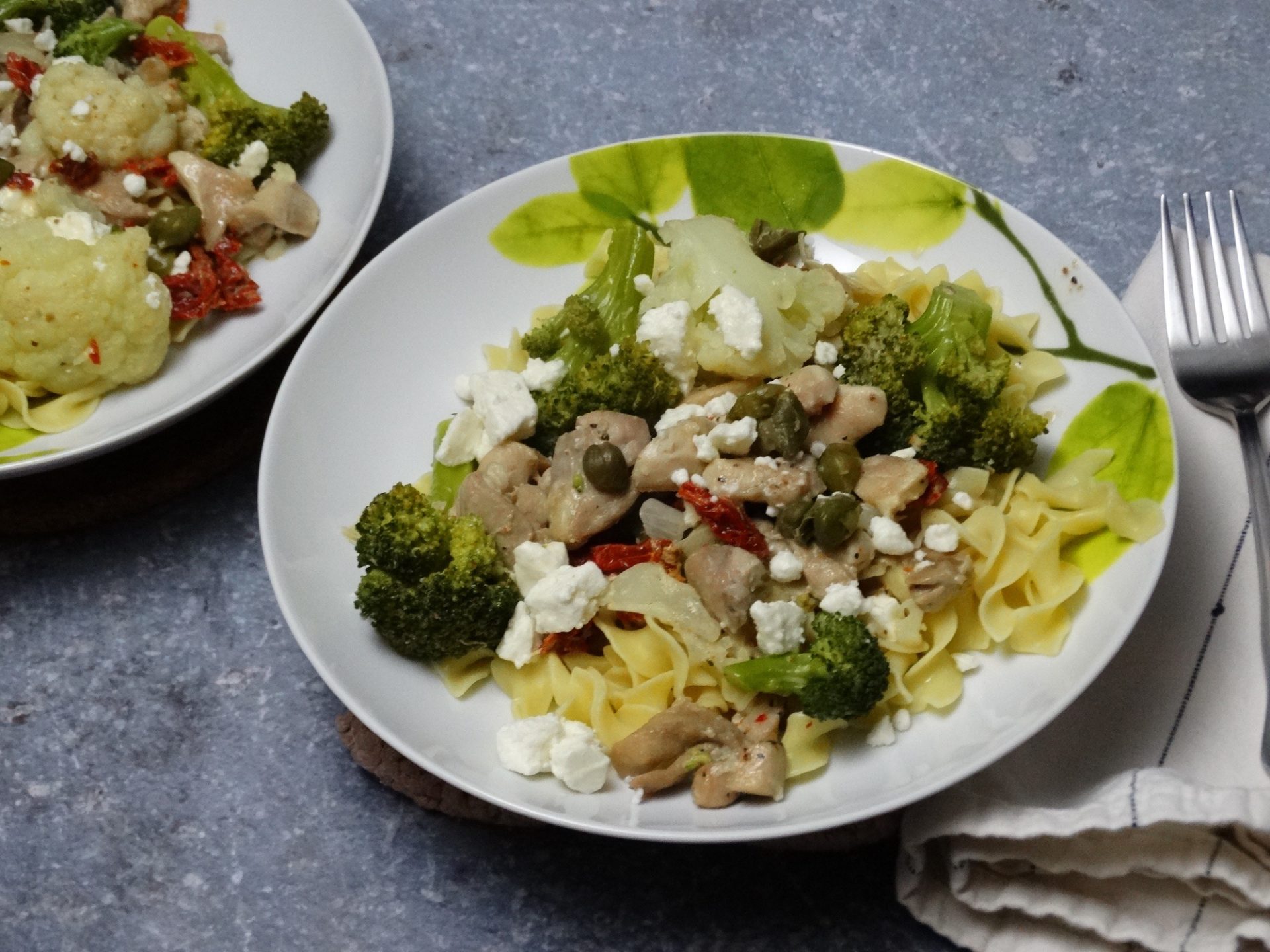 Pasture Raised Chicken
I prefer to use pasture-raised chicken from Farm Foods.
Food has come to be anonymous, mass-produced, and far from anything that our ancestors, well even our grandparents, grew up eating. We want to make buying food to be personal again, bring back the authentic original concept of nourishing flavorful meats. From the farm, just like it once was. Authentic by definition means just that – being genuine, of undisputed origin, accurate and reliable.

Farm Foods
No Antibiotics
Non-GMO
Hormone Free
Pasture-Raised Chicken
Sustainably Raised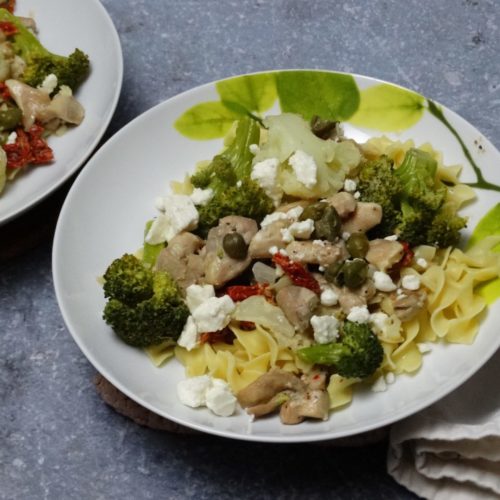 Creamy Chicken with Sun-dried Tomato and Cruciferous Vegetables

Keto

Low Carb

Trim Healthy Mama
Tangy and creamy, this hearty chicken dish will satisfy!
Ingredients
1/2

tbsp

oil

for coating the pan

4

chicken thighs, pasture raised

cut into cubes

3

garlic cloves

minced

salt and pepper

to taste

1

shallot

cut in half, then sliced

2

cup

broccoli

florets

2

cups

cauliflower

florets

¼

cup

sun dried tomatoes

julienned

⅓

cup

heavy cream

½

cup

chicken broth

2

tbsp

capers

4

oz

feta cheese

crumbled
Instructions
Add minced garlic to diced chicken and mix well so that garlic is evenly dispersed.

Season cubed chicken with salt and pepper.

Coat the pan with oil and heat to just a pinch above medium, add chicken and onions.

Cook for 10 minutes, then add broth, broccoli and cauliflower. * see note

When vegetables are tender and chicken is cooked through, add sundried tomatoes and heavy cream.

Stir gently, simmer for 3-5 more minutes, adding salt and pepper to taste.

Garnish with feta cheese and capers before serving.
Notes
If you like crisp tender veggies, consider steaming the broccoli and cauliflower on the side and then adding them in at the end. 
Nutrition
Calories:
272
kcal
Carbohydrates:
9
g
Protein:
29
g
Fat:
13
g
Saturated Fat:
7
g
Cholesterol:
107
mg
Sodium:
525
mg
Potassium:
828
mg
Fiber:
2
g
Sugar:
4
g
Vitamin A:
537
IU
Vitamin C:
48
mg
Calcium:
137
mg
Iron:
1
mg
Save this recipe to your Pinterest board.
Health Community
Is the Healthologist Community a place for you?
Members get full access to all printables, past and future!
Do you want to improve your health?
Are you interested in longevity?
Would you like to improve your sleep hygiene and start getting better sleep?
Have you experienced inflammation or chronic illness and want to give your immune system a fighting chance?
Are you interested in simple, easy ways to detox without feeling like you have the flu?
Do you enjoy learning about health and wellness and sharing what you know with others?
Is it hard for you to lose weight without accountability?
Have you ever tried to quit sugar without success?
Would you like to improve your fitness level?
Are you interested in preparing healthy meals, pantry, and fridge?
Do you want to do meal prep but aren't sure where to start?
If you answered yes to any of these questions then you have found the community for you.