Last Updated on June 29, 2022 by Rebecca Huff
For the last two decades, our family has enjoyed visiting Farmers Markets all over America. When we travel it is one of the first things I search for. All across the country, you'll find a diverse selection of local produce, honey, crafts, and more.
Going to the Farmers' Market to buy fresh produce instead of the grocery store is an excellent way to obtain the freshest veggies. Local growers bring seasonal produce to sell, usually at a price that is equal to or less than what you would pay in the store.
Not all Farmers Markets are created equally though, and if you go to a few you'll see what I mean.
There are at least two different types of farmers' markets in my experience. One, where farmers get up before the crack of dawn and load up the produce they've grown and take it to a common area to sell to people like you and me.
The other kind is where some farmers and other growers, PLUS crafters, food vendors, and other folks gather to sell various grown or handcrafted goods. Both of these types can be a boost for the economy in your local community. You will find great deals at both types as well.
So, how do you know what to buy at a Farmers Market?
What to look for
At your local farmer's market, you should be able to find some good deals on produce such as my favorite, heirloom tomatoes. Don't go for the prettiest produce at the market. Give the ugly tomatoes some love too.
Walk around a bit before you make your first purchase. You'll get a good look at what's available and avoid buyers remorse. I can't tell you how many times we've bought some produce only to find some a little further down that looks better. So, don't be too hasty.
Get to know the farmers and vendors if you're going to the same one every time, you may get a better deal. One of the vendors at the market I go to makes a charcoal soap that I buy year after year.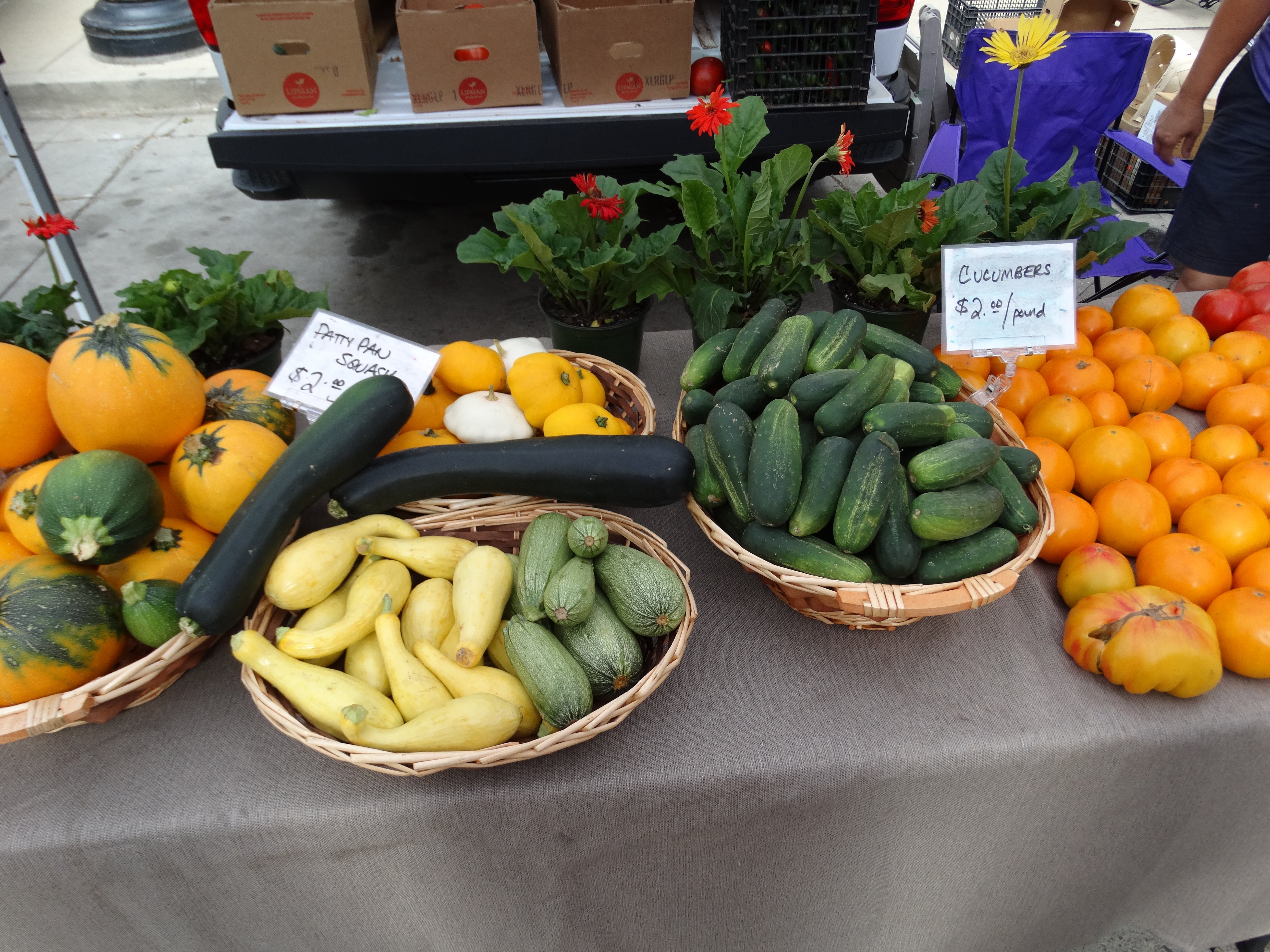 Your Local Farmers Market
First, if you don't know where to find your local farmers market, you can do a Google search for "farmers markets near me" and see the results based on your current location. It's fun to explore, so if your area has more than one, plan to visit each of them.
For example, where I live there are multiple.
If you're looking to buy fresh, locally grown produce in an open-air market, Knoxville has several farmers markets located all over the city. View our list of area farmers markets … and find what makes each one uniquely special. You can find locally grown fresh fruit and vegetables almost all year long as well as an array of unique locally made craftsmen and artists merchandise. Visit Knoxville
The one I go to the most is the Market Square Farmers Market where many of the photos in this post were taken prior to Covid. (The Market at Mary Costa Plaza temporarily takes the place of the suspended Market Square Farmers' Market during the COVID-19 pandemic.)
For the most part, you're better off buying local produce that has not traveled a long-distance like that in many supermarkets. You may live in the northeastern part of the United States and find tomatoes from Mexico in the produce section of your local supermarket. With Farmers Market, usually, not always, the food that is available depends on the season.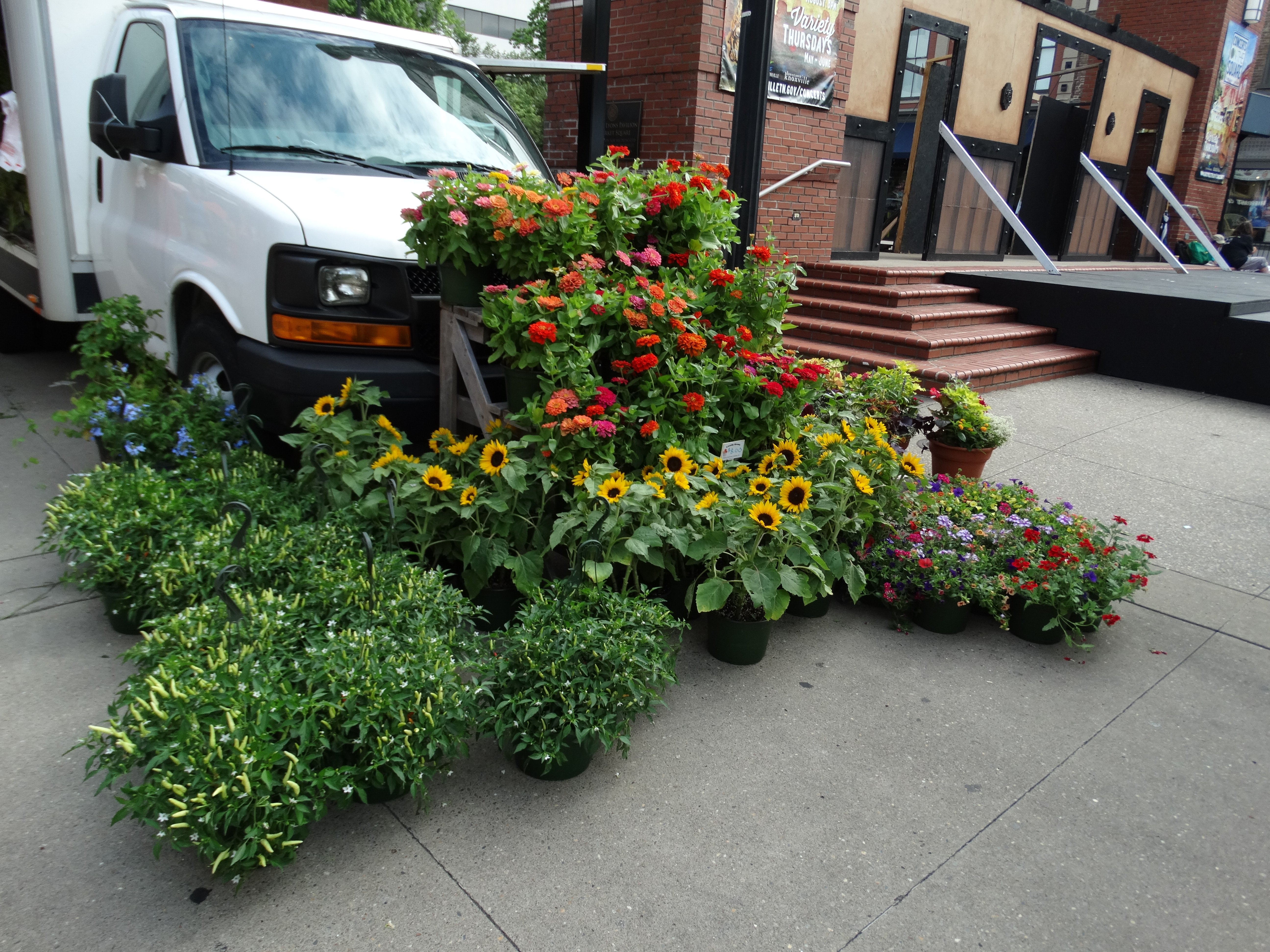 Interesting Finds at Farmers Markets
I've discovered so many fun finds while exploring local markets. Freshly grown cotton balls, homegrown and handmade cinnamon brooms, pepper jelly, shea butter, beeswax candles, hot peppers, and more. We've also discovered many delicious foods that were totally new to our palettes.
Food can be purchased at many local farmers' markets and many have rules about how the food is made and what ingredients can be used. This is where you have to be cautious because sometimes what you find isn't all it may seem to be. A good example is fresh-squeezed lemonade.
Ingredients should be listed
When you purchase prepared food at the Farmers Market, the ingredient list should be readily available. If not, move on! Your local government may operate and certify a local farmers market and they have rules for vendors to follow.
One year my children and I stopped at a lemonade stand to get a refreshing glass of nutritious hydration. The vendor offered a sample before purchase. So, before tasting it, I asked her what the lemonade was sweetened with (because I like to know what I'm feeding my kids!) Her response set off a red flag. "Nothing," she replied, "it's sugar-free, just lemons." Well, I'm not an idiot and I know that most people would find straight lemons and water too sour to drink.
I was already tasting the drink as she was answering, and as soon as the syrupy sweet liquid hit my tongue I knew it had an artificial sweetener right away. So, I asked her again, "what is this lemonade made with?" At this point, she turned to her partner who was sitting in a chair reading the paper behind her. He looked up over his paper and replied, "it's a mix with aspartame."
First, she should have been upfront with her ingredient list and second, she shouldn't try to hide the truth. We did not purchase lemonade, and I wrote an email to the Farmer's Market board to have them address the situation. And they did.
Ask questions and go with your gut
Always ask questions when making a purchase. One thing I've noticed is sometimes a vendor is a third party seller. Thankfully, the vendor I get my honey, beeswax, and pollen from is a beekeeper so it's just like buying straight from the producer. I have seen vendors who were selling local honey they purchased from a beekeeper in the area. If you want the best price, you could skip the vendor and go straight to the beekeeper if they allow it.
I've seen the same with peaches. We live close to Georgia, where lots of big fat juicy peaches grow. Some vendors head down to Georgia and get a huge load of peaches and then bring them up to Tennessee to resell them. I don't have a problem buying these because, well, I'm not planning to drive to Georgia just for peaches!
It's okay to ask the farmer if he uses pesticides and what other growing methods are used. You'll often see signs and other details as the farmer's want you to know they take pride in their crops. The veggies you get from them may be an heirloom, or they may be hybrid. If you want to know, just ask questions.
If you notice a farmers market vendor with out of season produce, you might inquire where he got what he has for sale. Sometimes vendors may travel to other states to get produce to sell. This is a matter of personal preference, but I choose not to purchase out of season produce at farmer's markets.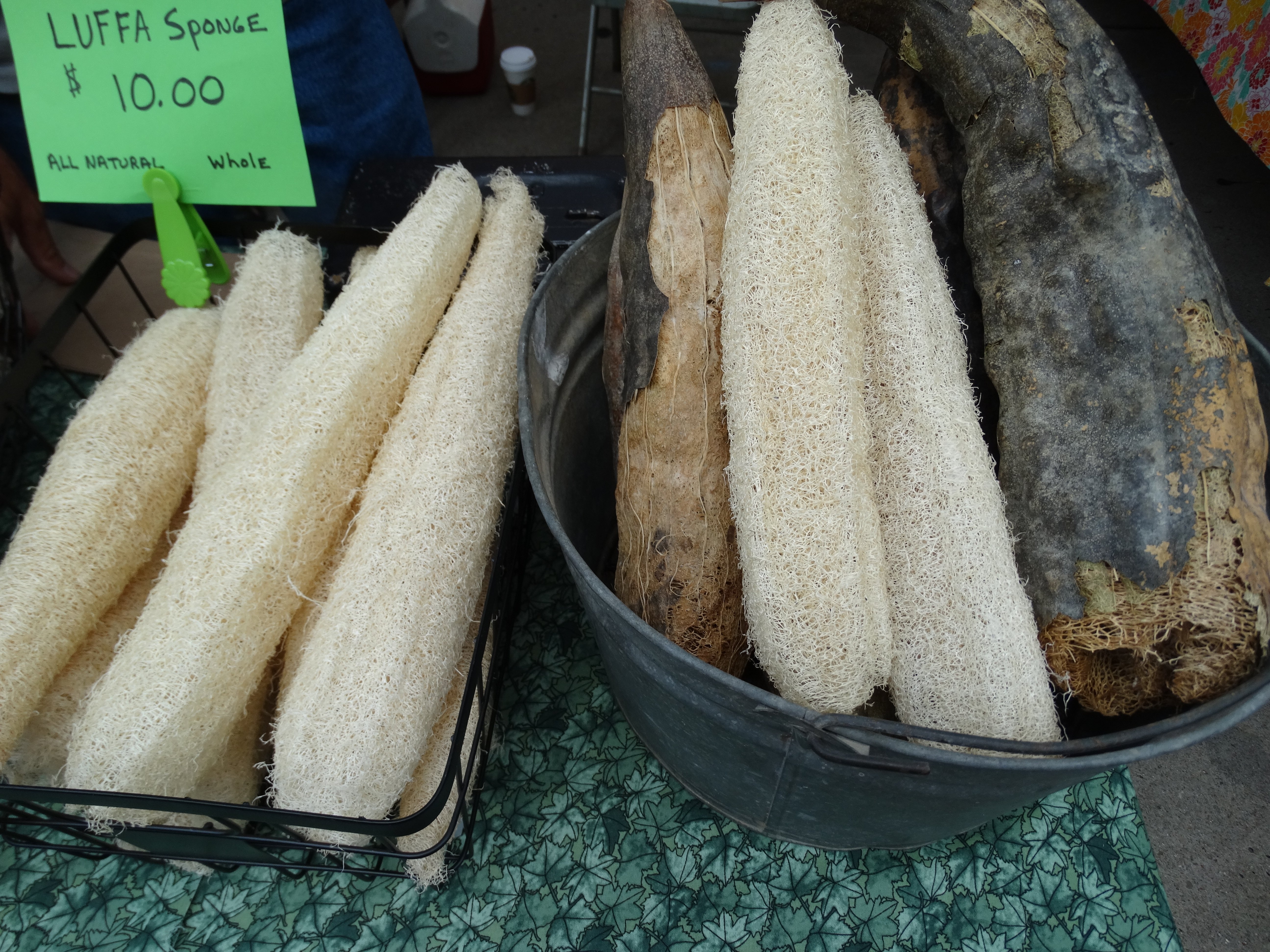 Not everything is less expensive at the farmer's market
The farmer's market can be a source of food that you might have difficulty finding in other places. Chicken feet, liver gizzards, hearts, and necks are not so abundant at your mega superstores. My grandmother used these to make a nutritious and healing bone broth and a particular type of gravy at Thanksgiving.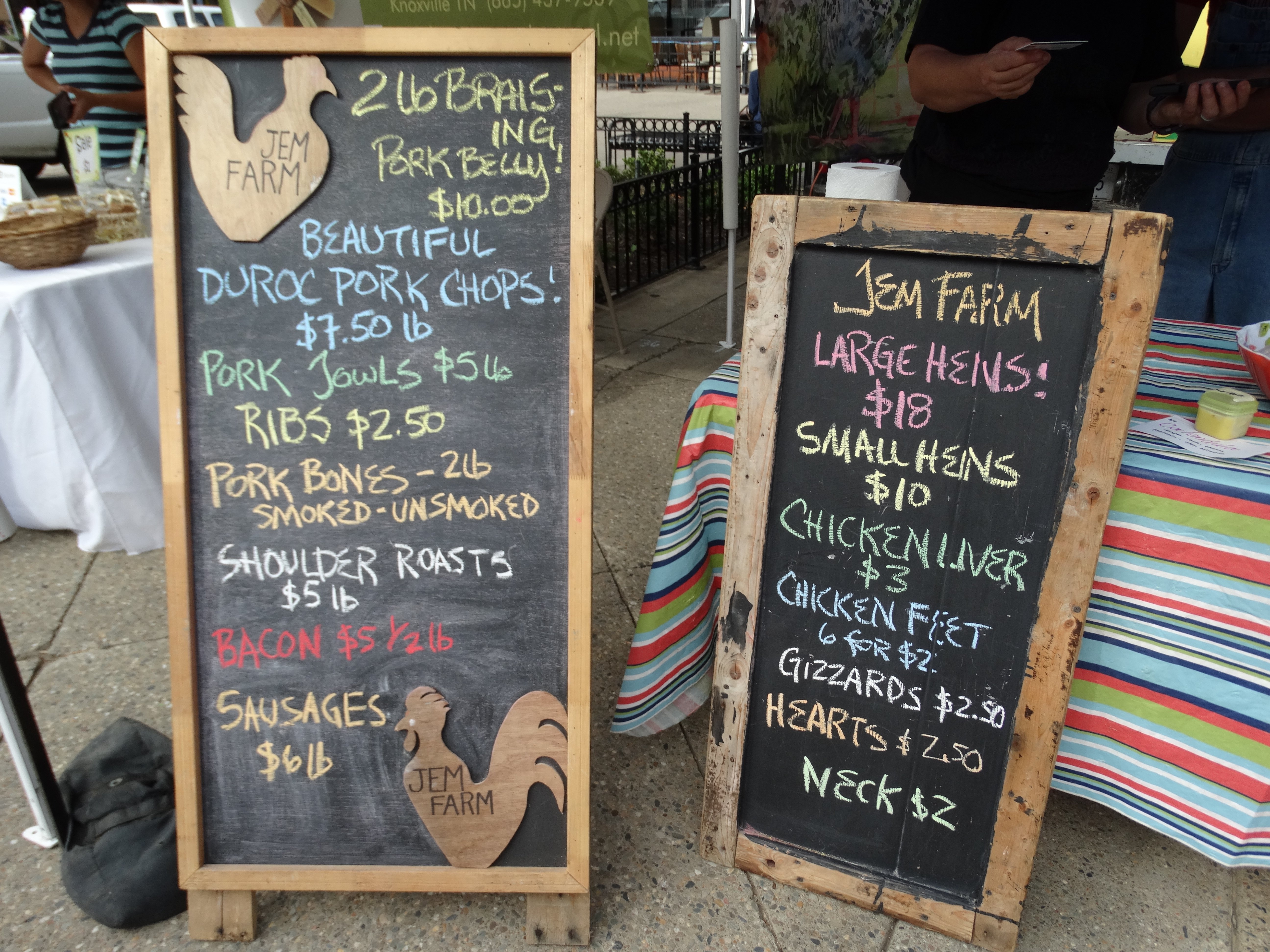 Meat, eggs, cheese, butter, and other foods may be available, but you could possibly also buy direct from local farms. In some circumstances like these, you can keep your money in your local economy and get a great deal to boot! Save money by buying in bulk when possible, then freeze or can the surplus.
Again, you need to use your judgment here. I don't like to buy meat at the farmers market because I don't know how long it's been out there. Usually, you can buy the same thing by visiting the farm where it has been kept cold or frozen. In addition, you can usually get a better deal there than at the farmer's market.
I'm happy to buy produce grown on family farms. Local food is fresher and much better for you and the environment.
Having said that, I will say that visiting the local farmer's market is a great way to FIND local meat producers.
Tips for your meal plan
Eat foods based on seasonality and you'll find the meals you make are tastier and you'll also feel better because in-season produce is fresher and has more nutrients. For example, ripe produce has highly active antioxidants. These protect your cells and keep you healthy.
Try to get a variety of fresh produce; choose the rainbow, and then make sure you eat everything you buy! Corn, okra, herbs, and eggs are some of our favorites, and of course big beautiful tomatoes!
Along with those tomatoes, grab some basil and whip up some tasty pesto. If you find some eggplant, why not make baba ghanoush.
You can always reverse plan when you're shopping at your farmers market. By this, I mean, buy the produce and other goods, then plan your meals based on what you found.
Tasty Food and More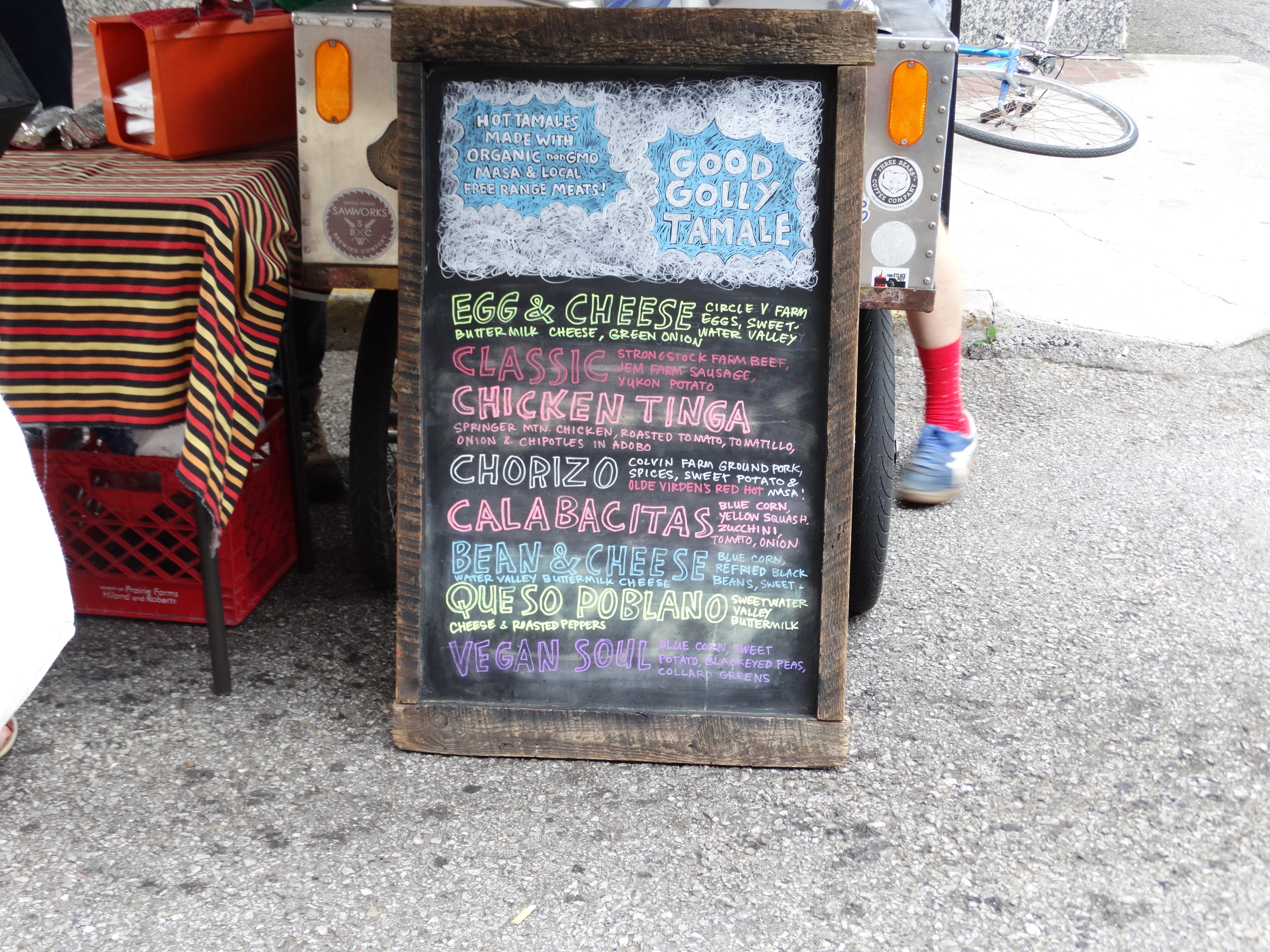 Hand-held meat pies, vegan tamales, watermelon radish salad, chutneys, heirloom varieties of tomato, grass-fed beef, and sourdough bread. These are just a tiny fraction of what I've found.
Some food vendors at the Farmer's Markets may not be worth the price. However, in my experience, it's a wonderful place to find out about local restaurants, bakeries and coffee shops. My kids have been enjoying tamales from Good Golly Tamale for years. The first one we ever tasted was from a cart at the farmer's market!
Here's an interesting Farmer's Market item. Luffa sponges! The farmer grew the luffa on his farm. This is wonderful for using in the shower or kitchen. Just not in both 😉
To tick off all the boxes in on your green living to-do list, consider walking to the farmer's market if possible. And of course, bring your reusable bags or basket to carry your goods home in.
Changes in Farmers' Markets with Covid
Over the past year, due to covid many outdoor farmers markets have put new measures in place. Some of those are limiting how many people can be in the area, requiring masks, providing sanitizers, clear signage, and more.