Last Updated on June 29, 2022 by Rebecca Huff
I decided to make homemade chicken cutlet pizzas as a simple way to get my pizza fix without the bread. I've had chicken crust pizza from the freezer section, but they're moderately expensive, don't taste fresh, and lack substantial toppings.
Pounding chicken breasts into thin cutlets is a kitchen task my kids like to do! Anytime they hear me in the kitchen with the meat mallet, they quickly appear and ask to take over. In fact, I've received a meat mallet from William Sonoma as a gift from one of them! (Sounds like a strange gift but they know I will appreciate anything from that store!)
The Benefit of Pounding Chicken
Just going to add this here. When you buy a pack of chicken breasts they are not all uniform in size or shape. Pounding the chicken to an even thickness improves the texture and helps it to cook more evenly.
For this particular recipe, I pound the chicken as thin as possible without tearing the meat too much. This makes it spread out and also makes it similar to the thickness of a pizza crust.
If you are using chicken breasts in any other dish, I would highly encourage you to try pounding them first! You don't have to get them super thin, but shoot for uniformity in the thickness of the meat. Often when cooking chicken, some thicker pieces may be undercooked and thinner pieces can get overcooked.
The texture of pounded chicken is also better.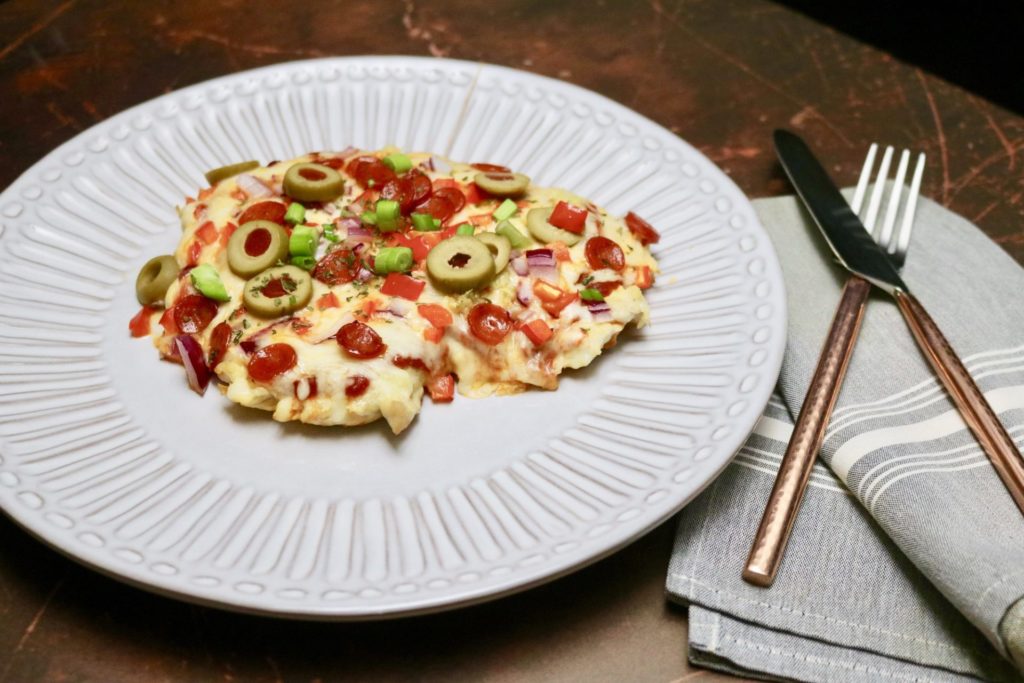 Improving the flavor of chicken
You might not have time to apply this technique every time you make a chicken dish, but if you do, it will improve the flavor tremendously. Recently, I made a recipe from the current cookbook club selection, Cookish. Before I prepared the recipe, however, I soaked my cubed chicken in a saltwater brine for about 8 hours.
I used a modified version of this recipe. I didn't measure, just eyeballed it. The chicken was so tender and juicy. My entire family raved about that dish. Currently, I'm working on a panko-crusted chicken cutlet that involves pounding and brine. Make sure you're subscribed to the RSS feed here if you want to be notified of upcoming posts.
Using an Iron Skillet for Chicken Cutlet Pizzas (and everything else!)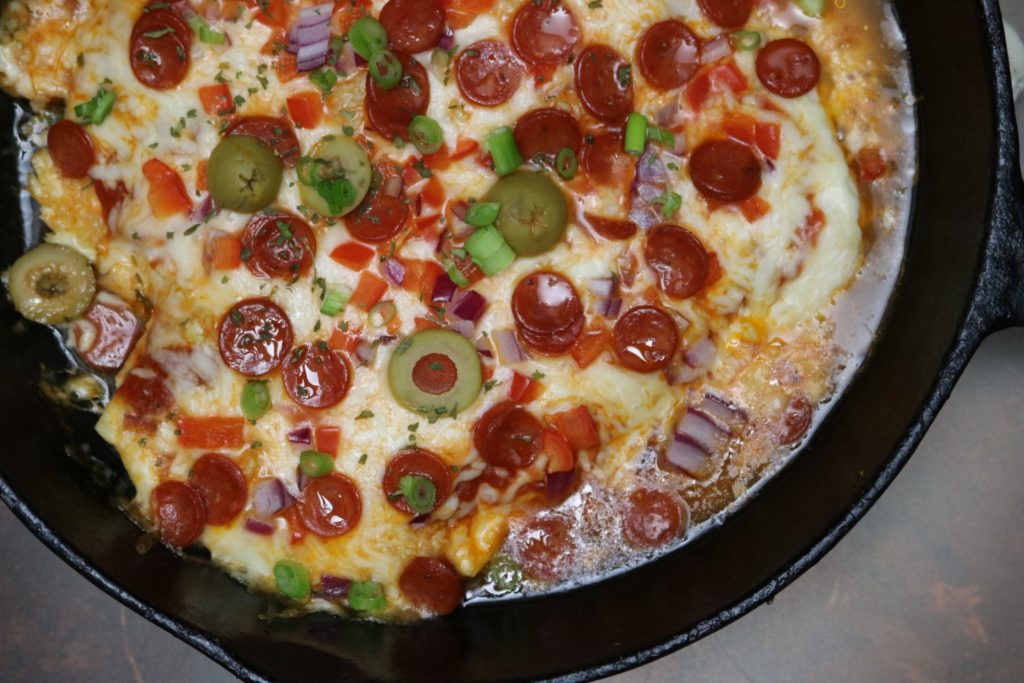 I prefer to cook just about everything in an iron skillet. My salt blocks get quite a bit of use too, but they're a bit fussier and with a recipe like this one, the juices would run out and make a big mess!
If you have a well-seasoned iron skillet, I'd encourage you to use it for this recipe. Lightly oil it, heat it in the oven while it's preheating. Then add the chicken so you get that little sizzle.
A casserole or baking dish works well too, as does a rimmed baking sheet if you're making 4-6 servings. (You can adjust the number of servings before you print or use the recipe by clicking on the number beside "servings" then sliding the bar up till you reach the desired number.)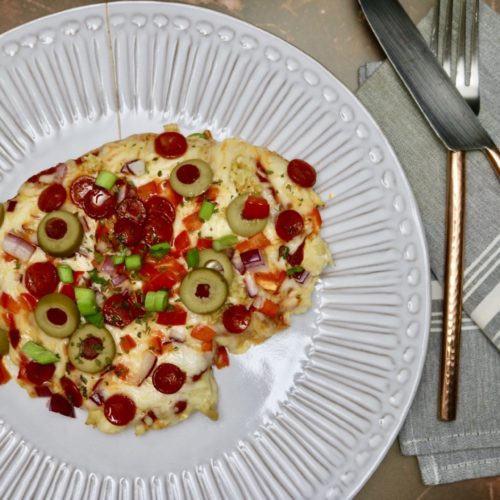 Chicken Cutlet Pizza
Satisfies your pizza cravings without the carbs and calories that come with thick dough.
Ingredients
1

chicken breast

pounded thin

salt and pepper

to taste

1

garlic clove

minced

¼

cup

marinara sauce

¼

cup

yellow bell pepper

finely diced

mini pepperonis

to taste (they come in a 4 oz package)

¼

cup

mozarella cheese

shredded

2

tbsp

onion

finely diced

pimento stuffed green olives

sliced, optional

basil leaves

optional
Instructions
Preheat oven to 425 degrees Farenheit.

Pound chicken breasts until very thin.

Season both sides with minced garilc, salt and pepper.

Add chicken to hot pan if using iron skillet, (no need to heat if using other type dish)

Cook the chicken for 9 minutes, then remove and add marinara sauce and toppings.

Put the chicken back in and cook until the cheese is melted or beginning to brown and chicken is cooked through.

Sprinkle with fresh basil or red pepper flakes and enjoy!
Notes
Multiply by the number of people you are serving. 
My girls really like pimento-stuffed olives and my grandma used to put them on her homemade pizzas when I was a kid. If you prefer black olives, go ahead and use them instead, or do both.
You can also experiment with other toppings, such as diced ham, bacon, thinly sliced spinach leaves or whatever you enjoy most.