Last Updated on June 29, 2022 by Rebecca Huff
Christopher Kimball and his amazing team of cooks in downtown Boston have done it again. Only this time, they've outdone themselves! Why? Cookish: the recipes, as always, are top-notch and very clever, but the size, feel, and look of this book set it apart from the previous cookbooks.
It looks so cute on my cookbook shelf!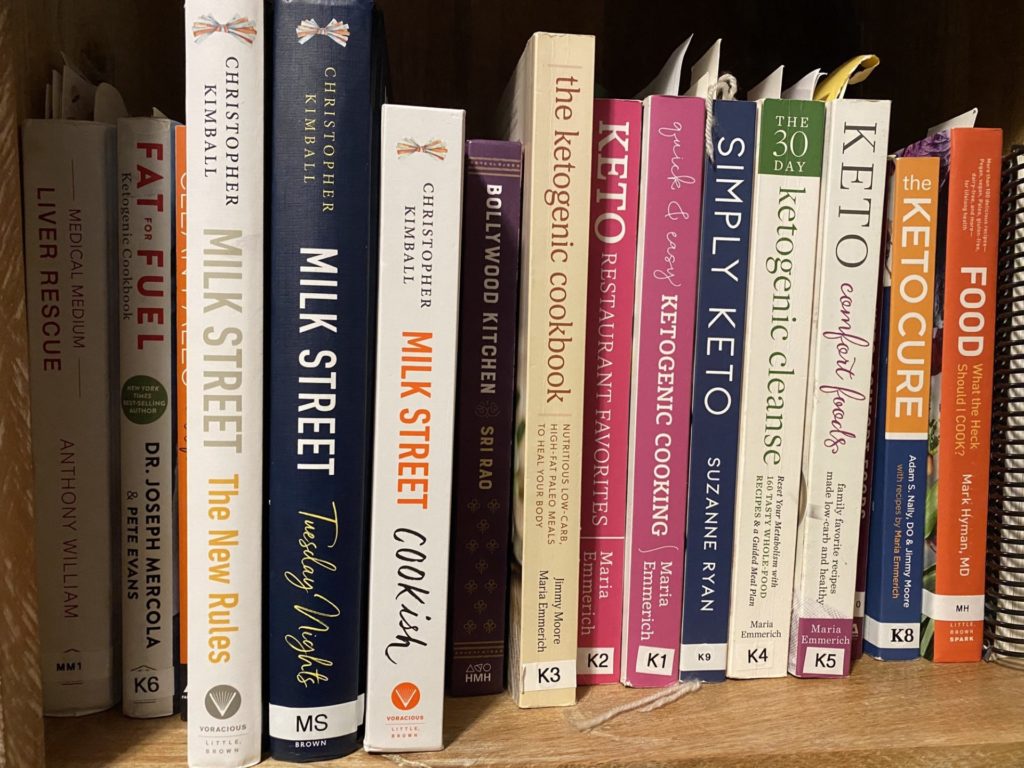 The hardcover makes it better able to withstand repeated uses, which is great since I'm rough on my favorite cookbooks. Recipes are set up in an easy to digest format, and of course, my top criteria – a photo for nearly every recipe.
And oh — the photos! Drool-worthy indeed. But the best part? Recipes that use fewer ingredients but still deliver on flavor!
If you haven't already read them, open my previous Milk Street Cookbook reviews in a new tab, or save them to your Pinterest Board so you can read them later!
You will have a voracious appetite after flipping through the pages! So you might want to do that little grocery shopping trick, where you eat before you go! Otherwise, looking at the delicious food photography is going to be torture!
As I've mentioned previously, Christopher Kimball's Milk Street team is uniquely qualified to publish another excellent cookbook as you will see if you watch 177milkstreet. Milk Street: Tuesday Nights, won both the IACP and James Beard Awards for General Cooking in 2019 (and it is by far my all-time favorite cookbook.)
Whether you are cooking for a group or a party of one, I can't wait to share these delicious recipes from The Milk Street Cookbook Cookish with you, so let's get started!
My doctor told me I had to stop throwing intimate dinners for four unless there are three other people." —Orson Welles
Techniques. 200 Ways to Reinvent Dinner
If you love simple recipes that work for weeknight meals, you'll do well to pick up a copy of Cookish. Before you start thinking this is one of those speed-style cookbooks where you throw 5 ingredients together, Kimball describes this technique like this,
We depend on a powerhouse supermarket pantry, ingredients that do the work for us, like orange marmalade, miso, garam masala, black bean garlic sauce, harissa, Thai red curry paste, pickled ginger, ground turmeric. We offer alternatives for hard-to-find ingredients, though pretty much anything is now a click away. ~ Cookish
That might sound complicated, but he goes on to encourage us that we will be laying the foundation for learning to cook without using recipes. A promise that this cookbook truly delivers.
Cookish is about having fun in the kitchen. As we like to say, "Throw it together."
Everything is well organized based on centerpiece vegetables or common proteins and finishing up with interesting desserts. The table of contents:
Vegetables
Beans & Grains
Pasta
Seafood
Chicken
pork
Beef
Desserts
Milk Street Cookish: Throw It Together, contains over 250 recipes that promise big flavor in minutes. COOKish recipes use fresh combinations of flavors and textures to create simple, streamlined and boldly flavored food fast. They are limited to six ingredients (other than salt, pepper, oil and water) and most recipes call for no more than one piece of cookware. It's a fresh approach to cooking that cuts time and trouble, but never compromises flavor. ~ Milk Street
Favorite Recipes from Cookish
These are the recipes I've gone back to multiple times!
Crisp-Breaded Chicken Cutlets
Almond, Caper and Herb-Crusted Chicken Cutlets
Chili-Soy Noodles with Bok Choy and Peanuts
Ginger-Peanut Sauteed Chicken
Pork Skewers with Garlic Orange and Yogurt
Chili and Herb Spiced Beef
Beef, Spinach and Geta Gozleme
Cookish: Throw it Together: Big Flavors – Dessert Recipes
While the authors of milk street finish their books with dessert, I'm going to start with one because it was the recipe I made the most. The first dessert recipe I tried to take pictures of was almost comical in that I had to make it so many times, but no one was complaining about that.
Blueberry Crumble with Oats and Tahini
Five out of six of my children were at home the first time I made this dessert; one had somewhere to go and asked us to save her a serving. We were so excited to dig in and taste it that I didn't get a picture, and we didn't save that serving for Ivy. So, of course, I had to make it again.
The second time I used regular frozen blueberries instead of the frozen wild-blueberries I had used in the first batch. The regular frozen blueberries weren't as good as the wild (just as he mentioned in the recipe) and to be honest, fresh blueberries were out of season and really expensive! And guess what, the second batch also disappeared before I remembered that I'd wanted to take a photo.
That's why I made it a third time after most of the kids had gone back home so that I could take this picture to share. I'll be making it again when blueberries are in season because I have a hunch fresh blueberries that would taste the best.
Blueberries are tossed with oats and sugar and then topped with a crumble of oats, tahini, cinnamon, sugar and butter, Baked in a pie plate for half an hour—big flavor with little work.
I substituted coconut sugar in this recipe and it was outstanding. The final result surprised me more than any others I've tried. Why? The key ingredient is tahini. Not something you'd expect in a blueberry crumble.
With just a handful of ingredients, I was able to create a dessert that had such an astounding depth of flavor. You'll want to top it with quality vanilla bean ice cream which really compliments the tahini flavor.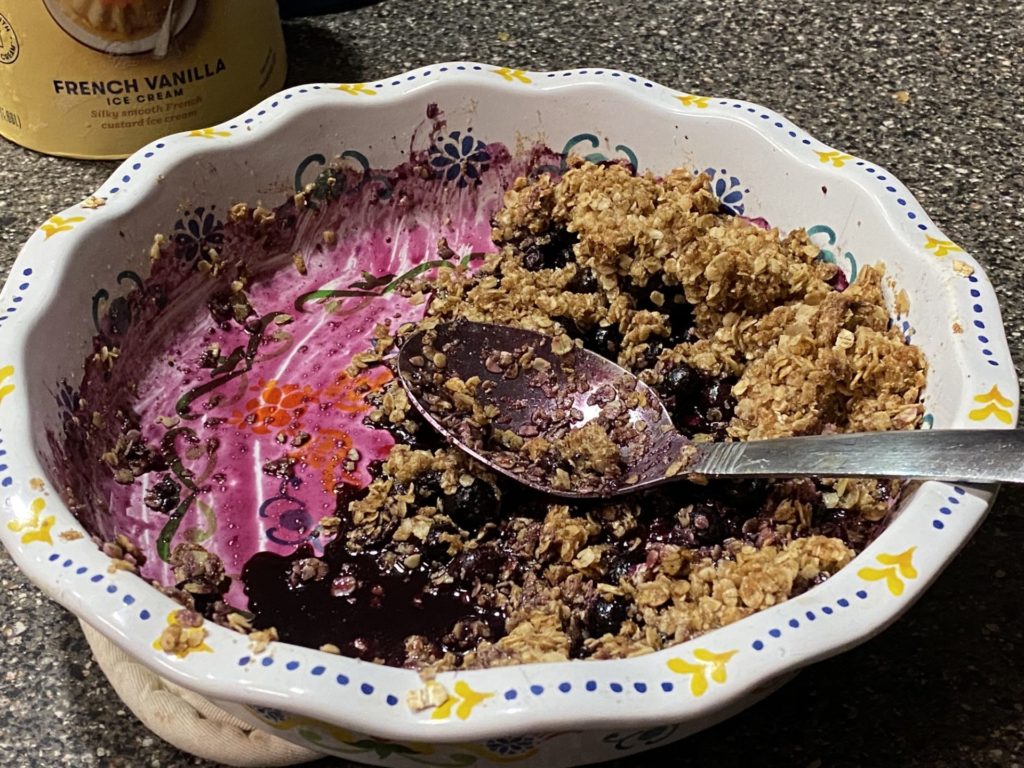 Coconut Almond Macaroons with Apricot preserves
Another dessert that used unusual ingredients to build flavor is the coconut almond macaroons with preserves. You can choose whatever flavor of preserves you like, but we chose intense apricot fruit spread by Bonne Maman. The key ingredient in this dessert is the preserves, which is one reason why I chose "intense." The other is that it contains more fruit and 39% less sugar than regular preserves.
I also made this recipe with some Lingonberry preserves I picked up at Whole Foods recently. Wow, wow, wow! So good. I've made macaroons in the past, in fact, I have my own recipe. However, the addition of preserves, an easy concept, takes them from average to star of the show. This dessert recipe was also a keeper and something I plan to whip up again around Christmas time.
Protein: Chicken Recipes
Moving on to the proteins, I'll start with chicken. I was not disappointed by the recipes I prepared! Let's start with something spicy!
Korean Fire Chicken
There is a range for the amount of gochujang used in this recipe and if you are intolerant of spicy foods, I suggest you start on the low end. Gochujang is a Korean fermented chili paste and is the key ingredient in this dish.
If you've never tried it, you can most likely find it in the international aisle of your supermarket or visit the Asian grocery to grab some. Look for one with the fewest ingredients. I prefer:
Mother-in-laws Gochujang
Bibigo Korean Style Gochujang Sauce
One Culture Foods Korean Gochujang Sauce
My family, with the exception of my husband, all enjoy hot, hot, HOT, which is why I used the full measurement. It did not disappoint. For the first few bites, I felt like I wished I'd added something sweet to the recipe but as the heat began to make my lips tingle, that thought vanished and I was left satisfied. This dish, like many, was even better on day two.
Crisp-Breaded Chicken Cutlets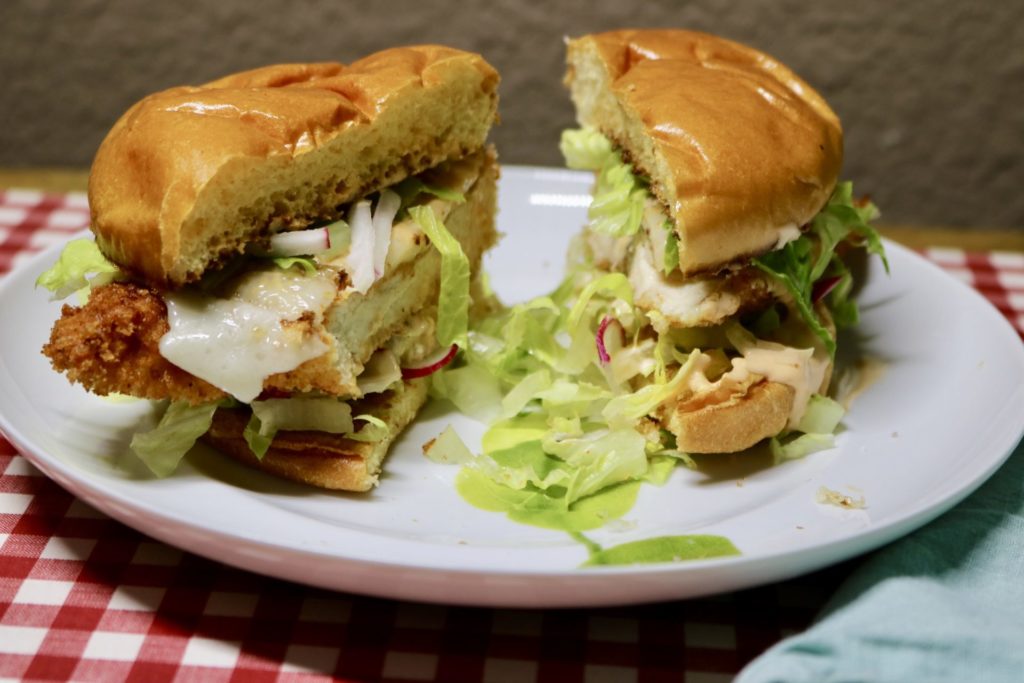 My son asked me to create a homemade chicken sandwich that would be healthier than Chik-Fil-A but taste just as good. So, I'd been thinking about how to go about creating something similar. Not too long after this request, I found the Crisp Breaded Chicken Cutlets on page 198.
The recipe calls for Japanese panko breadcrumbs and one of several varieties of spice blends. Using the harissa spice blend, I pounded out some organic chicken breasts. Getting them around 1/4 to 1/2 inch thin is best so that they are cooked through when the coating is nicely browned.
When these are ready, you could just serve the cutlets as is alongside the Arugula and Avocado Salad recipe – a tasty pairing. What we did was to put the cutlets on Brioche buns and recreate the image in the book! Thinly sliced lettuce, radish, and a spunky sriracha-mayo sauce. My son ate three of these in one sitting. (Growing teenage boys will put a hole in your wallet fast and homemade is cheaper and healthier than fast food!)
My entire family went crazy over this chicken, with or without the bun, it's a keeper recipe and one of the most flavorful meals from the book. Added to my monthly rotation.
Almond, Caper, and Herb-Crusted Chicken Cutlets
Very similar to the crisp breaded chicken cutlets, but with a definite twist. I started to tell you this was my favorite chicken recipe but then I realized I say that about them all, don't I? Well, it's really good y'all!
One night I found myself without a dinner plan and then noticed I had everything on hand to make these. Wow. Yes, I had capers in my fridge, I love capers. They are a bit salty, so you don't need many, but are high in vitamin K and considered a good source of copper, iron, and magnesium. They are full of natural antioxidants, are excellent for the heart and brain; studies say pickled capers may help fight cancer and heart disease.
This recipe gets a 10 out of 10 in my books. Add a little pepper jelly to your plate and dip away. You'll be so happy you won't know what to do with yourself!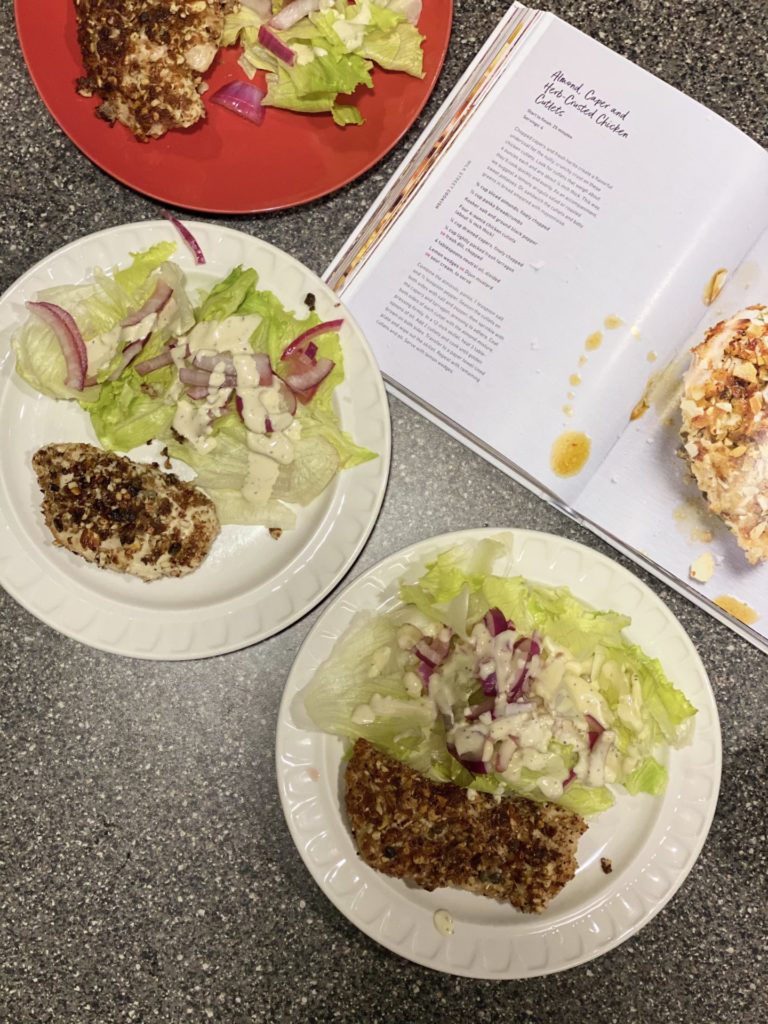 Protein: Beef Recipes
Beef is the preferred protein in my home, my husband and kids mostly prefer well-prepared beef over chicken. So, I grabbed some flat iron steak from Farm Foods for several recipes I wanted to try.
Portuguese Style Beef w/ Pickled Vegetable
This recipe was one of those super simple recipes from the book that, when plated, looks incredibly complicated. It uses a jar of giardiniera veggies in the finished dish. I used my iron skillet and followed the instruction to scrape up the browned bits from the pan for all that added flavor.
When they wrote, "each intuitive recipe is a road map for other mix-and-match meals, which can come together in minutes from whatever's in the fridge" this is the recipe they were talking about. Seriously, grab some beef, garlic, butter, and these pickled vegetables and how on earth does it turn out so good? Later I tried the theory using pork belly and low and behold it was heavenly.
Another bonus is that this is a single pot recipe so it's fast and easy to clean up. Most of the recipes in the book make use of this technique.
Gochujang Skirt Steak and Noodles with Kimchi
This was another spicy dish that we enjoyed. We all love kimchi and buy it locally made or else make it ourselves. Skirt steak, sourced from Farm Foods because I prefer grass-fed beef. Before serving, top this dish with the cooling thinly sliced cucumbers and sliced scallions. You can thank me later!
Noodles, Vegetables, and Beans
Broccoli is so good for you, anytime I find a broccoli recipe in a cookbook, I give it a go. This was my first time trying Charred Broccoli with Miso Vinaigrette. Something about charring broccoli lifts the flavor to new heights!
I don't usually do much pasta, but since my daughters were home and they love pasta, I added the Scallion Noodles to our lunch menu. Praise all around.
Another day I made Pasta with Harissa, Lemon, and Yogurt for lunch. We used fusilli pasta and greek yogurt, along with the zest of fresh organic lemons. Can't you just taste that right now? The optional garnish suggestions were fresh mint or crumbled feta cheese, heavenly!
Chickpeas are so easy to work with and take on just about any flavor you add to them. The chickpea and tomato curry did not disappoint, especially when you consider that it was as easy as opening a few cans and mixing in some spices. This is even better on day two, so if you can, save some leftovers. Top with an ultra-thin sliced jalapeno and a dollop of Greek yogurt.
Plenty of soup recipes available, and I think soup the weeknight cooks best friend. Especially those of us who work from home. Using a crockpot or instant pot, or even a single pot on the stovetop, prepare a soup early in the morning and enjoy it for lunch and dinner.
The one I tried was Red Lentil Soup which was heavy on one of my favorite spices, paprika. The red lentils along with the paprika and red pepper flakes gave it a moderate amount of heat which paired nicely with the fresh mint we sprinkled on top. If you've never tried cooking lentils, this is a fabulous starter recipe. It's simple to make yet packs in big flavors.
Miso-Walnut Soba with Bok Choy
For this dish, I chose red miso, although I typically keep white miso in my fridge. Don't overcook the noodles! Soba is healthiest when you use 100% Buckwheat noodles. For this dish, I chose baby bok choy because it is more tender than its full grown counterpart. I also finished mine off with a little browned butter and a shake of shichimi togarashi.
It is the time of year when cooking is celebrated, so you will want to make a few of these centerpiece vegetables for your holiday spread. The helpful thing is that most of them only require a handful of ingredients, most of which you likely have on hand in your pantry.
Menu Plans with Big Flavors
As usual, I created a menu for testing the recipes. My eldest daughter was visiting during this week, so she and my youngest daughter prepared several of the recipes. Because we had a full house, I often forgot to snap some pictures before everyone started to dig in. Then the dish disappeared before I even realized I didn't have a photo!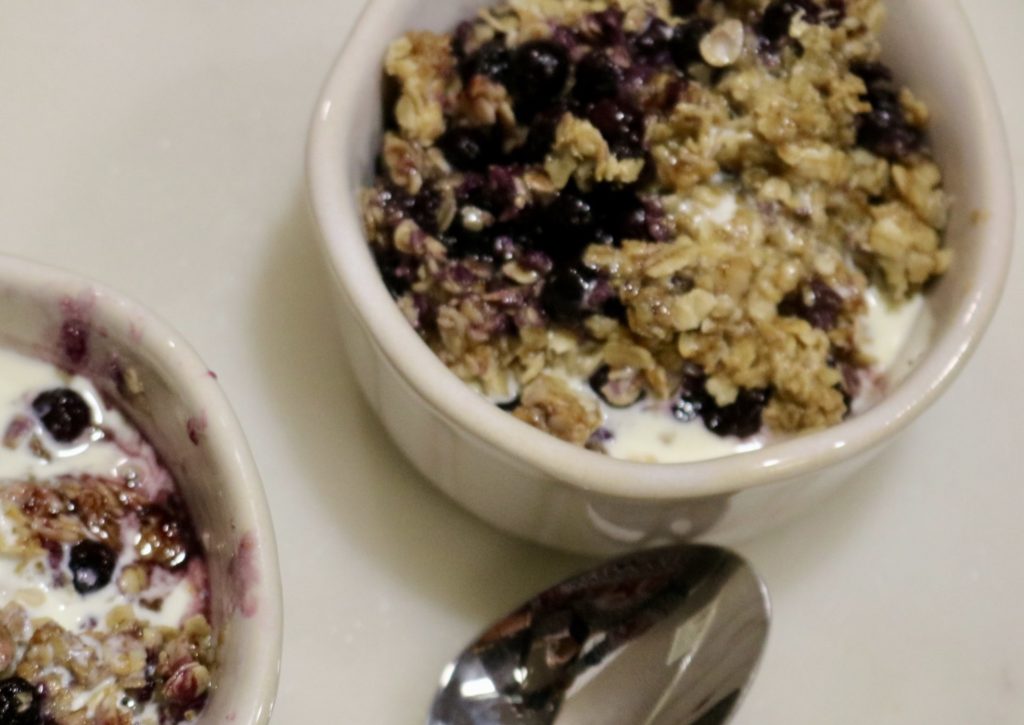 Here's a PDF of my menu plan and shopping list which includes the following delicious meals at dinner-time.
Gochujang Skirt Steak and Noodles with Kimchi p. 283
Korean Fire Chicken p. 234 w/ white rice
Portuguese Style Beef w/ Pickled Vegetable p. 295
Stir-Fried Red Curry with Green Beans and Herbs p. 224
Chickpea and Tomato Curry p. 85
Korean-Style Spicy Pork p. 265
Crisp-Breaded Chicken Cutlets p. 199
I also created a chart that will help you choose a low carb or Keto recipe from this cookbook if that's your preference. You can grab a PDF copy of the Cookish Keto Recipe List here.
I hope you enjoyed this cookbook review and are inspired to start exploring another exciting cookbook selection.
High Praise for Cookish:
Milk Street founder Kimball (Milk Street: The New Rules) collects solid recipes with six ingredients or fewer that build flavor with powerhouse components rather than fussy prep. Most of these meals, in which 'time is no longer the key ingredient,' are prepared in a single pot. The simplicity is appealing and the flavors are bright…The quick-and-easy concept is carried out consistently, and this clever title will be a boon for weeknight cooks. —Publishers Weekly
No complaints whatsoever about Cookish, the layout is better than The New Rules, and the size is better than Milk Street Tuesday Nights but the recipes are good across the board, no matter which book you are working from.
"Every recipe has an implicit guarantee… Easy, quick, works, boom."―The Atlantic, on Tuesday Nights I'll add that the same goes for the newest publication from the authors of milk street, maybe even more so!
During the pandemic, the Milk Street Cooking School closed for in-person classes, but they offer online cooking school to anyone who wants to participate. My 12-year-old daughter has taken several of these classes and learned some powerful cooking principles.
In addition, we like to watch the show on public television and are subscribed to the bimonthly magazine. My daughter has learned that these simple techniques transform pantry staples turn her into a great cook at such a young age.
I'm convinced if you want to put a delicious meal on the table for your family or to impress guests with some delicious recipes, just grab a copy of and head to the kitchen.
When it's a race to put dinner on the table, these recipes let you start at the finish line.
Recipes I still have earmarked to try that I will share photos of in A Tasty Bite Cookbook Club:
West African Peanut Chicken p. 233
Citrus and Spiced Strawberry Compote p. 313
Pasta with Shrimp and Browned Butter p. 169
Eton mess with Cherries and Chocolate p. 321
Grab a copy at your local book store or order a copy from Amazon. Right now it's only available in hardcover or Kindle formats. Join the online cookbook club and let's get cooking these flavorful meals!
Christopher Kimball Biography
Christopher Kimball is the founder of Christopher Kimball's Milk Street. Mr. Kimball is also the host of Christopher Kimball's Milk Street Television and Christopher Kimball's Milk Street Radio, a weekly public radio show (and podcast).

Christopher also founded Cook's Magazine in 1980 and served as publisher and editorial director through 1989. In 1993, Mr. Kimball re-launched Cook's Magazine as Cook's Illustrated and went on to found Cook's Country magazine in 2004. Mr. Kimball is the author of several books including, most recently, Fannie's Last Supper.

Learn more at 177milkstreet.com.