Last Updated on June 29, 2022 by Rebecca Huff
My Instant Pot Chicken has been pretty popular and for grilling, you can't beat heavenly chicken. Wondering why I created the Best Roasted Chicken Ever Recipe? Recently, I wanted to create a roasted chicken worthy of serving to guests.
My best roasted turkeys have always been the ones that I soak in a brine overnight. So, thinking about this, I decided to use my favorite turkey brine recipe on my weekly two-pack of chickens.
This two-pack of organic chicken from Costco is the reason I got in the habit of cooking two whole chickens each week. I figured if I'm going to the trouble of cooking one chicken, I may as well cook two. The chicken from this recipe is so delicious and juicy I couldn't believe how much better it tasted than any other chicken I've made. I still used the bones in my instant pot to make bone broth, but you can easily do that in a pot on the stove or crockpot.
From my previous bone broth posts I've had a number of people ask me how I would cook my two chickens if I didn't have an instant pot. I would start by roasting my chickens just like this.
Start with making the brine. All it takes is a few simple ingredients. I used honey, Himalayan salt, peppercorns, lemon juice and rosemary. I have fresh rosemary growing outside my kitchen which and the flavor is amazing. You can use Bay leaves in place of the rosemary if you like.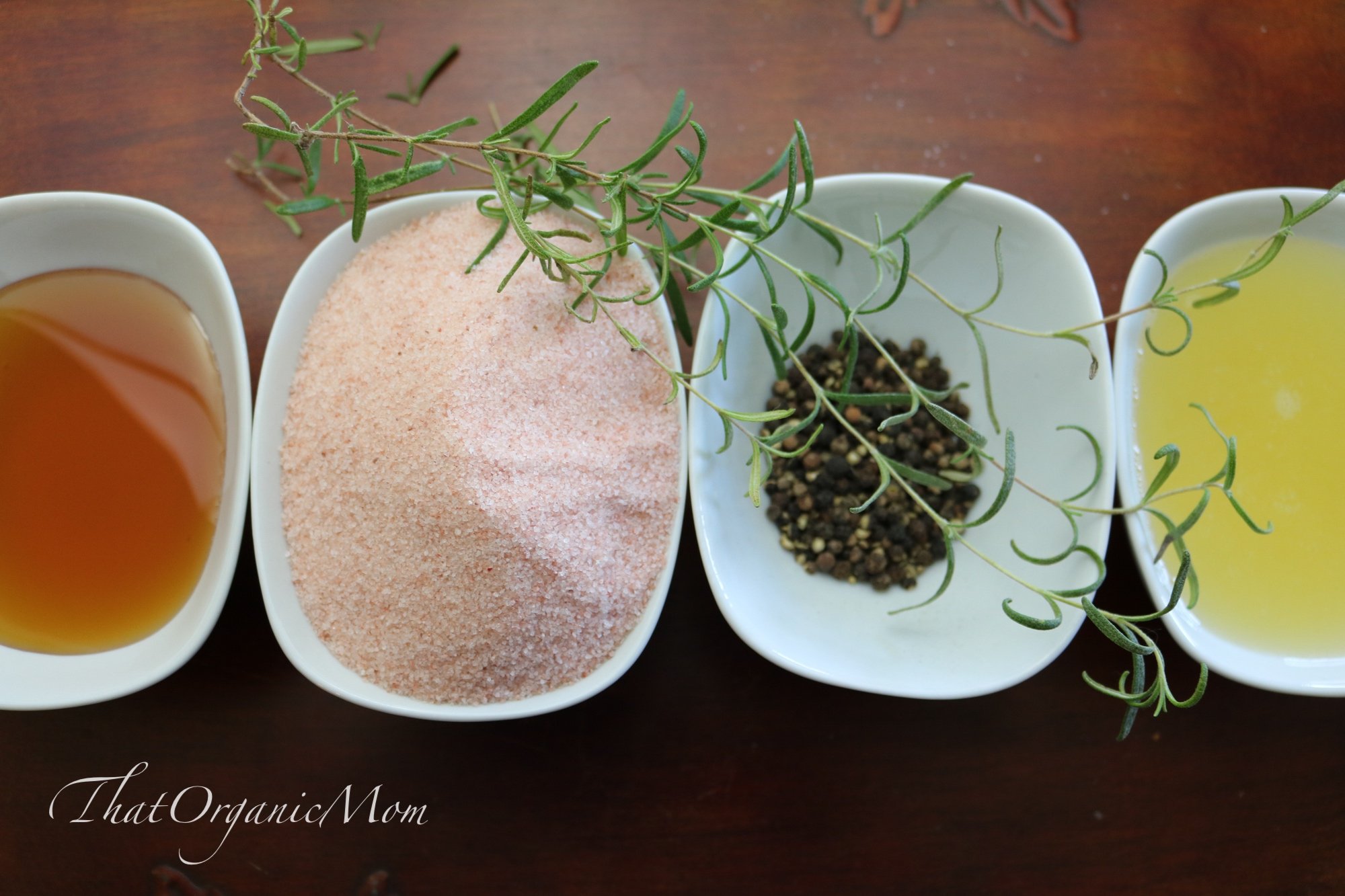 Dissolve the salt and honey in a smaller portion of the water then add more water to make a full gallon of brine, that way you don't have to wait for it to cool before adding the chickens. The chickens need to be soaking in the brine for about 6 hours so I typically just leave mine in the fridge overnight. If you would like to make this recipe using only one chicken, simply cut the recipe in half.
If you have iron skillets I highly recommend cooking the chickens side by side in the oven! Something about a chicken cooked in an iron skillet has the best flavor. My Best Roasted Chicken Ever Recipe is no exception. Once you remove the chicken, make sure to save all the drippings because there is so much flavor in there. Make gravy with it, add it to a soup, or pour it over your chicken! Yum!
One other note, while undercooked chicken can be dangerous, take care not to overcook your chicken! There's nothing worse than dry over-cooked chicken. Use a meat thermometer and you'll make perfect chicken every time. I set mine to alarm when the temperature reaches 165 degrees.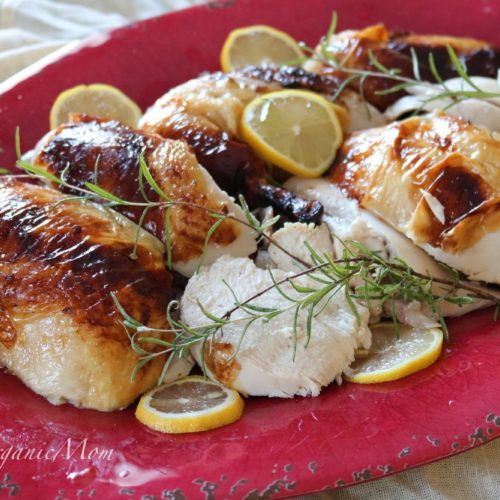 Best Roasted Chicken Ever

Dairy Free

Gluten Free

Keto

Low Carb

Paleo

Sugar Free

Trim Healthy Mama
For a tender, juicy chicken, put the time in to do this brine and you'll never go back to boring and dry plain roasted chicken again!
Ingredients
For Brine:
1

cup

Himalayan salt

if you don't have it, use Kosher salt

1/2

cup

honey

2-3

sprigs Rosemary

or you can substitute a handful of bay leaves

Juice of two lemons

1

tablespoon

of black peppercorns
Instructions
In a pot combine everything with 2 cups of water and bring just to a boil, stir well then remove from heat.

Pour brine into a gallon size jug or container and fill the rest of the way with fresh, filtered water.

The gallon of water should be cold enough to brine the chickens so you can immediately put them into a container (like a giant bowl or brining bags) making sure the brine fully covers the chickens.

Let rest in the refrigerator overnight.

Pat the chickens dry and let them stand at room temperature for 10-15 minutes.

Coat two iron skillets (or whatever roasting pan you have) with a bit of avocado oil (or whatever you have) add the chickens to the skillets breast side up.

When ready to roast the chickens preheat oven to 475 degrees, put skillets with chickens in the oven and roast 10 minutes, then reduce temperature to 350 degrees.

Roast Chickens for about an hour or until the internal temperature between thigh and drumstick reads 165 degrees. (please use a meat thermometer) If they start to get too brown on the top cover with a piece of foil gently just on the top of the chickens to prevent over browning.

Allow chicken to rest for 10 minutes before carving.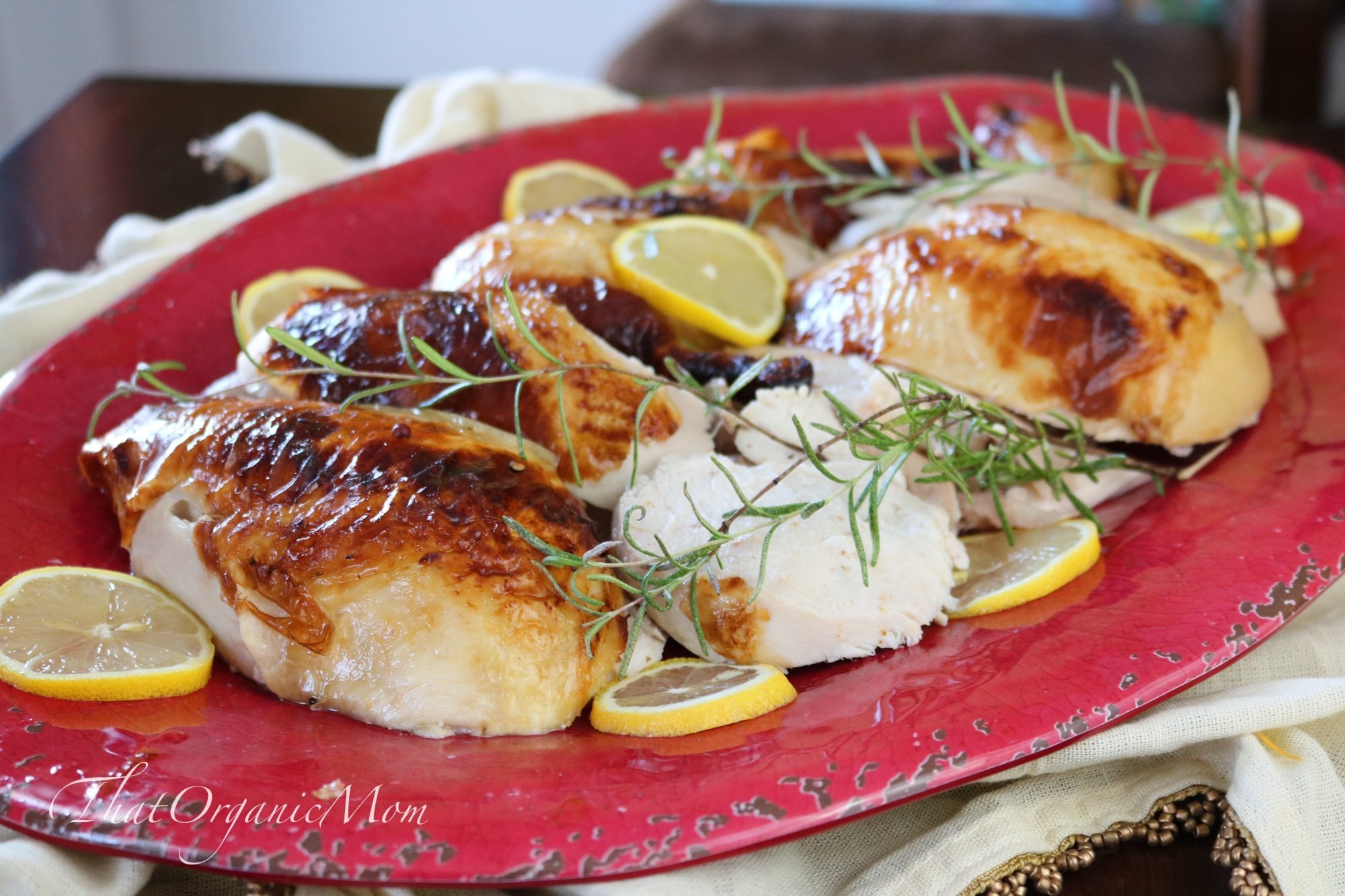 Don't forget to make bone broth with the chicken bones! Leftover chicken can be used in casseroles, soups, sandwiches and on salads. Try using some of this chicken in my Buffalo Chicken Soup! My kids make their own Chicken Dumplings soup with the leftovers with no help from me.
Other ideas for this chicken include Tex-Mex Pizzas, try making your own bowl recipe, apple & sharp cheddar chicken grilled cheese, chicken and pasta, soups