Last Updated on June 29, 2022 by Rebecca Huff
Eating a variety of vegetables on a daily basis is easy when you have lots of tasty ways to serve them.
Brussels sprouts are rich in Vitamin K, fiber and antioxidants. Eating Brussels sprouts has been linked to a decreased risk of diabetes. (1,2)
Move over orange juice!
Eating just 100 grams (that's about 3.5 ounces) of these little green orbs also contains about 141% of your RDA of Vitamin C. (3) Comparatively speaking, 3.5 ounces of orange juice has only 56% of the RDA of Vitamin C and none of the fiber. That same little serving of Brussels sprouts will net you 13.5 grams of fiber.
Nutrients aren't the only reason to add Brussels sprouts to your plate
My daughter is a huge fan of Brussels Sprouts with just butter and salt. That's delicious, but sometimes I like to add a little zing! Hello?
Fall just arrived, and while we can get Brussels Sprouts any time of the year, I prefer to eat vegetables in season. October through November, and especially after the first frost, is the time for these tiny little cousins of the cabbage. Even better if you can find Brussels Sprouts still on the stalk; sometimes at Trader Joe's.
With the holidays coming next month, it's time to start thinking about what types of dishes we'll be preparing for our family meals.
Maple flavor pairs so perfectly with Brussels Sprouts, you'll wish you'd tried this long ago. Don't worry, this recipe is still low carb! How? Because instead of Maple Syrup, which is great, don't get me wrong, but for keeping the carb and calorie count low, we are going to use Pyure Organic Maple Flavored Syrup on our Brussels Sprouts!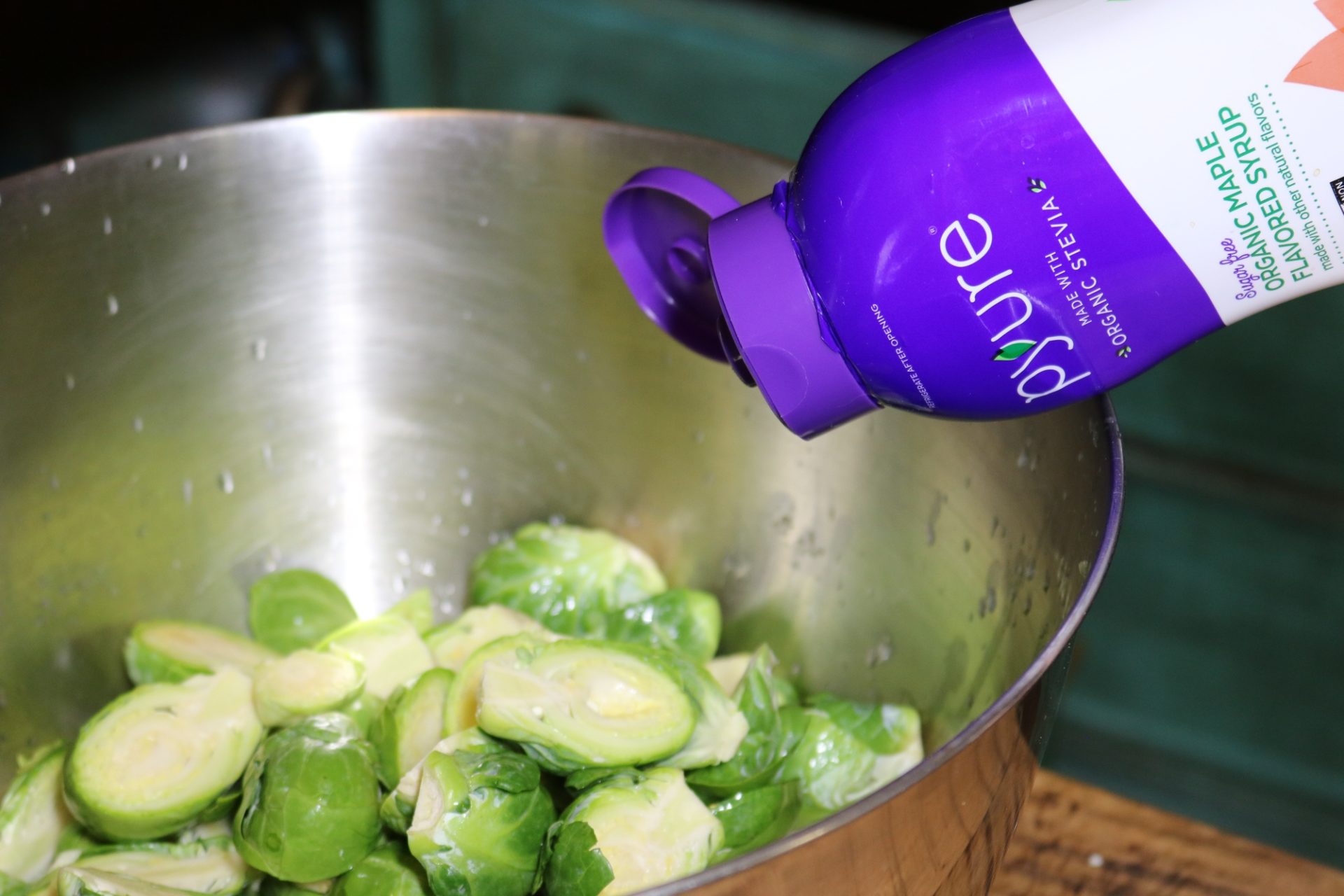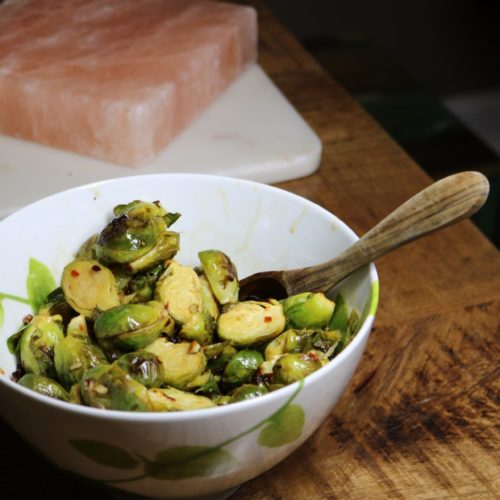 Roasted Brussels Sprouts with Maple Lime Vinaigrette and Toasted Pecans

Dairy Free

Keto

Low Carb

Sugar Free

Trim Healthy Mama

Vegan

Vegetarian
Brussels Sprouts meet maple flavor! So absolutely delicious - it's a match made in heaven.
Ingredients
2

pounds

Brussels Sprouts

washed, trimed and halved

1/3

cup

Pyure Maple Flavored Syrup

you could use up to 1/2 cup if you like sweeter veggies

1

teaspoon

soy sauce

tamari or coconut aminos

1

medium lime

1

tsp

garlic powder

Salt and Pepper to taste

1/4

cup

toasted pecans

finely chopped

dash of red pepper flakes

optional
Instructions
Mix soy sauce, lime juice, garlic powder, salt, pepper and Pyure Maple Flavored Syrup in a medium bowl.

Add prepared Brussels Sprouts, toss and coat with Vinaigrette, let them sit in liquid while the oven is preheating to 450 degrees.

Using a slotted spoon, move the Brussels Sprouts to a baking pan, reserving the liquid for later use.

Put baking pan with sprouts into the oven and bake 15-20 minutes - checking after 15 minutes for doneness (depends on the size of the sprouts you use)

When they are tender, broil them for just one minute - don't walk away from the oven - keep your hand on the door, cause you don't want to burn, just brown them, so be careful!

Remove from oven and return to bowl with the vinaigrette, toss and sprinkle with toasted pecans and enjoy!
Any time I have the chance to cut back on the amount of sugar we consume I take it. While a few tablespoons of maple syrup might not seem like much it the accumulative effect of eating sugar can impact blood sugar levels. (4) When it comes to reducing the risk of obesity, metabolic syndrome and diabetes, choosing the right foods can have a lasting impact.
The quality of carbohydrate foods selected—ideally rich in dietary fiber, vitamins, and minerals and low in added sugars, fats, and sodium— should be addressed as part of an individualized eating plan that includes all components necessary for optimal nutrition (4)
So that is why I add recipes like this one, made with nutrient-rich Brussels sprouts; and without added sugars, to our diet on a regular basis. Besides, it's so yum!