Last Updated on June 29, 2022 by Rebecca Huff
One of my favorite dishes is a simple leg of lamb recipe not only for the delicious flavor but also for the health benefits.
Lamb is part of a healthy diet, being a good source of heme iron which is preferable to non-heme iron found in plants such as spinach. Especially for those of us who have anemia or want to keep iron levels up.
Lamb is also an excellent source of Vitamin B12 which is vital for the nervous system to function correctly. It is also a good source of other essential B vitamins as well as Zinc.
Lamb meat is an excellent source of omega-3 fatty acids and another substance called conjugated linoleic acid (or CLA) that helps improve lean muscle and also aids in weight loss.
Costco often carries leg of lamb at a reasonable price, but the best I have tasted is organic, grass-fed lamb purchased from a local meat counter.
Jump to Recipe
I'll never forget the first time I prepared this dish and how much we loved it. We lived in Florida, on a 10-acre ranch which was very secluded. Since then, I have made this recipe many times for my family.
This recipe is as simple as putting together dijon mustard and melted butter, spreading it on a salted (and pepper if you like) leg of lamb, then roasting.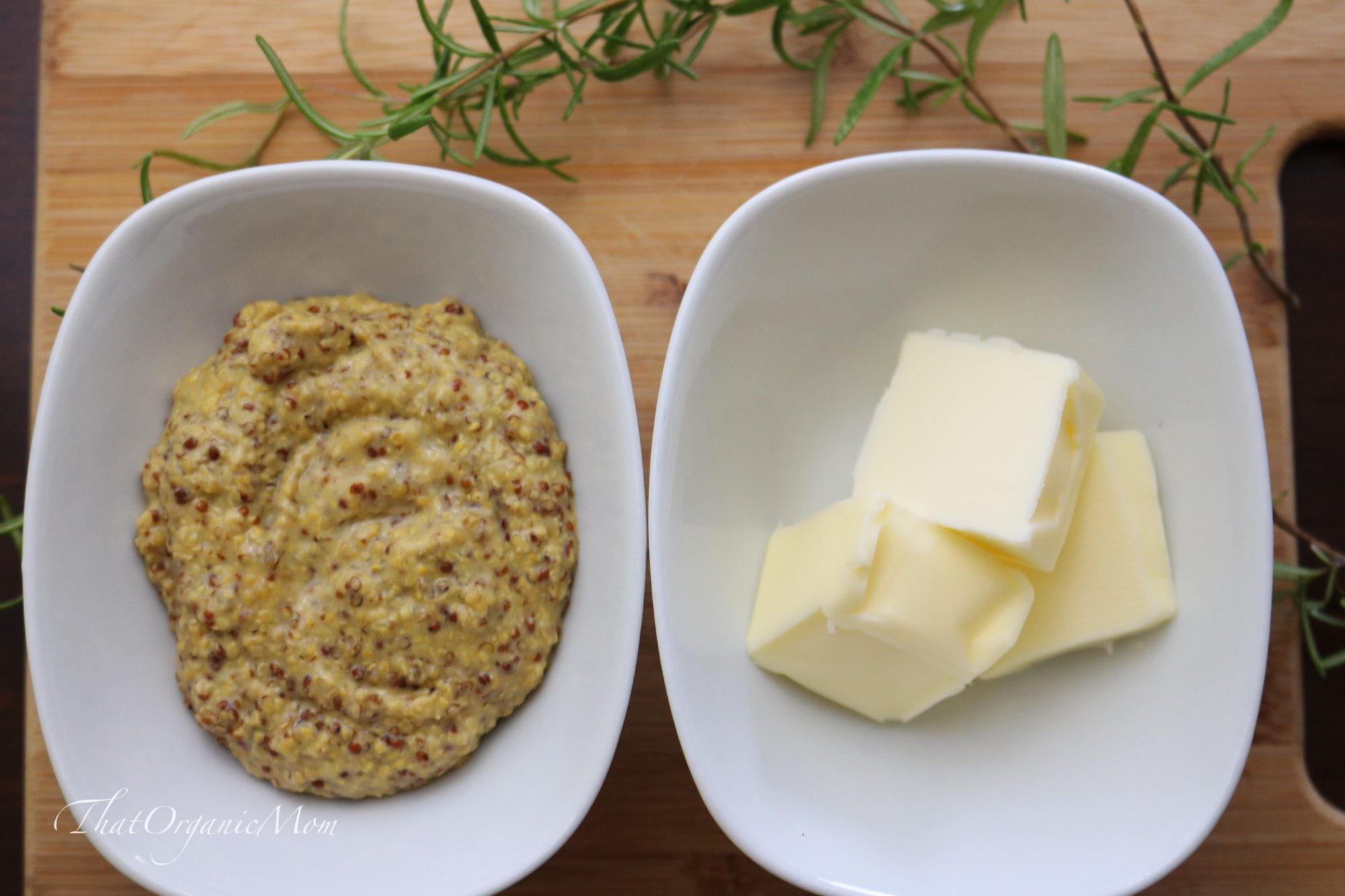 Check the weight of your meat and calculate your cooking time. Set your timer and when it is up, check with a meat thermometer. Normally I go for rare but because we had a guest who prefers more done-ish meat, I cooked it to almost well-done!
If you don't have a meat thermometer, you really should consider getting one. The one I use has a magnetic bottom to stick to the outside of your oven. The base has a long wire thermometer that can be left inside the oven while you cook; no need to open the oven door to take the temperature!
You can find other must-haves on the TOM Amazon page and if you hover over the little chat box in the upper right-hand corner you will find my notes!
Lamb Recipe Cooking Times
Rare: 125°F (about 15 minutes per pound)
Medium-Rare: 130°F to 135°F (about 20 minutes per pound)
Medium: 135°F to 140°F (about 25 minutes per pound)
Well-Done: 155°F to 165°F (about 30 minutes per pound)
If you follow a ketogenic lifestyle, try my lamb recipe with mashed cauliflower and roasted asparagus. Traditionally, I would serve this lamb recipe with roasted potatoes, onions, carrots, and sourdough bread toasted with garlic on top. Leftovers make a great sandwich or a protein addition to noodles or salad.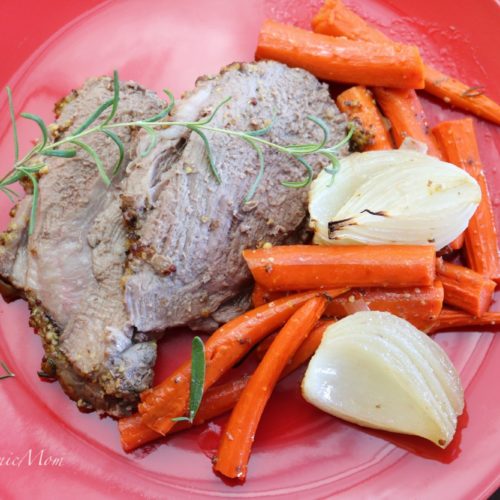 Simple Leg of Lamb

Keto

Low Carb

Trim Healthy Mama

Whole 30
The butter and whole seed mustard really highlight the flavor of the meat in this recipe.
Ingredients
3

tablespoons

dijon mustard

I like whole seed mustard for this recipe

3

tablespoons

butter

melted (try a grass-fed butter like Kerrygold)

1

leg of lamb

mine was 4 pounds, if you get a large leg of lamb, double the mustard and butter

Salt and Pepper to taste
Instructions
Before unwrapping, take note of the size (in pounds) so you will know how long to cook your leg of lamb. *see time suggestions below

Place leg of lamb in a roasting pan, fat side up.

Add salt and pepper to taste.

Mix melted butter and mustard and spread over top of meat.

If adding roasting vegetables, place in the pan around the meat.

As soon as you place the meat in the oven reduce the temperature to 350 degrees and cook according to how well-done you prefer it.

Let rest 5 minutes before slicing
Notes
Rare: 125°F (about 15 minutes per pound)
Medium-Rare: 130°F to 135°F (about 20 minutes per pound)
Medium: 135°F to 140°F (about 25 minutes per pound)
Well-Done: 155°F to 165°F (about 30 minutes per pound)
Nutrition
Serving:
4
ounces
Calories:
303
kcal
Protein:
24
g
Fat:
23
g
Another leg of lamb recipe I make when we are having Gyros can be found in my Greek Night post.
My kids love leg of lamb with a slice of butter sourdough bread. It makes a great replacement for beef and chicken in many soup recipes as well.