Last Updated on June 29, 2022 by Rebecca Huff
Let's learn to yakitori grill at home!
In episode ten of Samurai Gourmet, the main character, Kasumi, who is recently retired finds himself wandering through the neighborhood. As he is feeling hungry and being on his own for the evening, he happens upon a Yakitori restaurant with a hateful chef.
After watching this series, I found myself dreaming of a trip to Japan! As I always say, when you can't travel, explore countries and culture through food.
Several years after watching the Samurai Gourmet, my youngest daughter and I stumbled upon the most adorable Yakitori grill at World Market.
We brought that little grill home and started teaching ourselves to make yakitori grilled chicken, vegetables, and more. If you have a bbq grill, and you've experimented with making shish-kebab you will find the transition to Japanese grilling fairly simple.
The Japanese-style barbecue charcoal grill we use was reasonably priced and of good quality. Although as you will read in the section below, a wide variety of grills can be found online.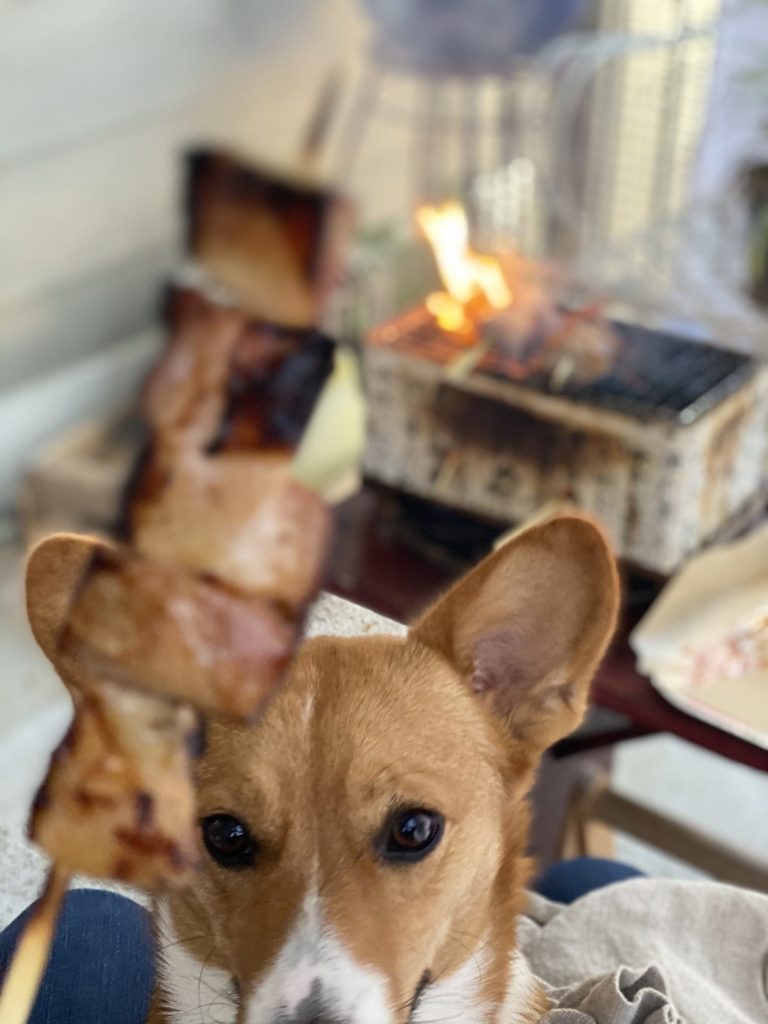 What is Japanese Yakitori
"The first known appearance of the word "yakitori", literally "grilled bird" in Japanese, dates from the Edo era (1603-1868): it is found in a menu for the lord of Komoro Castle, near Nagano. The yakitori meat skewer is one of the most popular dishes in the country" Japan Experience
Yakitori literally translates to grilled chicken or skewered chicken. Some Yakitori restaurants prepare the meat "Shio-style" which means that the chef only uses salt to season the meat. Others use the tare-style, which means they baste it with a sauce, very similar in taste to teriyaki.
Beginner Yakitori Grill at Home with Recipe
This will get me in hot water with chefs everywhere, but hey, we're talking about yakitori grill at HOME. If you have a favorite teriyaki sauce, and you don't want to be bothered with making your own (although it is very simple) you can simply substitute store-bought teriyaki sauce.
Otherwise, you'll find my all-purpose tare sauce at the bottom of this page. It's very easy to make and tastes delicious on all meat and vegetables. I've always liked the taste of coconut aminos more than soy sauce, so that is what I use in this recipe. However, if you use soy sauce, increase the brown sugar by 1 tablespoon.
In Japan, chefs use different sauces for each type of meat and one for vegetables. We're not going for a Michelin star though, we're just trying to enjoy a nice Yakitori Grill on the balcony! You'll be very happy with the results.
What you need to Begin Yakitori Grilling at Home
You'll want to set up your cooking area in a place with some decent airflow. Traditional yakitori grills used a type of charcoal called binchotan (more on that in a minute) which burns so clean you can use it indoors. If you don't have binchotan charcoal, you'll get a lot of smoke and want to be outdoors.
Charcoal or gas grill (I prefer lump charcoal – see the section below) and charcoal or if you can find it, binchotan charcoal. White charcoal traditionally used in Japanese cooking is called Binchō-tan. No worries if you can't find this, your regular charcoal will do. One of the reasons Yakitori restaurants use binchotan charcoal is because it lasts longer. You're probably not going to be grilling for hours on end, so regular charcoal will suffice.
Yakitori Skewers – You'll want Metal or bamboo skewers (soak wood or bamboo in water for at least 30 minutes)
Basting brush for food
Tongs to retrieve food if the flame gets too hot
Food (ingredients listed in the recipe below)
Best Yakitori Grills
As we found our mini yakitori charcoal grill at World Market over a year ago. It looks like a heavy-duty clay block with a bottom on which a grill grate sits neatly. The holes in both sides allow for ventilation, which charcoal needs to burn properly. The ceramic coating on the inside is heavy-duty and has held up very well. On top sits a second stainless steel grill grate for a cooking surface. This model is much smaller than traditional grills found in America.
Amazon has a wide variety to choose from including some with foldable legs, adjustable ventilation, or smooth grilling surface. Others have no grilling surface at all and are meant to be used with skewers that rest on the side walls.
Many excellent grills are available on Amazon. An outdoor grill is highly recommended! Although an electric grill, like this Livart Orange BBQ Deluxe Electric Barbecue Grill is the only portable grill I would recommend using indoors. Do not use bbq charcoal grills indoors! I would avoid using an electric grill as it simply won't impart the same smoky flavor, but if you live somewhere that prohibits the use of charcoal, this may be your only option.
Yes, you can use your backyard stand up barbecue grill such as a Weber, in place of a Japanese Yakitori grill. Although, for us, most of the fun is sitting around the yakitori grill relaxing and chatting with party griller companions.
Tabletop Yakitori Grill
A good hibachi grill for yakitori will last a long time, even when you're using it at high temperature. However, leaving it out in the rain, not cleaning it, etc. will ruin even the best cookers, so make sure to care for yours.
Another great quality tabletop grill is the Yamako Yakitori Grill Set, Made in Japan. I love the look of this one, it's a little bigger than the one from World Market.
This table-top charcoal grill with a Wire mesh grill and Wooden base by Shichirin Hida Konro comes in a variety of sizes. The rectangle model looks like a high-quality version of the one we picked up at World Market.
If you're looking for an adorable little grill, perfect for one or two people, the Hinomaru Collection Tabletop Shichirin Konro Charcoal Grill with Wire Mesh Grill and Wooden Base Hibachi Style Yakiniku Grill will suit just fine.
Those who prefer a bit classier version will like the Japanese Yakiniku Grill which is about 10 inches, a decent-sized surface area for a few people. Easy to assemble and made for grilling with charcoal briquettes. The steel case makes for easy cleaning and is longer-lasting. The wooden base prevents heat from penetrating through to the surface below.
Fire Sense Large Rectangle Yakatori Charcoal Grill is the perfect Tabletop Grill for Backyard, Outdoor Cooking, Camping! Discover what the Japanese have recognized for centuries as the best grill construction – clay. The Large Yakatori Charcoal Grill is a genuine Japanese table BBQ. Handmade using clay, the Yakatori Grill radiates heat, producing a juicier and more tender meal.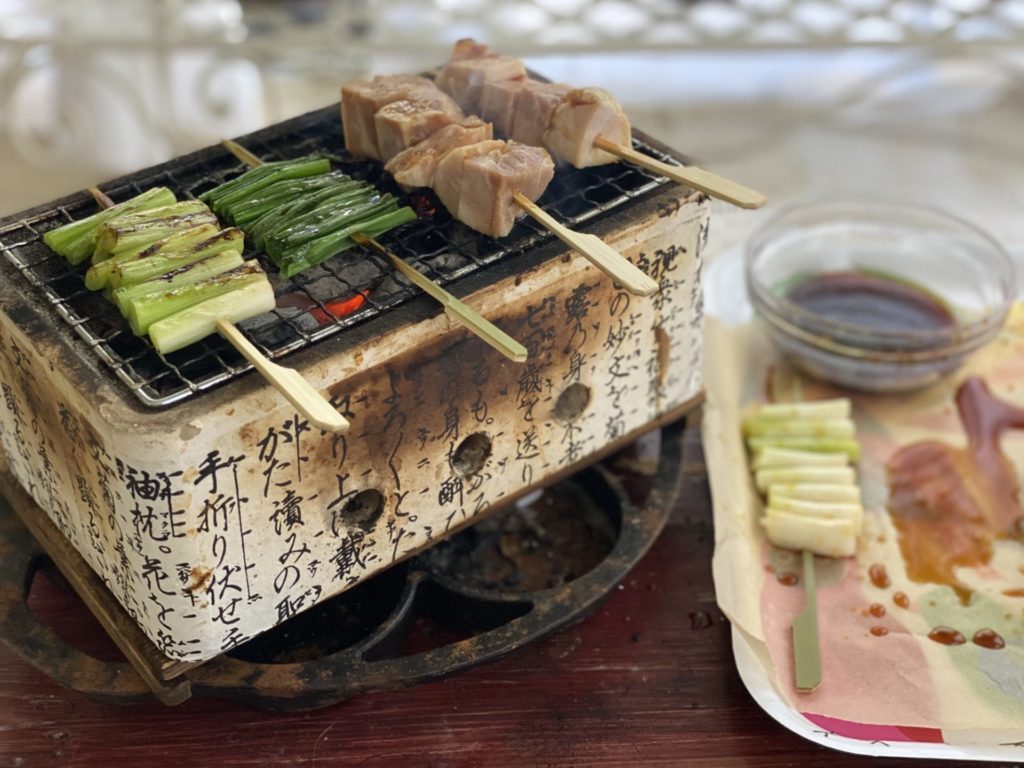 Yakitori Cookbooks
I always recommend hitting up your local library to look for cookbooks before investing in them! While I have an impressive collection of cookbooks, I still use my library on a regular basis, especially for exploring countries and cultures through food.
Here are a few that we have been inspired by. I do not have these in my collection, but we've borrowed them from our library many times!
Korean BBQ and Japanese Grill book – We love Korean BBQ as much as we do Yakitori, so this cookbook just makes sense. It dives deeper into technique and gives a lot of background about grilling in both countries. Be prepared for drool-worthy photos. If you love perusing the cooking section of any store or enjoy specialty kitchen shops, this cookbook is for you.
The Japanese Grill: From Classic Yakitori to Steak, Seafood, and Vegetables – Basically the Yakitori Bible. Get this one if you want to know everything there is to know and every way there is to prepare traditional yakitori and much more.
Otherwise, you can get by with one sauce recipe and a bunch of skewers! Let's get started.
Yakitori Balcony Party
My youngest daughter and I enjoy Yakitori grilling at least once per week. The colder it is outside the more we enjoy it! When my older daughters come for a visit, I like to sit outside with them leisurely grilling yakitori while catching up and sharing a beer.
Japanese food is one of my favorites for serving at parties. We also enjoy serving sushi and onigiri at parties and gatherings. Kabobs made up of veggies, pork, chicken, beef and other foods make fun party food.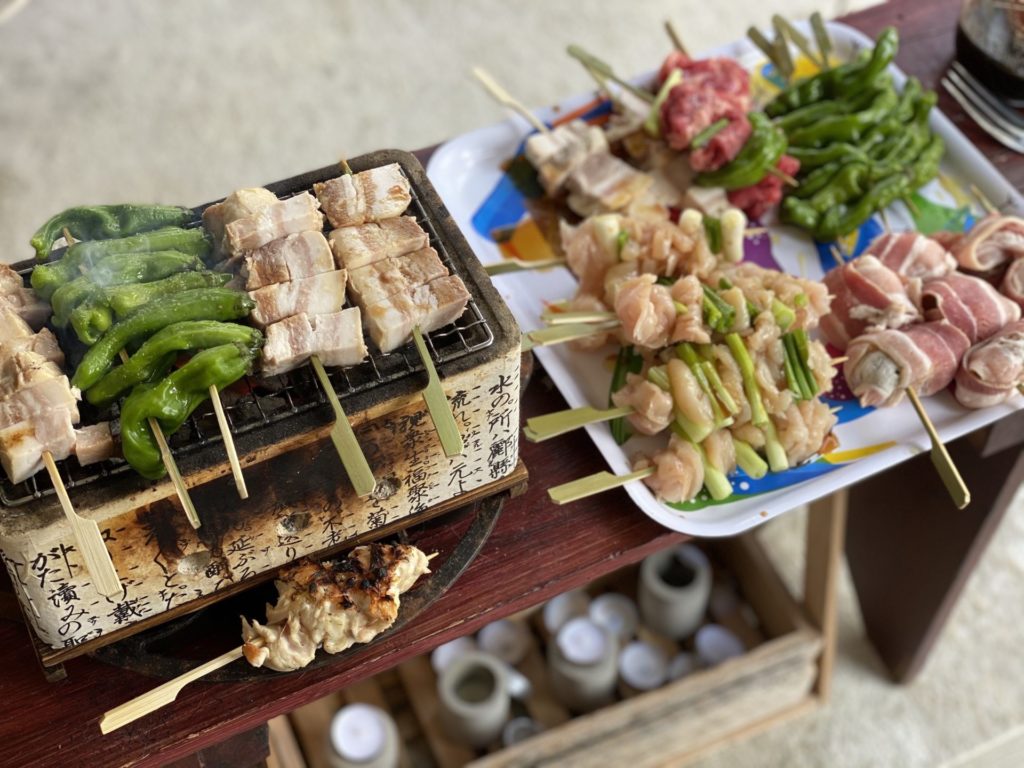 Here are my favorite foods to bring to my Yakitori Balcony parties:
Shishito peppers
Mushrooms
Scallions
Pork Belly cut into 1-inch pieces
Chicken thighs or chicken breast cut into 1-inch pieces
American Wagyu Beef (oh my!)
Shichimi Togarashi (Japanese Seven-Spice Powder) to taste
How to Use Your Yakitori Grill
Start the charcoal in the grill
Soak skewers (unless using stainless steel skewers) immersed completely in water while you prepare the sauce.
Make the sauce using the All-Purpose Tare Recipe (below).
Toss shishito peppers with a tablespoon of oil and salt to taste, then skewer peppers.
Make criss-cross cuts in the tops of the mushrooms, add to skewers, packing loosely.
Salt the cubed chicken meat and skewer, alternating chicken and a piece of scallion greens, smash the pieces close together so that they are closely touching.
When charcoal reaches medium-high heat you can begin grilling. Starting with the shishito peppers grill until hot, tender, and just a bit charred.
Grill the chicken and pork belly, basting with the sauce as you turn the skewers to grill evenly on all sides. If your grill is at the right temperature, you'll get a good sear on your meat.
Serve with Togarashi on the side or in seasoning shakers.
My Recipe for All-Purpose Tare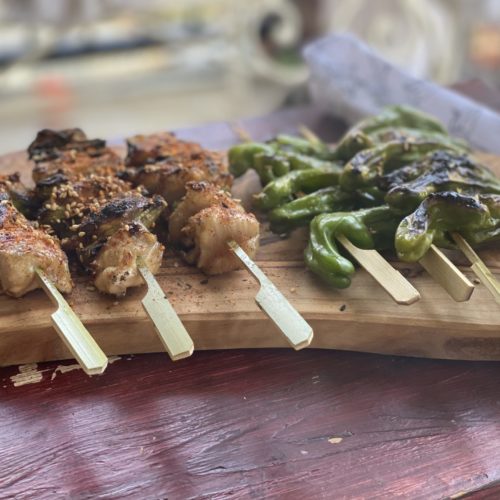 Yakitori All Purpose Tare Sauce
This recipe will work as an all-purpose sauce to use on various meats, vegetables, and more on your yakitori grill.
Ingredients
½

cup

coconut aminos

3

tablespoons

brown sugar

or Swerve brown sugar

½

cup

Mirin

1

knob

ginger

thumb size, chopped roughly

½

cup

rice wine

(Sake can be found at most liquor stores and some Asian markets)

2

cloves

garlic

peeled and roughly chopped

1

shallot

chopped
Instructions
Over high heat, bring all ingredients to a boil in a medium saucepan, then reduce to a simmer.

Allow the sauce to simmer for 5-7 minutes.

Strain sauce through a sieve into a bowl, discard the pieces of shallot, ginger and garlic.

Set the sauce aside and prepare meat and veggies.
Notes
We love this sauce on veggie kabobs, chicken thighs, pork, and even tofu.
Exploring more about Yakitori and Hibachi in Japan
My favorite YouTubers, Simon and Martina, used to make videos about exploring foods and culture in Japan and Korea. Here's one video that will give you some insight into Iseya: Super Cheap Yakitori in Kichijoji.
I encourage you to enjoy Yakitori, it's so much fun to spend a few hours sitting outside grilling meat and veggies together.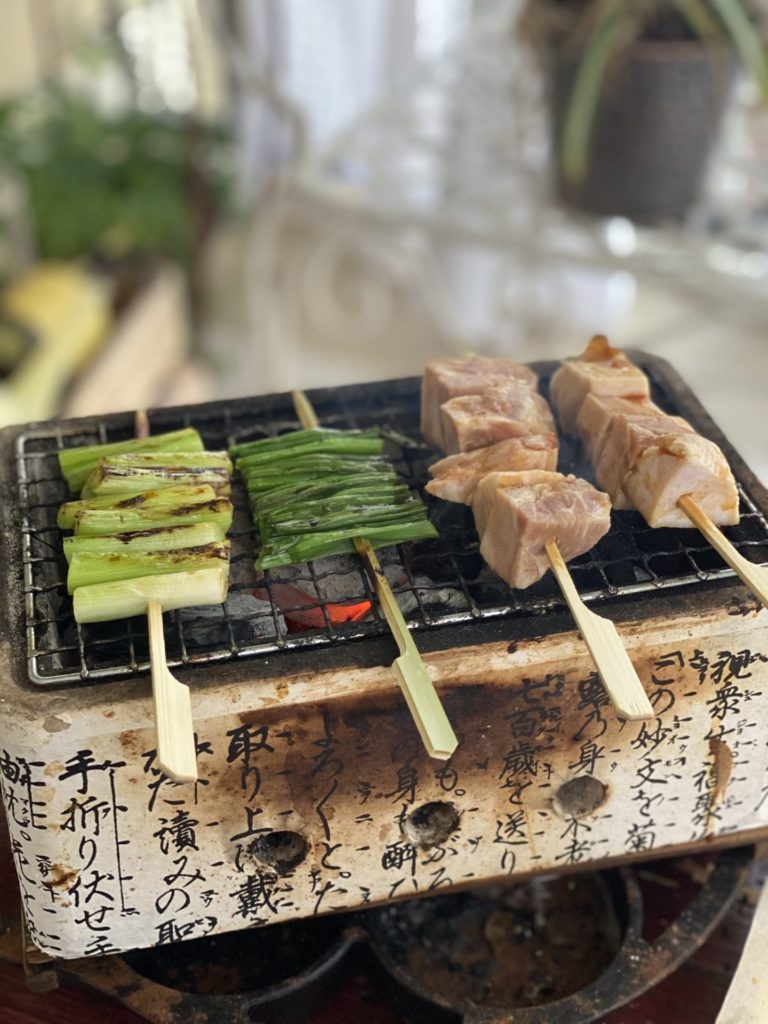 Other Notes to yakitori grill at home:
While we love the portability of this little grill, remember you can also use your typical Weber grill as well. Technically speaking, you can even use a gas grill and that would even give you a bit more temperature control when grilling. This little yakitori grill is perfect for tailgating parties and is versatile enough to go on camping excursions, and much more.
In a pinch, if you can't find mirin, you can substitute a sweet white wine.
Shop the Japanese Inspired Cooking Storefront on my Amazon Affiliate page.