Last Updated on June 29, 2022 by Rebecca Huff
You may be wondering just how healthy is sushi? The answer may surprise you.
It depends.
Refer to this post: How To Make Sushi if you want to make the healthiest sushi at home.
The first time I tried sushi was in 1993 and like most Americans, I was skeptical about that first bite. That first taste of sushi was NOT a California roll by the way! It was a traditional Japanese-style sushi roll. This is referred to as a Maki Roll, which means that the Nori (seaweed) was on the outside of the roll, not the inside which is the way most Americanized sushi is made. See the photo below.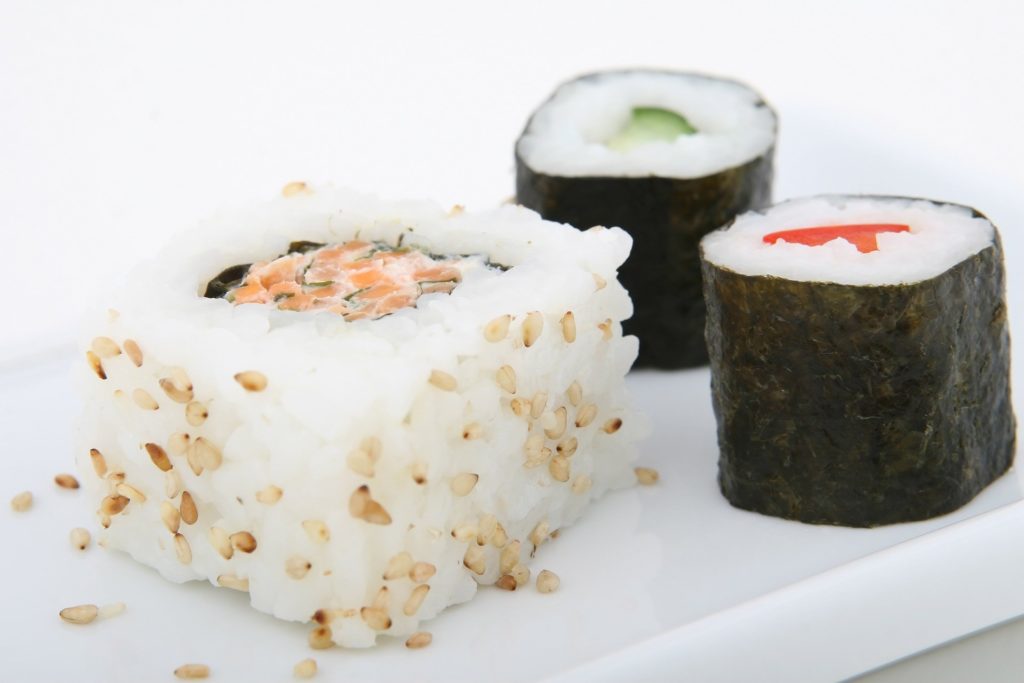 Over the twenty-three years since my first bite of traditional-style sushi, I have convinced countless friends and family members to try this delicious food. The biggest objection I get is always "Ewww, raw fish? No way!"
Let me clear up one myth. Sushi does not equal raw fish. Crab, Shrimp, Octopus, and Eel, for example, are cooked first. Not all sushi is even made with fish! For example, Tamago is a sweet egg omelet-style sushi.
If one orders Sashimi, raw fish will be served with wasabi and soy sauce. Sashimi is a good option for low-carb dieters. Choose a restaurant with a good health rating and ask the waiter or chef for a recommendation for fresh fish.
So How Healthy Is Sushi?
The Rice
Being a health nut, you might think that I prefer brown rice sushi. No, no, and no! I tried brown rice sushi one time and decided I would rather give up sushi altogether, or just eat sashimi (which I often do) than to eat sushi with brown rice. Brown rice is not sushi rice. The word "sushi" actually means vinegared rice. Sushi rice, short-grained white rice. I eat brown rice, black rice, and all sorts of rice otherwise, just serve my sushi with sushi rice!
Brown rice sushi has gained popularity among health nuts such as myself because it has a higher fiber content as a complex carbohydrate. Using brown rice in sushi is almost unheard of in Japan where sushi originates. In America, many health food stores, as well as some sushi restaurants offer brown rice as an alternative. My opinion and the opinion of many others is that the texture is all wrong! The mouthfeel of brown rice is very chewy whereas sushi rice is soft. I am not the only health nut who still enjoys the occasional white rice.
More concerning than white rice is what is used to season it. Traditionally, sushi rice is seasoned with rice vinegar, salt, and sugar. Many grocery chains now offer sushi in the deli section. Check the label for hidden High Fructose Corn Syrup or Aspartame before buying or opt-out of buying "fast food sushi" and stick to traditional Japanese Sushi Bars where you can ask the chef what has been added to the rice.
The Fish
In America, by far the most popular sushi roll is the California roll. If this happens to be your choice, beware the dangers of imitation crab meat. Unlike real crab meat, imitation relies on monosodium glutamate and artificial flavor to make it taste good. Several rolls are built on a California roll, so if you try to avoid MSG, you will want to avoid imitation crab meat. In addition to the flavor enhancers, it is often made with low-quality fish and has had plenty of other ingredients added, including wheat starch for those of us who are gluten-free, which should be avoided.
Another fish to be cautious of is sushi tuna, which has a higher contamination risk from mercury. One recommendation when eating sushi is to take some chlorella tablets. "The chlorella is a potent mercury binder and, if taken with the fish, will help bind the mercury before you are able to absorb it so that it can be safely excreted in your stool." Mercola
One more note on fish. It is recommended to avoid farmed fish, raw or cooked.
Pickled ginger
I was so sad when I read the label and discovered that the pink ginger served alongside sushi has preservatives, aspartame, propylene glycol, and food colorings!
Thankfully, you can choose natural pickled ginger which is free from these ingredients. Ginger contains healthy antioxidants. It is rich in potassium, magnesium, copper and other vitamins and minerals that make this part of the sushi experience good for your health.
Most traditional and high-end sushi restaurants serve natural ginger. When I make sushi for my family, I only buy natural ginger. If I am eating sushi, I avoid places that serve pink ginger. In my opinion, if chefs won't buy good ginger, why would they buy good fish?
On the left of this sushi plate, you will see natural ginger.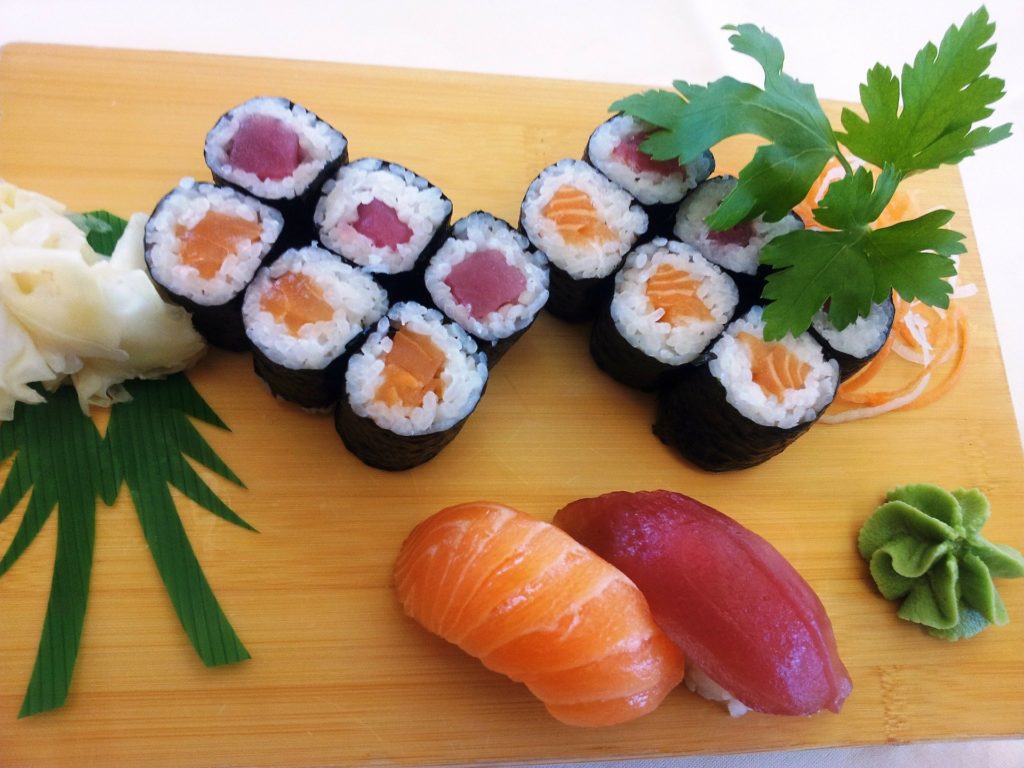 In the middle of this photo, notice the unnatural pink ginger. I think that often when people try ginger and dislike the flavor, it is this variety that puts them off. To me, it has a chemical aftertaste, much like what you would imagine furniture polish would taste. At the bottom of the above photo you can see Nigiri sushi which is a small amount of vinegared rice topped with raw fish.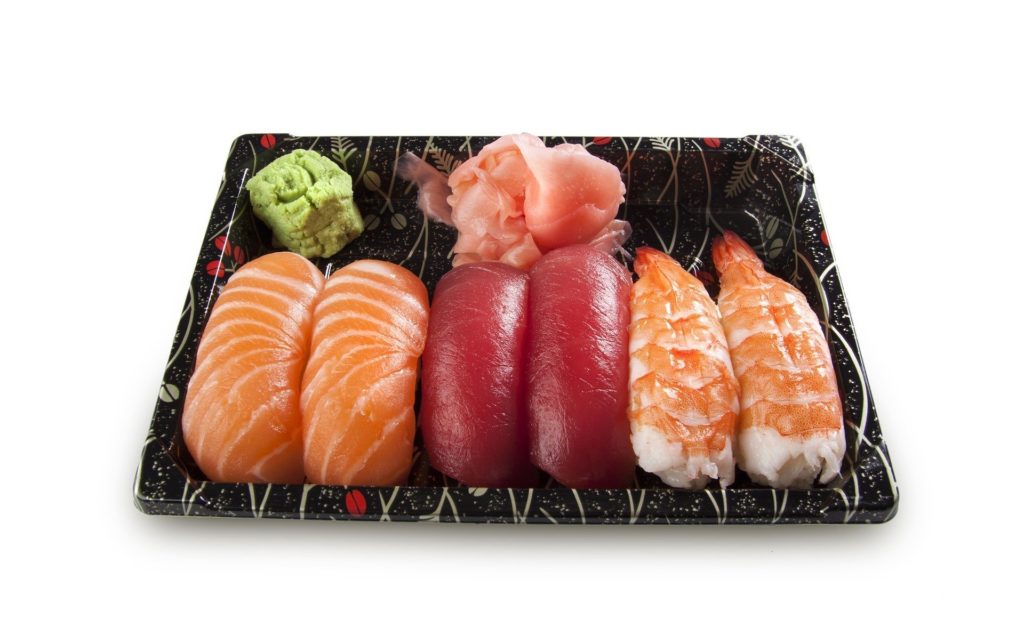 Seaweed Salad
I have made seaweed salad at home. The homemade version is so delicious! It's not hard to make, it is inexpensive and good for you. Before I knew better, I often ate the seaweed salad that is bright green and super sweet. That was before I found out manufacturers make soy sauce with some very unhealthy ingredients such as monosodium glutamate, high fructose corn syrup, artificial sweeteners, and vegetable oils.
It has a slightly different texture than what you find in a restaurant, however, the quality and nutritional content is far superior. Also, it doesn't get all stuck in your teeth like the smaller neon green variety. When I eat out I usually just opt for the cucumber salad instead. Here is the recipe I use for making seaweed salad by Maangchi, a Korean Youtuber that we adore! On a side note, in Korean cooking, Nori is used in making sushi-like rolls called Gimbap which usually have beef instead of fish.
Soy Sauce
When I make sushi at home, I use Coconut Aminos in place of soy sauce. I have also used organic soy sauce that is brewed traditionally and should only contain soybeans, salt, and water. Soy sauce is a fermented condiment. Some soy sauce is made with a combination of soy and wheat, so check your labels. It pays to study up on soy sauce as there are so many varieties. The one to avoid most would be the "chemical soy sauce" such as brands like La Choy.
These are made over the course of about two days by hydrolyzing soy protein and combining it with other flavorings. Their flavor is far removed from traditional soy sauces made with fermented soybeans. (source)
Fish Roe
I was surprised the first time I purchased ingredients to make sushi at home, that the fish roe had a lot of extra ingredients that I would rather not consume. I found at the Asian market; the fish roe had artificial colors, aspartame, and monosodium glutamate listed in the ingredients. Another one listed sodium sorbate, FD & C Yellow #6. Nothing I want to consume.
What a bummer, because even my children enjoy the pop and crunch of these tiny fish eggs. I have purchased it a total of twice in the decade since I started making sushi at home.
Our local Asian Markets do not carry natural fish roe. Sadly, I have not been able to find a source of fish eggs that are suitable for making sushi at home. We simply leave this ingredient out of the rolls.
If you do go to a high-end sushi restaurant you may find that the fish eggs are colored with natural ingredients such as squid ink.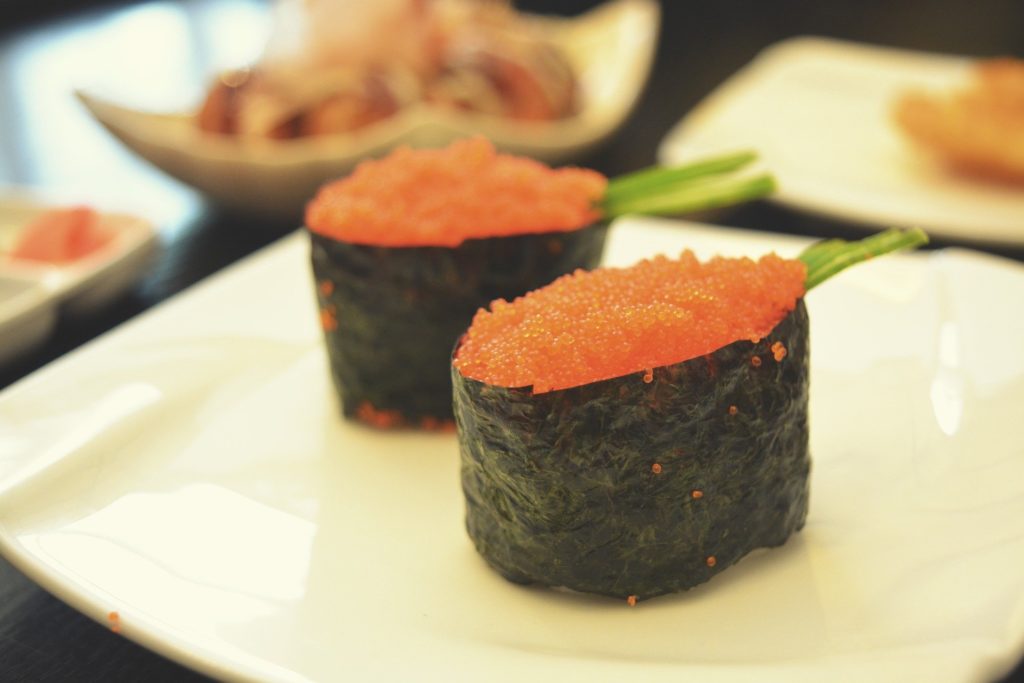 Healthiest Sushi Options
You want to enjoy sushi, but you are looking for the best choices? Here's what dietitians say about how to choose:
Veggie rolls are always a healthful choice, cucumber rolls are delicious and refreshing.
Avocado rolls contain heart-healthy fats and fiber thereby making it an excellent choice.
Ask the chef to go "light on the rice" when you place your sushi order to cut down on carbs and calories, especially if you are seeking weight loss.
Choose Naruto style rolls.
Smaller fish have less mercury, so choose swordfish, ahi tuna, sea bass, and mackerel when you have the choice
Skip rolls that contain fried or battered ingredients and ones drizzled with heavy mayo or sugary sauces, crunchy toppings are typically fried onions
Another tip is to fill up on miso soup, salad, and edamame before eating the roll. Miso soup made with real miso and seaweed would be considered a healthy option.
Not So Healthy Sushi Options
Eating sushi for health benefits means you'll probably want to skip tempura (battered and fried) rolls. Shrimp Tempura is another popular type of sushi you might want to skip if you're eating for your health.
Some might even suggest skipping rolls with cream cheese if you're eating sushi for the health benefits. Cream cheese and mayonnaise may contain unhealthy saturated fats which have been linked to heart disease and high cholesterol.
If you are interested in maintaining your health, I would also suggest avoiding Americanized sushi that has been topped with fried onions, crispy bits of puffed rice, and mayo.
When sushi first started appearing in supermarkets, it was at least made with simple ingredients, but the trend has gone towards the unhealthier side as of late.
Sushi should be eaten selectively and on special occasions if one considers health a top priority. Even in Japan where good quality sushi is more readily available it is not eaten frequently but rather considered a treat. (source 1,2)
Making sushi at home is rather time-consuming. For that reason, and the fact that I don't want to consume too much white rice, I only make it from time to time. Because I consider sushi a treat, I have chosen to eat it only when I go to a quality restaurant or when I make it at home.
Who Should Avoid Eating Sushi?
Pregnant women are not advised to eat sushi. However, there may be some types of fish that are approved for pregnant women. These include certain cooked fish. The FDA publishes a list with advice about eating fish for pregnant women.
Young children, older adults, and those with weak immune systems may want to pass on raw fish. However, eating vegetable rolls may be a good alternative.
In these cases, it might also be a good idea to avoid takeout unless you can be sure how long it has been out on the way to your house.
Bottom Line:
Is sushi healthy? Yes, I believe it can be when you are aware of the ingredients and make choices based on your personal health needs. If you have a nutritionist, discuss what options are good for your unique dietary preferences.