When you're looking for easy recipes that are delicious and quick to make, a teriyaki salmon bowl is a perfect choice. Whether you choose a small bowl for a light lunch or a larger one for a hearty dinner is up to you!
I love this dish as a fast weeknight dinner that promises lots of flavors while still meeting my healthy eating standards. This dish is dairy-free and can be gluten-free and sugar-free, depending on the ingredients you choose for the teriyaki sauce.
As a main dish, there are plenty of options to keep your teriyaki salmon bowl interesting. I'm providing a basic idea for the recipe here but I'd encourage you to use your imagination (and whatever's in your fridge) to come up with lots of variations. Make sure you check out the matrix below for all of my suggestions.
Don't worry, I'll list some options below to get you started.
Prep time for this dish can be cut down to practically nothing if you purchase precut veggies or choose ones that don't need to be chopped or diced. Some of the most popular include bell peppers and onion.
Making the Teriyaki Salmon
You can cook the salmon any way you like. Sometimes I cook mine in an iron skillet with a tiny bit of sesame oil. Other times, I put it in the oven on a small baking sheet. Another healthy option is to use the vapor cooking method to seal in flavors and get it all done in one pan. If you've never tried vapor cooking (also called waterless cooking) or aren't sure what that means, you can read more about it in my 360 Cookware Review.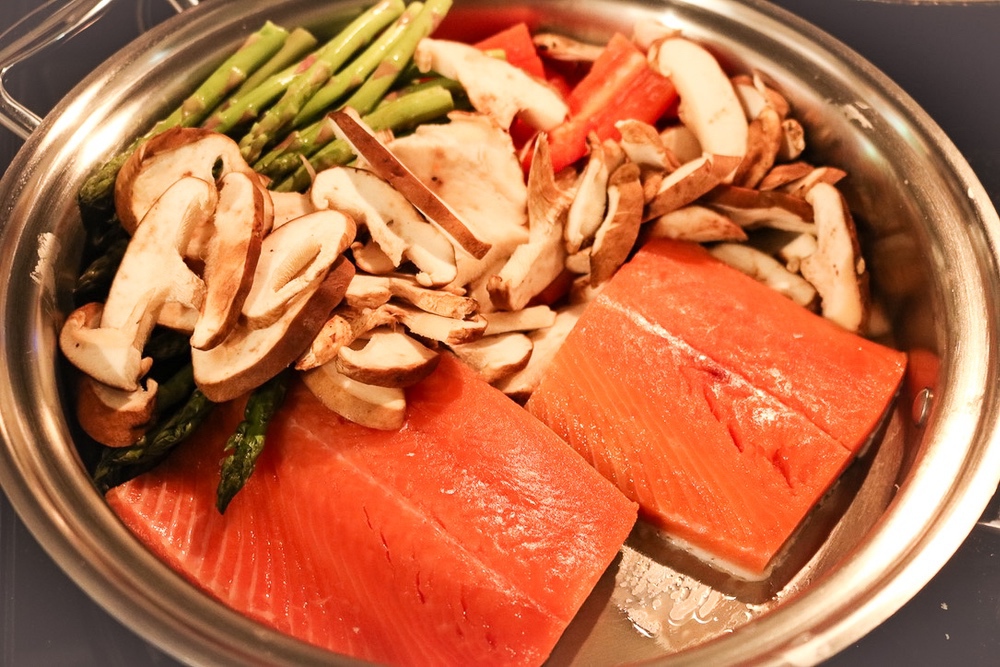 For skillet cooking, lightly oil your pan, then put the salmon into a medium-hot skillet, skin side down, and cook until flaky and the skin is crispy. You can let your salmon rest on a plate covered with an upturned bowl while you stir fry the veggies in the same pan, no need to clean before adding veggies, this adds flavor.
Baking is a bit less messy. Preheat the oven to 375 degrees Fahrenheit, then add the salmon filet along with heartier veggies to a baking sheet. Drizzle with a tiny bit of olive oil and pop in the oven. While it's baking, you can mix up a quick teriyaki sauce.
With the vapor cooking, you can add the salmon and vegetables to the pan, turn to low-medium, cover, wait for the steam to escape, spin the lid. Then, allow it to cook for about 7-8 minutes or until salmon is flaky and vegetables are crisp-tender.
You could also cook your salmon on a salt block, as I do in this recipe for salt block salmon.
Homemade Teriyaki Sauce Ingredients
I've made so many variations of teriyaki sauce it's hard to pick a favorite. This one is nice because the pineapple juice adds so much sweet flavor you won't need to use sugar.
When I don't have pineapple juice, I mix brown sugar (or the Swerve brown sugar substitute) or mirin with soy sauce, garlic, ginger, and sometimes a little cornstarch if I need to thicken it up. Keeping a few ingredients on hand makes it easy to whip up sauces like this in no time at all. 
Mix sweet (brown sugar, pineapple juice, mirin) with salty (soy sauce, coconut aminos, tamari), then add a bit of flavor enhancers (ginger, garlic, sesame seeds, chives), tasting as you go. You'll get the hang of it the more you play around with these flavors.
Making a teriyaki marinade is so easy but if you're in a rush, you could always use bottled sauce.
1/2 cup pineapple juice
1/4 cup coconut aminos, soy sauce, or tamari
1/4 cup Worcestershire sauce
1-inch knob of fresh ginger, minced
2 tablespoons red wine vinegar or rice vinegar
1 clove garlic, minced
salt and pepper 🌶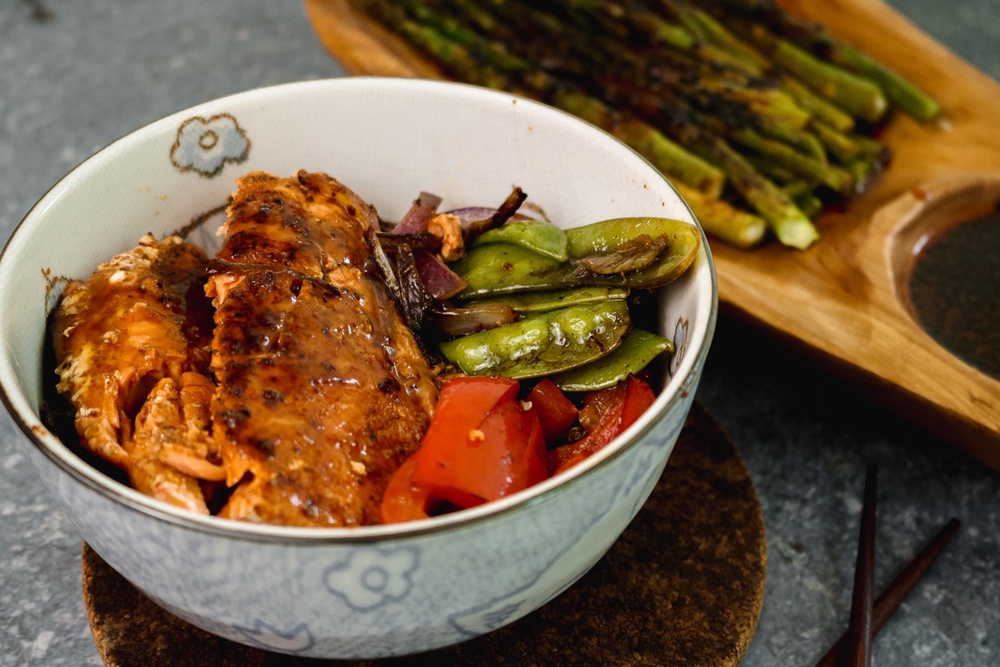 Teriyaki Salmon Bowl Ideas
You'll need enough salmon filets for everyone you're serving. In addition, any combination of the following matrix will work to make a delicious teriyaki salmon bowl. If you follow a low-carb lifestyle, it's no problem, you can use zucchini noodles or cauliflower rice as the base.
Teriyaki Salmon Bowl Matrix
Bowl Base
brown rice
jade rice
quinoa
cous cous
soba noodles
riced cauliflower
konjac noodles or rice
zucchini noodles
Vegetables
bell peppers
sugar snap peas
snow peas
asparagus
zucchini
edamame beans
bok choy
carrot ribbons
mushrooms
Garnishes
sesame seeds
chives
green onions
furikake
bonito flakes
browned garlic
chopped nori
everything bagel seasoning
Building Your Teriyaki Salmon Bowl
Salmon fillets are perfect for this dish. My personal preference is wild-caught sockeye salmon, but use whatever you can find.
Grab a small bowl to build your Teriyaki Salmon Bowl individually. This way, each person can pick and choose the ingredients according to their own preference.
Baked salmon is easier to clean up and healthier than frying, so grab a sheet pan and get ready to prepare the bowl ingredients. Brush a bit of the teriyaki sauce on the salmon before popping it into the oven.
Instead of white rice, I used Jade Pearl Rice, however you may choose brown rice, or even cauliflower rice to reduce total carbs.
After assembling the base and vegetables, place salmon atop the filling ingredients, drizzle on more to taste. Serve with a side of toasted nori and a sprinkle of your choice of garnishes.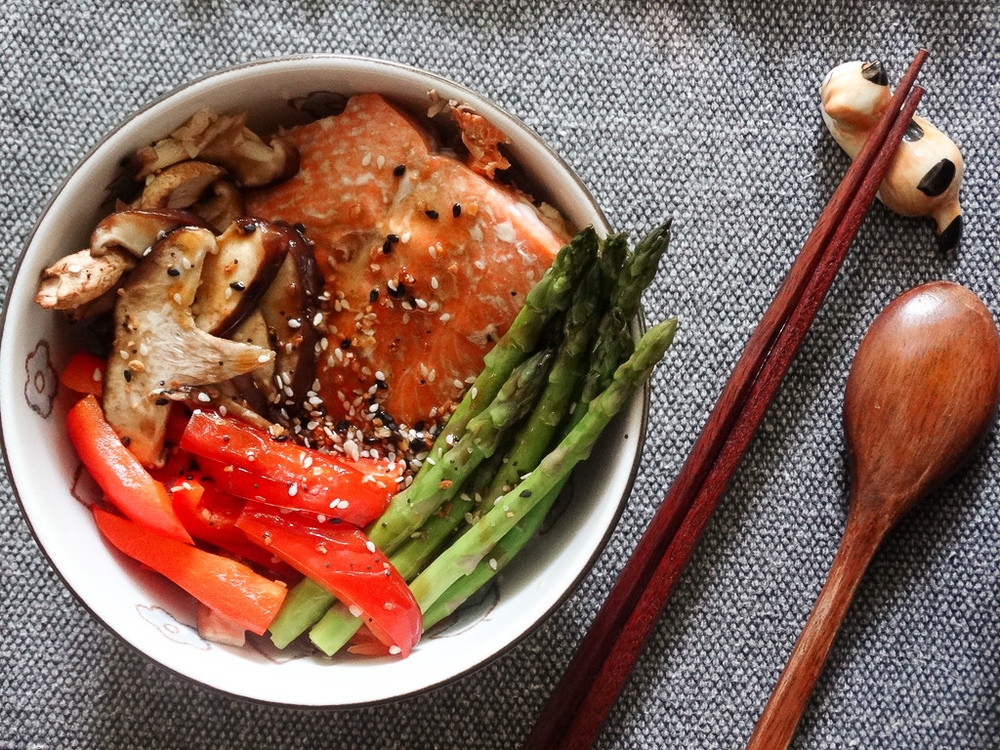 Other Salmon Recipes
We love Japanese food and make it often. Make sure to join the Healthologist Community so you'll get updates on new recipes, health trends, inspiration, motivation and more. I have a post coming soon that will help you stock your pantry to make lots of delicious Japanese dishes.
Teriyaki Salmon Bowl Matrix

Dairy Free

Gluten Free

Keto

Low Carb

Paleo

Sugar Free

Trim Healthy Mama

Whole 30
Easy to make, delicious, and packed with nutrients.
Ingredients
1

salmon filet

per person

1/2

cup

pineapple juice

¼

cup

coconut aminos

1

tbsp

ginger

minced

2

tbsp

red wine vinegar

1

tsp

garlic

minced

salt and pepper

to taste
Instructions
Cook salmon with your preferred method

Combine the pineapple juice, coconut aminos, red wine vinegar, and Worcestershire with the minced garlic and ginger, add to a small saucepan.

Bring to a boil over medium-high heat, then reduce to medium-low.

Allow the sauce to simmer for about ten minutes or until the sauce begins to thicken.

Cook vegetables by steaming, baking, vapor cooking, or stir-fry

Build bowl: base, vegetables, add the cooked salmon, drizzle on teriyaki sauce, garnish.
Join the Healthologist Community and receive healthy motivation plus instant access to eBooks for overall well-being with an emphasis on eco-minimalism. In the community, members have access to all printables past and future, plus support from other like-minded health nuts and much more!