Last Updated on June 29, 2022 by Rebecca Huff
I can't wait to show you this new cooking method I've been playing with lately. First, I want to introduce you to 360 Cookware.
I am so happy to have found this company for several reasons. The first and most important one is because I don't use Teflon, which is toxic to humans and especially birds. (1)
In two to five minutes on a conventional stovetop, cookware coated with Teflon and other non-stick surfaces can exceed temperatures at which the coating breaks apart and emits toxic particles and gases linked to hundreds, perhaps thousands, of pet bird deaths and an unknown number of human illnesses each year, according to tests commissioned by Environmental Working Group (EWG).

EWG
What we eat is vital to good health, and yet it's just as important to use the healthiest tools to prepare your food. Especially when heating food, you want to use toxic-free materials.
The first thing I noticed about this cookware is that it doesn't have a toxic coating. So it passed my first and most crucial test. None of my cookie sheets are coated, and I prefer not to use parchment paper because of the waste, so I was excited to test some cookies on the baking sheet.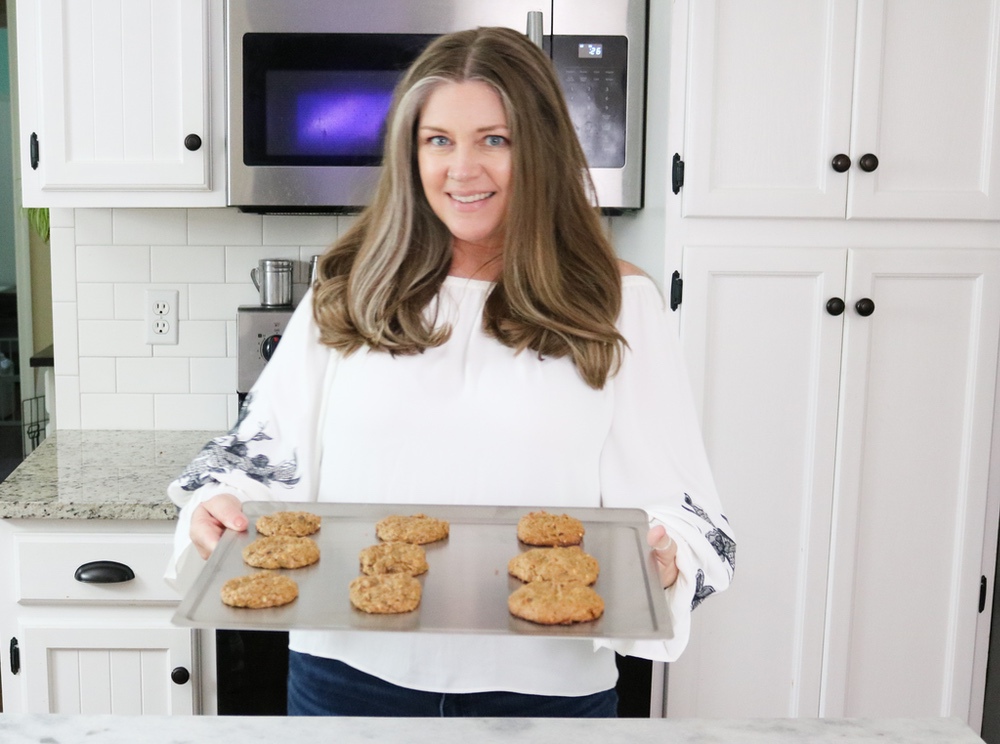 But would food stick to the pan when I used it for cooking? I was apprehensive about trying knowing what a mess it is to clean stuck-on food. Pretty important when making cookies! (They didn't stick.)
We use a dry sanding process on all of our products which gives it a non-porous surface. No more chemical coatings! This also allows for easy clean up as well. Invest in your health today.⁠

360 Cookware
Save 20% on 360 Cookware with coupon code TOM20
360 Cookware 3.5 Quart Saute Pan
The very first food I cooked in the 3.5 quart-saute pan was naked chicken breast. I used no oil of any kind. The chicken came right off the pan without sticking.
One important thing to note is that this cookware is meant to be used on low to medium heat. Of course, you can use it with higher heat settings, but it's not necessary.
The instructions said to sprinkle some water in the pan and if the droplets began to sputter and steam away it wasn't quite ready. To prevent sticking, wait until the drops of water bead across the pan like they're dancing. My daughter and I tested the pan and waited until the droplets danced, then added the chicken, which did not stick.
Now, I'm obsessed with this saute pan! The first night I used it my daughter commented after the meal, "wow, there's hardly anything to clean up!" That's because I cooked everything in one pan!
I wondered what else this pan could do, so I explored the website and found that you can prepare lasagna in the pan as well as cheesecake, right on the stovetop!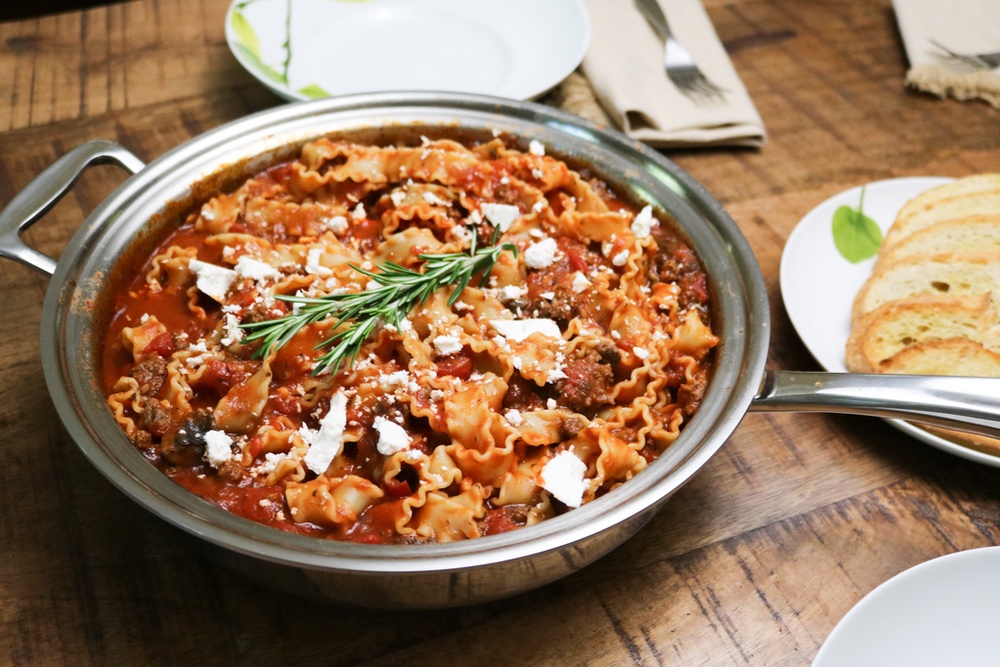 Using the recipes from the cookware website, I began testing the vapor cooking method. First, I modified the skillet lasagna recipe, which filled the house with the most intoxicating aroma!
While you can use the pan for traditional cooking, there's another way to cook with it that requires no additional liquid.
Wonder why it's called 360 Cookware?
That's because the Vapor Technology produces a heat that surrounds food from every side. The lid is designed to create a Vapor® Seal, which locks in heat that encompasses your food. That "360-surround heat" makes better tasting food and saves energy too!
Vapor or Waterless Cooking Method
Everyone has unique health requirements, and while some people may thrive on the use of fats, for example, those following the Ketogenic diet, others may need to reduce or eliminate fats. For example, those who have recently had their gallbladder removed, pancreatic disease, or have been instructed by their doctor to do so.
Vapor cooking is an excellent choice for anyone who needs to prepare a meal without added fats. Those following the Trim Healthy Mama diet could use waterless cooking to prepare any energizing meals.
When using the Vapor® Cooking Method, you are able to remove oil, butter, lard, etc. from your cooking process. This small change could remove over 1500 calories from your diet each week. In addition, cooking vegetables without water retains vitamins and nutrients that you are currently pouring down the drain. You can also cook foods at lower temperatures, which further reduces the chances of losing valuable nutrients.

360 Cookware
Vegetables cooked with Vapor Technology will be so flavorful and delicious. The true flavor of each variety is able to shine through with this cooking method. The difference it makes in the taste of broccoli is astounding. In fact, if you don't like broccoli, I'd encourage you to try tasting it cooked the vapor way!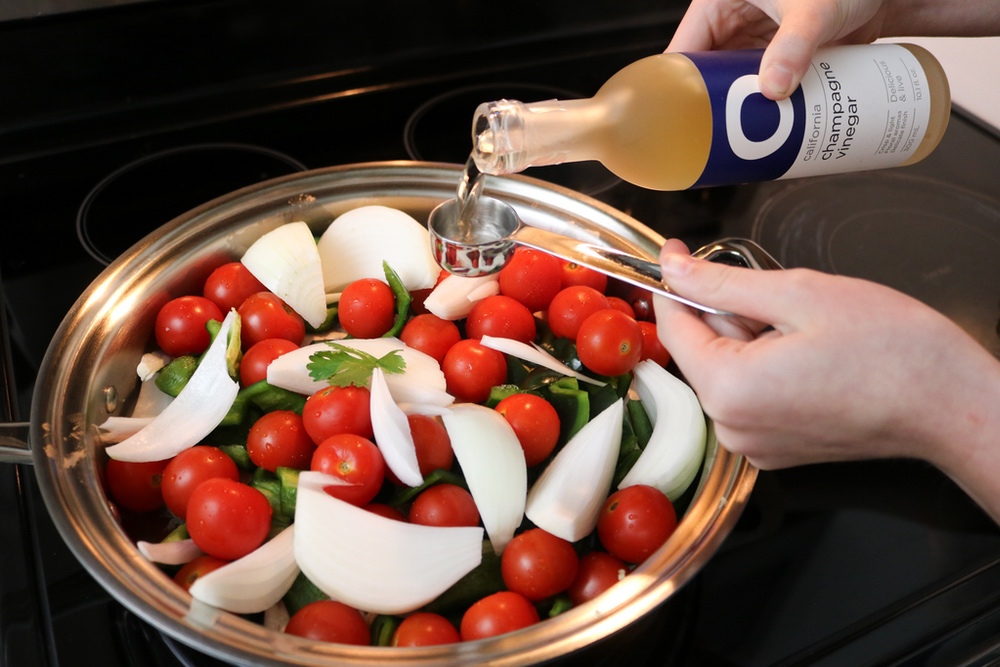 You'll understand what I'm talking about once you taste the difference.
Wanna know why?
Best Kept Secrets of Chefs
This cooking method is arguably one of the best-kept secrets in the food preparation industry. The premise is quite simple – construct the cookware to retain heat and moisture, and build it to operate at lower temperatures. The result is food that cooks faster, in its own juices, requiring little to no additives. Food tastes better naturally, nutrients are retained and you receive the benefits that nature intended.

360 Cookware
The onions in this dish were so crisp and sweet; I couldn't believe how delicious they were, especially considering I'd forgotten to salt the dish the first time around! Yet all of the vegetables were bursting with flavor.
I love good caramelized onions. Still, the texture and flavor of a vapor-cooked and still crisp-tender onion are hard to beat!
So the fact that the cookware is non-toxic and easy to cook with are two big pluses.
Craftsmanship and Beauty of the Cookware
Beyond ease of use and being non-toxic, the elegance and craftsmanship of the cookware were impressive. Once it arrived, I kept the saute pan and bowls out on my counter for a few days to admire them!
Beautiful doesn't begin to describe this cookware!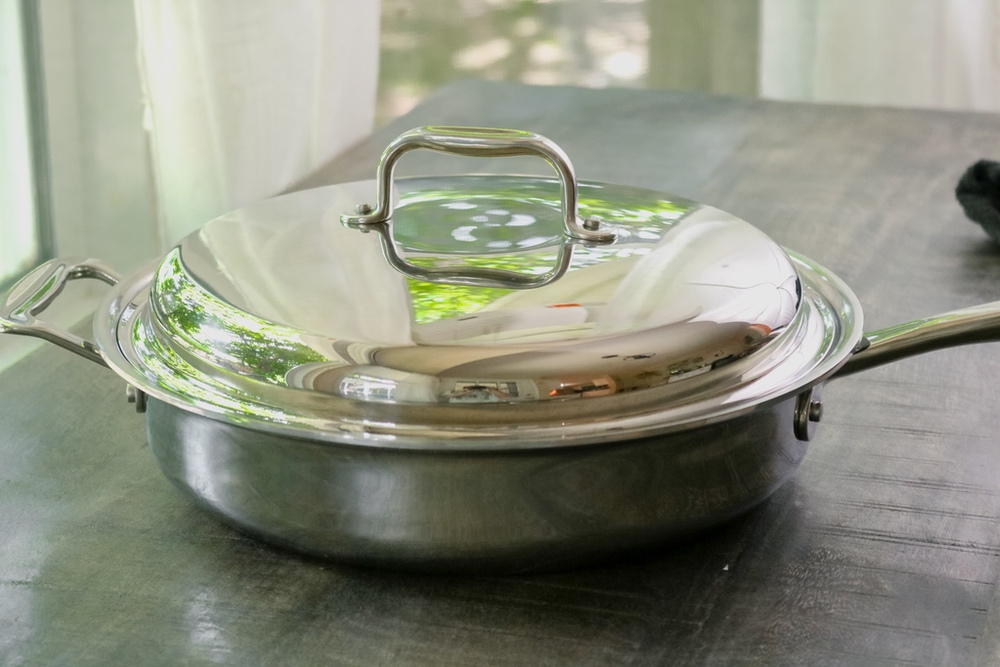 My children had commented on how they were so shiny; the lid was as good as a mirror. In fact, when I took a photo from above you could clearly see my reflection in the lid! That's because the manufacturing process uses a sanding machine instead of harsh chemicals.
You can feel when cookware is inferior; it just feels too lightweight and low quality. Unfortunately, cheap, lightweight cookware ends up in the landfill sooner rather than later—another reason to invest in high-quality 360 Cookware.
I read one review that mentioned the cookware being a bit heavy; however, I have to say, being used to using iron skillets, the cookware didn't feel heavy. The weight of the saute pan felt just right to me, good and solid.
In addition, the handle and just using the pan feels good in your hands. Flimsy, easy to warp cookware is a waste of money and frustration in the kitchen, not to mention the strain on the environment. Both from a manufacturing and waste management standpoint.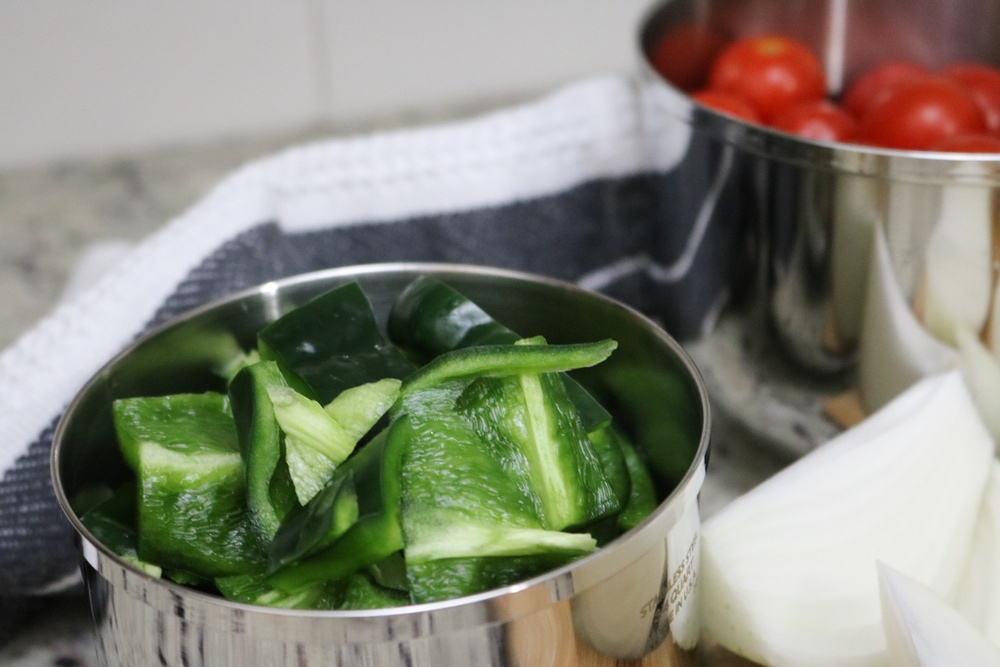 Heirloom Quality
When people say, "you get what you pay for," this is what they mean. Investing in high-quality, heirloom-quality cookware pays off.
Why is 360 Cookware considered heirloom quality?
According to Bryan Hurley, president and owner of 360 Cookware, it starts with "sourcing the highest grades of materials possible, like 400-series and food-safe 316-series stainless steel. Then, bending and finishing them only by the hands of true veteran craftspeople. Finally, the mirrored finish is achieved entirely by a mechanical process. No chemicals are used."
If you're looking for a wedding gift, you can't go wrong with this cookware set as it will last throughout the generations.
Quality Products that Make You Want to Stay In
Maybe you don't cook at home that often. If that's so, I encourage you to get the 360 Cookware Starter set and be prepared to hear, "Can you make this again?"
Recently, I was recuperating and offered to order a pizza when my son said to me, "I don't want to eat out, I want your cooking!"
While we enjoy the occasional night out, all of my family prefers to eat at home. That's because home-cooking not only tastes better, but it makes you feel better. In addition, you have complete control over the quality of the food you buy, and what you put in each dish you create.
Part of the fun of being in the kitchen comes from having well-performing tools to cook with, sharp knives that do the job, and fresh ingredients to prepare. Exploring new cookbooks or making up your own recipes will be enjoyable when you love your kitchen and the cookware you are using.
Not only will cooking be more fun for you, the rest of the family will likely want to join you. The result will be better health and stronger family ties. After all, families who sit down to eat together are happier, spend less time on screens, and have higher scores in school!
From a health standpoint, if you want to lower your sodium intake, avoid cheap oils and sugary sauces, start cooking at home! Need to cook with less fat? No problem! Try using 360 for Vapor Cooking.
Made in America
Of course, my husband and I both love that this cookware is made in America, and the company is US-owned. We're both very patriotic and love to support American-made products and companies. So the fact that the cookware is crafted here in the states just adds to our love of the product.
Buying products made in America boosts the economy, gives jobs to your neighbors, and ensures that American consumer protection laws and safety standards in place to protect our families have been followed.
American-made also means safer working conditions, worker's rights, child labor laws, environmental regulations, transparent and ethical corporate action, fair wages, and ethical production with craftsmanship that is passed down from one generation to the next.
Bottom Line
We rated 360 Cookware below. See for yourself why we love this cookware!
Sources

1 – https://www.ewg.org/research/canaries-kitchen
360 Cookware
Materials

Quality

Affordability

Effectiveness
Summary
Review applies to all 360 Cookware products; however, I'm using the 3.5 Quart Sauté Pan to test for this article. This pan is the perfect piece for large family-sized entrees, casseroles, stews, and desserts. Just spin the lid and let the revolutionary 360 Vapor® Cooking Technology take over, for everyday meals that are fresh, delicious, and packed full of every ounce of their original vitamins and nutrients. (Save 20% with coupon code TOM20)
Pros
Made in America
US Owned Company
Ergonomically designed handles that are oven friendly up to 500 degrees
Lifetime Warranty
Heirloom Quality
Uses Green Manufacturing Processes
Waterless Cooking Method (Vapor Cooking)
PTFE Free (so no worrying about polymer-fume fever)
Beautiful and durable
Easy to clean (read the instructions!)
Cons
The price reflects the quality and may be out of reach for some; however, it's certainly worth the investment considering the Lifetime Warranty