Podcast: Play in new window | Download
Subscribe: Apple Podcasts | Google Podcasts | RSS
Last Updated on September 14, 2022 by Rebecca Huff
Don't spend all night tossing and turning
You'll spend a third of your life in bed. You don't want to spend it tossing and turning! So let us help you make it count with the best sleep hack ever.
Whether you are going for gold, climbing the corporate ladder, or chasing toddlers – you won't reach your peak performance if you haven't slept well. Like I had to tell you that! Don't worry; there is a solution! Since getting a night of deep sleep is certainly not getting easier, let's take a look at some sleep hacks to help solve this problem!
The Sleep Switch
Did you know that your sleep temperature is more important than the number of hours you sleep? At bedtime, a "sleep switch" occurs that releases melatonin that prepares you for sleep. During this time, your heart rate will decrease, your brain waves abate, and your muscles relax.
The first half of the night is super important. Deep sleep occurs during this period and is known as delta sleep. During this sleep period, everything drops further, heart rate, breathing, blood pressure, muscle activity, and body temperature! Deep sleep occurs right before the body drops to its lowest point temperature-wise. This stage of sleep is deeply meditative and dream-free. During the last part of the night, the body begins to warm up and come out of the core body temperature phase. Warming is part of the waking up process. Some people may struggle to wake up during this stage, and when using a traditional alarm, they will feel groggy and confused due to a disruption in sleep! No brainer, I know!
That groggy and confused state is why we NEED to get into a deep sleep!
There's a lot going on during the deep sleep stage, and all of it is beneficial. If you've ever had a rough night of tossing and turning, or experienced insomnia, you know it affects cognitive performance, especially for your short- and long-term memory, as well as your brain's ability to absorb new information. Since glucose metabolism escalates during deep sleep, it strengthens your memory and overall learning capability.
Other benefits of deep sleep include:
Cell regeneration
Increased blood flow to muscles
A stronger immune system
Energy renewal
Development, growth, and repair of tissues and bones
That's why MY favorite sleep hack is temperature-related.
Chili's nature-based sleep solutions are an easy way to change your sleep naturally. No pills, no willpower needed! Because cooling is the ultimate hack to get great sleep! In fact, you can trigger your brain to fall asleep 98% faster!
[Tweet "you can trigger your brain to fall asleep 98% faster #sleephacks"]
Sleep Hack for Weight Loss
Did you know sleeping in colder temperatures promotes weight loss?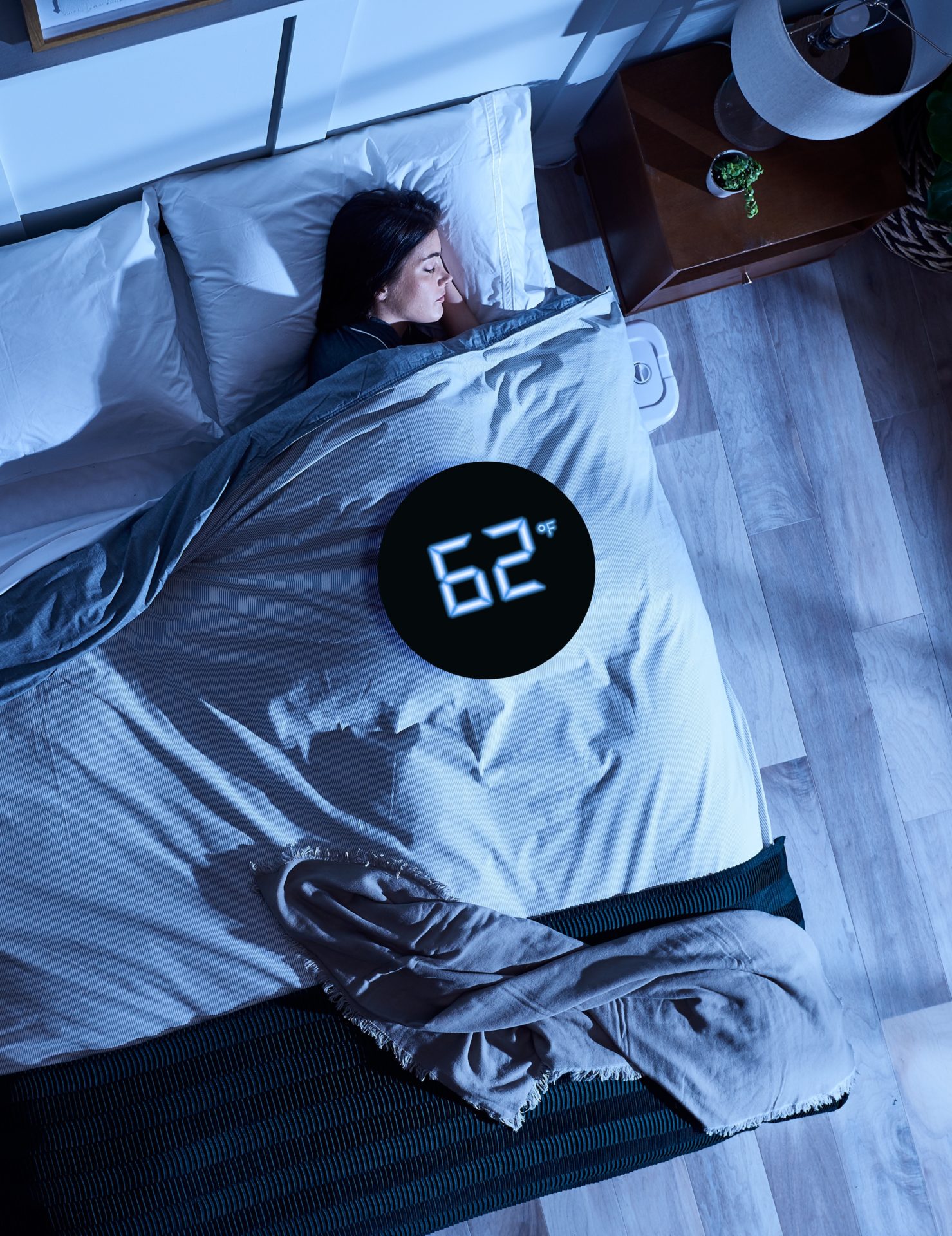 Researchers kept sleeping rooms at a neutral 75 degrees for the first month, and in the following month reduced temperatures to 66 degrees. For the third month temperatures were returned to the neutral 75 degrees before being increased to a warm 81 degrees for the final month. Following each month during the study, the amount of brown fat was measured.

The results were that the colder temperatures noticeably changed the participant's bodies. After the month of sleeping at the colder 66-degree temperatures, volumes of good or brown fat had almost doubled. They had indeed lost belly fat from sleeping cold.
Sleep Hack for Better Health
Sick and tired of being sick and tired? I get it, and I'm here to tell you: Health Starts with a Good Night's Sleep!
Getting more deep sleep is essential for your long-term health, so you should be taking every measure possible to ensure you're getting it consistently. Wellness isn't all about having the perfect diet or the best trainers. It's also about recovering and adding to your overall health with sufficient quality sleep.
Sleep Hack for Better Quality of Life
Better sleep can dramatically improve your quality of life.
Staying cool during sleep helps you stay asleep and also boosts your restorative sleep by double. That's why temperature control is vitally important to your sleep.
When our body can't efficiently shed heat, we struggle to get to sleep. Any mechanical engineer will tell you that efficient heat exchange occurs when there is a significant difference in temperature between two elements. A cooler bed greatly helps the warm body shed its heat.

The quicker the body can shed heat, the quicker it can get to sleep.
The faster it gets to sleep, the faster the sleep cycle kicks in.
The sooner the sleep cycle kicks in, the sooner your body can begin the natural process of repairing cellular structures, making sense of the brain's memory of events, and preparing the body to power through the next day.
One terribly inefficient and expensive way to make the bed cooler is to keep the room cool. If you sleep with someone else, that option is even less desirable.

A superior solution is to simply lower just the temperature of the bed.
You can see how I set up my chiliPAD in this video:
Setting up your chiliPAD is as easy as 1, 2, 3:
Unfold and place the hydronic pad between the fitted sheet and your mattress. Secure the pad with straps.
Place the cube on a flat surface with 2 feet of space around the unit. Take the connector end of the tube and connect it to your control unit. Fill the unit with water before turning it on. Once filled, touch the power button. The unit will turn on and fill the pad. Slowly add distilled water while the unit is on.
Press the cooler button to lower the set temperature. The warmer button can be pushed to raise the temperature. Blinking numbers show the adjustment in the process. Power off by touching the power button. The display turns off.
The difference between systems
The difference between chiliPAD and OOLER is basically tech-related. The ChiliPAD, which is what I have, comes with a remote control so that you can easily adjust the temperature from your bed. OOLER can be programmed via an app on your smartphone to change temperatures at specific times.
For example, if you like the bed at 100 degrees at bedtime, but prefer the temperature to drop to 65 degrees while you are sleeping, you can set it to adjust at those times. In addition, the ChiliPAD must be cleaned by using a cleaning solution that runs through the system, whereas an OOLER is cleaned with UV light and therefore slightly less maintenance.
I have not felt inconvenienced by cleaning the ChiliPAd as it is easy to pour in the cleaner and let it run. However, if you want to just set it up and forget about it, perhaps an OOLER is the better choice for you.
Everyone I know who has added a ChiliPAd to their bed have all had so many good things to say. For example, my best friend got the "we system" so she and her husband could sleep through the night without sweating. The first morning after she had it we had a text conversation:
me: did ya sleep better last night sis?
her: AMAZING. I AM IN LOVE WITH IT and Rob is also. No sweating AT ALL
me: isn't it incredible??
her: Absolutely. Kinda unbelievable until you sleep through the night with NO SWEAT AT ALL. And we felt so rested.
Comfort, deep sleep, restorative rest: that's why my mom and my kids sleep on ChiliPAD too. I believe in the power of temperature-controlled sleep so much and I want you to experience it too! That's why ChiliPAD is teaming up with ThatOrganicMom to give away one "Me" chiliPAD Sleep System. *(this giveaway has ended)
Bonus entries on Instagram:
Like @chilisleep and @thatorganicmom on Instagram
Tag your friends on the chiliPAD post (extra entries)
Enter your email (make sure you confirm!)
*The winner will be chosen on 11/27 and notified via email. Must be 18+ and located within the USA to win.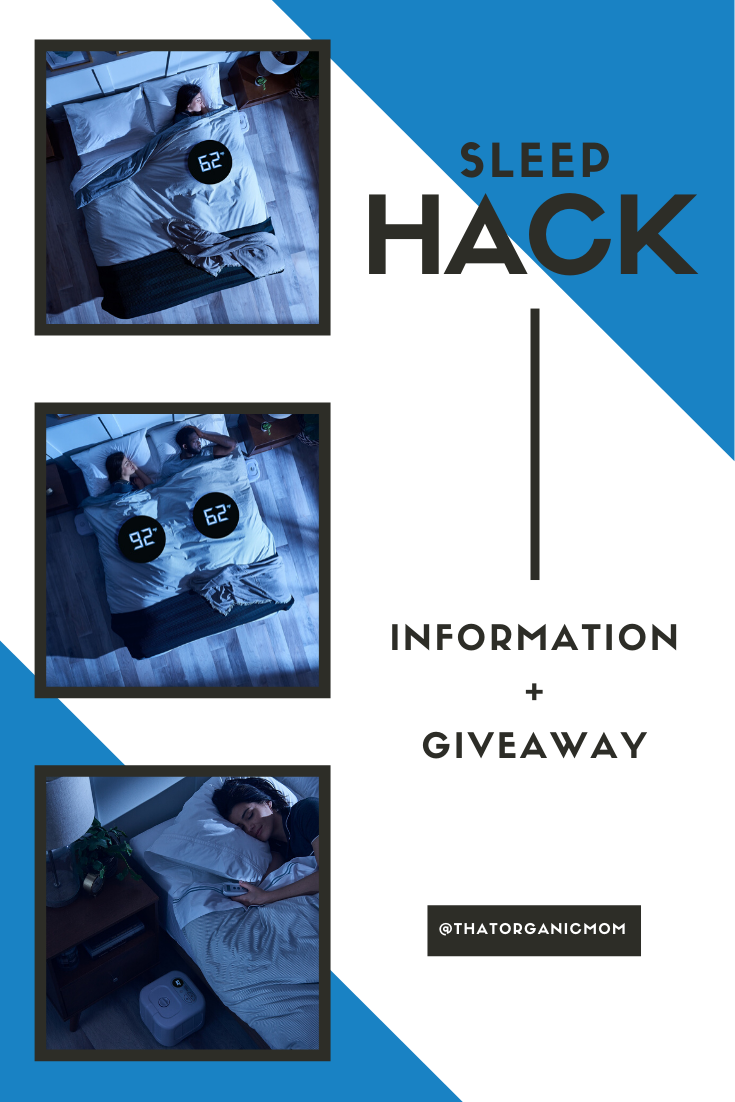 Read more on sleep.