Last Updated on June 29, 2022 by Rebecca Huff
As much as I'd love to sleep on my back because researchers say it is the healthiest sleep position, I tend to be a side and stomach sleeper.
If you are a side and stomach sleeper, it's important that you choose the right mattress that will cradle your body yet offer support your pressure points.
While it might be tempting to go with a mattress that has a firm feel thinking it will offer more support, choosing the firmest mattresses can leave you with aches and pains if you sleep on your side, in addition to your stomach. If you're solely a stomach sleeper, a supportive mattress of medium firmness will work great to avoid sinkage that does not support your midsection.
Back sleepers enjoy the benefits of good spinal alignment at night and fewer wrinkles. So, what about those of us who are set in our ways as side and stomach sleepers?
It's not all bad news, in fact, recent studies have shown that side sleeping, especially on your left side, has some benefit after all.
Sleeping on your left side includes benefits such as:
Less acid reflux
Reduces lower back pain
Healthier for your liver
Less snoring (especially for those with sleep apnea)
Easier for your brain to do nightly clean up. 1
What can we do to make sure we get a good night's sleep and wake up feeling rested? One of the most important aspects of sleep is comfort. Sadly, many of us select the mattress we sleep on based on how it feels for a few minutes in the store. A better way is to take certain factors into consideration, such as your body type and size, your sleep position, and more.
What type of mattress is best for a side and stomach sleeper
Combination sleepers will need to look for extra support for hip and side area. The pressure points for side sleepers are the ankle, knee, hip, shoulder, and ear. For stomach sleepers, they are your toes, knee, hip, chest, forehead, or ear. With these pressure points in mind, choose a mattress:
A soft or medium-soft

firmness

level

Conforms to your body's curves
Balances pressure point relief and support
A soft or medium-soft mattress provides extra cushioning for your side and lets your hips and shoulders rest more deeply within the mattress layers. A soft surface that conforms to your body's curves equally distributes pressure to prevent uncomfortable pressure points. And last but not least, a mattress that balances pressure point relief and support typically feature high-density foams that alleviate tension while gently keeping your hips and lower back uplifted.

The Bed Boss
When considering the best mattress for a side and stomach sleeper, you will want to take into consideration firmness options. If you sleep with a partner, factor in motion transfer (cause you don't want to wake up when they move either!)
Download the 30 Days of Tips for Better Sleep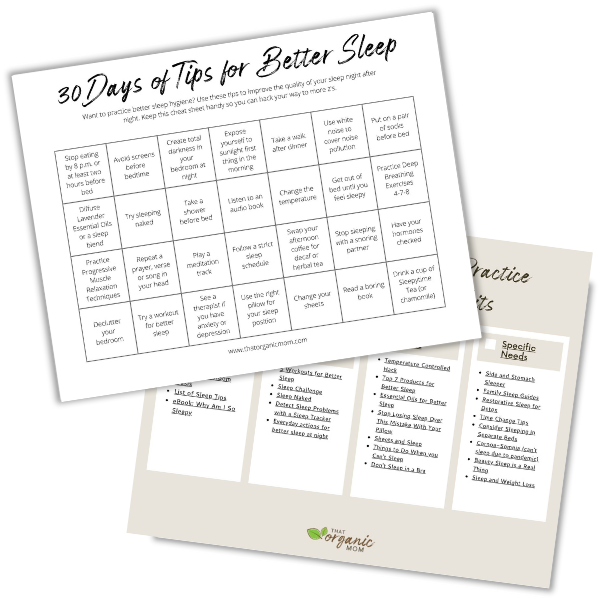 The best mattress for pressure relief would be one with a cushioning layer on top that softly hugs you, correcting your pelvic rotation and helping you to maintain a straight spine. Once your spine is aligned and relaxed, stress and pressure will melt from your body. You will wake up feeling renewed with proper support.
The top layer of your mattress is important for those who side or stomach sleep. A pillow top or other plush top layer will help prevent shoulder, hip, and lower back pain. Memory or latex foam mattresses with high-density base foam layers are ideal, as are hybrid mattresses, which unite the traditional support of springs and pressure-relieving memory foam.
A firmer mattress would not be ideal for side or stomach sleepers. So if you currently have a firm or medium-firm mattress and are not ready for a new mattress, consider a soft memory foam topper to give you a better night's sleep. This mattress topper features 2.5 total inches of gel memory foam comfort layer and two unique sleeping surfaces: silky soft Tencel fabric with cool response technology for summer and a premium quilted faux duvet with pillow loft for winter.
Depending on your price point you may want to start with a memory foam layer such as many top mattresses use. You can add a support layer or layers of foam by adding a memory foam mattress topper.
My mattress
With eight people in our family, I've tried lots of mattresses over the years and I never expected to land on all-foam beds. But if you appreciate that cradling effect a memory foam cellular structure that is more open will allow you to sleep cooler.
Remember to rotate your mattress every 3 months will keep it in tip-top shape.
Revolution Hybrid Mattress for Side Sleepers
I sleep on a high-quality Revolution Hybrid mattress, meaning it is made with gel memory foam and individually pocketed coils to allow enhanced airflow. These coils are sandwiched between the thick, high-density foams. It also allows even weight distribution across the soft top surface. Not only do I get the pressure-relieving advantages of memory foam, but also the ability to sleep cooler, due to the six-layer design.
In my opinion, this particular hybrid is the best mattress for stomach sleepers and those who experience hot flashes or night sweats.
Choose Revolution if you want to sleep cool AND enjoy the pressure-relieving advantages of memory foam! Let your pressure points melt away in this six-layer design featuring soft support foams backed by a durable pocketed coil system.
Softest memory foam mattress
In the past, I have also had the Crown mattress and really appreciated it for the softness that allowed my hips and shoulders to nestle in the soft layers without causing aches and pains. This is one of the softer mattress options that The Bed Boss has to offer. It's especially popular with my houseguests! Everyone who sleeps on it loves it and asks me where I got my mattress.
My daughter says it's the most comfortable bed in the world! When I downsized my bedroom and had to buy a smaller mattress, I chose a hybrid for several factors, but one was because it helps you sleep cooler.
The Crown is what you want if you're ready to appoint yourself Sovereign of Slumberland and Ruler of Relaxation. I consider it the best hybrid mattress available.
Best Memory Foam Mattress
Mattress firmness is important for proper spinal alignment.
If you want a one-hundred percent memory foam mattress that won't trap body heat, consider a mattress with a gel-infused memory foam quilted into the cover. Many have breathable fabric on top of four layers of memory foam will ensure you experience the most comfortable temperature while you sleep. Your hips and shoulders will appreciate the soft, supportive foams that don't suck you in but relieve those pressure points while you sleep.
In addition, the CertiPUR-US certified foams are made without:
Ozone depleters
PBDEs, TDCPP, or TCEP ("Tris") flame retardants
Mercury, lead, and other heavy metals
Formaldehyde
Phthalates regulated by the Consumer Product Safety Commission
and also have Low VOC (Volatile Organic Compound) emissions for indoor air quality (less than 0.5 parts per million)
More traditional Soft Innerspring (Pocketed Coil)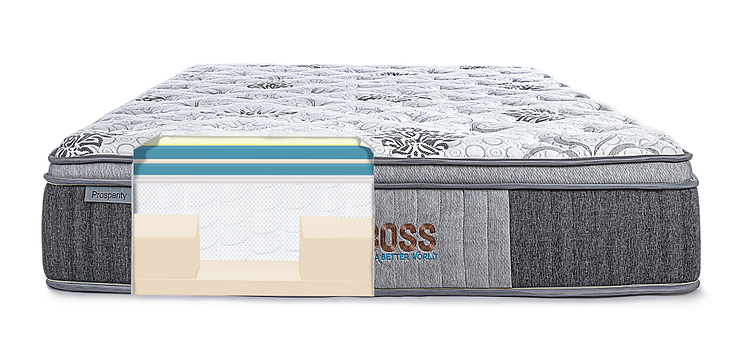 For those who prefer a more traditional innerspring pocketed coil mattress, that is perfect for side and stomach sleepers try a hybrid. Most memory foam hybrids are an excellent choice and restores your body and eases your mind with truly restful sleep. Multi-layered support and a highly resilient innerspring unit will support your pressure points and midsection in your favorite sleeping position.
The Prosperity + Gel blends softness and pressure relief for a traditional feel. The plush, supportive feel has a touch of bounce for side sleepers who want to eliminate pressure points without feeling "stuck." Layers include 3-layered gel memory foam combined with super soft comfort and support foams, firm HD support foam, and an individually pocketed coil system with high-resiliency base and edge support foam. Prosperity's comfort and support foams bounce back quickly, so that you can move around easily. Better yet, the gel layer at the top delivers night-long coolness.

The Bed Boss
Mattress Layers are:
2.75-inch, 3-layered Gel memory foam combined with super soft comfort and support foams
2-inch firm HD support foam
8-inch individually pocketed 12.5 gauge coil system with HD border and bottom foam encasement
Other tips for side sleepers
First, choose a soft or medium-soft firmness level mattress. Side sleepers should seek a soft or medium-soft mattress (2 – 6 on the firmness scale) that gently gives beneath the weight of your body. Your ideal mattress is responsive and delivers contouring support, softly sinking in and forming to your body's natural curvature.
For best neck alignment choose a pillow designed for side-sleepers. The unique shoulder notch on the Crown pillow works best as it allows support for your head while creating a space for your shoulder to lie naturally. (Using this pillow when I am sleeping on my side eliminates neck pain completely.)
Try to relax your arms below your neckline, parallel to your body if possible, although the temptation to bend at the elbow may cause you to sleep with them tucked near your chin.
Put a firm pillow between your knees to help avoid low back pain and keep your spine in proper alignment while you sleep. While a soft mattress will cradle you, the pillow between your knees will support your body weight preventing pulling your back out of alignment while you sleep.
Tips for stomach sleepers
Use a flat thin pillow or nothing at all if you sleep on your stomach. Instead, you might choose to place a small pillow under your hips to give them a slight lift which relieves pressure on your spine. Laying in a prone position (flat on your stomach) is the worst sleeping position for your neck. If you can train yourself to sleep on your side, it will be much healthier. Although changing from back sleeping to stomach sleeping does reduce snoring for most people.
Stomach sleepers are especially vulnerable to back pain caused by a sagging mattress. "If your mattress is sagging badly enough, it may feel like you are sleeping in an inescapable crater every night. Your sleep will be disruptive and you will likely be waking up with aches and pains!" Find out why your mattress is sagging and either fix the problem, or replace your mattress.
Summary: Tucking you in
When you get right down to it, picking out the right mattress is all about your body type and preferred sleep position. As a general rule, softer mattresses are better for those who sleep on their sides, while medium-firm mattresses work better for heavier sleepers and those who sleep on their backs or stomachs.
I don't know about you, but all this sleep talk has me ready for bed! We are here for you if you experience insomnia or need help with getting on a better sleep schedule. As always, feel free to reach out to us with any questions, comments for suggestions at [email protected]
Sources:
The Effect of Body Posture on Brain Glymphatic Transport https://www.jneurosci.org/content/35/31/11034