Last Updated on June 29, 2022 by Rebecca Huff
I prefer to eat this organic chocolate pudding warm, but my kids like it best when it is chilled. However you choose to eat it, you'll love this version of the childhood classic!
Many of us probably remember growing up eating jello instant pudding. We all appreciated the simplicity of instant pudding; even my grandma usually had a few boxes in her pantry. However, we know the taste doesn't compare to homemade.
If your parents or grandparents also made homemade chocolate, butterscotch, or vanilla pudding you may remember being the lucky duck who got to lick the wooden spoon! Perhaps that is why I prefer warm pudding over chilled. Either way the delicious flavor of milk chocolate is a childhood favorite.
Over the years I have made this pudding for my own children and perhaps someday I'll be making it for my grandchildren.
Choosing ingredients for chocolate pudding
You might have some Hershey cocoa powder in your pantry right now. It is the most popular brand in the US. But I'd like to encourage you to expand your cocoa powder horizon! Cocoa powder is much more complex than you may think.
There are different notes present in the chocolate flavor much like that of coffee. Whether you like dark chocolate or milk chocolate, you will do yourself a huge favor to learn more about cocoa powder!
Chocolate is naturally slightly acidic, and so is cocoa powder. Treating the cocoa with an alkalizing agent neutralizes the acid, raising the powder's pH from about 5 to about 7. Natural cocoa powder is usually sandy brown with a reddish tint and tastes bright and fruity; Dutch processing darkens the color to velvety brown or near-black and mellows the cocoa's more astringent notes so that its deeper, earthy notes come to the forefront. ~ Which Cocoa Powder Should You Buy
The nutrient profile of cocoa powder may surprise you. It contains a significant amount of iron, zinc, selenium, potassium, and magnesium. Lowered inflammation and better heart and brain health are just a couple of the health benefits of cocoa powder. Of course, sugar isn't "health food" so I recommend moderation when it comes to all desserts. But kids love desserts, and this chocolate pudding is a good choice when you want to make something in the kitchen with your kiddos.
Like most kids making pudding or brownies, mine wanted to taste the unsweetened cocoa powder the first time they saw it! Probably not a great idea to taste cocoa powder, but as a mom of six I've found that no matter what you tell a kid, they're going to want to try it to see. Even if you say no, they're probably going to sneak a bite of it at some point. Disclaimer: eating dry cocoa powder can cause choking! And so can dry sugar (right Ben?) and all other dry powdery foods put straight into your mouth! Some of us find out the hard way.
Moving on…
Making a pudding mix with egg yolks can be intimidating for new cooks. This recipe does not depend on egg yolks for thickening and is much easier to prepare. I started using organic cornstarch because my daughter wanted to make the chocolate dessert on her own. This was her first recipe learning to make pudding. Now she knows how to make pudding and custard using egg yolks.
To make this pudding dairy free you can use unsweetened coconut milk, almond milk, or cashew milk.
Uses for chocolate pudding
You can use this recipe as a pie filling or eat it as is. It also makes delicious pudding pops or filling for pastries. Dip churros or cookies in chocolate pudding. Top with whipped topping and strawberries. Any other recipe that calls for chocolate pudding will work with this one.
Final Notes
If you choose to serve cold, you might want to cover the pudding with plastic wrap so that the top doesn't dry out and form a skin. If you use this method, put the plastic wrap right on top of the pudding so that it touches. Then just before serving, remove the wrap and discard.
I don't use plastic wrap in my kitchen, but it has taken me many years to learn how to get by without it. In this case, I use these mini pots with lids, but the pudding still forms a slight film.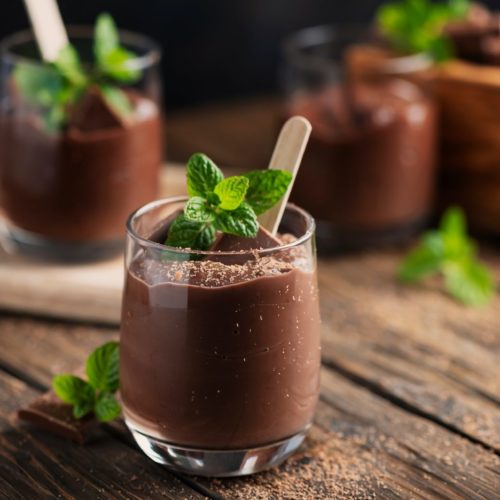 Simple Organic Chocolate Pudding

Gluten Free
That velvety smoothy chocolatey goodness that was your childhood favorite.
Ingredients
½

cup

sweetener (organic sugar works best but sometimes I use coconut sugar)

3

tbsp

organic cocoa powder

3

cups

organic whole milk

2

tbsp

butter

we love Kerrygold

1

tsp

vanilla extract

¼

cup

non-GMO or organic cornstarch

pinch

Himalayan Sea Salt
Instructions
Mix the sweetener, cocoa powder, cornstarch, and milk in a heavy-bottomed small saucepan over medium heat.

Stirring constantly, bring to a boil.

When the mixture thickens, remove from heat.

Add vanilla, a pinch of salt, and butter, stir to combine.

Pour into serving dishes and serve warm or refrigerate and serve cold.
Nutrition
Calories:
157
kcal
Carbohydrates:
19
g
Protein:
4
g
Fat:
8
g
Saturated Fat:
5
g
Cholesterol:
22
mg
Sodium:
111
mg
Potassium:
194
mg
Fiber:
1
g
Sugar:
15
g
Vitamin A:
310
IU
Calcium:
137
mg
Iron:
1
mg