Happy National Cupcake Day!
You know, we can think of a million ways to have a celebration, and that means enjoying desserts. Like cupcakes! So, it is important to learn how to enjoy all the fun and wonderful things in life without compromising our health.
Swirled with frosting, covered in sprinkles, dipped in ganache, or drizzled with chocolate, cupcakes are a one-of-a-kind dessert, whimsically versatile for any occasion. They have evolved far and wide from just chocolate and vanilla to fulfill almost all of our dessert dreams and fantasies. Luckily, today is National Cupcake Day, recognized annually on December 15 to commemorate these compact yet delectable sweets. NationalToday.com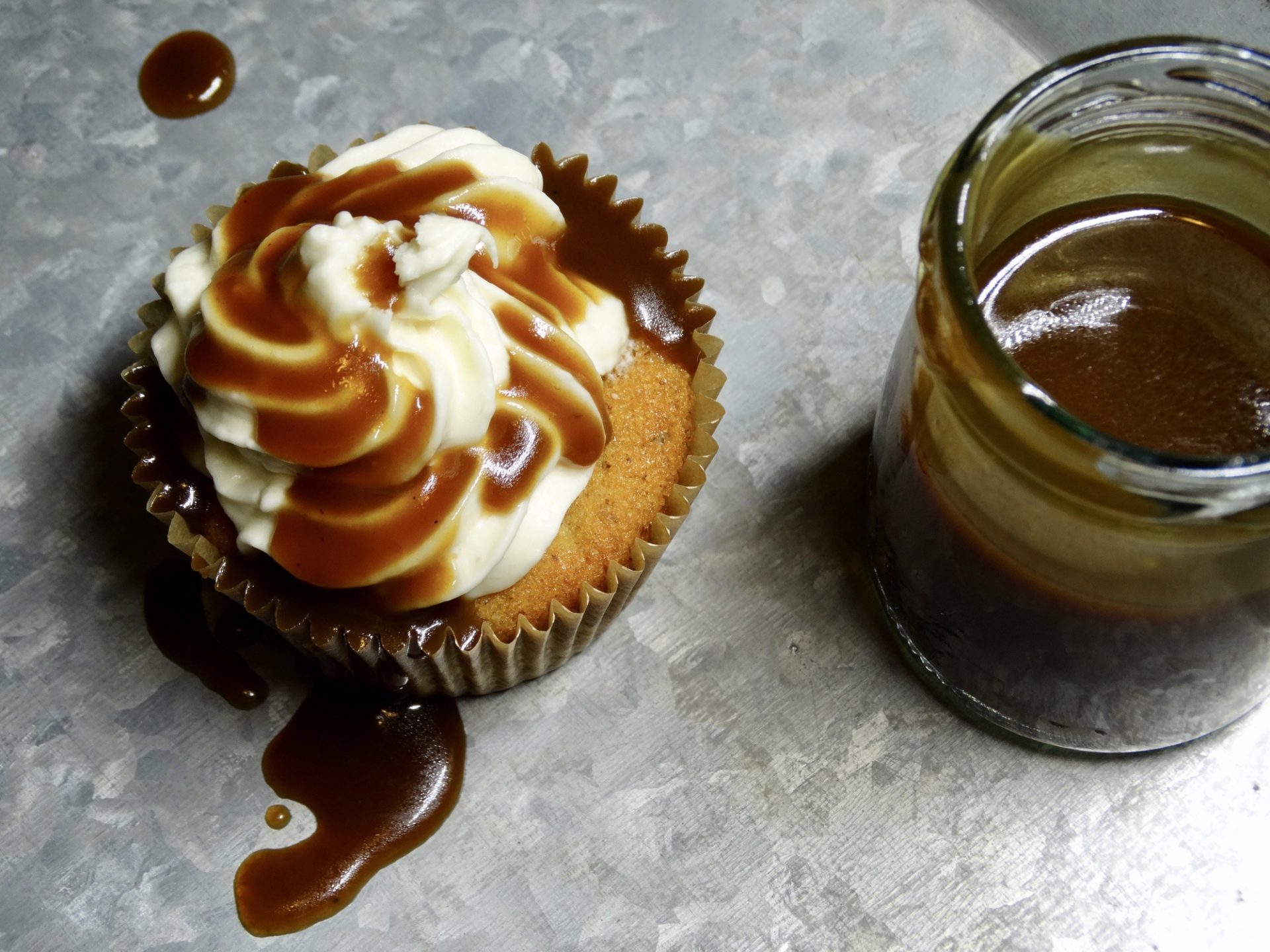 We know you're going to want to indulge in some cupcakes today. Which is why we decided to create a sugar-free cupcake for those of us who reduce our sugar intake. This cupcake is everything you want a cupcake to be: moist, tender, sweet, and delicious with a touch of salt.
Sponsored by Pyure Organic
Low-Carb Healthy Salted Caramel Cupcakes
Our cupcake makes a perfect dessert for anyone trying to live a healthier lifestyle and it also fits the low-carb lifestyle. These salted caramel cupcakes are also gluten-free. Yay!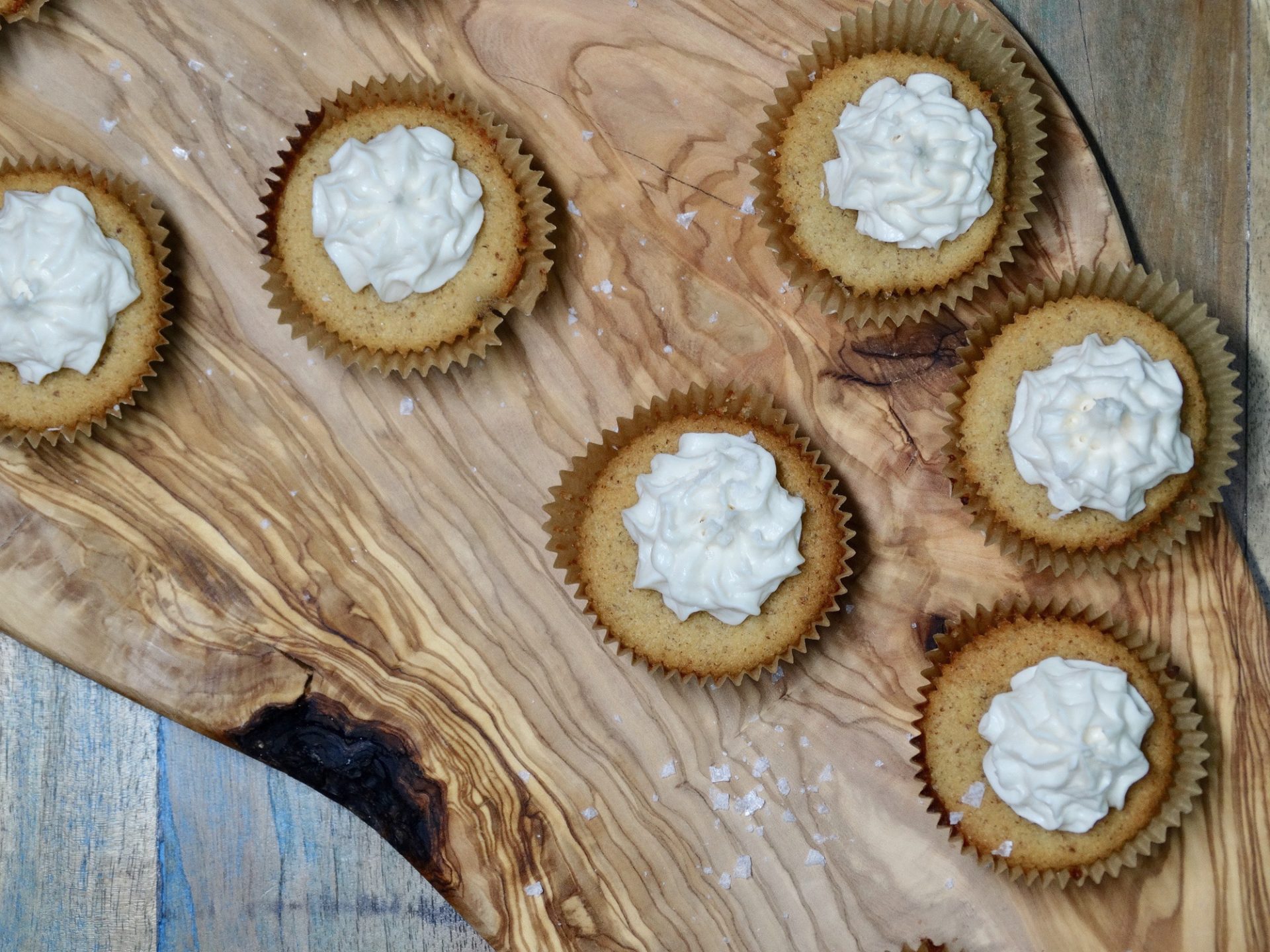 These cupcakes are so healthy you could actually eat them for breakfast, with or without the frosting. In fact, I made a batch of these without the frosting and used them for my breakfast for about a week.
That's because the ingredients are full of nutrients. Almonds are rich in antioxidants, particularly Vitamin E, among others. Flax meal is high in fiber but low in carbs; it also contains a type of omega-3 called ALA.
Studies show that alpha-linolenic acid reduces the risk of coronary heart disease and hypertension and reduces inflammation.
The advantages of reducing sugar intake are plentiful. You can read more about how to reap the benefits of reducing sugar here.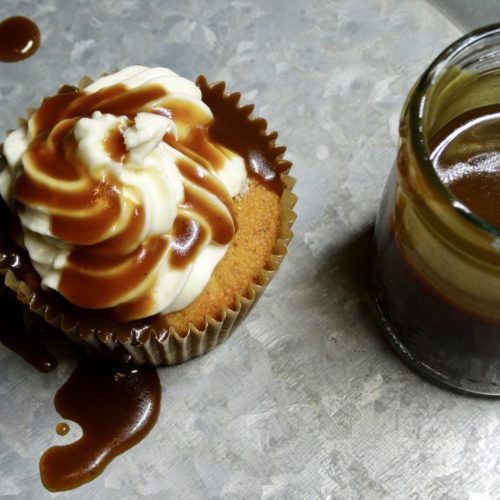 Low-Carb Salted Caramel Cupcakes

Gluten Free

Keto

Low Carb

Sugar Free

Trim Healthy Mama
Delicious sweet and salty cupcakes to satisfy your cravings without ruining your diet.
Ingredients
Cupcakes

2

cups

almond flour

¼

cup

golden flax meal

2

tablespoons

coconut flour

¼

cup

+ 3 Tablespoons Pyure Organic Stevia Blend

½

teaspoon

baking soda

½

teaspoon

salt

4

egg whites

½

cup

butter

½

cup

unsweetened coconut cream

2

teaspoons

vanilla extract

Frosting

8

ounces

cream cheese

cold

2

tablespoons

salted butter

softened

3

tablespoons

Pyure Organic Maple Flavored Syrup

1

teaspoon

caramel extract

Maldon Sea Salt Flakes

optional *see note
Instructions
For Cupcakes

Preheat oven to 350 degrees with the rack in the middle position. 

Line cupcake pan with paper liners.

In a mixer, combine egg whites with cream of tartar. Beat on high speed until soft peaks form.

Using a separate bowl, sift together almond flour, coconut flour, flax meal, salt, baking soda, and Pyure Organic Stevia Blend. 

Stir together the softened butter, coconut cream, Pyure Organic Harmless Hunny, and vanilla extract, then add this mixture to the egg white mixture. Turn mixer on the lowest setting as you begin to add the dry ingredients. 

Do not overmix.

Scrape down sides and turn the mixer on stir again until the cake batter is mixed.

Divide the batter into the cupcake pan using a spoon, filling each about 75% full.

Bake for 20 minutes or until a skewer comes out clean.

Allow the cupcakes to cool in the pan before removing it to frost.

For Frosting

In a mixer, combine cold cream cheese with softened butter, add Pyure Organic Maple Flavored Syrup and caramel extract. 

Turn off the mixer to add Pyure Organic Confectioners Stevia Blend, turn on the lowest setting until fully incorporated. Scrape down sides, mix again.

Add to piping bag and pipe onto cupcakes!
Notes
Cupcakes are delicious and absolutely satisfying with only the frosting. However, if you like the look of traditional caramel sauce and don't mind a teaspoon or so of coconut sugar, use option 2 for caramel sauce. 
If you need to stick to a strict no-carb diet, use option 1 "Low Carb Pale Caramel Sauce" which is the tastiest caramel sauce ever. Literally, I ate it straight from the spoon without the cupcake y'all. Yum. However, it doesn't "look" dark and rich like traditional caramel sauce. 
I have included the nutrition information to help you make your decision!
Nutrition
Serving:
1
g
Calories:
257
kcal
Carbohydrates:
8
g
Protein:
8
g
Fat:
23
g
Saturated Fat:
9
g
Cholesterol:
27
mg
Sodium:
251
mg
Potassium:
117
mg
Fiber:
4
g
Sugar:
2
g
Vitamin A:
329
IU
Vitamin C:
1
mg
Calcium:
79
mg
Iron:
1
mg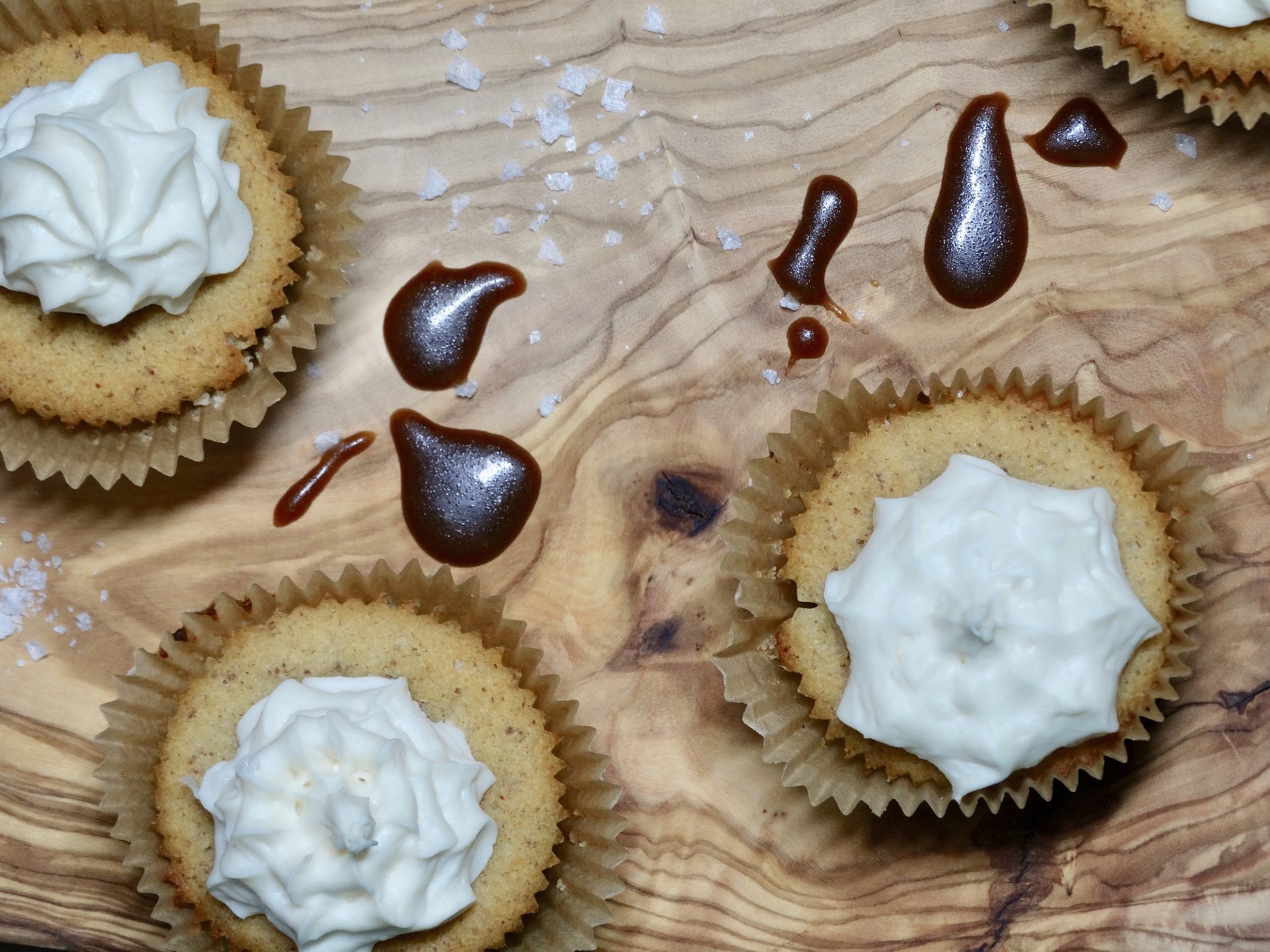 Nutrition Information for Cupcakes with Frosting
Because these cupcakes have caramel extract in the frosting they satisfy your caramel cravings completely. If, however, you want the addition of ooey-gooey caramel sauce on your cupcake, here's what you can do.
Option 1 – No Sugar Pale Caramel Sauce
The flavor of this caramel sauce is outstanding. Reheat sauce before serving to bring back consistency if it thickens.
In a small saucepan, over medium heat, simmer until reduced by half, which could take up to half an hour. (Try to whisk smoothly in one direction for best results.)
Nutrition Information for No Sugar Pale Caramel Sauce
Option 2 – Mineral Rich Coconut Sugar Caramel Sauce
This sauce pours like traditional caramel sauce. If it thickens when it cools, reheat it over low until it is pourable.
¼ cup + 2 tablespoons coconut sugar
¼ cup heavy cream
2 tablespoons salted butter
¼ teaspoon caramel extract
Pinch of salt
Combine coconut sugar, heavy cream, and butter in a small heavy-bottomed saucepan. Heat on a low setting while whisking gently. When the mixture is combined and the butter melted, increase heat to medium. Add in caramel extract and a pinch of salt.
Bring the mixture to a full boil for about 2 minutes.
Let the caramel sauce cool before using or storing it in a jar.
Nutrition Information for Mineral Rich Coconut Sugar Caramel Sauce
You might also like to serve the cupcakes on a salt block – with or without the caramel sauce.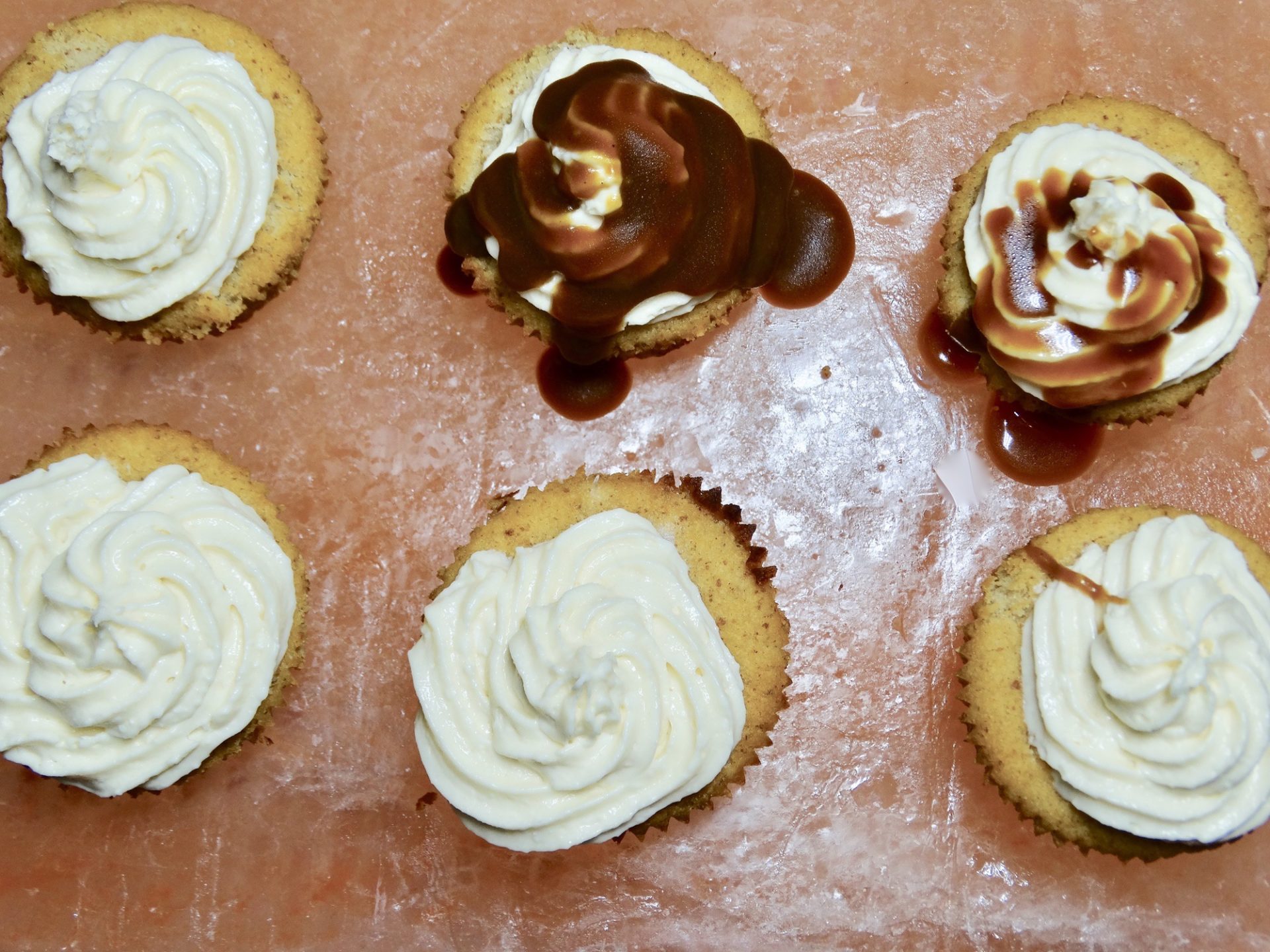 Don't forget to share this cupcakes recipe!