Last Updated on June 29, 2022 by Rebecca Huff
These spiced rum maple truffles recipe are delicious any time of the year, but I feel like they really go well with Thanksgiving. After all, maple is the new pumpkin spice!
Part of my enthusiasm for Thanksgiving I contribute to my Grandma Davidson who always made the holidays extra special for our family. Maybe you have memories like that too? Certain flavors take you back to a place in time?
For many years our family celebrated at my Grandma's, then later at my Mimi's, until eventually, we decided it was time to start our own family Thanksgiving traditions at home.
I wanted to make a dessert for Thanksgiving that was low-carb and a finger food. My favorite fall flavor is maple, so I planned to incorporate it into my dessert. Maple syrup is delicious in these truffles and when you eat them in moderation only add a few extra carbs. If you really want to add intense flavor try using Trader Joe's Bourbon Barrel Aged Maple Syrup!
On the other hand, I like to indulge at the holidays; so I make a batch with Swerve Confectioners plus maple extract for myself. If you don't have maple extract it's okay to make this with vanilla extract or even caramel.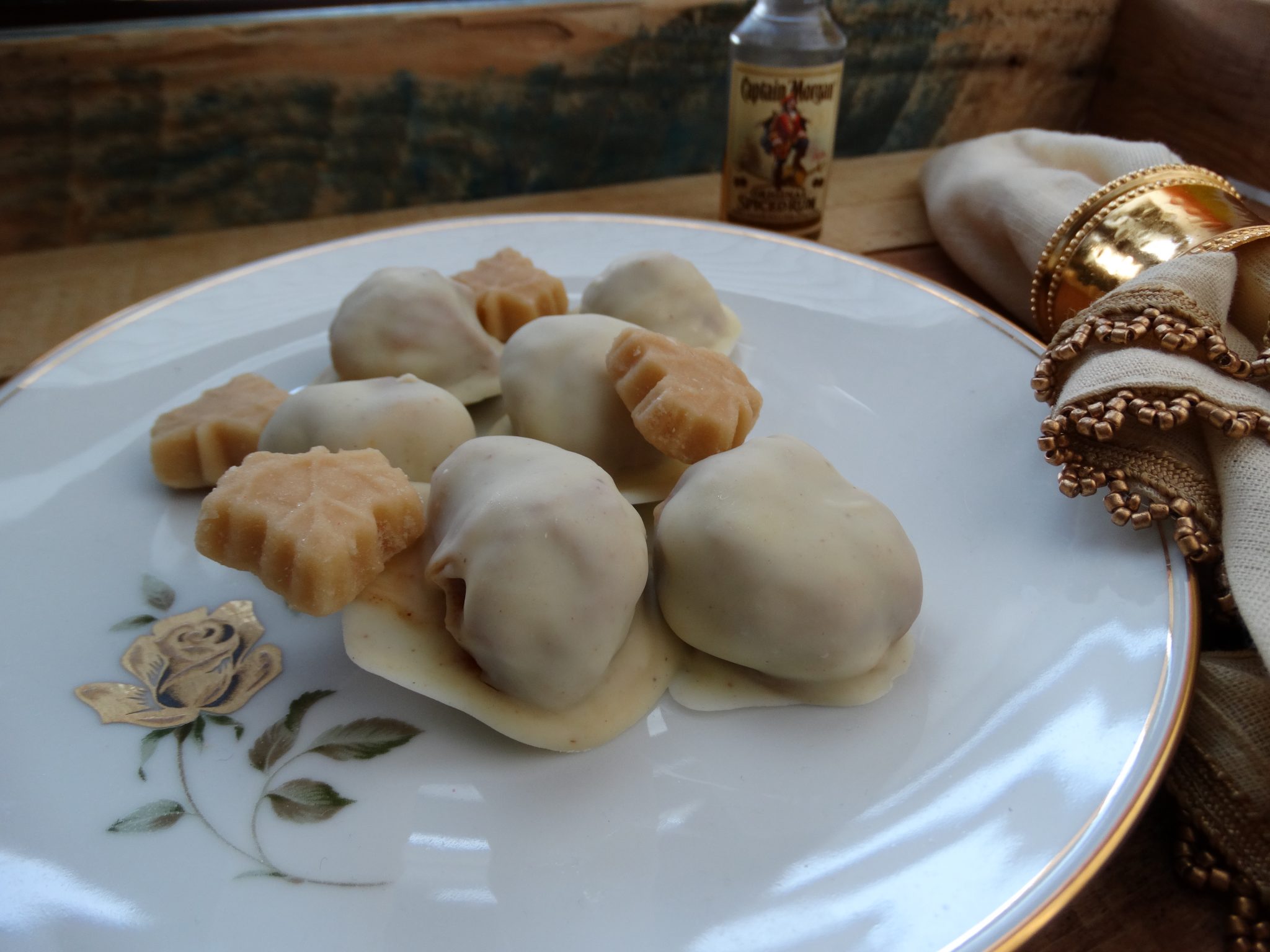 A few months before I created this recipe we found some European chocolates filled with liqueur at an international market. The candies reminded me of the chocolate I loved during the years I spent in Germany, which prompted the addition of spiced rum. For those who prefer not to use alcohol, just leave it out.
Jump to Recipe
The mixed nut butter from Trader Joe's is my favorite nut butter. You can buy the mixed nut butter on Amazon but it's triple the price.  So, you can just use whatever you prefer. Trader Joe's is very close to my house and everyone who works there is so friendly and half of them know me by name which is part of why I shop there. So seriously, just use whatever you have, this recipe is not brand specific.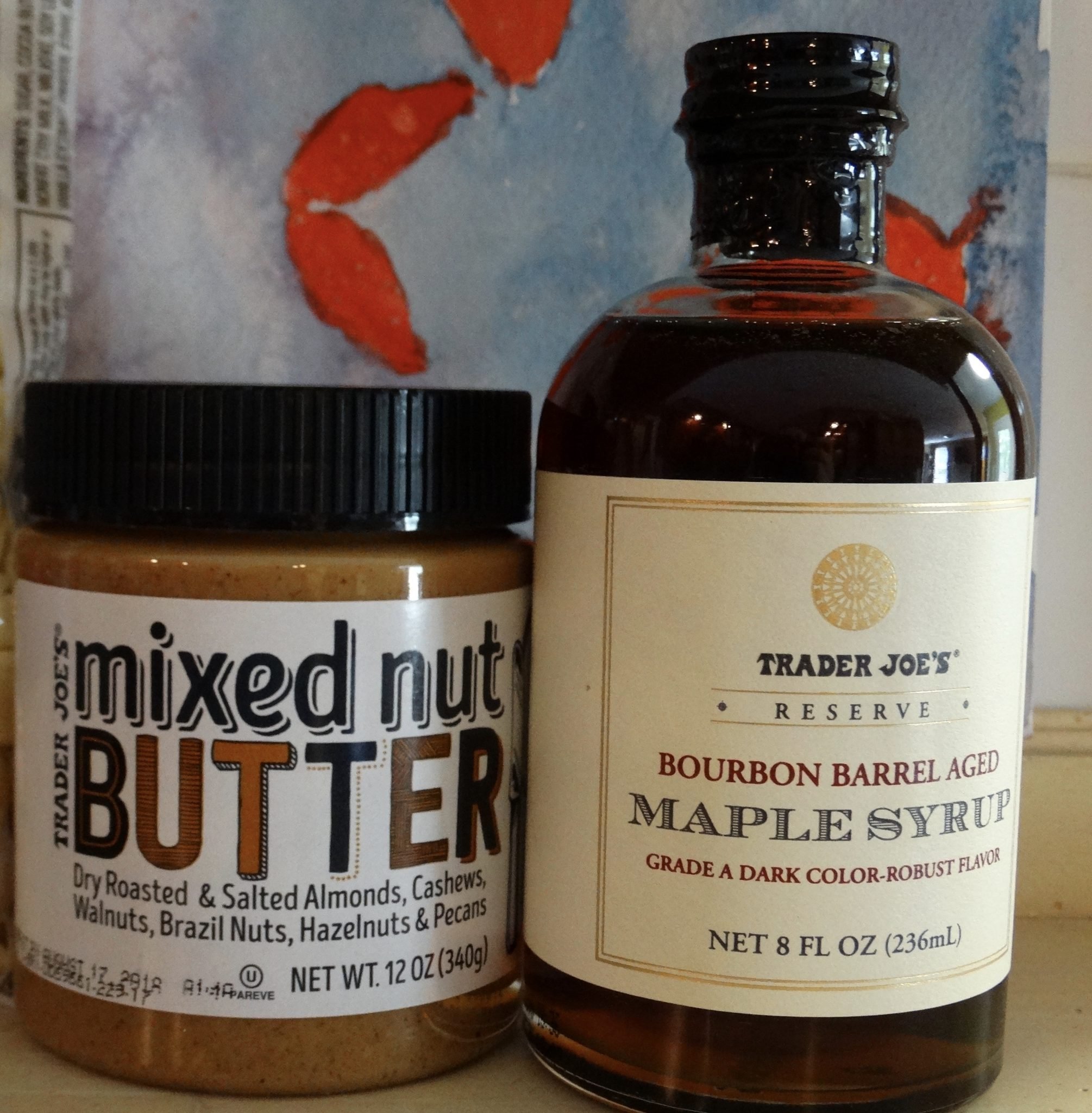 One quick word about alcohol.  While I'm not much of a drinker, I did think it would be festive to include the spiced rum. Although my goal was to keep it low carb and Ketogenic friendly. So, I did some reading to find out what is allowed. While I don't consider rum a health food, it is allowable on the Ketogenic Diet. Read more about it in The Ultimate Guide to Keto Alcohol.
If you can't find sugar-free white chocolate chips and you want to keep this recipe low-carb for Ketogenic diets or THM-S style desserts, Lily's sugar-free chocolate works well, too. Alternatively, you can roll the truffles in chopped walnuts or Macadamia nuts. Both are delicious.
When dipping the truffles in the white chocolate you want to make sure they are well frozen, otherwise, the nut butter starts to melt and discolors your white chocolate. Work quickly! It's best to have a piece of parchment or wax paper to put them on as you dip them.
Walnuts are higher in protein and lower in carbohydrates. Macadamia nuts boast a healthy 360 milligrams of Omega 3 Fatty Acids and are low in total Polyunsaturated Fatty Acids. The phytic acid content of macadamia nuts is also lower than most nuts. So just from a health standpoint, the macadamia is the healthier choice.
The truffles are easier to roll out if the mixture is very cold. You could also use a truffle mold to make it super easy without getting your hands dirty. I have also used an ice tray to freeze these in, then pop them out for covering in the chocolate.
Store these truffles in the fridge or freezer.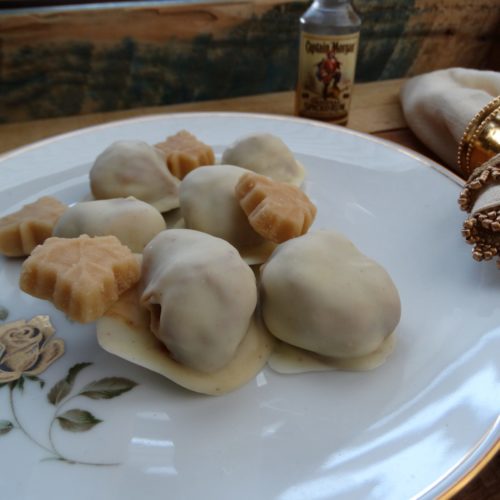 Rum Spiced Maple Truffles

Gluten Free

Keto

Low Carb

Sugar Free

Trim Healthy Mama
Rum Spiced Maple Truffles are sweet as you'd expect but they also have a nice spice and kick from the rum. Make your holidays merrier with a platter full of these truffles.
Ingredients
1/2

cup

mixed nut butter from Trader Joes

or natural almond butter

1/4

cup

butter

2

tablespoons

coconut oil

1 1/2

tablespoon

Swerve + 1/4 tsp maple extract

or use 1 1/2 - 2 tbsp pure maple syrup

0.5

ounces

spiced rum

a mini bottle will yield two batches of truffles

small pinch of salt

OPTIONAL - 10 ounces White chocolate chips + 1 tablespoon coconut oil

or white candy coating

OPTIONAL -2 tablespoons finely chopped walnuts for topping

SUGAR FREE WHITE COATING

1 1/2

cup

Swerve Confectioners

or your choice

1

cup

cocoa butter wafers

I use these

tiny pinch of salt to balance sweet flavor
Instructions
Mix everything except the optional ingredients with an immersion blender with the whisk attachment (or just whisk by hand) to fluff it up a bit.

Chill for 30 minutes to an hour or until it just starts to get firm, but not too hard or they'll be too hard to form into shapes.

Roll into balls. If you use the mold you can just fill the mold and pop them out once they harden.

Chill again until fairly hard (or put in the freezer if dipping.) 

Melt optional white chocolate chips with up to 1 tablespoon of coconut oil. If desired, chill again and dip a second time.

Dip hardened truffles into melted white chocolate OR roll in chopped nuts. 

For sugar free white coating, fully melt wafers in a double boiler, stir in Swerve and salt.
Nutrition
Serving:
1
/8 recipe
Calories:
179
kcal
Carbohydrates:
4
g
Protein:
3
g
Fat:
18
g
Saturated Fat:
8
g
Fiber:
1
g
*you might wonder about the maple leaves in the picture above – that is a 100% pure maple candy treat from Trader Joes. They come in a four-pack and I think they are just adorable!
If you love truffles, try my matcha truffles too!
Pin this post to your Thanksgiving Celebration Pinterest Board!