Last Updated on June 29, 2022 by Rebecca Huff
This persimmon recipe came about after I realized how fond I am of the cheery little fruit.
When I visited China the first time, I had the most delicious persimmon cookie. Since then, I've been trying to enjoy them more. The plan was to incorporate more persimmon fruit into our daily diet.
After all, they are full of nutrients. According to Vanessa Voltolina, MS, RD at Organic Facts, they have plenty of health benefits. They include:
potentially anti-cancer properties
immune-boosting
aids in digestion
slow premature aging
better metabolism
and more
With so many benefits, why not eat more persimmons?
I picked up a couple of persimmons when they came in season (October through February) with the plan to come up with some type of relish or chutney. After a long day of meal prep (I always end up doing more than I should) I wanted to experiment with this cheery-looking fruit.
As with many of my recipes, one of my kids was in the kitchen with me to share opinions on how it was going. When I mixed the onion, persimmon, and goat cheese together with the balsamic vinegar, we knew we had a winner.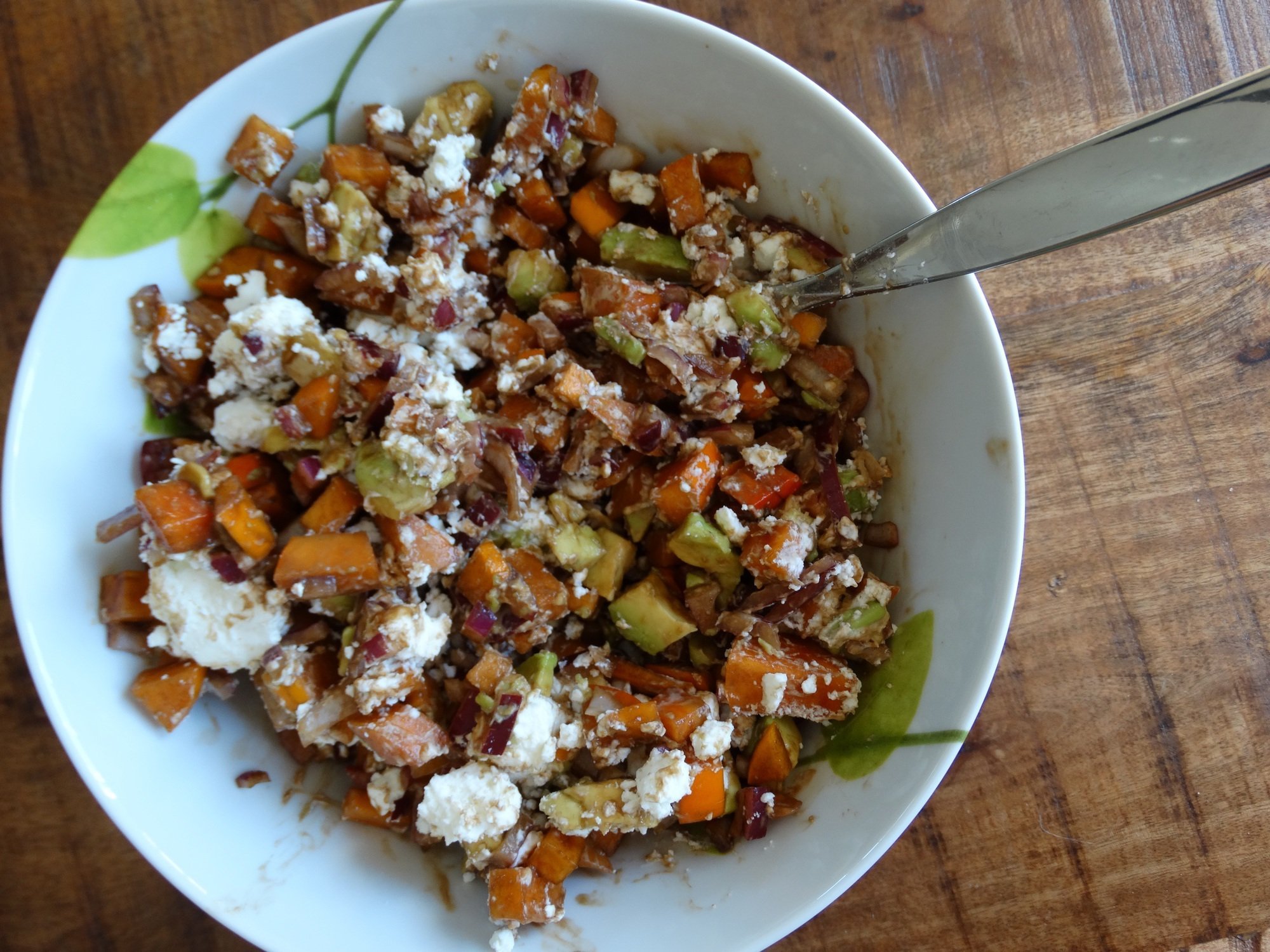 The second time I made it for my mom and she suggested the cranberries and pecans, which of course I immediately added. What a great addition! The cranberries lend another layer of tart flavor and a chewy texture while the pecans bring a nice crunch. 
Either way, the persimmon harvest salad is delicious, with or without the optional ingredients. Also, mom thought it seemed more like a salad than a relish or chutney. Whatever you wanna call it! It's yum.
In the recipe, I recommend soaking the red onion in a bowl of ice water, this will take out the "bite" of the onion, and hopefully prevent that onion-y taste after you've finished eating! You can totally skip that step if you are in a hurry or for whatever reason.
Also, I estimated the best ratio of ingredients here, however, just know that unless you are baking you don't really have to measure! Just use your best judgment or your own taste buds to decide how you like it. You may like more goat cheese and fewer onions or whatever, do it your way.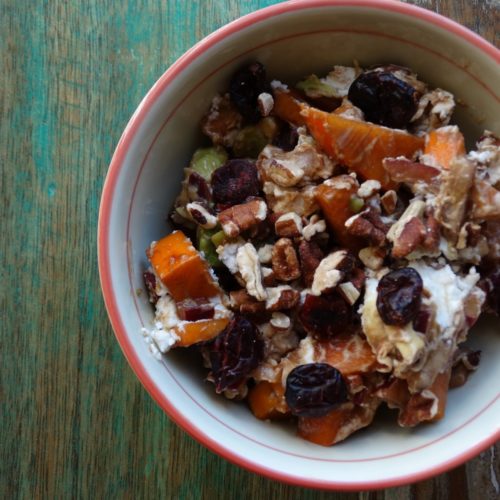 Persimmon Harvest Salad

Gluten Free

Sugar Free
A dish that deserves to be on your table, and you don't have to wait for the holidays!
Ingredients
3

Persimmons

diced

1

avocado

diced

1

small red onion

diced

2

ounces

goat cheese

crumbled

Balsamic Vinegar

1/4

cup

pecan pieces

optional but delish

1/4

cup

cranberries

optional but delish

Salt to taste
Instructions
Dice red onion and put in a bowl of ice water for 10 minutes or longer.

Dice persimmons, mix together with Balsamic Vinegar, and drained onions, then set aside.

Dice avocado and crumble goat cheese, then gently mix into persimmon and onion mixture. If you over mix at this step the goat cheese and avocado could turn creamy depending on how ripe the avocado is.

Salt to taste.

Top with pecan and cranberries.

Serve on top of lettuce greens or as a stand alone side dish; goes great with salmon, ham, and chicken as well.
What Do Persimmons Taste Like?
Funny story. My dad loved practical jokes. One time we were out in the field and he offered a persimmon to my husband who had never tried one before. My dad knew it wasn't ripe and my husband knew absolutely nothing about persimmons.
In case you're unaware, an unripe persimmon is one of the most unpleasant things you can eat. It will make your mouth pucker worse than a lemon. The tannins in persimmons make them insanely tart. Magically, when they ripen they soften and become intensely sweet and amazingly delicous.
Ripe persimmons are deep, dark orange and soft but not squishy. The taste is quite unique, but if I had to compare it to something, I'd say honey. An unripe persimmon is hard and like I mentioned, beyond tart!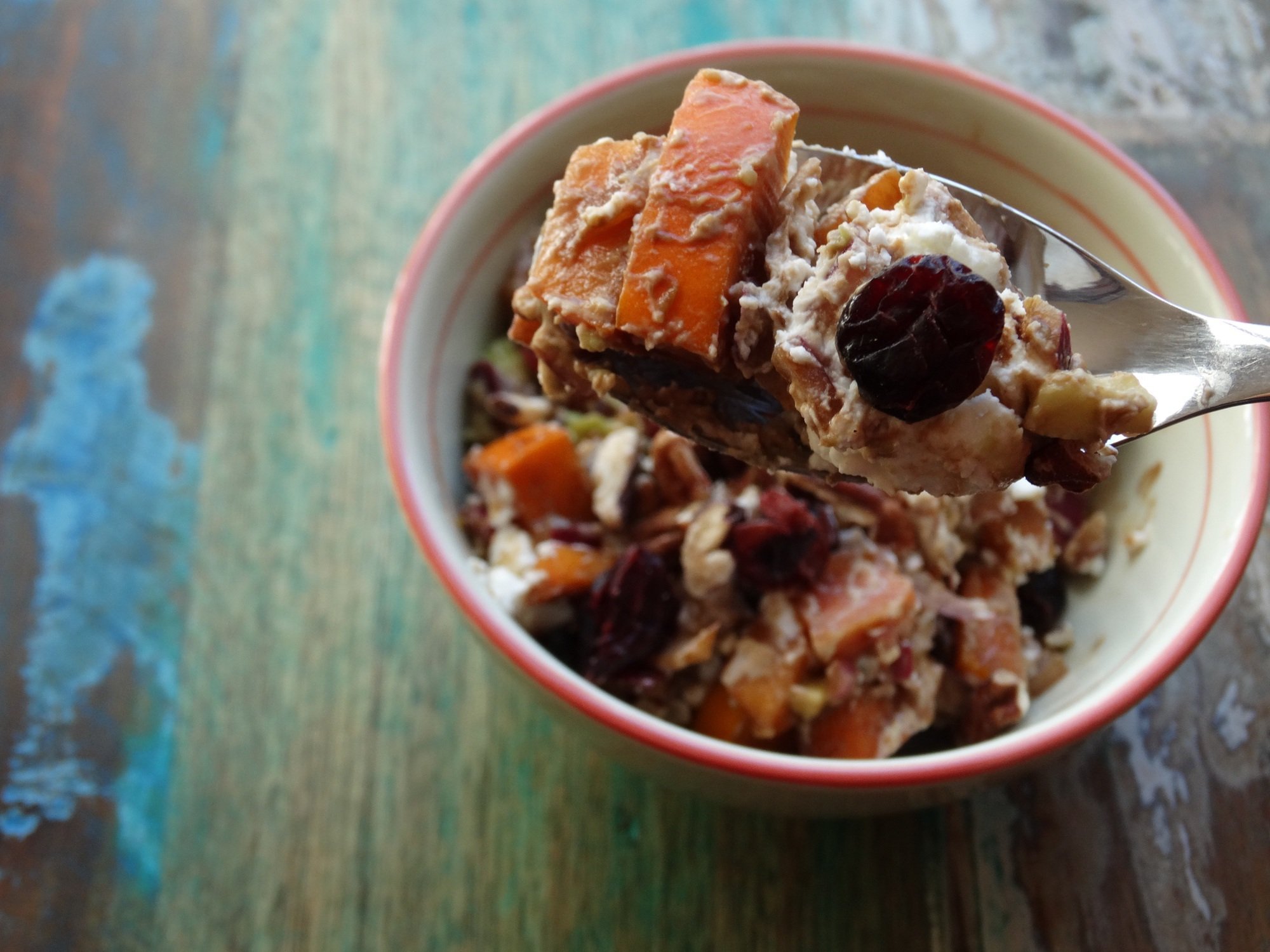 If you're still thinking about what to make for your fall table, try Caramel Dipped Persimmons as well. What other persimmon recipes do you enjoy?
Don't forget to add this seasonal salad to your Thanksgiving dinner table for something new and different. Let me know if you try it!