Last Updated on April 30, 2022 by Rebecca Huff
Are you a soup lover? We love soup! This lemongrass seafood soup with bunashimeji mushrooms is going to win over even the most stubborn anti-mushroom person you know!
Not only is it fun to create and delicious, it's also so good for you! Especially when you add healthy ingredients like lemongrass, ginger, garlic, and mushrooms!
This soup is easy enough to throw together for a mid-day meal, but nice enough to serve as dinner along with a salad. For my children, I usually serve a bowl of rice or noodles on the side to fill them up.
Supercharge Your Soup Base with Bone Broth
If you don't make your own bone broth or chicken broth, let me encourage you to start! Keeping some broth in the fridge makes whipping up meals so much easier. Adding broth to various dishes can enhance the flavor enormously.
With this particular soup, I added in a heaping scoop of Thrive 6 from Freshcap Mushroom just before serving.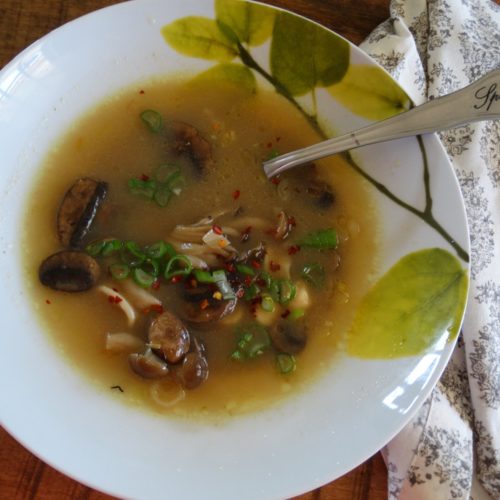 Lemongrass Seafood Soup with Bunashimeji Mushrooms

Dairy Free

Paleo

Sugar Free

Trim Healthy Mama

Whole 30
Soup is such a healing food, but when you add superfoods it's over the top! These cute little mushrooms complement the mushroom powder so nicely.
Ingredients
1

quart

chicken broth or bone broth

1

can coconut milk *see note

several stalks of lemongrass

cut lengthwise

chunk of ginger

1

tsp

oil of choice

I use avocado oil

Bunashimeji

Beech Mushrooms, often found in Asian markets, local farmers markets, Whole Foods and other health food stores (or substitute any other mushroom you like)

Sliced portobello mushrooms

or any mushrooms you like

16

ounces

or more Seafood blend

shrimp, scallops, calamari *see note

2

Tablespoons

Green Curry Paste

Dash of Red Boat Fish Sauce

Juice and zest of one lime

Clove

of garlic

minced (one or more depending on your preference)

Salt and Pepper to taste

Green onions

sliced, optional for topping

Freshcap Mushroom powder

any kind, optional but highly recommended if you wanna feel amazing!
Instructions
Add cut lemongrass stalks to the bottom of your soup pot, cover with the quart of broth, let simmer for 15-20 minutes to infuse the broth with lemongrass flavor, then REMOVE stalks. *see note

Stir in curry paste.

Sauté shallot, ginger, garlic one minute, then add mushrooms and sauté till tender.

Add shallot, ginger, garlic, mushrooms, and coconut milk to broth and turn heat down to low. *see note

Sauté seafood just until done then add to broth.

Squeeze lime juice into broth, add dash of Fish Sauce, Sat and Pepper.

Top with green onions & lime zest.

Enjoy!
Notes
Lemongrass stalks can be woody, and are often hard to chew, so take them out of the soup broth unless you want to just avoid them while eating. I left mine in to add flavor, but just avoided them when eating the soup.
If you like a creamier soup, add two cans of coconut milk.
Trader Joes has a bag of seafood blend (frozen) that is perfect for this recipe!
Go exploring Asian supermarkets and the produce section of health food stores to find Bunashimeji. They're so cute and yummy! I love cooking with them. They are perfect for stuffing inside an omelet and dozens of other ways. I hope you will go out and find some to give them a try.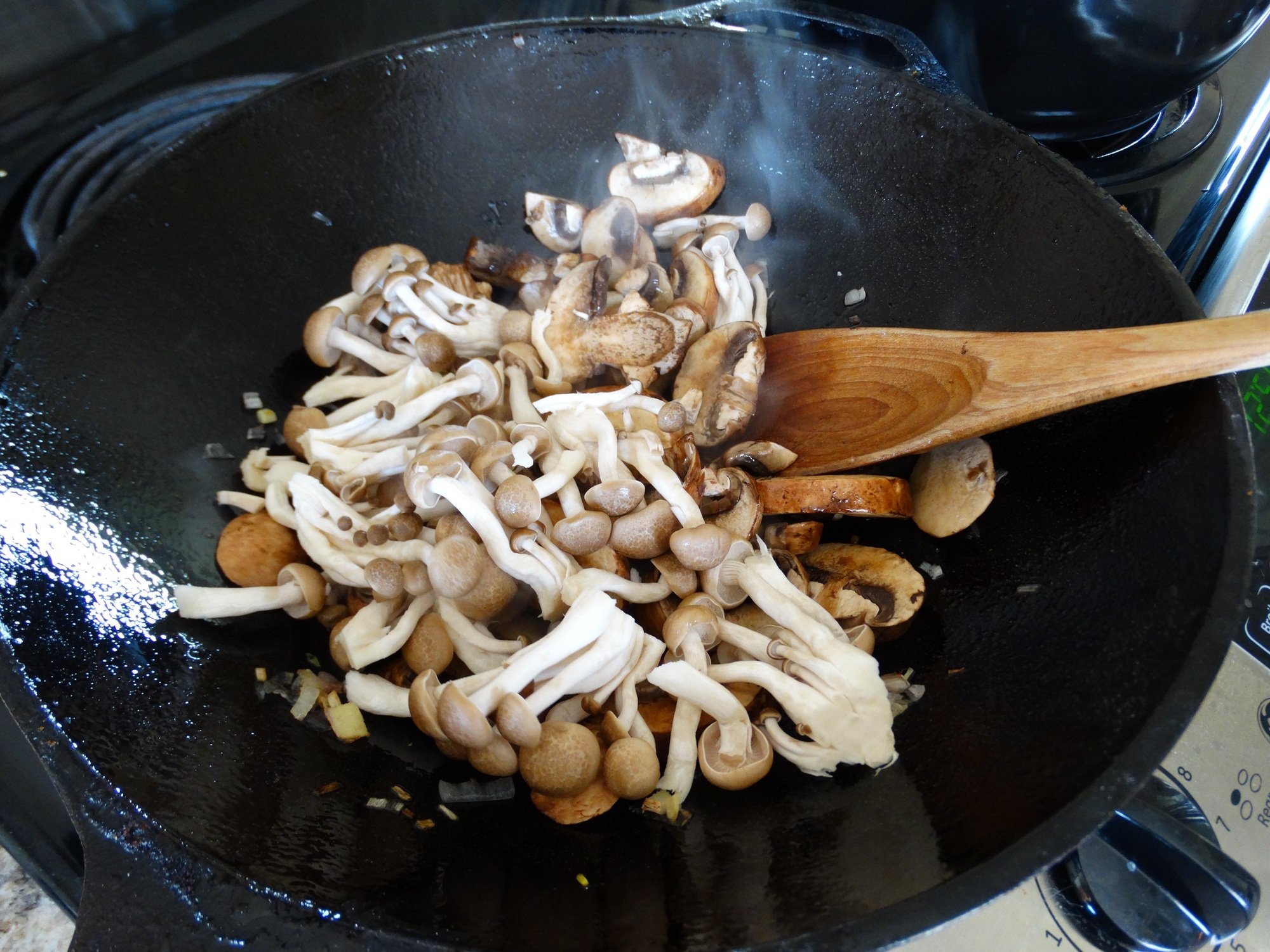 My son-in-law and I found this giant wok skillet last year while we were out antiquing together. Such a good memory. Every time I use it I think of him and my daughter and how much I love when they visit us!
Good food and family – my two favorite things in life! Here are other posts about medicinal mushrooms you might want to check out:
PS – Make sure you save this recipe on Pinterest!