Last Updated on June 29, 2022 by Rebecca Huff
The KonMari method inspires me but it is not my rule book
Since reading Marie Kondo's best selling book, the life-changing magic of tidying up, I have embarked on many decluttering and organizing projects. The book has inspired me to get things tidied up and keep them that way. It has also changed my perspective on bringing things into my home and getting things out of my home. As with the KonMari method of paper, clothing and book decluttering, I have been enthusiastic about getting the areas of my home organized.
Unlike Kondo, I chose not to pull out everything in the category at one time and instead I tackled it in parts. Many moms who try organizing and decluttering end up feeling overwhelmed and I feel like tearing apart every bathroom in my home would have been a disaster.
Having four bathrooms and a large family, it just works better for me to do it in smaller bits. Once I was told not to pull out more than I could put back in an hour and I think that is pretty good advice. It took me two hours to completely declutter my master bathroom.
Here are the steps I follow anytime I tackle a decluttering/organizing project:
Marie Kondo has a theory that there should be absolutely nothing in the shower. She suggests removing all the products you use, drying them off, and storing them under the sink or in the closet after every shower. That just doesn't work for me.
I actually felt sad for the author when I read about Kondo's experience. She started out with a wire basket large enough to fit all her family's shower items but later ended up ditching it because she felt she had to dry every single wire by hand after every shower. Later in this section, she explains how she was near tears because she could not bear to look at the bottom of her "slimy" shampoo bottle.
She also writes that she has found that it is easier for her to wipe down every product she uses in her shower every single time she uses them then returning them to the cabinet. It might just be me but when she wrote those things it sounded like she is living in some sort of bondage to her things. Thankfully, I don't feel that way. My "things" are there to serve me and they are inanimate objects. I do want to keep them clean but I'm not emotional about it, well, not usually.
With less time in my day than I need to do all the things I want to do, I can't imagine taking the time to wipe off my shower things.
Tidying the shower
Maybe I have more products than the average person; shampoo, conditioner, shaving cream, and soap every day not to mention that I also have razors (one for my underarms and one for my legs), pumice stone, sea sponge and a small fascia blaster! In addition, I actually rotate my shampoo and conditioner amongst the variety at Morrocco Method so I keep them all in my shower.
I keep several bars soap in my shower as well for our various showering needs:
Charcoal Soap – for those times we might be exposed to poison ivy or have some kind of rash. (I get mine at our Farmer's Market)
Don't bug me soap – for the hikes and times we spend outdoors it's a natural way to say "stay away" to bugs.
Cocoa butter soap – for every day use to soften skin naturally.
So that's what I keep in my shower which is not at all KonMari compliant but it works just fine for me.
Decluttering and organizing my skin care and make up products
Here is what my shelves looked like before I tidied up. Things were starting to pile up and overflow. I had three sets of make up brushes even though I only used the same few brushes while other ones never got used. According to the book, once you get things tidied they should stay that way. I had never gone through my bathroom supplies so we'll see how it goes keeping it tidied over the next few months!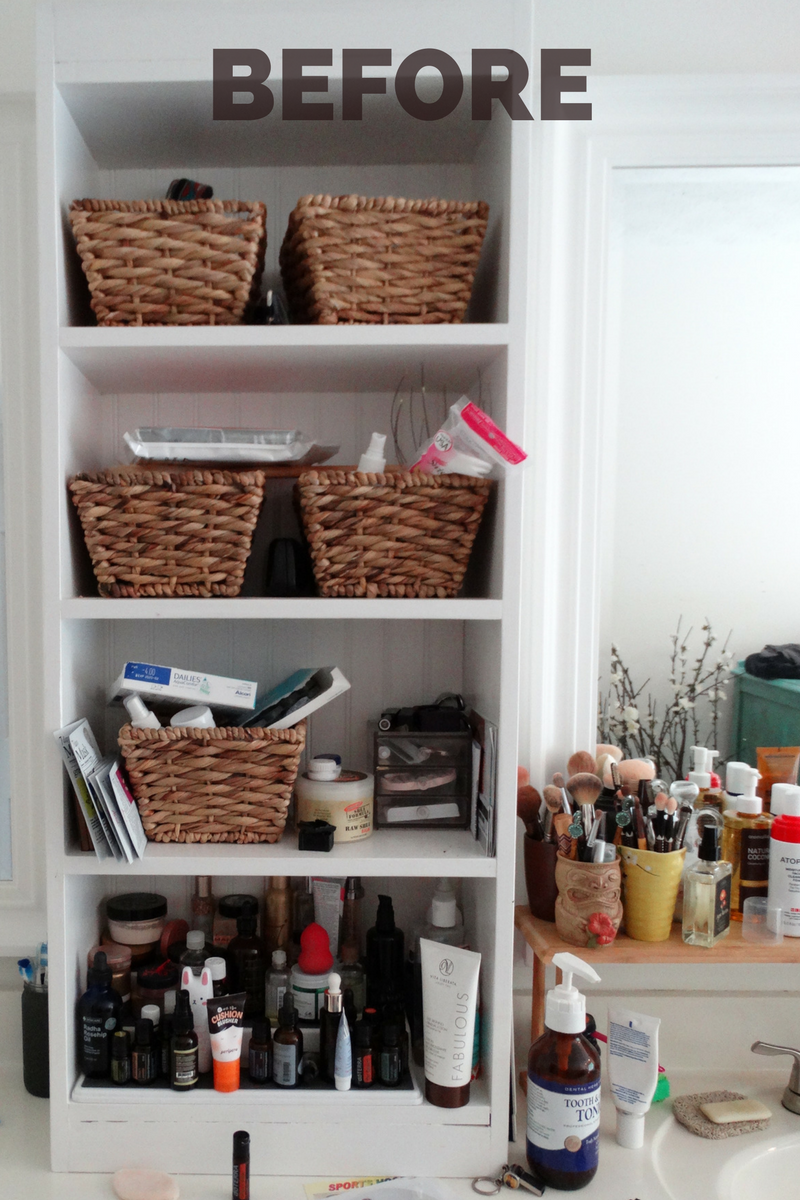 My husband built this shelf and bought some baskets so that I could store my stuff without having to bend down and get things out from under the bathroom cabinet constantly. Out of sight is where Kondo recommends keeping products. What I keep on these shelves are items I use multiple times per day like essential oils, lotions, make up, etc.
I also have a wooden/bamboo shelf over my sink where I keep my skin care products and make up brushes. Being in my forties, following a skin care regiment is more important to me than having a minimalist bathroom.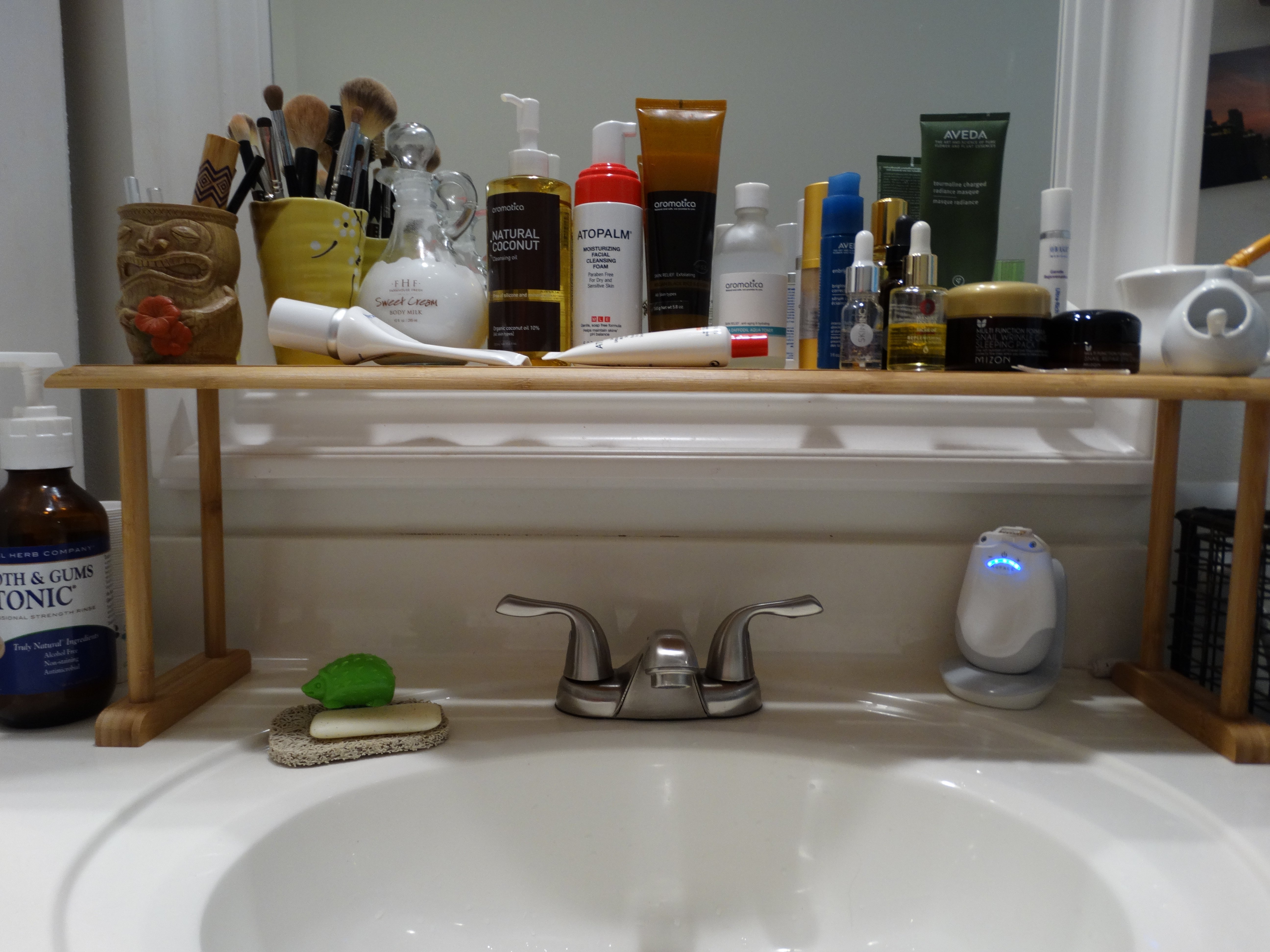 I agree that the "noise" of the written information on these bottles is not as quiet and calming as a clear space. However, the pay off for me is that I don't have to constantly get out and put away my skin care products. Against the advice of Kondo, I prefer not to remove the labels in case I need some of the information that is on them.
On a side note, I recommend leaving all labels on products for families with small children. You never know what a child is going to ingest, even if you take every precaution to put things up high, in locked cabinets, etc. Kids find a way. If a child accidentally rubs something on their skin or ingests something, don't you want to know exactly what's in it?
One of my favorite methods to have a less cluttered look but still have items within reach is using baskets and these little step-style shelves. I moved my face wash cloths to one of my newly emptied baskets. The other baskets contain hair bands, one has my nail polishes, and one has my Lila Rose hair accessories.
Here's what the shelf looked like after the tidy: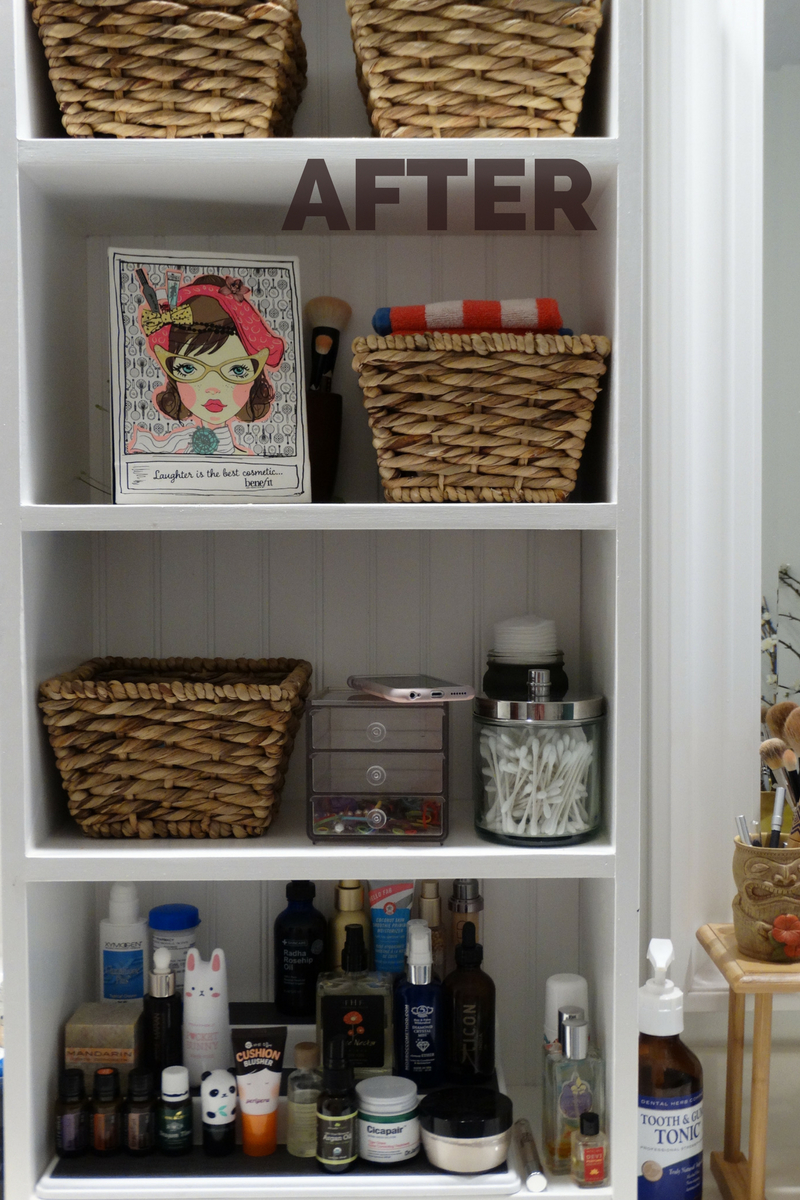 I also stored some items in my drawer that had previously been on the shelf which made it look less cluttered and was a better use of the drawer space as you can see from the before and after below. Filling up the drawer actually will help things to stay put when the drawer is opened and closed.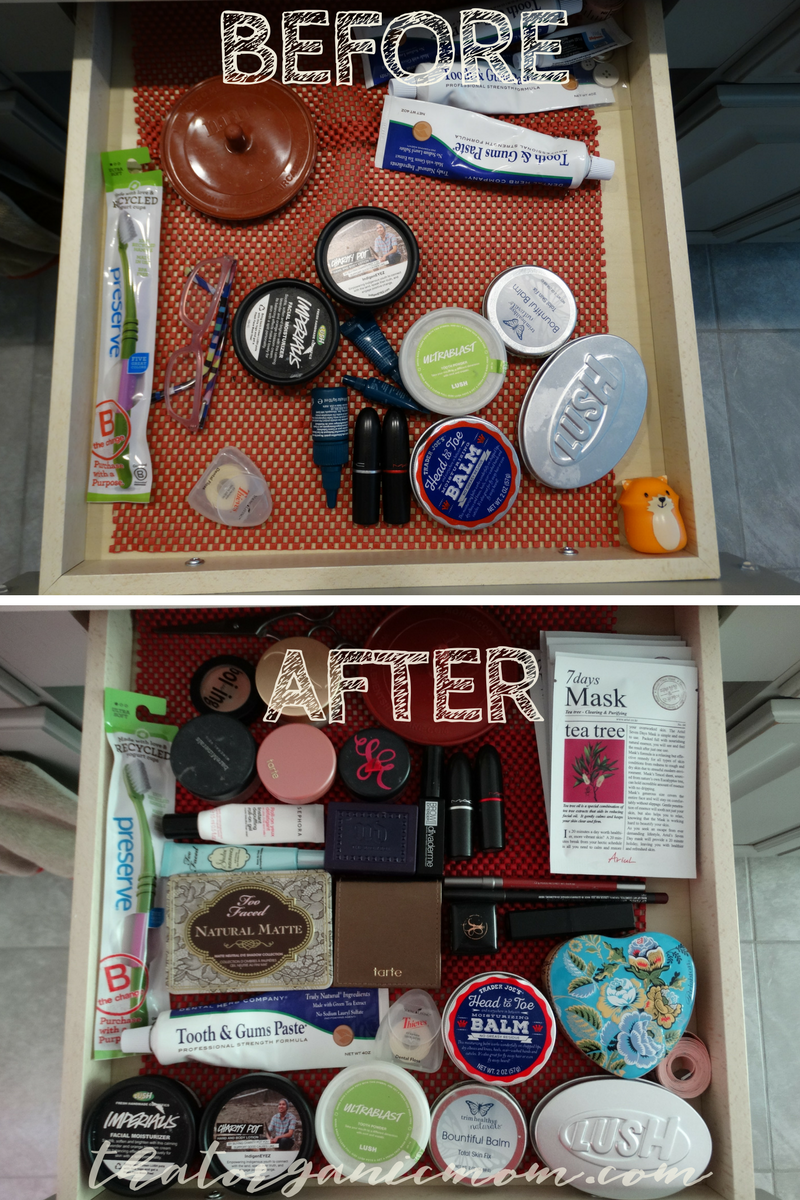 Organization under bathroom sinks
Under my sink is where I keep my hair products, blow dryer, larger bottles of ingredients I use to fill up smaller bottles, like Jojoba Oil, almond oil, etc. To keep everything where I can see and reach them I use a step shelf under my sinks. These can be purchased in various sizes to fit your cabinets or shelves.
My before and after under the sink area: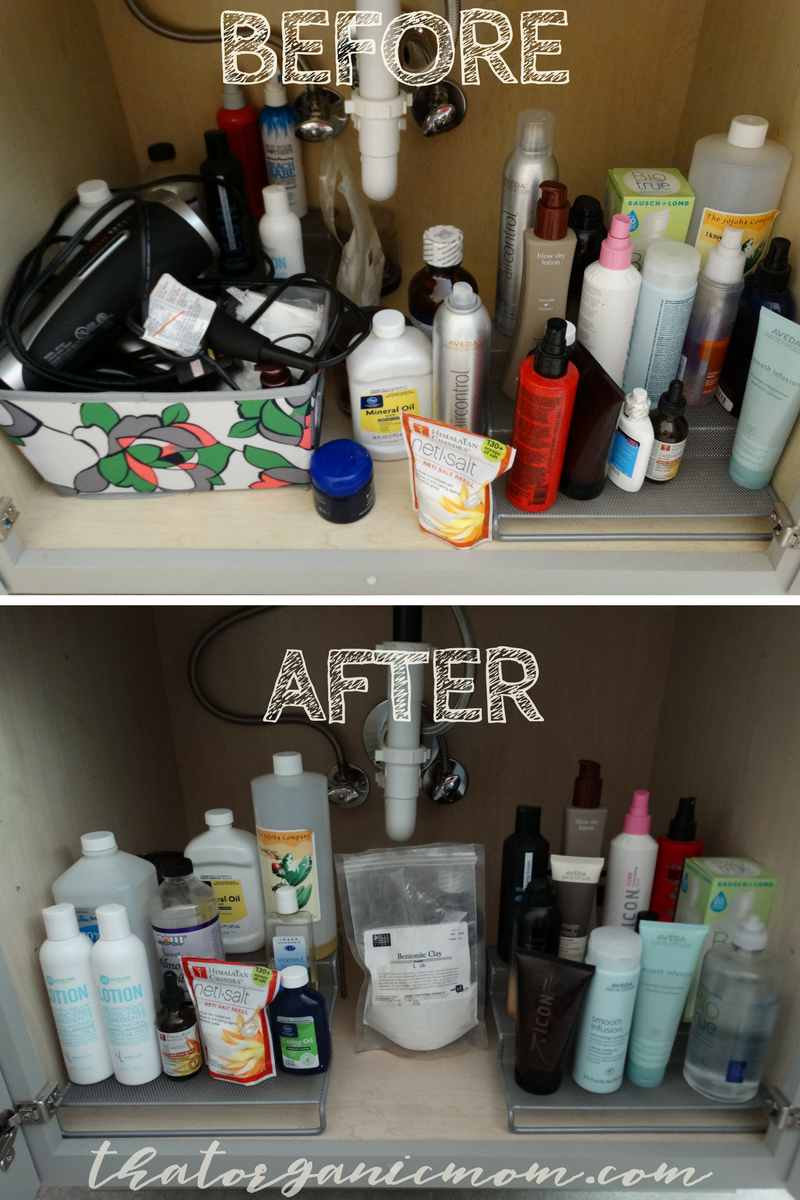 The master bathroom has two sinks. Under the second cabinet I keep magnesium bath flakes, Epsom salts, and a cloth basket with my hair dryer attachments. Plenty of room left over under here. As you can see in my after photo above, I had stocked up on some items so there were duplicates. I still plan to do that when items that I use and love are on sale.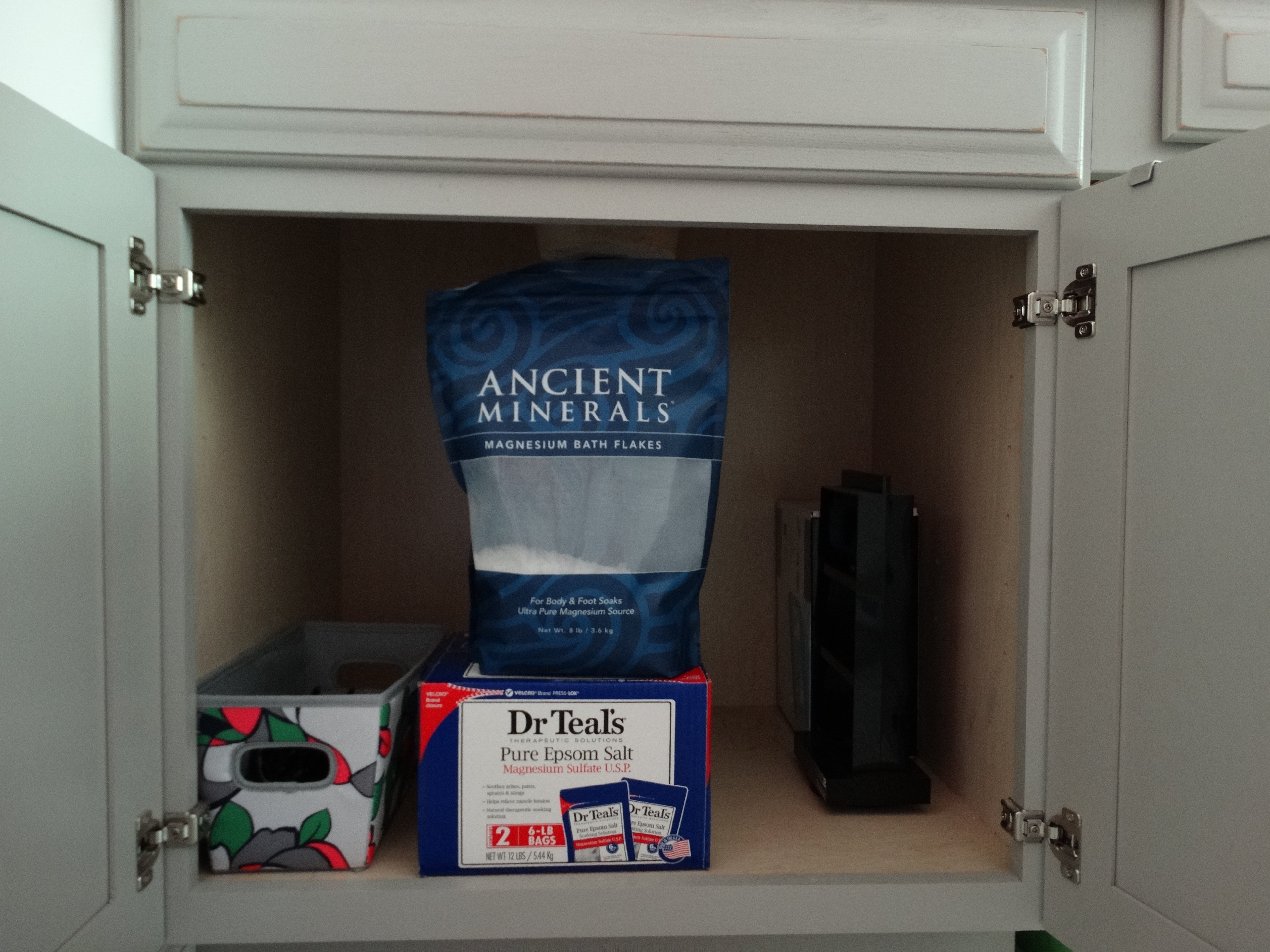 Closet organization and decluttering inspired by KonMari
The bathroom closet is where I keep my make up bags for traveling, a few extra supplies to fill up containers, my foot bucket, some beach towels and a few cleaning supplies.
Keeping sample or smaller containers of products already in a bag cuts down on packing time. Anytime I get a sample I'll throw some of them into this little bag. The only make up I really care about having when I travel is mascara, so I keep an extra in my make up bag. If I have special plans I might throw in some other items.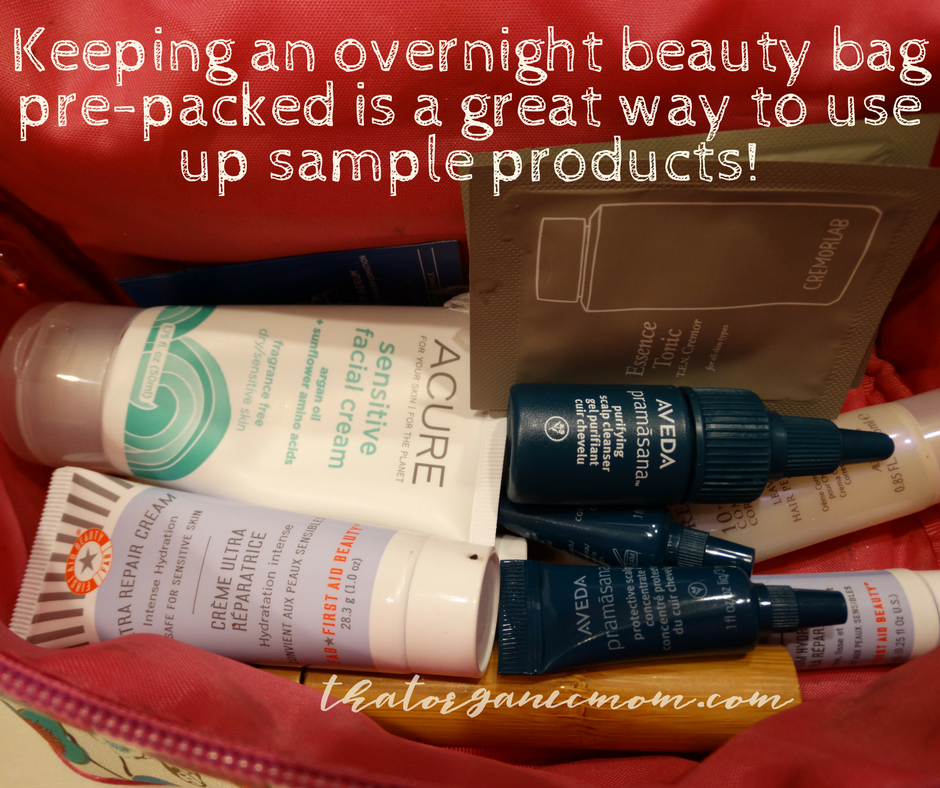 Extra products are also kept in this closet since being in a large family, I often buy things in bulk. You may notice there's not a stack of toilet paper in my bathroom because I use washable cloths. It's not a problem since our bathroom has a bidet and I'm basically just using the cloth for drying.
My closet is not crammed full of towels because I only keep one towel per person in my master bathroom. I keep our towels hanging on hooks over the tub. The beach towels are kept in the master closet to save space. In our hall linen closet are more towels, every day towels and a few guest towels. I'll tidy that later!
Cleaning products are kept in the master bathroom closet as well so that I can clean a little each day instead of having to haul everything in there for a once a week cleaning. Doing it this way, my bathroom stays clean pretty much all the time.
In the bottom of my bathroom closet I keep my foot bucket for my nightly magnesium soaks! (the green bucket in the after photo)
After cleaning the closet I realized I had an entire extra shelf with nothing on it. Maybe I'll store my extra bed sheets in there so I don't have to keep them in the top my closet. I admit I didn't really care for rolling my towels and most likely I'll go back to the fold and stack method.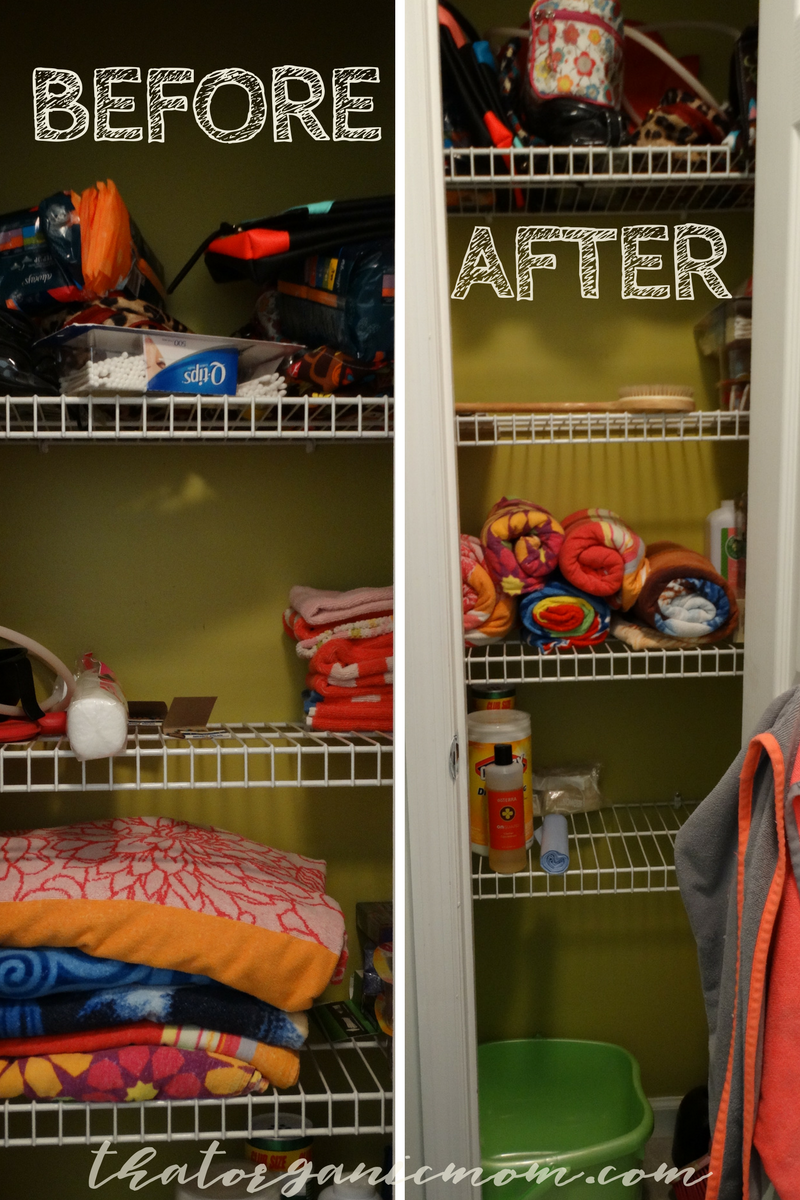 Behind the door storage for decluttering, organizing, and tidying the bathroom
When my daughter went into cosmetology she used her discount to help me get some good quality styling tools which I use for styling my hair when I don't want to go with the "natural look" i.e. floofy dizziness. This behind-the-door shoe bag helps keep our brushes and tools organized .
In addition to hair styling tools, I keep a few products that I don't want to store underneath my cabinet. This door stays open most of the time so it really is out of sight until I need it. Using behind the door hanging systems can really give you a lot of extra space if you are tight on storage areas or have a large family!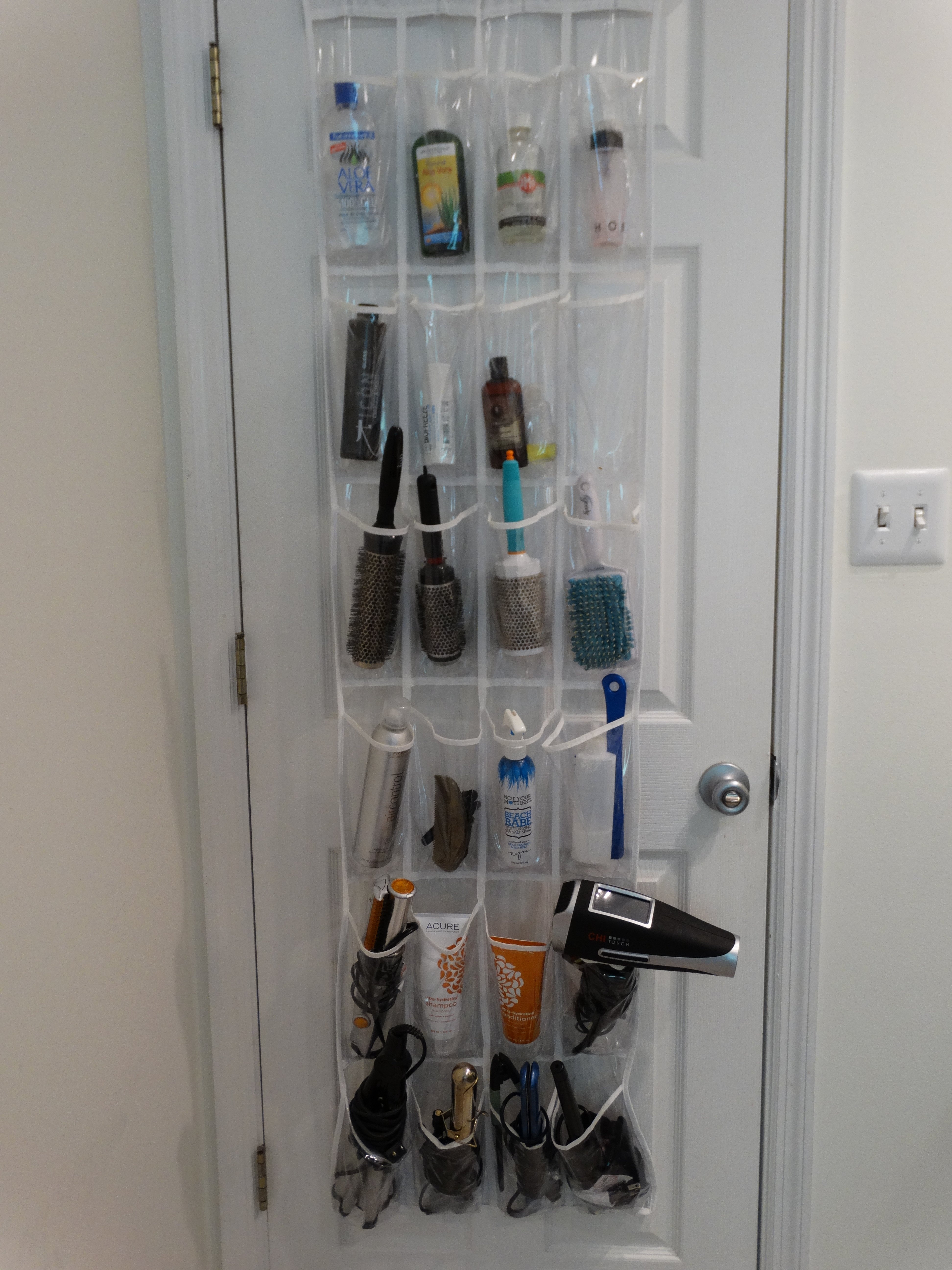 Some of the things that I discarded or donated were: make up brushes I don't use, make up and hair care products I no longer use, three pair of old glasses, hair tools, and lots of bows and ribbons. It's not perfect but it certainly is better than before; remember progress not perfection. All of these items were removed from my bathroom. Some of them still have use left in them so they will be passed on accordingly.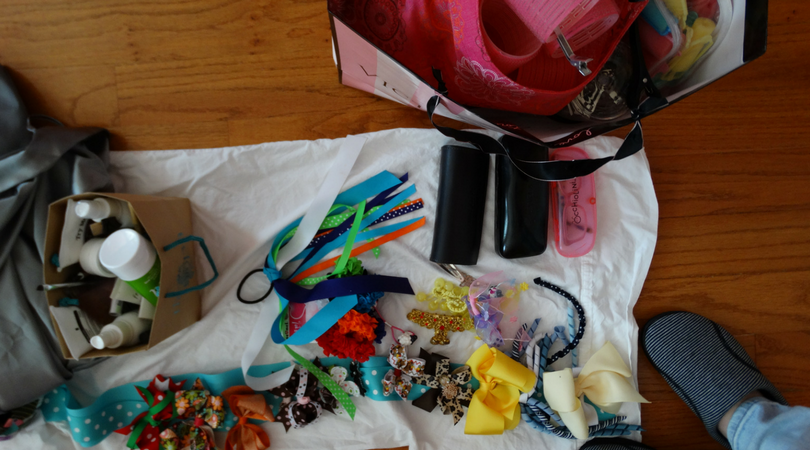 Remember, you can use an Amazon box to donate useful items to charity via the Give Back Box project. Ready to get started? Let me know what all you decluttered in the comments below! (Plus scroll down for suggestions)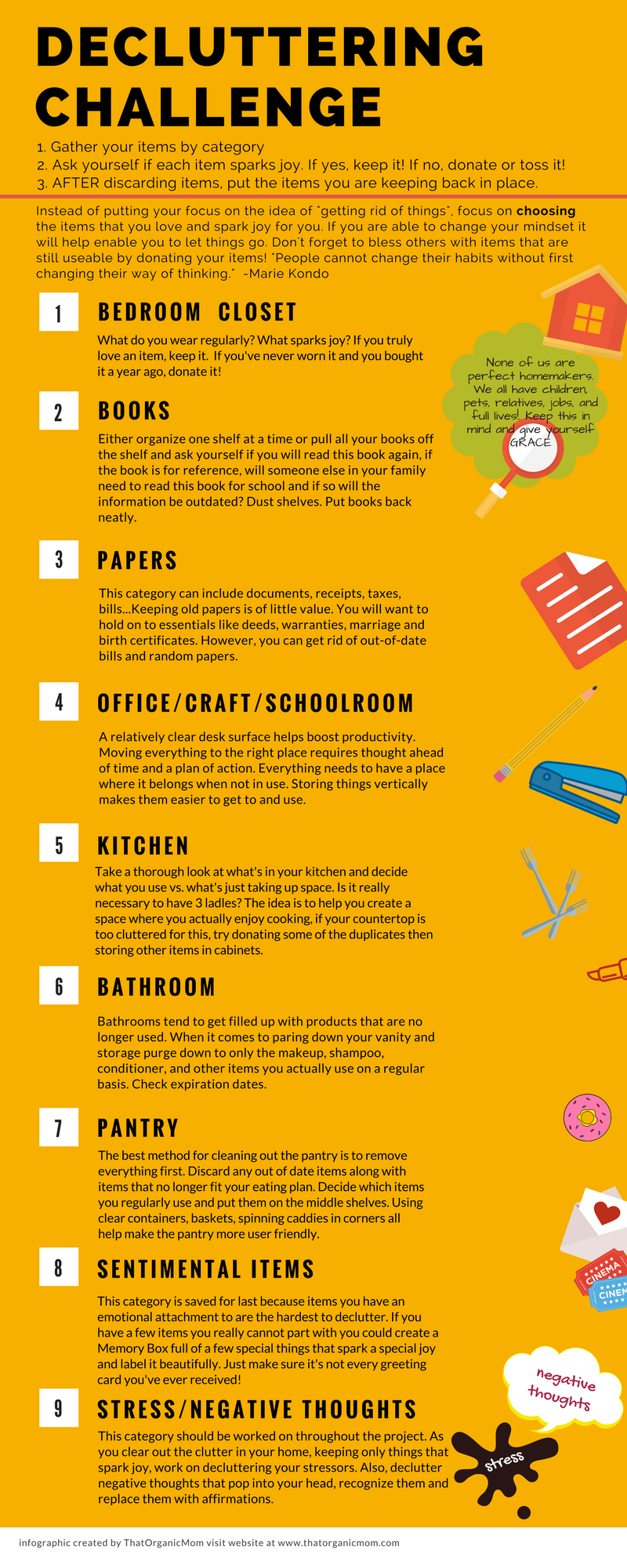 Last Updated on June 29, 2022 by Rebecca Huff Paper …
SaveSave