Last Updated on November 3, 2022 by Rebecca Huff
You could look at this as a ButcherBox Review, but the question I'm answering is: "Is Butcher Box a good deal?"
Friends and family were asking me about Butcher Box long before I decided to try a subscription box. I put off trying it because a meat subscription box seemed pointless since I live close to multiple supermarkets. Boy, was that a mistake!
However, after a family discussion, I decided to experiment with a variety of meat subscription boxes to see if they were worth using. To make an informed decision, I ordered half a dozen boxes of meat from a variety of services. Read the results here.
So how did I come up with an answer to the question "Is Butcher Box A Good Deal?"
Is Butcher Box Worth It?
I compared prices, researched terms, looked at certifications, assessed quality, tasted recipes, and presented meals to friends and family.
Take a look at the six questions I used, along with my answers and explanations below in my Table Of Contents. You can also use it to skip to the relevant section or question to skim this post. Although I do recommend reading each section, time is valuable, so I understand and tried to hit the highlights in the first few sentences.
Here are the six questions I considered, plus some other thoughts about whether butcher box is worth it.
Cross Referenced Prices and Quality with My Local Grocers
I compared prices at Publix, Kroger, Fresh Market, Earth Fare, Whole Foods, Trader Joe's and Costco. In some cases grass-fed beef or organic, free-range chicken wasn't even available.
Would a subscription service deliver the type of meat I use in recipes my family knows and loves? That was my top priority when placing orders.
For example, I use a whole chicken weekly, see how in this video. The whole chicken is cooked in my air-fryer on the rotisserie, then I use the leftovers to make bone broth. In addition, I like to make copycat chik-fil-a chicken sandwiches with boneless chicken breast.
Many of the grocers I frequent don't carry organic or pasture-raised chicken, and when I did find it, the price was higher than the ButcherBox cost.
Quality of the Meat
Under the comparison heading, quality was a big factor. Since the pandemic, it has been harder to find good quality meat in the supermarket. Wild-caught seafood and different cuts of grassfed beef are especially scarce.
Although local grocery stores do carry regular beef, it is pure feed lot, grain-fed beef. With ButcherBox you can get an all beef box filled with grass fed steak tips, filet mignon, ribeye, or whatever your heart desires.
In addition, I have not found breakfast sausage locally that meets the same standards as ButcherBox. Theirs contains ground pork, salt, pepper, and sage. Nothing else. No MSG and no sugar. This is a huge bonus for southerners making biscuits and gravy!
Would You Use Meat Regularly?
It's only a good deal if it is something you would use. Have you ever purchased something because it was on sale only to watch it go bad because you realized too late you don't typically use or need it? Again, it is only a good deal if you were planning to buy it or already know how to use it.
In my first box, I received about 15 pounds of meat ranging from pasture-raised chicken breasts to strip steak and of course, free ground beef.
I wanted to make German Pork Schnitzel, so in my next big box, I ordered heritage-breed pork chops. You can watch me make schnitzel using boneless pork chops in this video.
When I make kebabs from my favorite Milk Street recipes, I use BB's top sirloin. NY Strip Steaks are also a favorite to make recipes from my favorite cookbook.
Are you adventursome when it comes to cooking meat? If so, then ButcherBox is the way to go for exploring new recipes.
In this video, I use the chicken to make yakitori. Grab the recipe here and get beginner yakitori grilling instructions here.
Were You Planning to Buy Meat Anyways?
If you were already planning to buy meat, ButcherBox will likely be worth it. For those who regularly buy organic chicken breasts or grass-finished beef, Butcher box is a good deal.
Furthermore, if you factor in the time saved and the gas you won't use to go to the grocery store vs. a meat delivery service, it's a great deal.
Want an all beef box? Choose a custom box and save 20% over the curated boxes. Once you've made your selections you can set up frequency for your next box, manage add-ons, and look at exclusive member deals. These may include a free turkey, $1 bacon, free ground beef, or special prices on bundles.
Here's where butcher box is a good deal in particular. Bundles. Have a bacon bonanza or a charcuterie variety pack with Genoa Salame, Prosciutto, and Capocollo made from all natural pork raised crate free and given no antibiotics or hormones.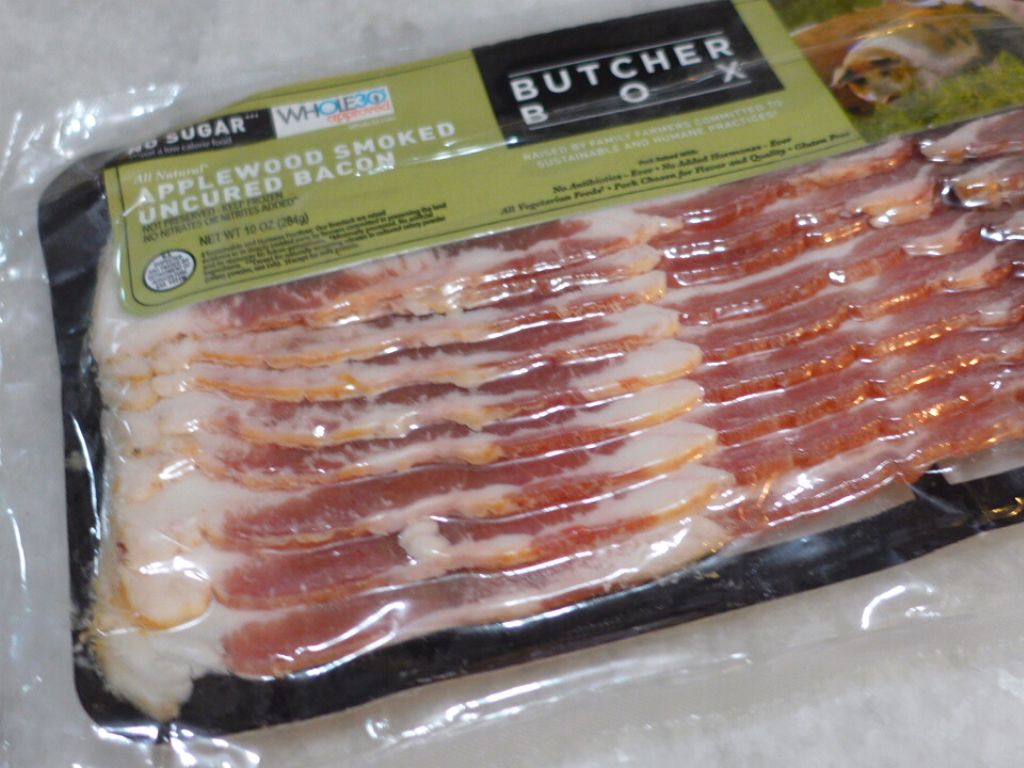 Are the Meats Cuts You Know How To Use?
Do you frequently ask for specialty cuts from your local butcher? You won't find cuts like an oyster or hanger steaks in the Butcher Box selection, but most traditional cuts will be available.
Do you prefer boneless or bone-in chicken thighs? You can add a whole chicken in your custom box. In addition, wild caught seafood is also an option. Sustainably harvested scallops, shrimp, and Alaskan Sockeye Salmon is another option in the seafood box, or as add on items.
Featuring wild-caught Alaska sockeye salmon, lobster from the cold clean waters of the North Atlantic, wild-caught cod sustainably harvested in the pristine waters of the Gulf of Alaska and the Bering Sea, and wild-caught raw gulf shrimp from the Gulf of Mexico.

ButcherBox Seafood Box
If you're concerned about receiving meat you won't use, skip the curated classic box in which they choose for you and go for the custom options so you can pick your own cuts of meat. Besides, you'll save even more money with a custom box.
Will Buying High-Quality Meat Put a Strain On Your Budget?
In the early days of motherhood, I was often faced with the choice between staying in my budget or feeding my family what I considered the healthiest options. Many times I had to go with the least expensive cuts of meat which were not organic or grass fed.
The key is not to stress over these decisions. If your budget truly doesn't allow for grass fed beef or organic chicken, make do with what you can afford at the time. Unfortunately, good food can be costly and with food prices on the rise, a butcherbox subscription truly could save you money. However, only you can decide if the purchase will put a strain on your wallet.
Is Butcher Box Organic?
According to the website, ButcherBox beef is grass fed and finished and doesn't have organic certification, although, the meat may be qualified just not certified. Since the beef is sourced from Australia, where they've built an entire system on certifying pasture-raised meat. They have very high animal welfare standards as well as the climate and pastureland to allow cattle to spend their entire lives grazing. So in this case, organic isn't necessary, in my opinion.
If you're buying grass-fed beef at the grocery store, you might not be getting what you expect. Typically, grain-fed or grass-fed cattle start their lives on pasture but are later confined to feedlots where their diets can include grains. Grass-fed, grass-finished cattle—also known as 100% grass-fed—are free to roam on pasture for their entire lives, not just while they're calves.
All ButcherBox chicken is USDA Certified organic, including certified organic feed. In most cases, "organic" applies to the diet of a chicken. To officially be called organic, a chicken must be fed organic food (grown with no pesticides and non-GMO seeds) and receive no antibiotics or added growth promotants.
Unfortunately, there are still many farmers using antibiotics with their chickens. However, ButcherBox offers all their chicken with no added hormones or antibiotics, ever.
ButcherBox Meat Organic Options
You can choose between a curated box or a custom box where you choose the cuts of meat you use most. If you're strictly looking for USDA certified organic, go with the chicken options.
For organic chicken, go with the chicken sampler. The all chicken box includes boneless skinless chicken breasts and drumsticks, chicken wings, bone in chicken thighs, and ground chicken.
About Grass-Fed Beef
Although, grass-fed and finished beef is considered better than organic in the opinions of many experts. To be certified organic, the cow needs to be fed 100% organic feed and forage. However, there is no qualification as to what organic feed should be made up of; which means it could easily be fed organic corn to fatten it up.
In some cases, an organic sirloin steak may come from a cow that has only eaten grain for its entire life. Whereas you could get a the same cut of beef at butcherbox prices that is grass fed and finished, humanely raised, and never given hormones or antibiotics. These grass fed and finished cows come from small independent or family farms who practice organic pasture standards but may not have received the organic certification label from the USDA.
It can be confusing, but from my perspective as "that organic mom," the organic label is less important than how the cow was raised and whether or not it has had hormones and antibiotics as well as what it eats. With ButcherBox, you always get humanely raised 100% grass-fed, grass-finished beef and FREE shipping. (Kept frozen with dry ice.)
I encourage you to read more about the difference between grass fed meat vs. organic meat.
Finally, Here's My Honest Review
Is Butcher Box a good deal? When comparing like-to-like, yes, it's a great deal. Grass-fed beef and free-range chicken are sporadically available in the supermarkets near me. When I found it, the supermarket was always the higher-priced option.
If you live near a farmers market where you can regularly pick up local grass-fed and finished beef or organic chicken then you might prefer to support local. However, I doubt the price will be better. Still, do your research and compare like-to-like, factoring in any free product you'd get from Butcher Box, such as the ground beef for the life of your subscription perk.
Grocery shopping is time consuming. Which is one more reason I choose meat delivery services. So it's not just a matter of how much does ButcherBox cost, but how much time and energy it saves me!
As far as the flavor, quality, and versatility goes, it's five stars from my family.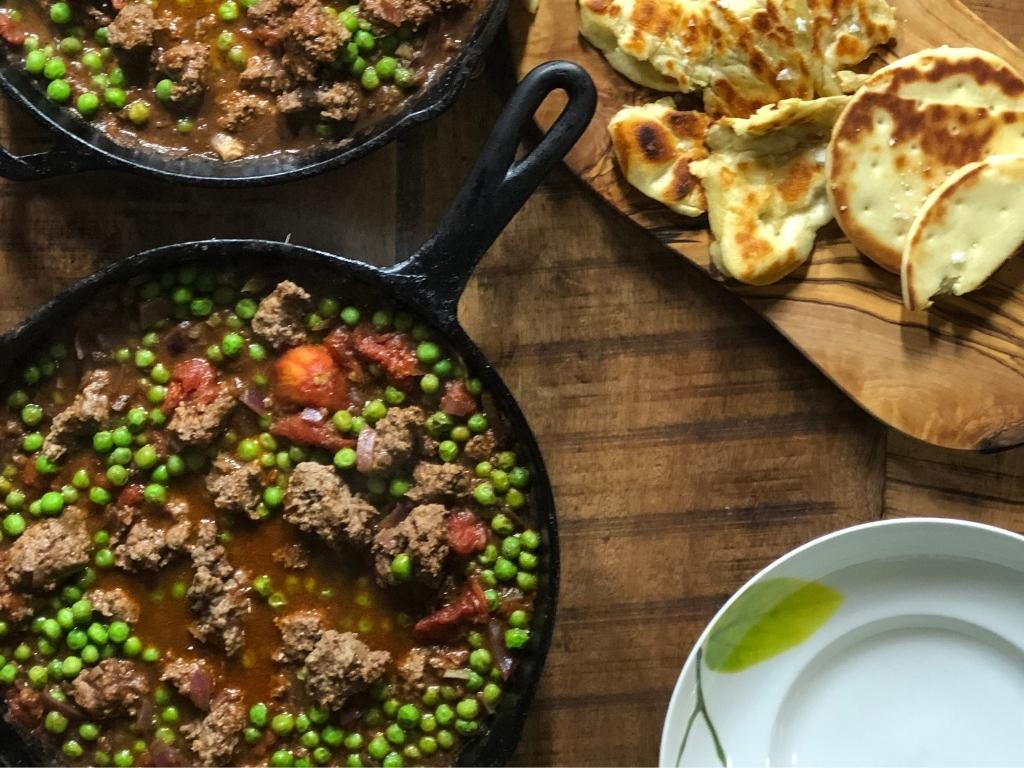 My family loves meals I make with the grass-fed ground beef. Some favorites include Indian Spiced Beef and Peas, Skillet Nachos, Smoky Turkey Chili, and Healthy Plantain Nachos.
I used wild-caught salmon from butcher box to make Panko-Pecan Crusted Baked Salmon.
Is ButcherBox Worth It?
So is Butcher Box worth it to me? Yes. One of my daughters is also using butcher box; her member deal was free bacon. Uncured bacon from heritage breeds.
Each month, I curate a mixed box. I keep an eye on what I have in the freezer and take a look at what recipes I want to make in the upcoming month. Using my meal plan, I choose quality cuts and set my billing date. The company sends out an email reminder.
Totally worth it because I had my Thanksgiving turkey in my freezer six weeks before the holiday this year. No worries about shortages.
Another thing I appreciate about having a freezer full of meat is that even when I fail to plan I can still feed my family. In this video, you can see that I forgot to defrost meat for our meal. Instead of ordering take-out or waiting for meat to thaw, I cooked a frozen chuck roast in 1.5 hours in my instant pot.
I've done this with frozen chicken and pork tenderloin as well. With an instant pot, you can get incredibly tender results without thawing the meat.
The last item I'll mention is their hamburger patties. I had serious doubts about these, but wanted to get some for my son to cook on his own when I'm out of town. After cooking and eating them, he messaged me saying they were the best hamburger patties he's ever had. No grisly bits and not much shrinkage.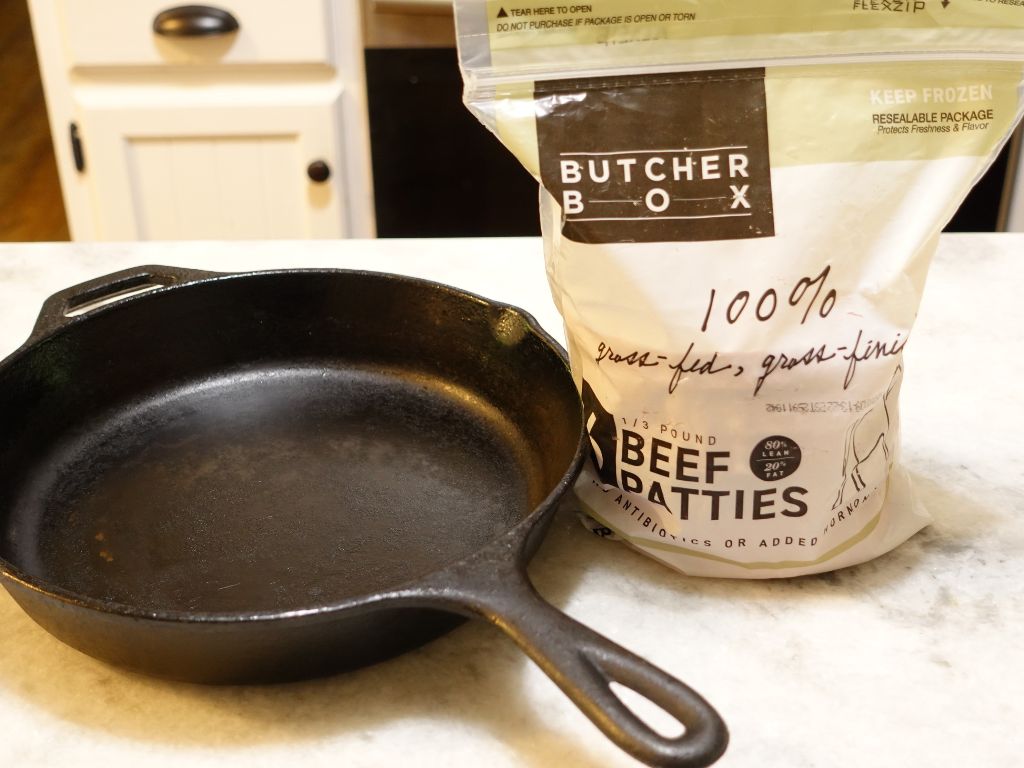 I recommend planning your next order soon after your first box arrives. They typically send out emails with promos and flash sales for members, so even if you're on the fence, sign up to see what they offer here.