Yakitori is Japanese for "grilled chicken" and is a well-known and loved comfort food. The chicken is grilled, then dipped in a yakitori sauce recipe that gives the chicken a unique flavor.
A popular after-work snack, these chicken skewers are served in Izakaya bars and a cold beer in a simple environment.
An Izakaya is a Japanese bar in which a variety of small, typically inexpensive dishes and snacks are served to accompany alcoholic drinks. Considered one of the most popular types of street food in Japan.
Yakitori is a street food eaten while sitting, not on the go. This delicious skewered chicken is cooked right before the customer, so it's as fresh as possible. Bamboo skewers hold the chicken breast, thighs, and even organ meat.
The yakitori is then cooked over medium-high heat on small grills. Once the chicken breast turns white, it is dipped into a tare sauce.
The yakitori sauce is called tare and is what gives the grilled chicken its distinctive and delicious flavor. A perfect appetizer, snack, or full meal if you want to add veggies and rice.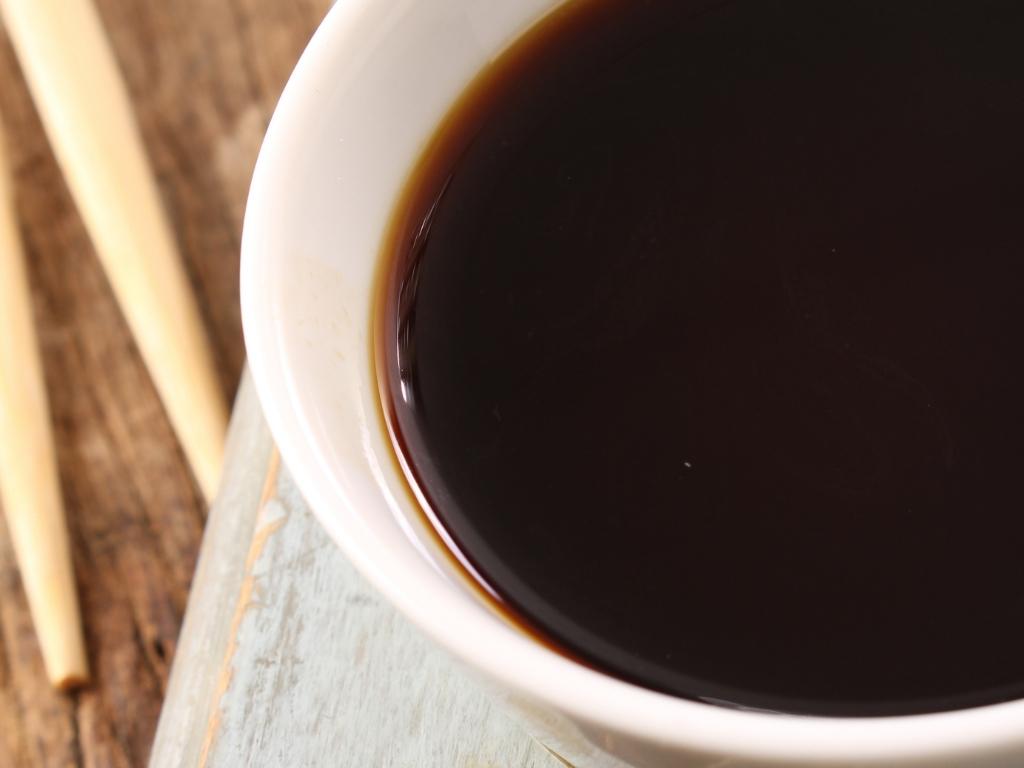 Recipe Yakitori Sauce Ingredients
There are many different variations and tweaks that can be made to this Japanese condiment. However, this all-purpose recipe for yakitori sauce is a great place to start. As is Yakitori at Home for Beginners.
Similar to teriyaki sauce, you may want to make extra to use as a dipping sauce. My recipe makes about four servings. If you double it, keep the basting sauce and dipping sauce in separate containers to avoid contamination. Sprinkle the dipping sauce with scallions and sesame seeds.
The ingredients for making yakitori sauce are fairly easy to find. Look in the Asian aisle of your supermarket or visit an international or Asian grocery store.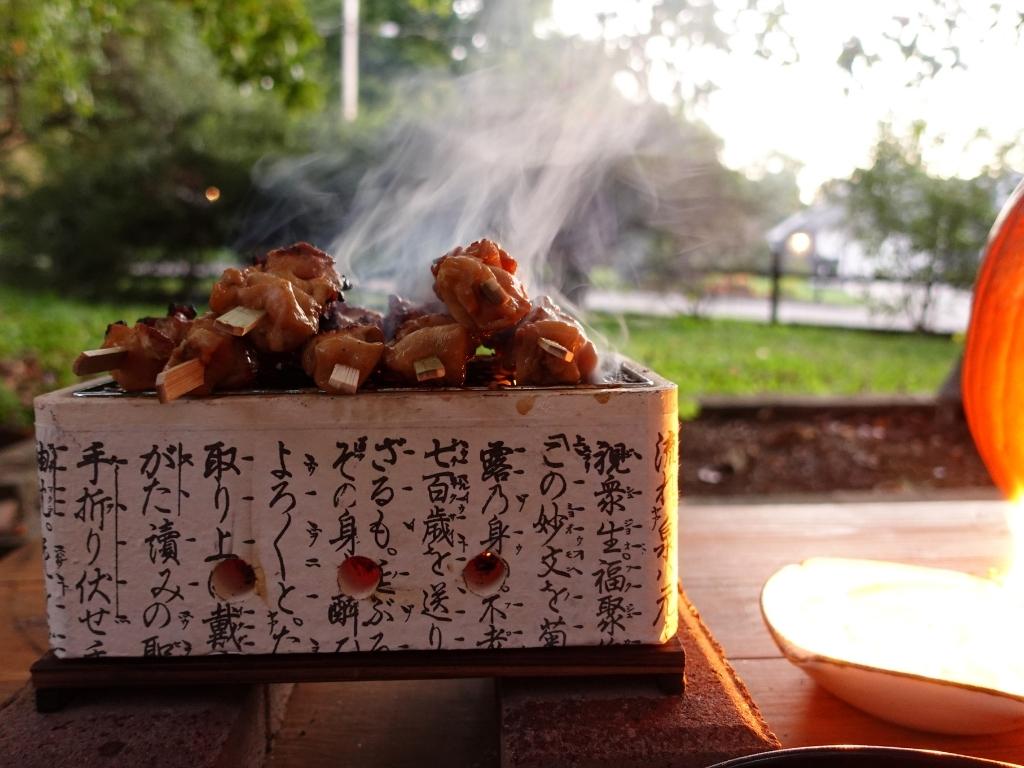 Soy Sauce
In Japan, soy sauce is a primary ingredient for Yakitori sauce. You can use any brand you prefer. My family likes the flavor of coconut aminos, so that is what I use. You may need to add a bit more sweetener if you use soy sauce.
Coconut aminos are a bit sweeter than soy sauce. Soy sauce has a deeper, richer flavor and about three times as much sodium! Furthermore, coconut aminos are a good choice if you are gluten-free. Most soy sauce is made with a combination of wheat and soy and is not typically gluten-free.
Mirin
Mirin is a very sweet liquor used in Japanese cuisine. It is used in teriyaki and this tare sauce to add luster. Mirin's high sugar content makes it perfect for creating glazes, sauces, and marinades. In addition, it helps to improve flavor infusion. When heated, mirin produces a pleasant aroma. The alcohol content is about 14%, so if you avoid alcohol completely, you can use rice vinegar plus a spoonful of sugar or juice.
Sweetener
When making this tare for my family, I use coconut or brown sugar. For a low-carb version, I use brown sugar erythritol. Even if you use regular brown sugar, it is only in the sauce, and won't add many carbohydrates to the meal.
The Mirin is sweet, so if you substitute Sake or dry white wine, you might want to add another tablespoon of brown sugar.
Ginger
Traditional or basic tare doesn't require aromatics such as ginger or garlic. However, adding ginger pleasantly changes the way any dish tastes. It is both sweet and hot with a warm pepper taste. Fresh ginger is preferable, but powdered works if that is all you have.
Garlic
Garlic cloves are an essential ingredient in my yakitori recipe. We put garlic in just about everything due to its many health benefits.
Sake
Sake is an alcoholic beverage of Japanese origin made by fermenting rice that has been polished to remove the bran. (1) Again, if you don't drink alcohol, skip the sake and use juice, honey, water, and sugar.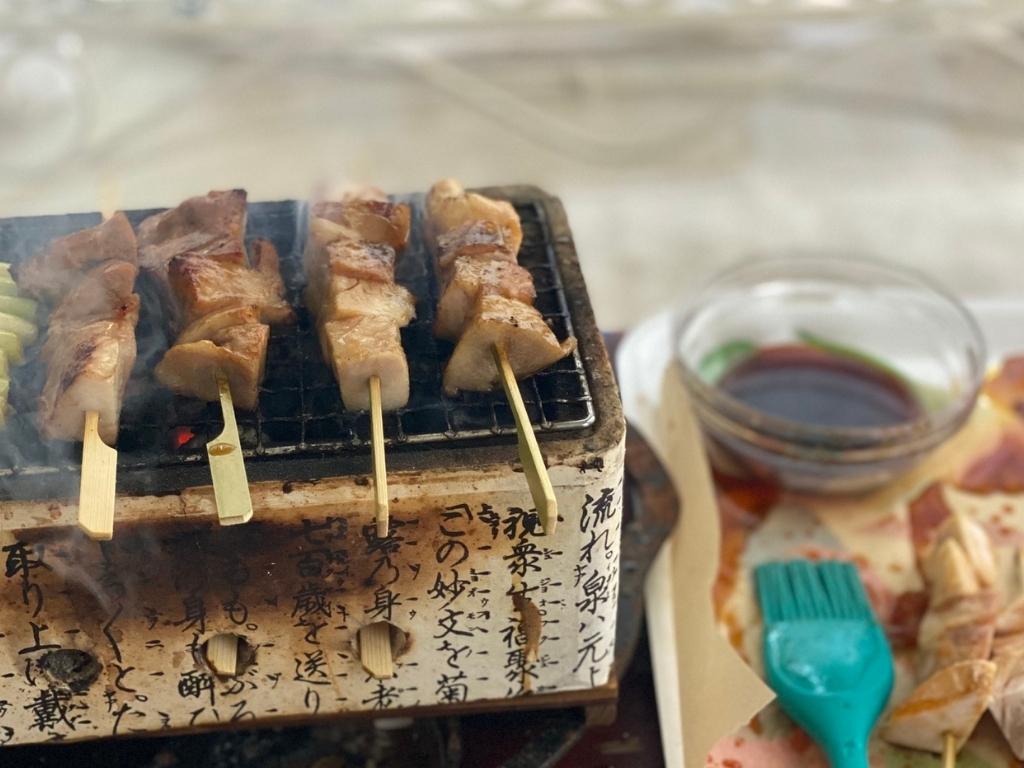 Tools
What to Add to Skewers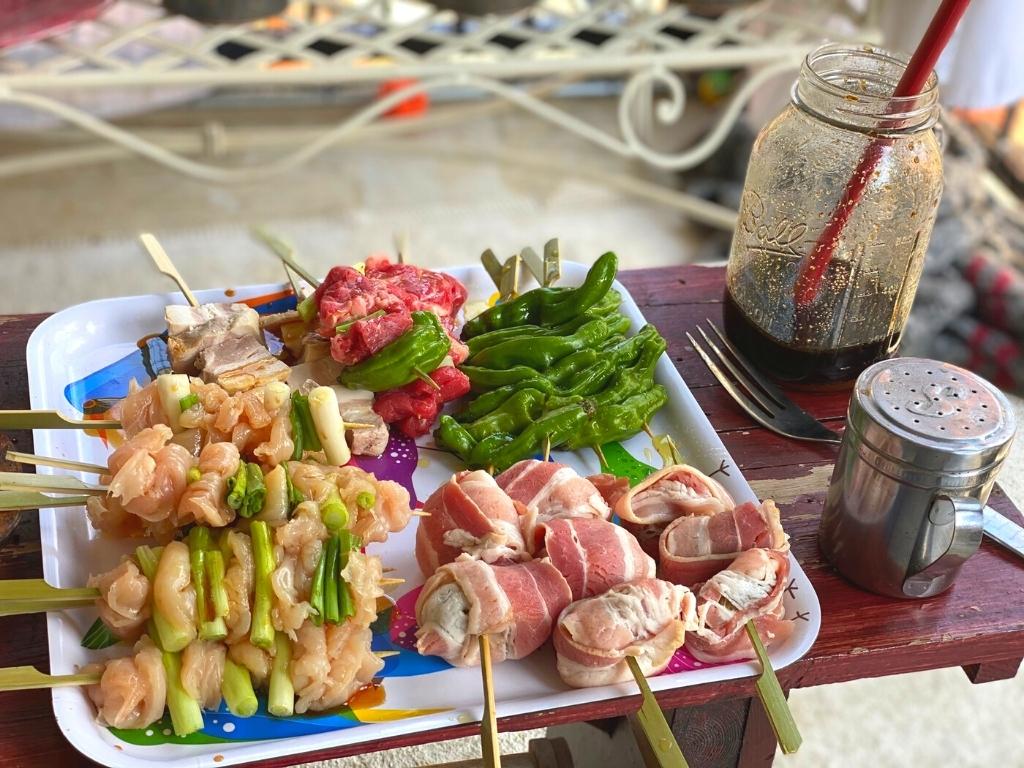 Preparing the skewers is the biggest part of prep time. Traditionally, a chef would start with an entire bird, using the skin and organs, as well as the meat. If you prefer it, you can buy meat already off the bone. Meat with the skin on will be juicier and tastier, but use what you have.
You can cut boneless, skinless chicken breasts into small pieces and thigh meat. We often add green onion to the ends of the skewers. This is called Negima Yakitori – chicken thigh and scallion skewer.
Side note: I brush the meat with toasted sesame oil before grilling when I use chicken breast. Thigh meat has a higher fat content, so it doesn't dry out.
We also enjoy grilling shishito peppers we grow in the garden, along with any other veggies we have on hand.
Sometimes I make tsukune chicken. Ground chicken meatballs grilled and brushed with the tare and sprinkled with togarashi powder. (Also known as Japanese seven spices.)
For Japanese Style BBQ Chicken wings, I use this sauce after air frying wings then sprinkle with chives and toasted sesame seeds. It is unbelievably delicious.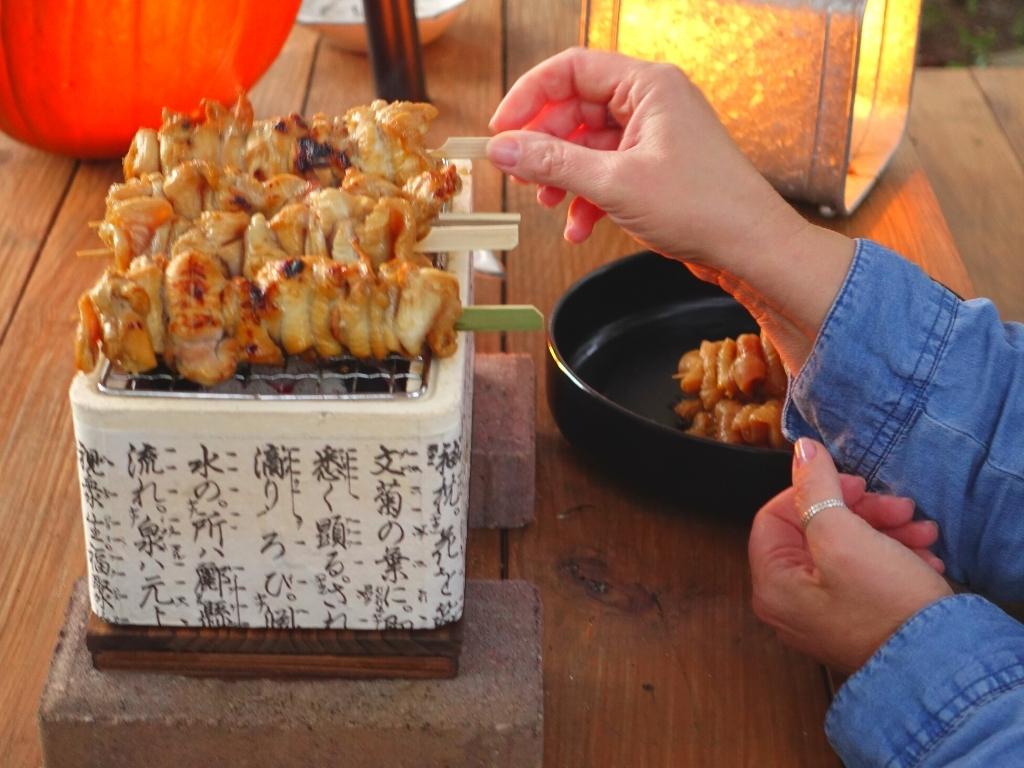 Cooking Tips for Recipe Yakitori Sauce
Keep in mind this is an all-purpose and basic tare recipe. You can add aromatics or tweak it to suit your tastes.
Note that you won't need cornstarch or flour to thicken the tare. Use a small saucepan to simmer, which will thicken the tare sauce. Allow it to simmer until it reduces by about half.
We often enjoy Chicken yakitori on our mini yakitori grill or our big family-size grill. See my yakitori for beginners article for suggestions on which type of grill to use or browse the selection on Amazon.
Grilling Tips for Yakitori
If you make yakitori on a large grill, use foil to cover the tips of the bamboo skewers. This will keep them from burning.
Soak the bamboo skewers in water for about 30 minutes to an hour before piercing pieces of chicken. This will prevent the bamboo from burning. If you're using metal skewers, this step won't be necessary.
Japanese recipes are predominantly clean and minimal in a classy way, letting the main ingredient stand out. Some grilled chicken may not be served with a dipping sauce, but you could add a variety of seasonings and toppings to the finished dish.
You don't need cornstarch or flour to thicken the tare. Use a small saucepan to simmer, which will thicken the tare sauce. Allow it to simmer until it reduces by about half. Total time to cook down is about 15-20 minutes.
Recipe: Yakitori Sauce
For the finishing touch, dip your roasted chicken skewers into the tare before placing them onto the plate. The ideal seasoning includes sesame seeds and green onions, so sprinkle those and serve yakitori immediately. And even though it's not a traditional practice, you can prepare some tare in a smaller bowl to use it as a dipping sauce as you eat.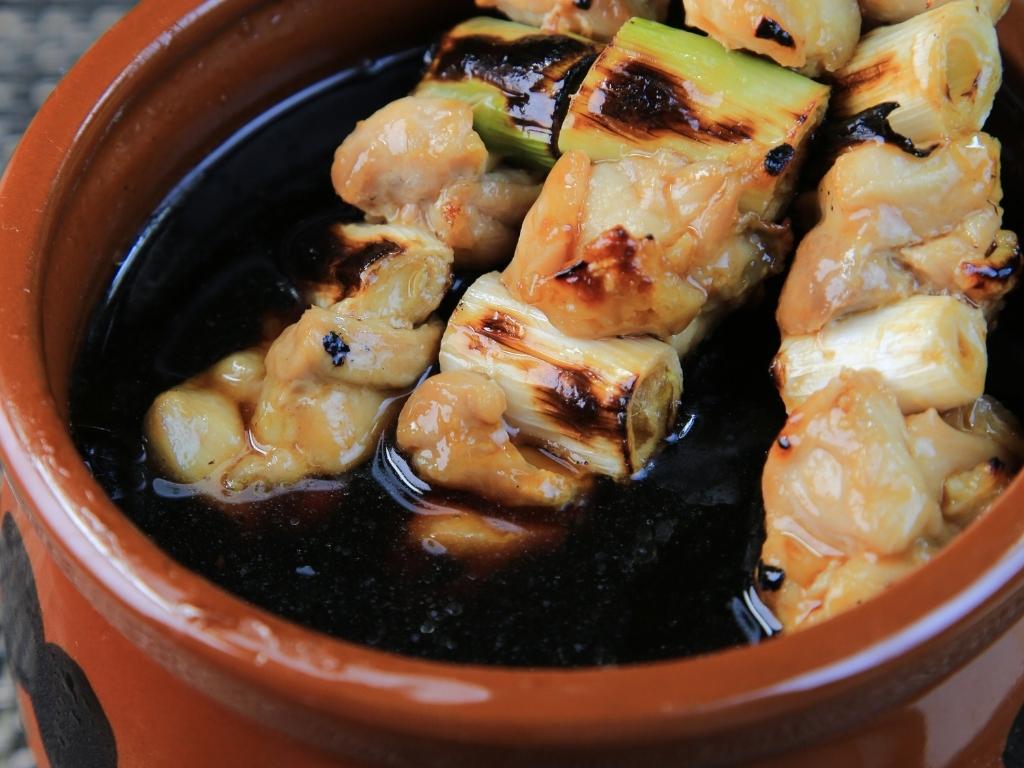 Alternatively, invest in these stainless steel skewers so you don't have to buy them every time you make yakitori!
Leftover tare should be stored in the fridge and used within a few weeks. (As long as you didn't use it for raw chicken.)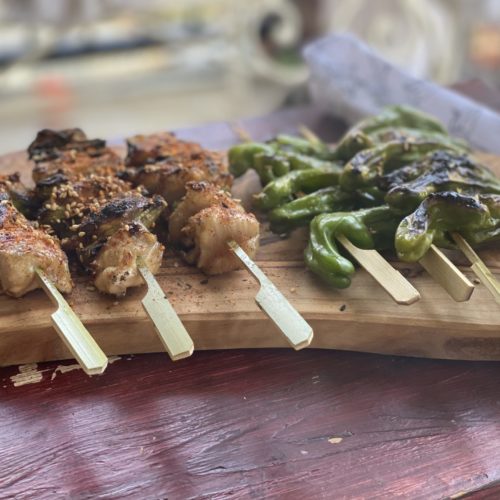 Yakitori All Purpose Tare Sauce
This recipe will work as an all-purpose sauce to use on various meats, vegetables, and more on your yakitori grill.
Ingredients
½

cup

coconut aminos

3

tablespoons

brown sugar

or Swerve brown sugar

½

cup

Mirin

1

knob

ginger

thumb size, chopped roughly

½

cup

rice wine

(Sake can be found at most liquor stores and some Asian markets)

2

cloves

garlic

peeled and roughly chopped

1

shallot

chopped
Instructions
Over high heat, bring all ingredients to a boil in a medium saucepan, then reduce to a simmer.

Allow the sauce to simmer for 5-7 minutes.

Strain sauce through a sieve into a bowl, discard the pieces of shallot, ginger and garlic.

Set the sauce aside and prepare meat and veggies.
Notes
We love this sauce on veggie kabobs, chicken thighs, pork, and even tofu.
For more yakitori inspiration or to learn from a Yakitori expert, see The Yakitorguy.