Last Updated on June 29, 2022 by Rebecca Huff
I picked up the hardcover edition of Christopher Kimball's Milk Street Tuesday Nights while browsing a bookstore in Orlando, Florida during a stay for my daughter's Taekwondo tournament. We were in the store to cool off and kill time; I had no intention of purchasing a book. This book, however, called to me – I loved everything about it, from the cover image and font to the flavors that almost leap off the page when you look at the photos.
And yes, there's a photo for every recipe! Cookbooks with no photos are a deal-breaker for many visual cooks and I am among those who wish to see what a dish looks like when the creator prepares it.
Speaking of the recipe creator…
Christopher Kimball
Ok, I'll admit that I didn't know who Christopher Kimball was until I picked up this cookbook. That's mainly because I don't watch much tv. Once I had my hands on this book, I started searching for him online and discovered his cooking shows (past and present) as well as signed up for some of his online classes.
Kimball was a co-founder and host for six seasons on PBS's America's Test Kitchen and Cook's Illustrated, before splitting to create his own empire: 177milkstreet.
My daughter and I watched every single episode of his tv show together. We learned so much about cooking and also about other cultures. How delightful that he sends his team of cooks to the country of origin to gain inspiration and bring back that insight to recreate fabulous recipes in his own kitchen.
Ease of use
One thing foodies will appreciate about Tuesday Nights is that it is set up with chapters that focus on prep time or themes. For example, there are sections: a fast (under an hour), faster (less than 45 minutes), and fastest (less than 25 minutes) that help you determine which recipe you have time to make.
Then you have the themes: "walk-away" recipes, tacos, pizzas, supper salads, easy additions, etc. which I had to mention because I thought it was a neat way to organize a cookbook.
Simple Weeknight Suppers with Bold Flavor
So who is Tuesday Nights for? I'd say anyone who wants to add big-flavor to their weeknight meals will appreciate having it on their shelf. If you can chop and simmer you're good to go.
Your typical American spice cabinet will hopefully include paprika, red pepper flakes, salt and pepper. Don't be caught off guard by the mention of ingredients you may not already have on-hand such as miso, kimchi, or tahini. So far I haven't come across an ingredient that I couldn't find on a shopping trip. For the most part, your pantry staples will suffice.
Kimball stretched my imagination for weeknight dinners with ingredients I've never used, such as fennel and tarragon.
I left off the cilantro in every single recipe or substituted parsley, because of my personal aversion to the nutrient-packed herb. Certainly, I wish I could enjoy it but I prefer my dishes not to taste like soapy dishwater, hence the substitution. You, my friend, may cilantro your dishes to your heart's desire!
The way you cook from a cookbook will determine your success or failure. As with many things in life, the temptation is to just jump right in and start preparing the dish. Wait, my friend, wait. What you need to do is to read the recipe instructions from start to finish before you ever step foot in the kitchen!
What can happen if you just jump right in, with any cookbook, not just this one, is that you may realize too late that you should have marinated those chicken thighs. Now, it is dinner time and you've got naked unflavored chicken mocking you from the plate. I know you want to get going but you'll waste less time if you trust me and read fully before you begin.
A word about skill level for this Milk Street: Tuesday Nights
If you've never made basic foods like rice or tacos, you might want to work your way up to Milk Street Tuesday Nights. The author has written this book for those who have some experience in the kitchen. Don't fret.
Home cooks should not be intimidated because these are basic home cooking skills, even though the photos look incredibly gourmet. I believe a beginner could prepare some of these recipes, as my eleven-year-old followed a number of them. Although, in reading through some reviews I did see a few other folks shared that they felt some of the recipes were complicated. My recommendation would be to "look inside" on Amazon and determine for yourself.
On one occasion, a friend of my daughter came over and he helped me prepare Puddings Chômeur. Everyone raved over how fancy and delightful they were.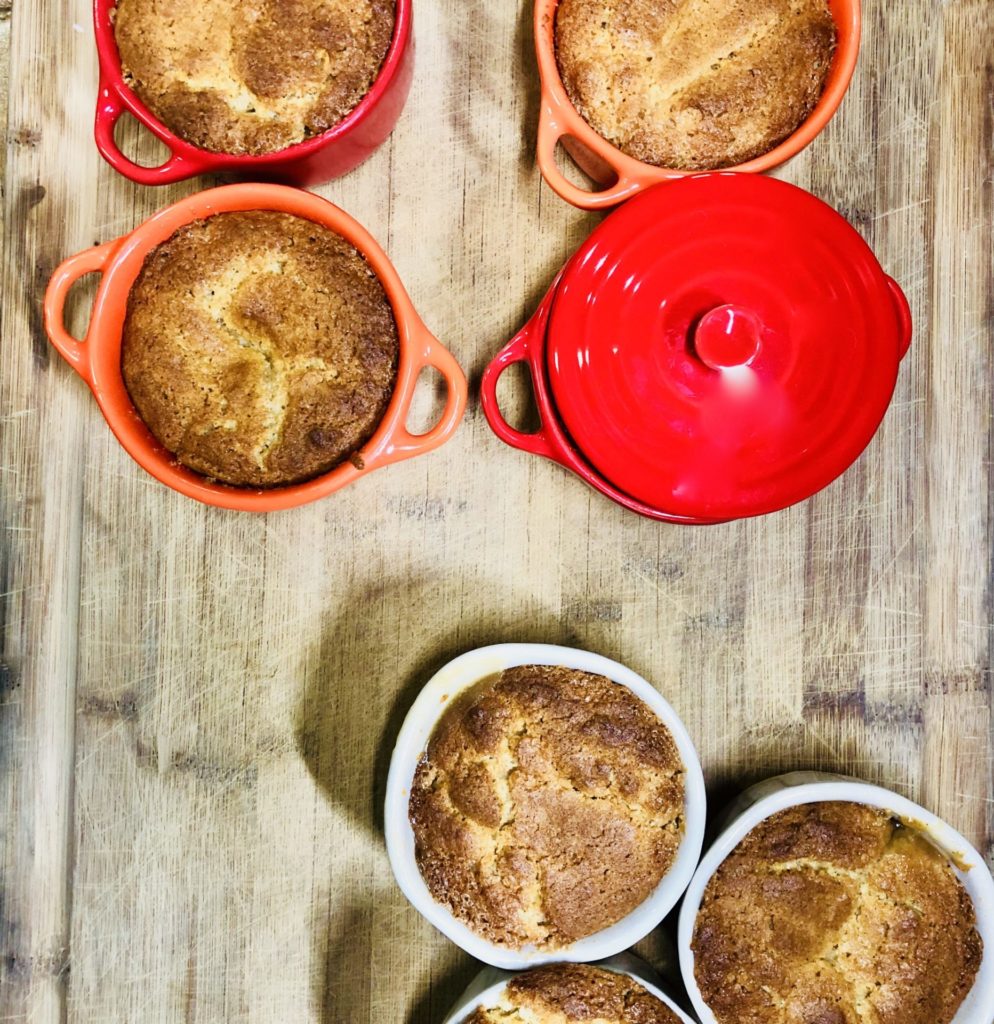 The ingredients are probably in your kitchen right now:
butter
maple syrup
heavy cream
cider vinegar
flour
baking powder
cinnamon
salt
sugar
egg
and ice cream for topping
Now, are you ready for new home cooking?
My favorite recipes from Milk Street Tuesday Nights
It may very well best general cookbook in my collection. Having tried more than half of the recipes and a goal set to try them all, it has been put to good use. It's not some fancy coffee table cookbook that you'll look at and never use. You'll be turning to the page for a walk away meal on a weekly basis.
Some of the recipes actually work for breakfast just as easily as for dinner.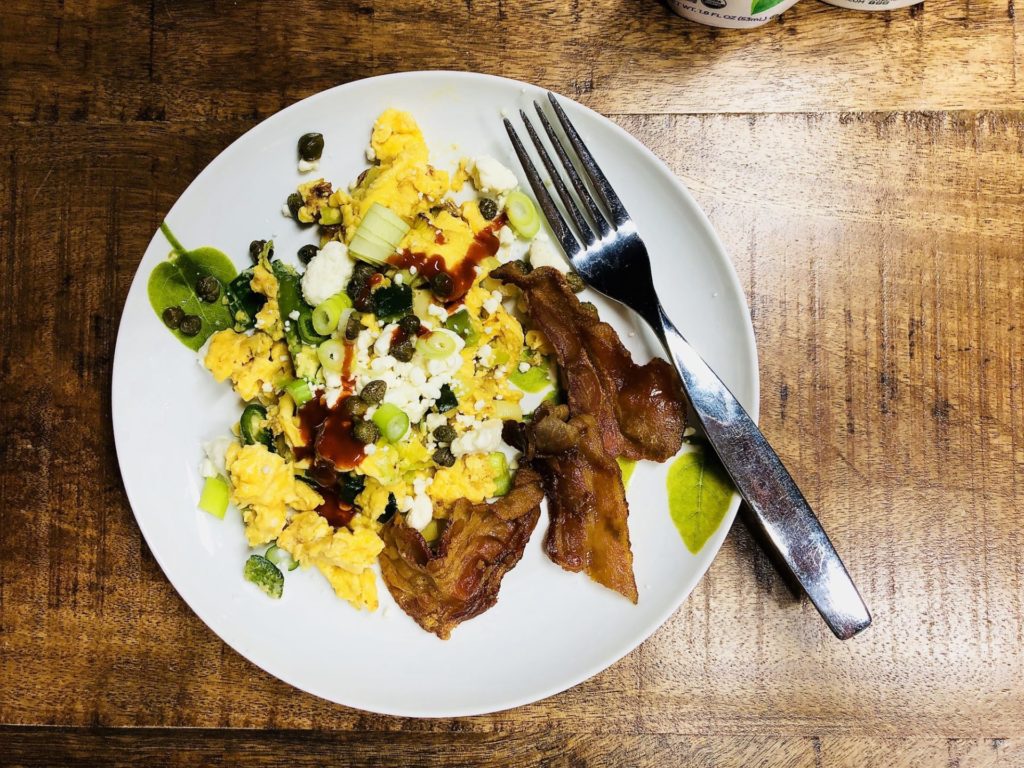 For example, the Turkish Scrambled Eggs with Spicy Tomato and Capers can be made in 20 minutes or less. I made the Spanish Eggs and Potatoes for a Sunday brunch. The Palestinian Crispy Herb Omelet is a bit adventurous for a weekday morning, but again, it makes a nice brunch or weeknight dinner.
Indian Spiced Beef and Peas (Keema Matar)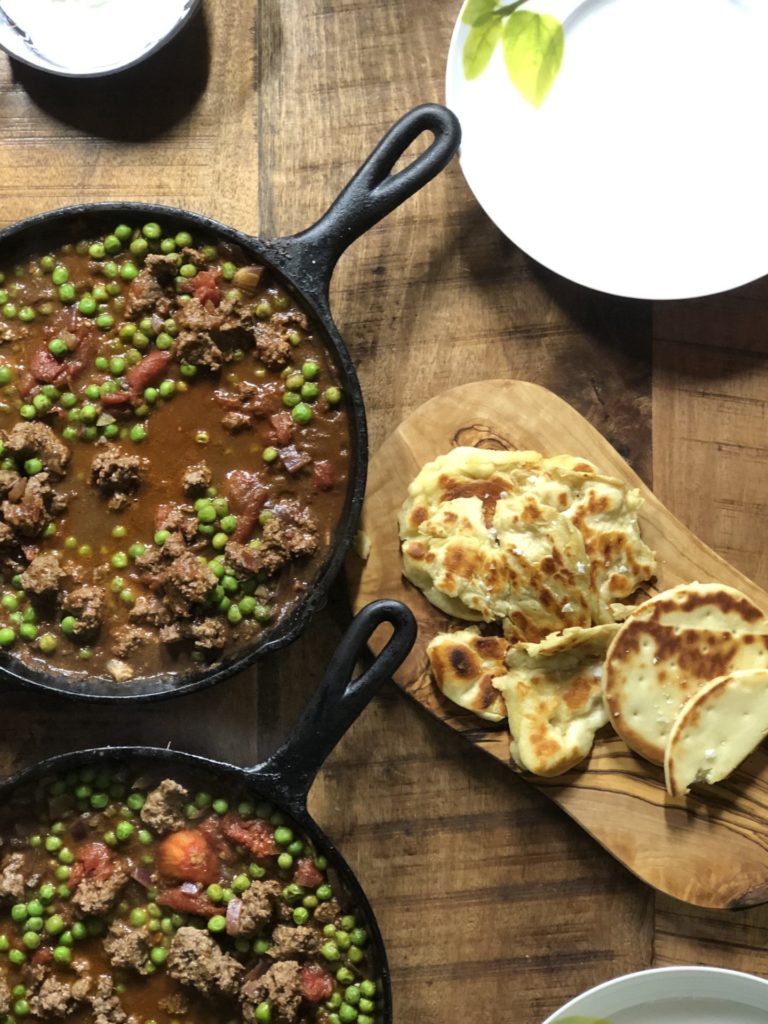 So on Facebook, I joined the Milk Street Community when there were less than one-thousand members and now there are well over twenty-thousand. I shared a photo of my finished dish with the recipe title and page number and got a few comments about how in India they don't eat beef. Many are vegetarian, others only eat mutton or goat.
That's how the recipe is written because it's a book of recipes adapted from other cultures. If you're looking for strictly authentic cooking from any particular country or region, you will want a different cookbook. This one is a fantastic introduction to the flavors of other countries but I wouldn't say it's a guideline to follow in learning about a specific culture.
Traditional Keema Matar is a blend of minced meat and peas along with a list of seasonings that is then cooked with tomatoes to make a stimulating curry dish. I later read up on it to see what it was all about and apparently millions of people in India eat beef.
I know it's not nice to choose favorites, but I must say that the Indian Spiced Beef (Keema Matar) and Peas is my one of my favorites. I've made it dozens of times. When I prepare it, I like to make some naan and set out a bowl of plain greek yogurt as accompaniments.
Black-Eyed Pea Stew with Tomato
No matter which night of the week, the smoky flavor of this little bean is a hit. Black-Eyed Pea Stew with Tomato is out of this world. I love the flavor pop that comes with the ginger and chiles. I prepare my black-eyed peas using dried beans and they work well even though the recipe calls for canned beans.
The trick is to cook any bean is to use even heat which can be accomplished with a slow cooker. Pre-soak the beans in water for a few hours before cooking. Add seasonings, such as salt and pepper. Then cook on low for 4-6 hours until they are perfectly done. Using this method you will have an abundance of "just right" black-eyed peas.
White Balsamic Chicken with Tarragon
Here's a meal you can make in half an hour, from start to finish. Seems like a pretty simple chicken recipe, but the sweet-tart white balsamic vinegar and the sweet and tangy little peppadew pepper will surprise you! We loved the sweetness of these peppers. You'll also appreciate the little tips about how to cook the chicken thighs with the skin on to make them golden brown and perfectly crisp.
Rigatoni Carbonara with Ricotta
For anyone who loves pasta, I highly recommend this dish! A rich and guilty pleasure with whole milk ricotta, Parmesan cheese, and bacon. According to the recipe, frozen peas work great, but I bought some fresh peas at Trader Joes and I was glad that I did. Kids who like pasta and cheese combos will go nuts over this dish, you will not have leftovers!
Vietnamese Meatball Lettuce Wraps
Another fun recipe to grill, these Vietnamese meatball lettuce wraps were perfect for our family. I served them to my kids over rice but just with the lettuce and shredded carrots for myself. They were so amazing! If you're like me, cutting carbs, consider using erythritol in place of the sugar. Honestly, no one in my family could taste the difference. They disappeared fast.
Moroccan Chicken Skewers
Anything that can be prepared on my little hibachi grill is going on my menu plan. When I saw the recipe for these Moroccan chicken skewers I couldn't wait to try them. A quick marinade with ginger, garlic, cumin and coriander turns chicken into a grilled Moroccan-flavored meal. I paired this with some yellow cherry tomatoes from the garden.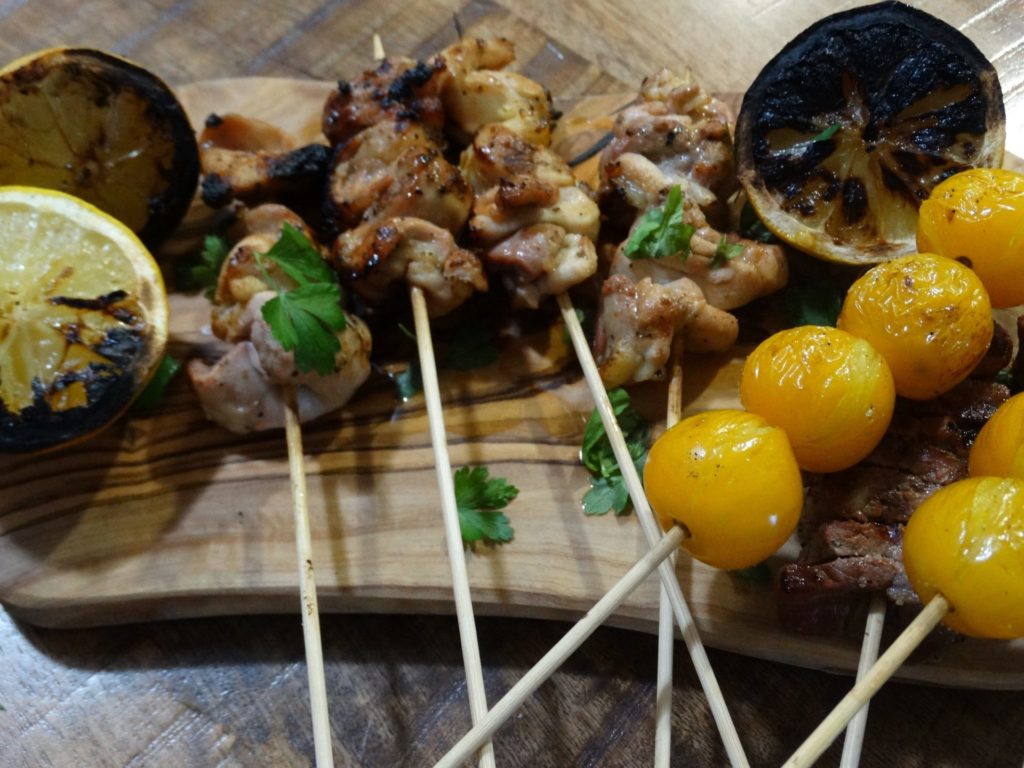 Turkish Red Lentil Soup
I adore Turkish food so this Turkish Red Lentil Soup was right up my alley! The first time I made this hearty soup I used a substitute for the peppers, but the second time I ordered some Aleppo peppers to see how hot they were!
Interestingly, the Aleppo chili pepper, also called the Turkish pepper, is more salty than hot and has a hint of raisin flavor to it. Some compare the flavor to a sun-dried tomato as it has a very mild heat with a bold flavor. The Aleppo pepper is often used on avocado toast. Along with the cooling fresh mint, it creates a wonderful flavor profile that you'll appreciate. Serve the soup along with some leg of lamb and you will think you've died and gone to heaven.
Miso-Marinated Skirt Steak
Grab some red miso for this recipe. You can find it at Asian supermarkets or even health food stores. I usually grab mine at Whole Foods. The miso is used in the marinade and the sauce for this tender and delicious steak. Follow Kimball's advice to slice the stead against the grain so you get more tender meat in the end.
Also, letting the meat rest before slicing allows the juices to redistribute throughout the meat, allowing for juicier and more delicious meat! Home cooking doesn't have to be difficult and this recipe is proof that you can have a nice meal at home just as fancy and tasty as any you can have eating out at a restaurant.
Of course, my boys loved this steak served with giant potato wedges but I had mine with a simple Caesar salad. Leftovers? Are you kidding me? Nope, not a bite!
Chicken Salad with Apple, Celery Root, and Fennel
Quick to make, this chicken salad is unlike any I've had before. Even though I'm not a big fan of fennel bulb, I still enjoyed this chicken salad with the salty capers and tart granny smith apple. It tastes even better the second day. If you're in a big hurry, go ahead and use a rotisserie chicken to save time.
Kimchi and Bacon Fried Rice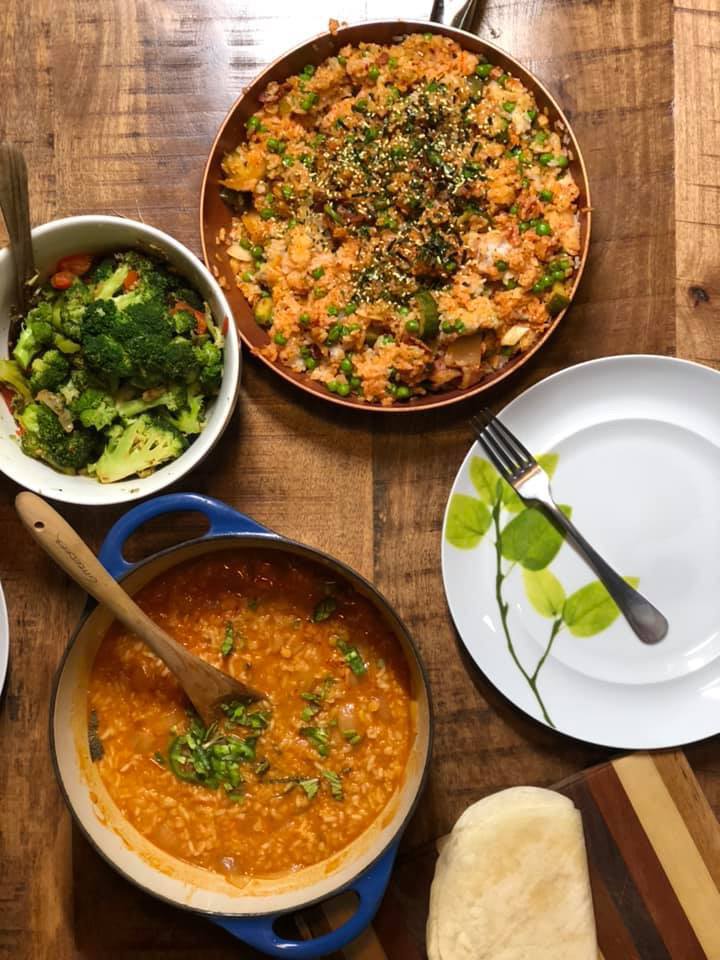 Y'all know how much we eat kimchi, so you know I had to try this recipe. I've made this one a couple of times. One time I used riced cauliflower and it was delicious. If you do this because you are cutting carbs, just look for Furikake without sugar added, or else make your own. It's not hard.
One alteration I made was to wait until just before serving to stir in my kimchi so as not to destroy any probiotics in the fermented cabbage.
Benne Seed Cookies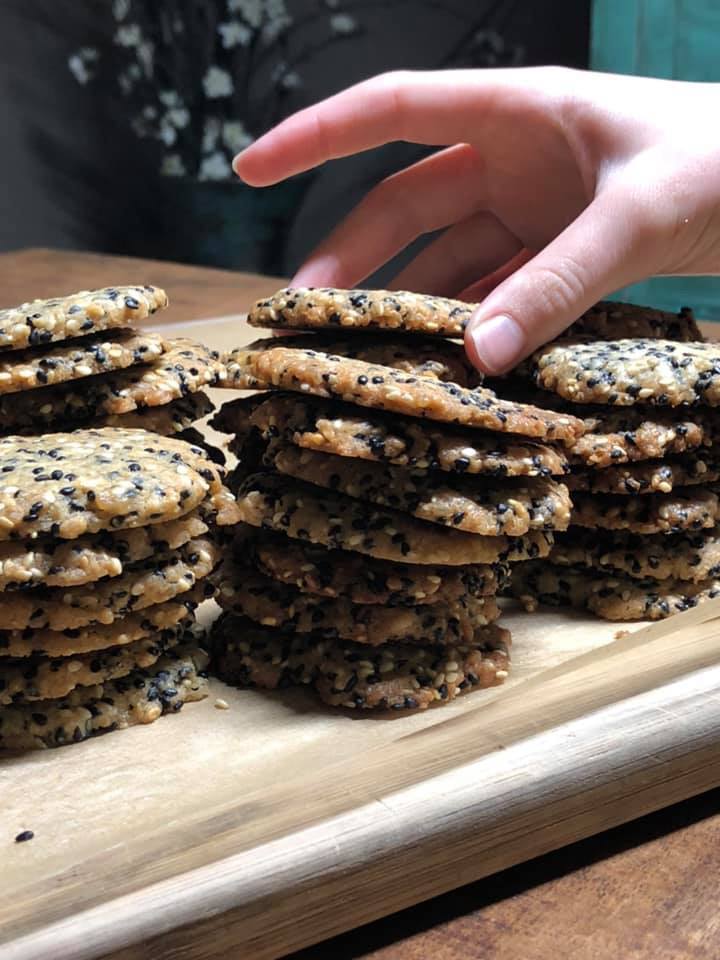 These crisp and sweet (but not too sweet) cookies are a nod to traditional Southern benne wafers. Tahini and sesame seeds (in black and white) make for a cookie that is as delightful to look at as it is to eat! The crispy texture and nutty flavor is an interesting change from your average cookie recipes.
These cookies look super fancy stacked in a straight-sided jar with a ribbon tied neatly around the top and would make a tasty gift that anyone would enjoy.
Easy Additions to try
Almond-rosemary salsa verde – you can make it with or without the seared strip steak as it's delicious!
Chickpea and cucumber salad – an interesting appetizer or side dish with tamarind chutney (India Market or International Groceries)
Yogurt Flatbreads (and the Za'atar butter is to die for!) – You'll never buy flatbread from the store again.
Does Milk Street Tuesday Nights have Low Carb or Keto-Friendly Recipes?
For my Keto and Low Carb friends, you'll find plenty of recipes that fit the lifestyle. I even created a menu plan here with a week's worth of Keto selections from Milk Street Tuesday Nights. Though if the sight of "off-limits foods" is going to tempt you to eat carbs, be forewarned of the noodle dishes and the section on pizzas. When I'm following low-carb, I just skip over those knowing how many other interesting recipes await my tasting!
You can download my cheat sheet for a list of all the best Keto recipes in Milk Street Tuesday Nights and what I do to tweak them. Mostly just substituting erythritol in place of sugar and low-carb tortillas in place or regular. This chart will tell you at a glance which recipes will fit your macro needs.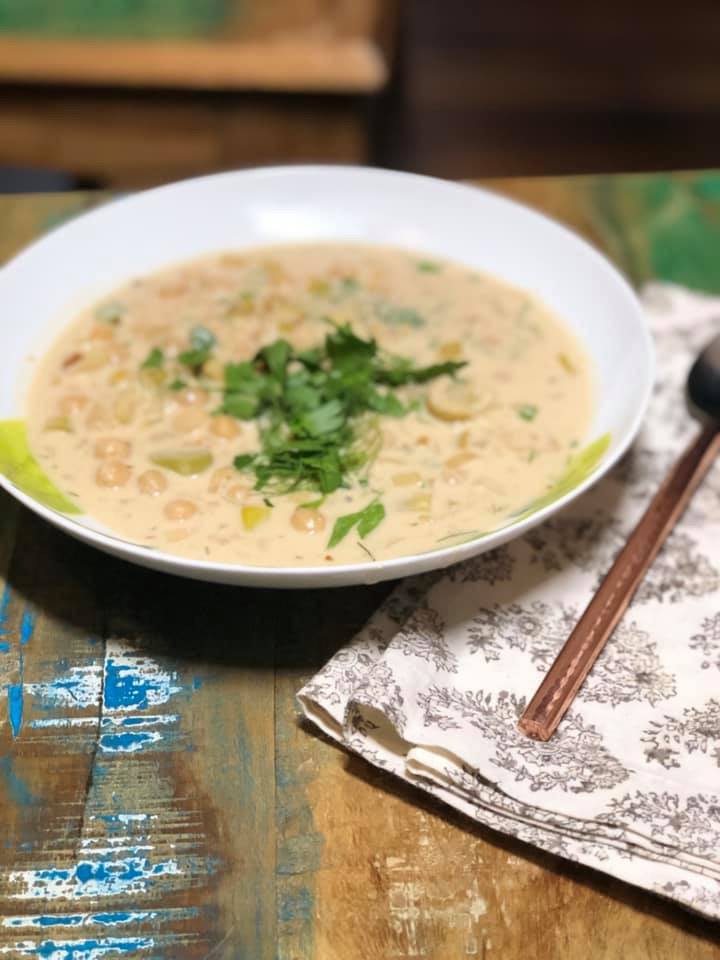 Summary
While the Tasty Bite Cookbook Club has moved on to a different book, I still grab this one off my shelf several times per month. For anyone who wants to learn more about cooking techniques, Kimball does have a cooking school and you can attend online.
Milk Street Tuesday Nights "offers the home cook a new beginning and a break from a past when fast food meant bad food." My family have told me on more than one occasion that they'd rather eat at home than at any restaurant. Sometimes we go out to eat and feel a little disappointed because we know what we make at home is way better. We aren't particularly talented, but we do love to explore a good recipe book like this one.
Once you start flipping the pages, you see right away why it won the James Beard Award and IACP Award for Best General Cookbook. You won't be waiting for the weekend to use this one, you'll have it out in the middle of the week. As they say, Tuesdays are the new Saturday!
Or if you're looking for a newer selection, try Kimball's 2019 cookbook: The New Rules Recipes that Will Change the Way You Cook. I just ordered this one as I was wrapping up this review.
Next, I may review Milk Street: Cookish: Throw It Together: Big Flavors. Simple Techniques. 200 Ways to Reinvent Dinner – what do you think? Pre-order and join me?
All three will help you turn weeknight cooking into a total delight. Turn on some music, grab some sparkling water, and enjoy spending time in your kitchen with people you love.
Grab your copy at your local booksellers or order on Amazon.
Milk Street Tuesday Nights
Published by Little, Brown and Company
ISBN-10 : 031643731X and ISBN-13 : 978-0316437318