Last Updated on June 29, 2022 by Rebecca Huff
Spending time in nature can actually boost your energy levels. We can take the benefits of nature a step further.
Shinrin Yoku – taking in the forest atmosphere
Forest bathing is not all that new, but maybe new to you. "Shinrin-yoku is a term that means 'taking in the forest atmosphere' or 'forest bathing.' It was developed in Japan during the 1980s and has become a cornerstone of preventive health care and healing in Japanese medicine. Researchers primarily in Japan and South Korea have established a robust body of scientific literature on the health benefits of spending time under the canopy of a living forest. Now their research is helping to establish Shinrin-yoku and forest therapy throughout the world."
What is forest bathing?
If you are wondering what forest bathing is, or how it differs from hiking in the woods, the best description I have found was written by author, Rona Berg:
Forest bathing is magical and medicinal. The point is to slow down and pay attention, to become attuned to nature. It is not hiking; it is not a workout; it is not striding purposefully toward a two- or four- or eight-mile marker. It is about being mindful, in the moment, feeling the roughness of bark and snapping twigs, inhaling the forest smells, heightening awareness of your surroundings, appreciating nature and absorbing the peace that can be found there. It is cleansing, in a metaphysical way, and offers tangible, physical benefits. It creates the sense that new beginnings are possible as every bud, lichen, and bit of new growth in the forest makes you feel reborn or at least evokes the feeling that you can begin again where you are." writes Rona Berg after a Forest Bathing experience at Blackberry Farm near Knoxville, Tennessee.
Reading her take on Forest Bathing made me crave time in the woods. Magical. Medicinal. I agree.
Children are natural forest bathers
As a child, I spent long hours in the woods behind my home. Playing with my dog "Uno" or watching at the forest bed. Taking off my shoes to plant my feet on the moss, lying on rocks, watching clouds, and just breathing in the fresh-cut hay. My cousins and I spent many afternoons and weekends building homes with fallen branches, sweeping pine needles from rocks, and skipping stones across the pond.
Anyone can benefit from Forest Bathing
"The Japanese have known for years that spending mindful time in the woods is beneficial for body and soul. Now western doctors – and royals – agree" says Harriet Sherwood in the article Getting back to nature: how forest bathing can make us feel better. Apparently, the Duchess of Cambridge often indulges herself in Forest Bathing. Back to Nature, was, according to her co-designers, inspired by "forest bathing".
So, you see? Even those with everything partake in nature therapy! I've always said self-care doesn't have to be expensive and it doesn't need to involve a spa!
Forest Bathing – A natural prescription for the stressed out, overwhelmed, and anxious
Health Benefits Associated with Forest Bathing
"The Japanese practice of forest bathing is proven to lower heart rate and blood pressure, reduce stress hormone production, boost the immune system, and improve overall feelings of wellbeing." Does this even come as a surprise anymore, considering that most of us spend the majority of our time squared in by four walls
We are constantly recharging our phones; rarely recharging ourselves. No wonder we are so often fatigued and in a sad state of mind!
"Being in nature can restore our mood, give us back our energy and vitality, refresh and rejuvenate us…even a small amount of time in nature can have an impact on our health. A two-hour forest bath will help you to unplug from technology and slow down. It will bring you into the present moment and de-stress and relax you." According to the article 'Forest Bathing' Is Great for Your Health. Here's How to Do It .
boosts the immune system

lowers blood pressure

reduces stress

improves mood

increases the ability to focus, even in children with ADHD

accelerates recovery from surgery or illness

increases energy level

improves sleep
"In a 2009 study, subjects showed significant increases in [natural killer] cell activity in the week after a forest visit, and positive effects lasted a month following each weekend in the woods. This is due to various essential oils, generally called phytoncide, found in wood, plants, and some fruit and vegetables, which trees emit to protect themselves from germs and insects. Forest air doesn't just feel fresher and better—inhaling phytoncide seems to actually improve immune system function."
Preventative medicine
Forest bathing could be considered preventative medicine when taken at least once per month. The extra activity of these natural killer cells increases from spending time in nature. The benefit is not the same when walking on a treadmill or in the city.
Some doctors are writing prescriptions for outdoor time, according to the author of The Nature Cure. "Other research, conducted with actual humans, does support the idea that spending time in nature makes people healthier. Children with ADHD who regularly play in parks have been found to have milder symptoms than those who spend more time indoors, for example, and therapeutic-camping programs have been found to decrease relapse rates in substance addicts."
Mindfulness, Meditation and Forest Bathing
Perhaps the reason it is so therapeutic is that, in a sense, it is meditation and mindfulness. It engages all of our senses:
The sense of sight: forest landscape- green color, yellow color and red color and other colors
The sense of smell: special good smell, the fragrance from trees
The sense of hearing: forest sounds, birdsong
The sense of touch: Touching trees can put your whole body in the forest atmosphere
The sense of taste: Eating foods and fruits from forests, taste the fresh air in forests
How to start Forest Bathing
Pick a nature spot and go (preferably close to home, easy to access, not a strenuous trail)
Put productivity out of your mind
Allow yourself to just be there
Walk slowly
Notice the sights, sounds, smells, and feeling of the forest
Express your appreciation
Repeat every month!
If you have children, try taking some nature walks. Head out into nature and observe everything with your senses. Children are experts at this.
Recently, I took a Skillshare class on nature photography; the teacher said, don't worry about taking pictures, just enjoy being outside in nature. Appreciate nature and look at it with your eyes. I agree.
View this post on Instagram
Where to go for forest bathing
Born and raised a mountain girl, I can think of no better place to experience this healing practice than the mountain ranges that surround me. "What better place to go forest bathing than among the oldest trees in the Great Smoky Mountains National Park?" asks Kim Trevathan in his article.
However, it is best to make a habit of forest bathing somewhere near where you live. Driving several hours to encounter forest bathing in a unique setting might make for a fun one-time experience, but that's not a sustainable practice. To reap the benefits, scout out all the parks, greenways, botanical gardens and urban green spaces near you.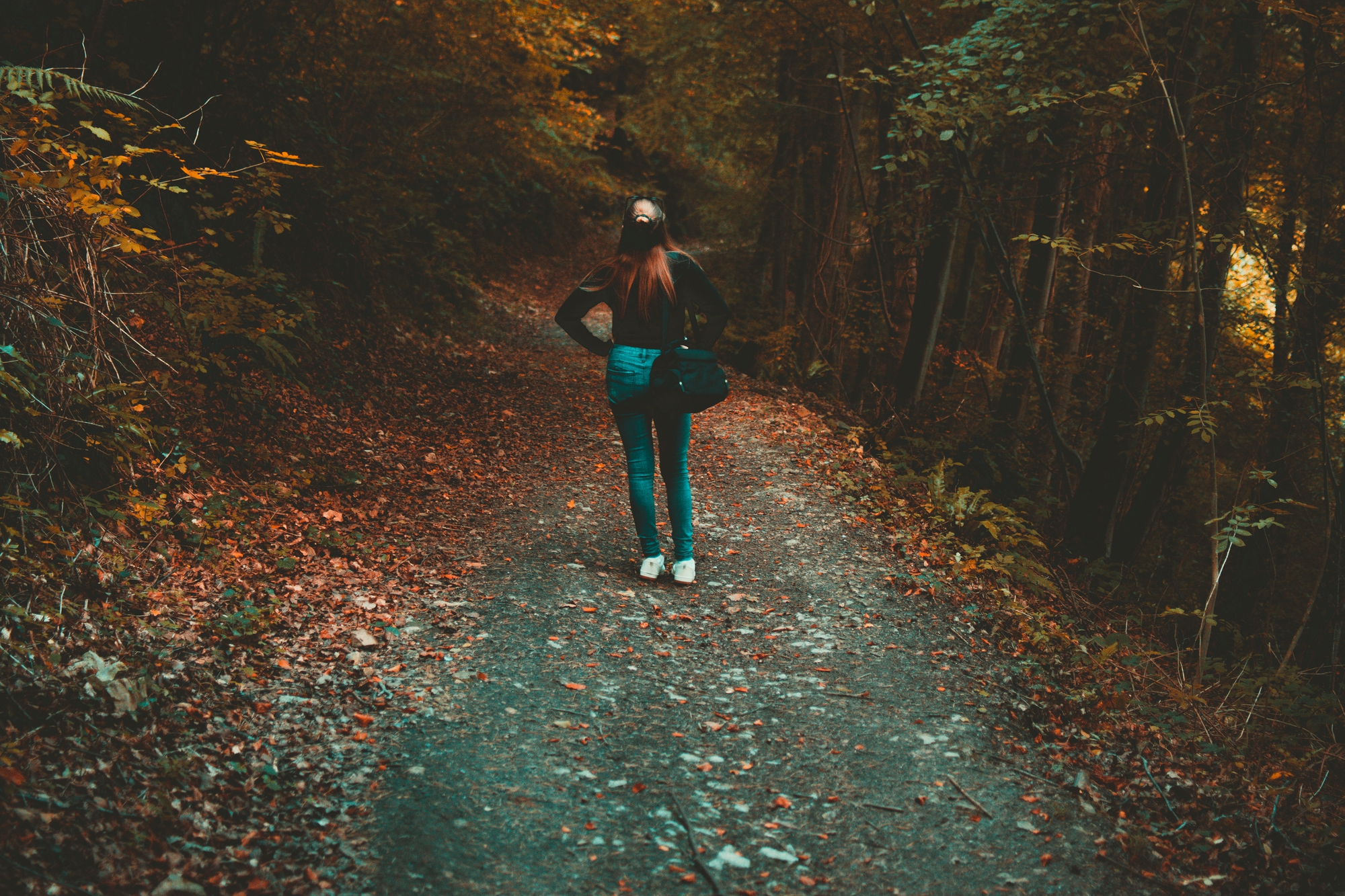 Another fun idea – search "forest bathing" on AirBNB! I was surprised to come up several listings for Forest Bathing experiences on Airbnb.
The closest thing I can think of to describe forest bathing would be a mix between a nature walk and meditation. Head out to the forest with no technology, slowly meander into nature, take a deep breath and clear your mind.
Just do it
So, whether you head out for some time in a forest alone, or you hire a guide, add Forest Bathing to your list of healthy lifestyle habits.
Intrigued? Read or listen to the audio version of Dr. Qing Li's book on Forest Bathing.
What do you think? Are you interested in Forest Bathing? I'm curious to hear other's thoughts about the concept.