There are certain things that trigger a turning point in our journey through life where the need for better self-care becomes much more intense.  For example, a health crisis, the death of a loved one, a divorce, or children leaving home.
Don't wait until a melt-down to begin taking care of yourself.
Think of all the little things that you do to take care of yourself as deposits in your self-care bank. You want to invest in yourself so if you ever do need to take out a loan (crisis) you won't have to pay such a high-interest rate. 
Women especially are guilty of this. Mothers are notorious for stretching themselves too thin.
When I say self-care I mean that I want you to focus on taking care of your mind, body, and soul so that you can stay healthy.
Self-care assures that you are equipped to help take care of the other people around you. This includes your family, friends, co-workers, and other people who need you or are counting on you in one way or another.
Just like when you are traveling by plane, the flight attendant tells you to put your oxygen mask on before assisting your child with theirs. You must first take care of yourself before you can take care of others.
You can't pour from an empty cup. Feel free to save this image and share it on Instagram with the hashtag #31habits … Now, let's figure out if you are practicing good self-care…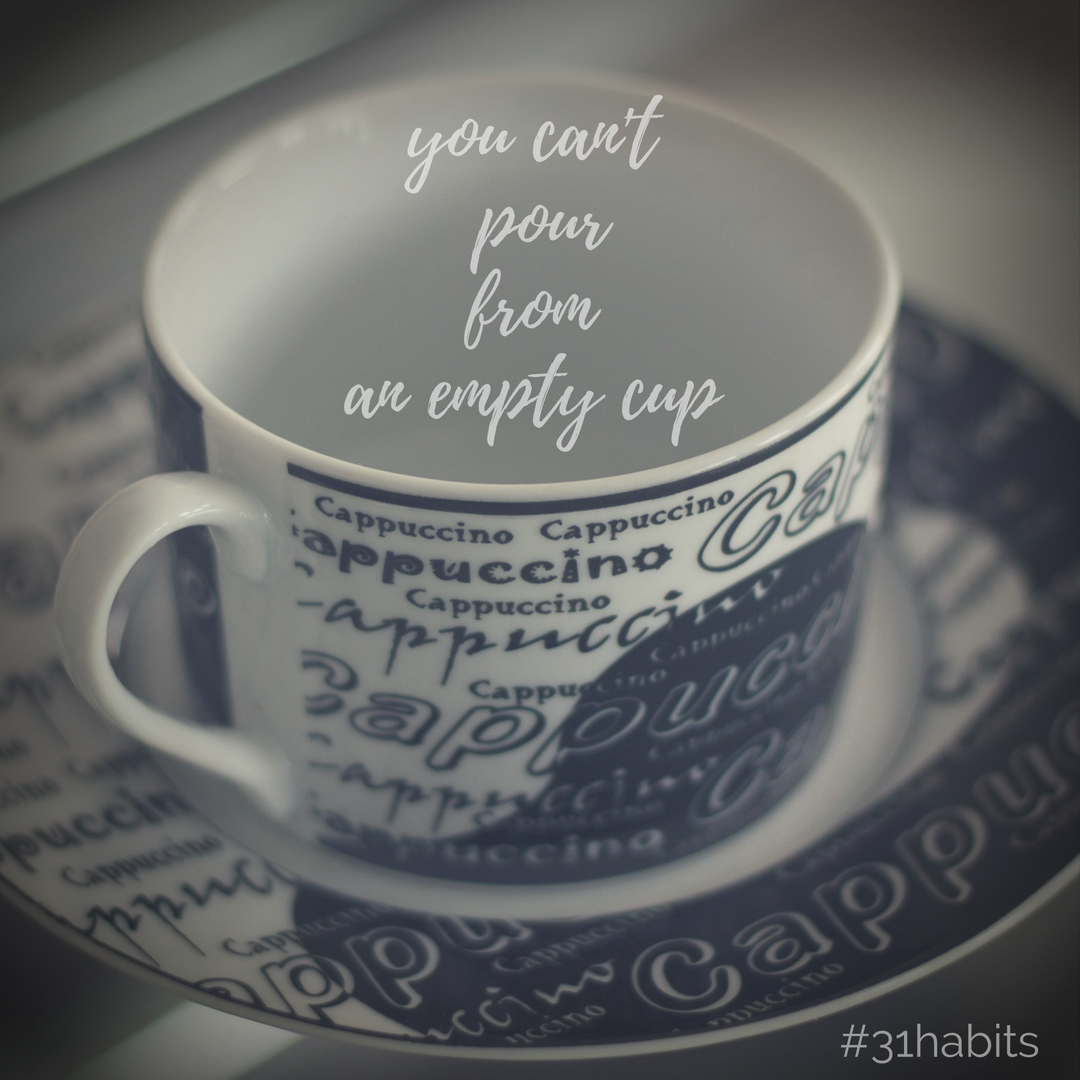 I'm not advocating that you demand "me-time" every day or mini-vacations, although those are nice from time to time. Rather, I am talking about the little things we can do to create health when done consistently.
Signs you have neglected self care
A feeling of being overwhelmed
A feeling of being burned out
A feeling of being overscheduled
A feeling of being stretched too thin
A feeling of restlessness if you do get a day off
A feeling that everything is annoying
A feeling of envy of others who have down time
A feeling of envy towards people on vacation
A feeling of being overly emotional
Being easily angered.
Having interrupted sleep
Experiencing panic Attacks and Anxiety
Fantasizing about your dream day or solitude
Now, you may be thinking, that's me! If so, you need to know how to go about improving your self-care game! If none of these apply to you, consider yourself among the few. The rest of us need you to set an example and remind us to take better care of ourselves.
How to practice better self care
Identify the activities that make you feel good

Work some of these activities into your schedule.

Remind yourself that self care is non negotiable.
The opposite of self-care is working yourself to the bone. I frequently did this to myself in the past. My body has reminded me that skipping self-care is counterproductive. You think you are saving time and getting things done but you are really robbing your future self.
Another way to make sure you are practicing good self-care is to surround yourself with people who are uplifting, upbeat and positive. My friend Stephanie is really good at this.  
Recently, I was feeling low self-esteem like I was past my prime and not making a big impact on the world.  I thought about calling her, but I was too tired to whine about it, so I just went to bed.
She had absolutely no idea what I was going through. The next morning I woke up to this: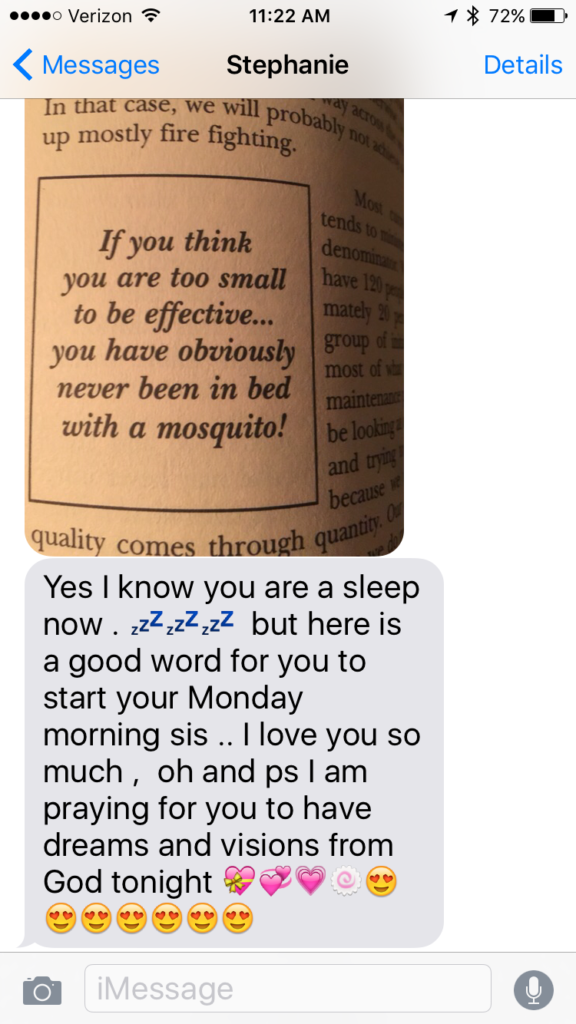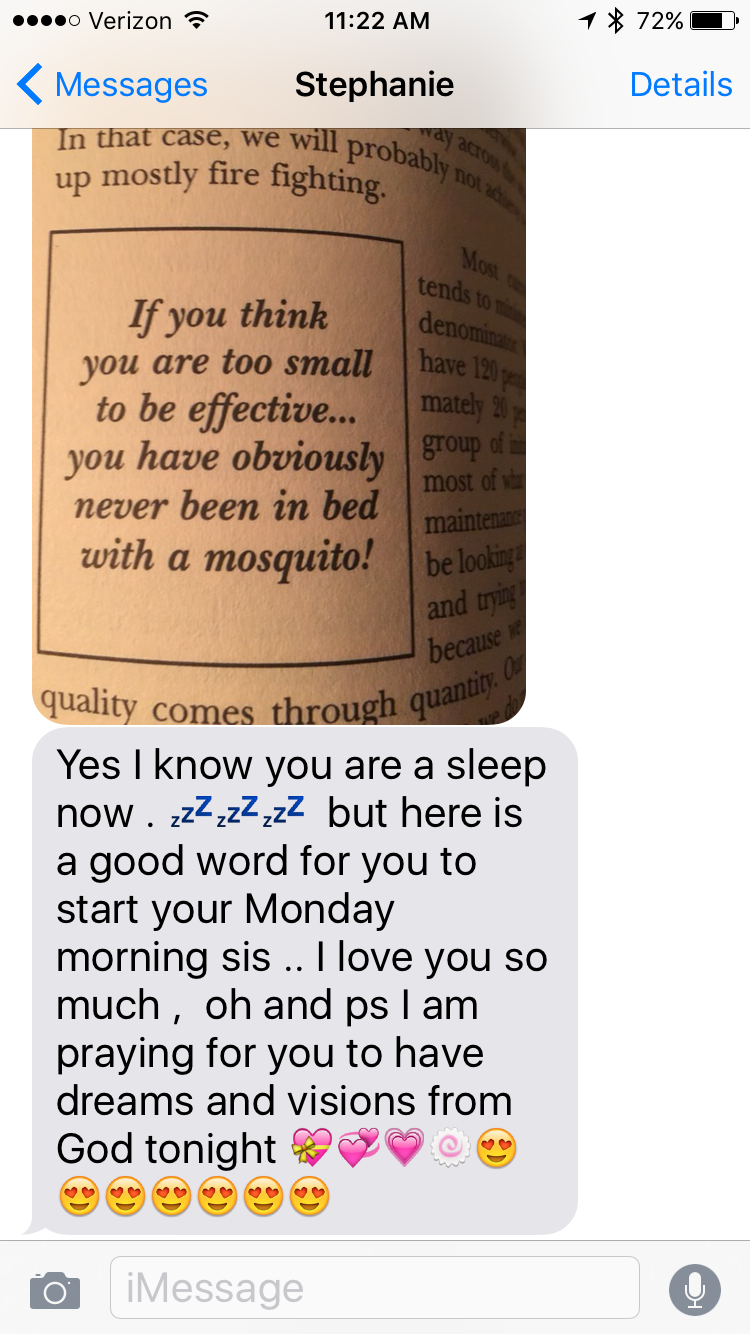 Here are some ways I try to remind myself to practice good self care:
Adequate water intake

Eating properly

Sleeping well

Checking your vitamin D levels

Taking vitamins consistently

Socializing

Sitting in a Sauna

 

Natural spa

Massage

Leisurely bath
A note about Motherhood and Self Care
Having been a mom more than half of my life, I barely remember a time when I wasn't responsible for another person's well-being. I vividly remember patting myself on the back for getting out of bed and returning to my daily tasks only a few days after giving birth. If I'd known then what I know now, I would have stayed in bed to rest longer and accepted more help from others.
During some phases of motherhood, taking care of ourselves is harder than others. Even if you are in the busiest phase, make it a point to do a little something to take care of yourself on a daily basis.  If someone offers to do something for you, take them up on it!  It's not always easy, I know. 
Good habits are worth being fanatical about.

John Irving
Lastly, I want to point out a difference between self-care and selfishness. Selfishness is putting yourself first to the detriment of others. Self Care is taking care of yourself so you can take care of others. Don't get those two confused.
Please don't let anyone make you feel guilty for needing to take care of yourself, even if that "someone" is you!
SaveSave