Last Updated on June 29, 2022 by Rebecca Huff
The Yin and Yang Bowl Recipe was created because Harmon and I have been spending more time in the kitchen recently. Lately, we have been coming up with interesting and tasty "bowl" recipes.
We decided the Yin and Yang Bowl had turned out so tasty we decided to share it with you!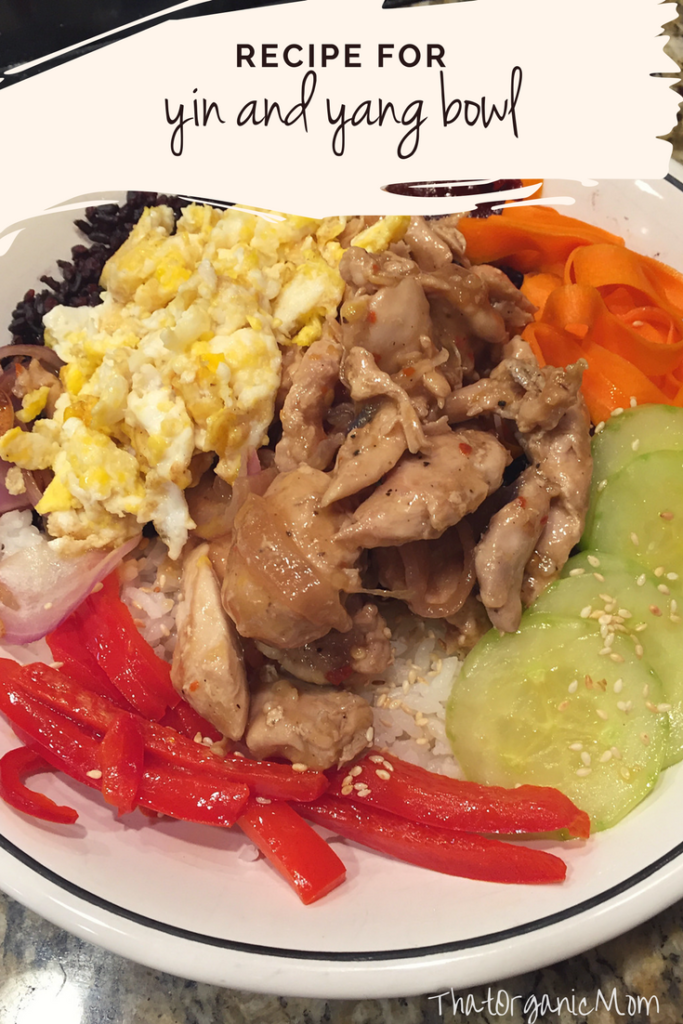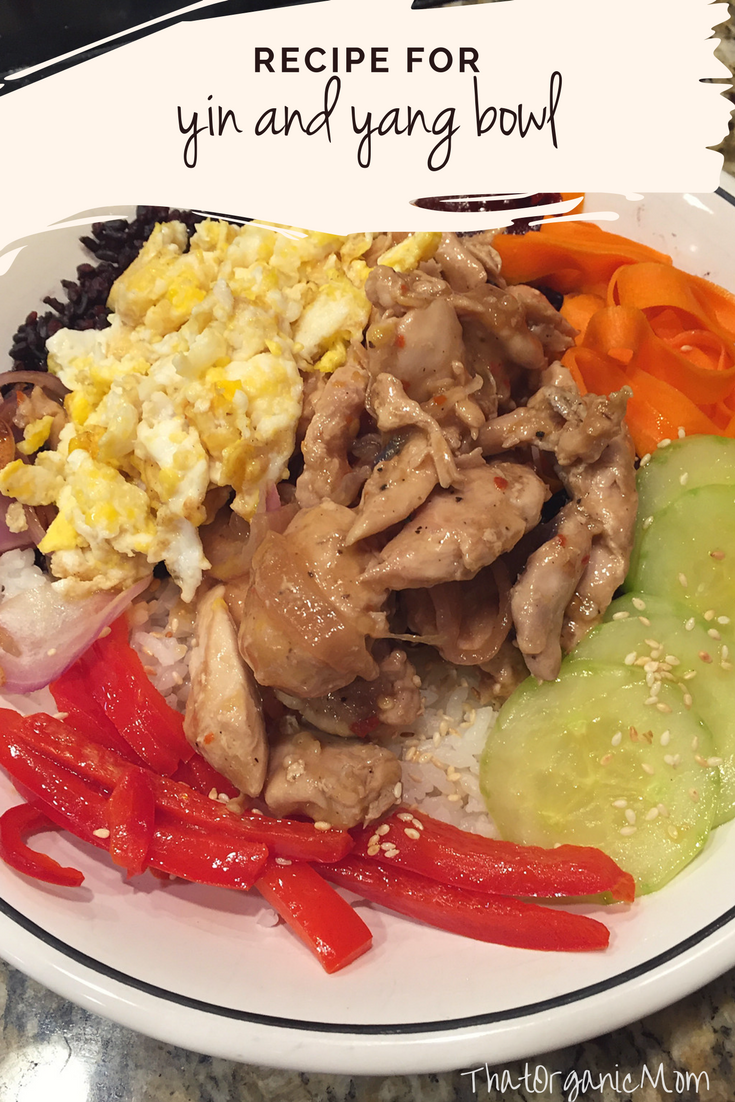 Harmon is learning kitchen skills and he has been practicing his knife skills with my supervision. This recipe requires a lot of vegetable cutting, which is great if you are learning how to use a knife!
We used a vegetable peeler to make the carrot ribbons, we julienned the red bell pepper, sliced the cucumber, onion, and minced the garlic for our Yin and Yang Bowl Recipe.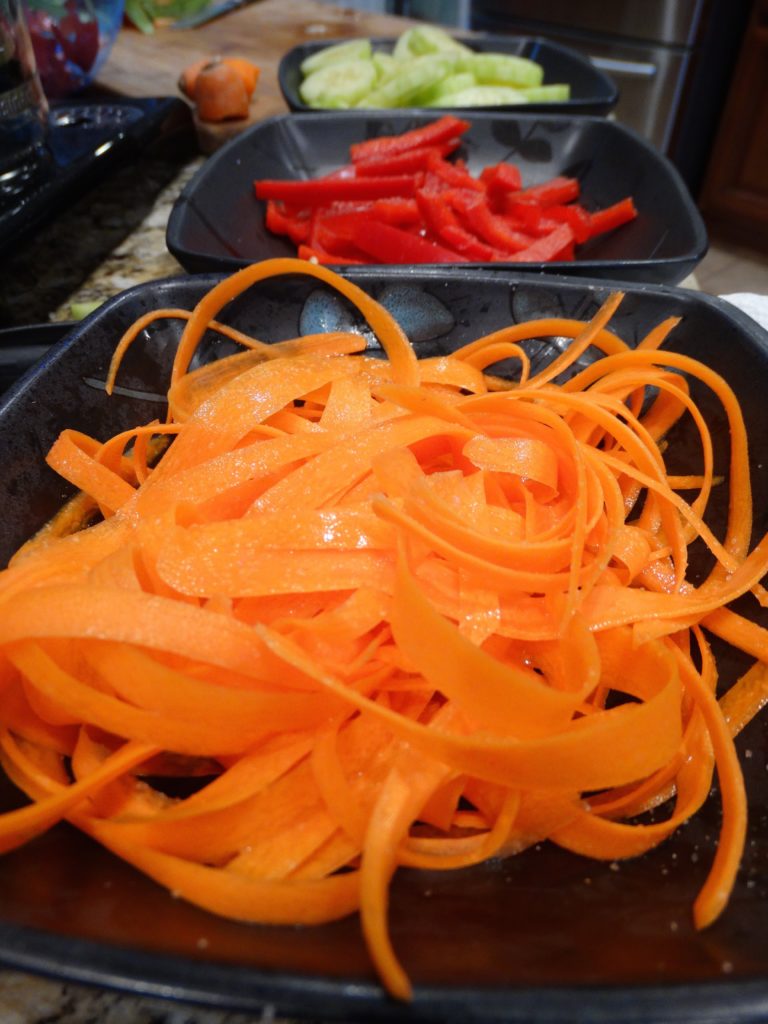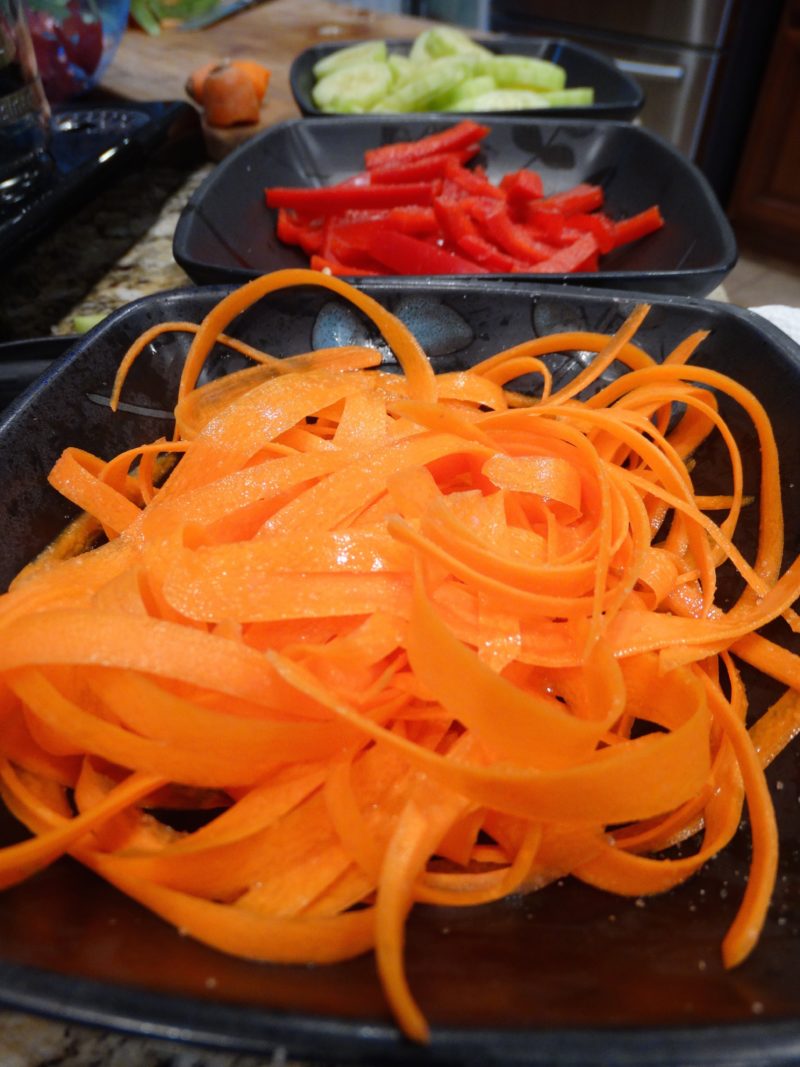 We lightly sautéed the vegetables in avocado oil, but you could also use bone broth or stock to sauté them to cut down the fat. Especially if you are following the Trim Healthy Mama plan.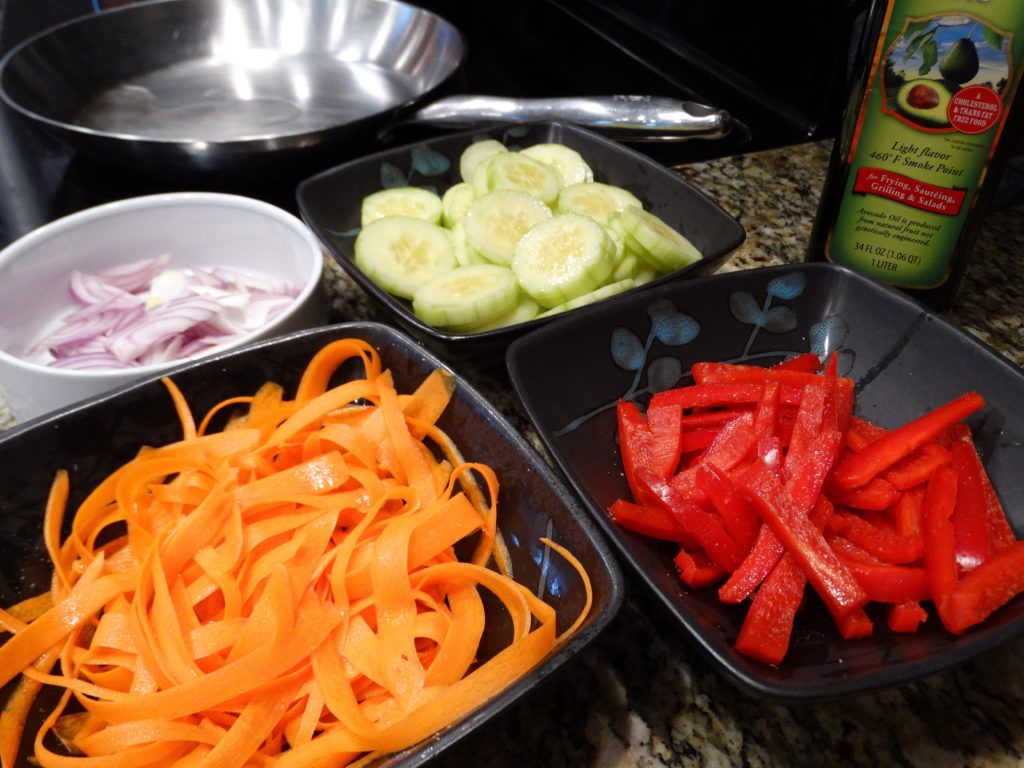 We cooked white sushi rice and black Forbidden Rice to make the bowl yin and yang. I used my Zojirushi to make the black rice because it took longer to cook. If your kids prefer white rice, this is a great way to get them to try small amounts of healthier rice like brown or black rice. As they accept the not-white-rice then you can increase the amount of healthy rice and reduce the amount of sushi rice.
After everything was prepared, we lined it up on the countertop buffet style. Everyone has a special bowl and gets to choose their own chopsticks. If you serve meals family style, you can let your children choose more or less of their favorite and least favorite vegetables.
Ivy and I like our eggs sunny side up like the one pictured below or poached. But Harmon and Shawna prefer scrambled eggs. You can add eggs to this dish any way you like. Again, if you are following the THM plan, use egg whites only.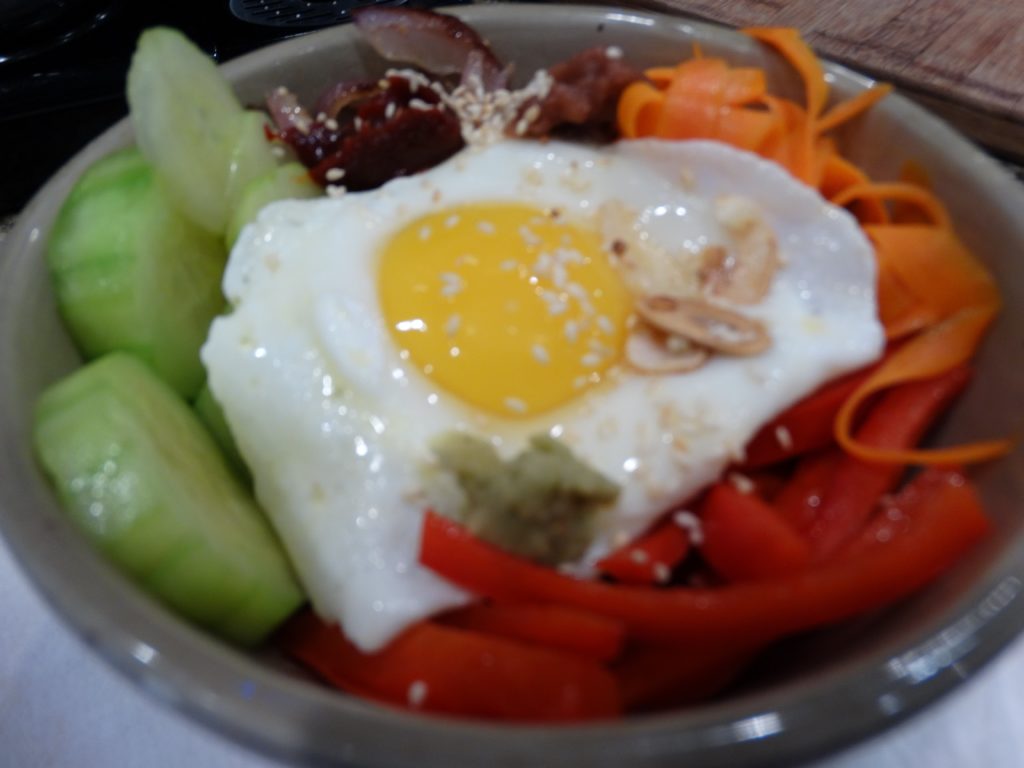 If you want more protein, throw in some leftover meat you have in the fridge. I had some chicken so I topped this larger bowl (below) for my husband. Scroll down for a printable recipe.
We like to top our bowls with some toasted sesame oil, sesame seeds, soy sauce or coconut aminos, and Umeboshi plum paste which is a fermented plum paste that has a salty-sour taste. It tastes so so good! It only takes a small amount, maybe a teaspoon or less. Being fermented, it adds some extra nutrition to the bowl.
You could also top it with Yum Yum Sauce! Now, scroll down for the printable recipe.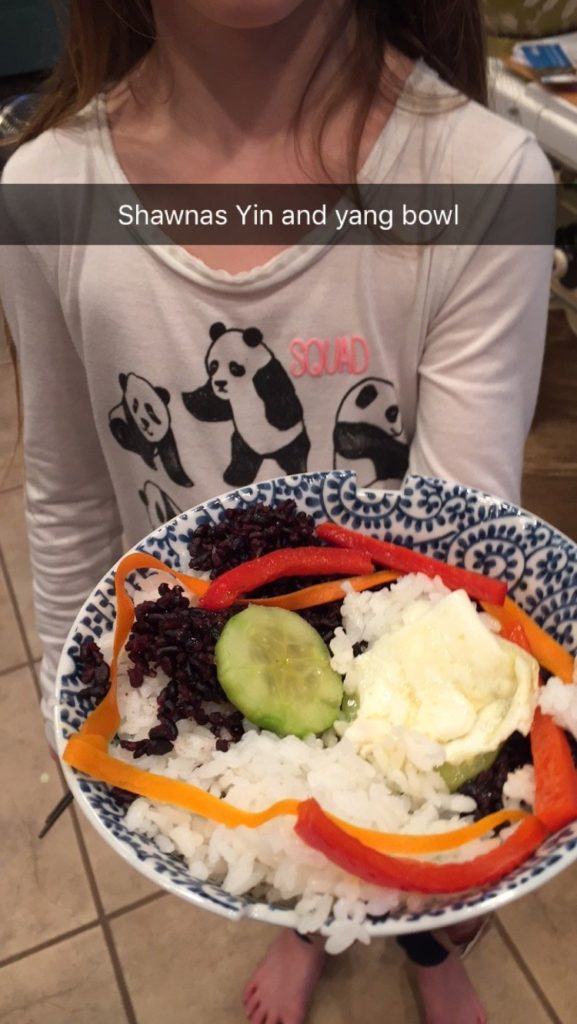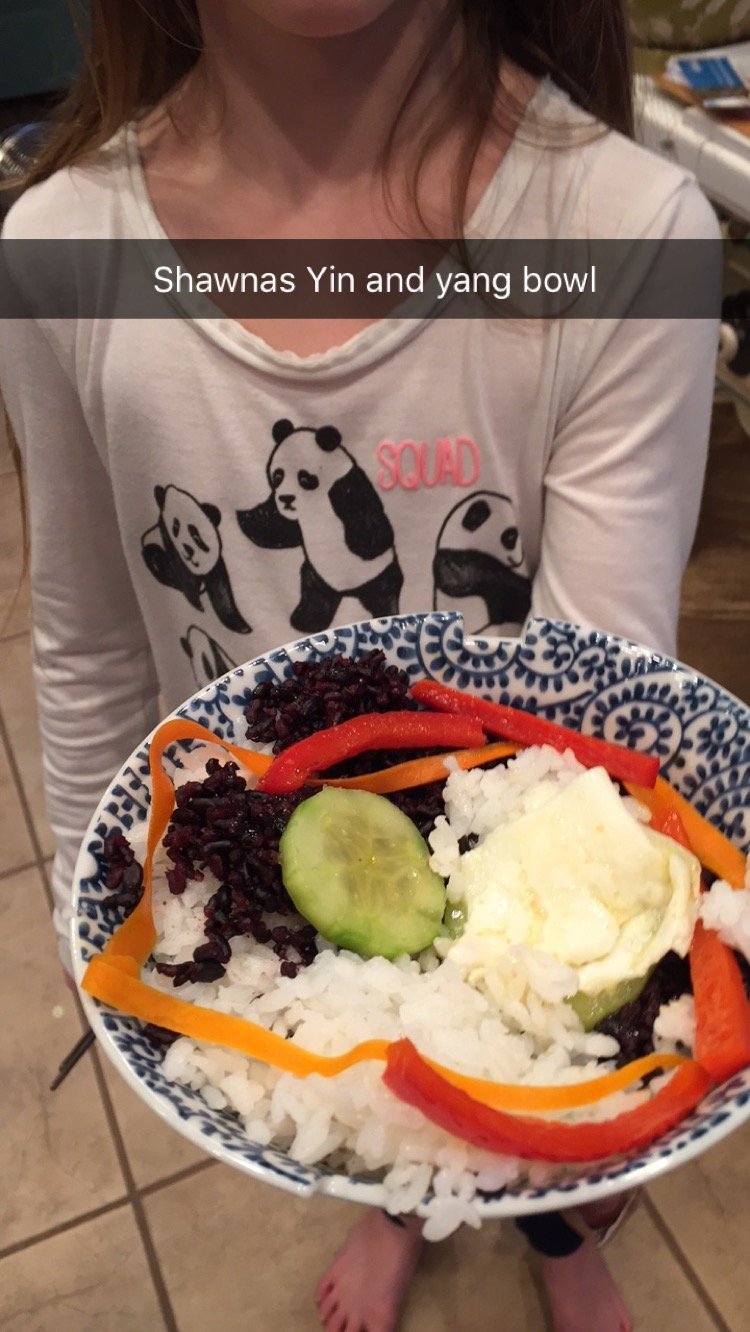 This is a fun family recipe so don't worry about getting too technical. Feel free to add or subtract ingredients as you like!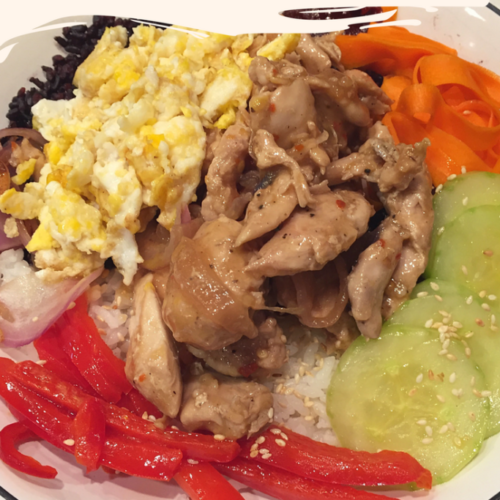 Yin and Yang Bowl – a recipe with Forbidden Rice

Dairy Free

Gluten Free
This is a great recipe for helping to encourage your children to eat other than white rice.
Ingredients
2

cups

dry Forbidden Rice (black rice) prepared

2

cups

dry Sushi Rice (white rice) prepared

Cucumber

sliced

2

red bell peppers

1

purple onion

1

carrot peeled into ribbons

2

garlic cloves thinly sliced

eggs

prepared how you like them, optional

leftover meat

chicken, steak, shrimp optional

sesame seeds

optional

toasted sesame oil

optional

soy sauce

optional

umeboshi plum paste

optional
Instructions
Prepare rice.

While rice is cooking slice vegetables.

Lightly saute vegetables in a pan over medium heat.

When everything is ready, line it up buffet style.

Top rice with vegetables, eggs, leftover meat and other optional ingredients.