Bubble Tea, Kale, and macarons are so yesterday! What are the hottest food trends to be watching for in 2017? Some have been around for centuries but are expected to gain momentum this year. Here's what you should add to your menu for a delicious and fabulous 2017!
1. Beets – Excellent for heart health, immune function, and even increasing stamina during exercise, beets deserve applause. In addition, the anti-cancer properties of beets are being studied for their impact on pancreatic, breast, and prostate cancers. Beets go to the top of the list for most under-appreciated foods. Try this classic Russian Borscht recipe.
Eat beets in small amounts due to the amount of sugar they contain. However, if you want to increase nutrition or just want to eat more beets, try fermented beets. During the fermentation process, the sugar is reduced by the beneficial bacteria. On a side note, fermentation is a hot topic as all kinds of fermented foods are gaining popularity.
2. Bone Broth – Bone broth is full of flavor and nutrition, therefore cooking with broth as often as possible can be a wonderful source of nutrients. Homemade broth is rich in gelatin that will support digestion and the health of your skin. Bone broth is packed with amino acids.
Glycine (the protein that makes the broth gelatinous when chilled) is full of collagen which is anti-aging and healing for your digestive system (helps leaky gut syndrome) and builds healthy skin, hair, and nails. In addition, the gelatin can reduce joint pain and inflammation.
Bone broth makes a wonderful drink alone or it can be added to soups, casseroles, and even smoothies. Read my entire article about Beef Bone Broth and find more in my 31 Habits Series #17 Collagen-Rich Bone Broth. I often share my latest food finds on my Instagram account.
3. Seaweed – I love seaweed! I use several different kinds of seaweed and keep it stocked in my pantry. Low in calories yet high in nutrition it is a sustainable food. Some are calling seaweed "the new kale" for good reasons. Dulse is a seaweed with a softer, chewy texture. Many people eat dulse in dried form and often can be found in flakes to sprinkle on other foods, soups, rice, and salads. Kelp can be found dried into sheets at most Asian Supermarkets and often some health food stores. It can be added to dishes during cooking. Soaking kelp in water will soften this seaweed making it easy to eat. One of our favorite ways to consume Kelp is this seasoning blend.
Kombu is a brown kelp which tends to have a strong, mineral-rich flavor. I often use Kombu in soups. Kombu contains antioxidants, which protect against cardiovascular diseases and some forms of cancer.
Also, try Arame which has a firmer texture with a mildly sweet flavor. Arame, like other seaweed, is often sold as flakes or granules that can be used in place of salt. Wakame is easily found and "is not only extremely high in nutritional value but is also extremely low in calorie and minimal in fat (only contains about five calories per serving and is said to actually help burn fat). It helps to prevent heart disease, cancer, diabetes, blood clotting, and obesity. Wakame has beneficial effects on stroke, hypertension (high blood pressure), viral infections, tumors, oxidation and inflammation while promoting a good immune system. Wakame is a great addition to any diet as there are few things we can eat that are so replete with nutrients and health benefits." (source) Keep an eye on the seaweed trends in 2017 as more varieties show up on the supermarket shelves and on restaurant menus.
Seaweed has been a prominent part of Asian diets for the longest period of time, particularly in Japan, Korea and China. There are thought to be over 10,000 species of seaweed, reflecting its immense diversity, both in flavour and nutritional properties. The most popular seaweed species are nori, which is dried in sheets which is used to make sushi. (source)
4. Turmeric – Ever tried a Golden Latte? Turmeric is gaining popularity, and there are lots of reasons why. Curcumin is considered one of the most beneficial compounds from turmeric. The benefits are incredible. You may have heard about curcumin's benefits, but newly published data keeps showing up touting its many healing powers. Chinese and Indian medicine have used the spice turmeric since ancient times because that is where it typically grows but modern science is now revealing that curcumin (the active part of the spice turmeric) can have a huge impact on neurodegenerative diseases and cancer. Read more about the benefits of turmeric here. Try another turmeric tea recipe: Golden Milk. I always add a dash of turmeric to my scrambled eggs along with the black pepper, which helps the nutrients become absorbable. It also imparts a beautiful golden color to dishes.
5. Sorghum – Many people are watching this ancient grain. Could 2017 be the breakout year for home-grown ancient grain sorghum? "It might not have attracted as much media attention as quinoa or chia, but sorghum – a home-grown gluten-free grain that is every bit as attractive in the nutritional and sustainability stakes – is steadily gaining traction in food applications, not least because it's more affordable than other 'ancient grains,' says the United Sorghum Checkoff.
Find an entire index of sorghum recipes you'll love right here. If you've never cooked with Sorghum syrup, you will want to once you check out this recipe for Salted Maple Walnut Pie – and it's gluten-free! Sorghum grain can be found in the bulk section of your local health food store. You will want to stock up on some so you can Try this Sorghum Burrito Bowl. Speaking of "bowls"…
Not necessarily a single food, but more of a super hot food trend: Bowls! Think Acai Bowls (all the rage at juice bars) Korean Bibimbap or Chipotle's burrito bowl. Expect to see all kinds of bowls on menus this year: grain bowls, veggie bowls, breakfast bowls and more. I can't wait to try them all! I recently had a chia seed pudding, fruit, and almond butter bowl at a local restaurant. It was the tops!
Bowls are good-looking, pack in lots of different types of healthy foods (protein, grains, vegetables, fruits, nuts, seeds, etc.), can be eaten at different times of the day, and are perfect for desk side dining.  (source)
One of the best things about bowls could be the fact that they are so diverse. Have a bunch of different leftovers in small amounts? Why not put them on top of a bowl of rice and you have a delicious rice bowl! The more colorful you make it, the healthier it will most likely be. Imagine all the colors of the rainbow in julienned veggies on top of a bowl of cold soba noodles! How about roasted root vegetables on a bowl of Israeli couscous? My mind is going wild thinking of all the possibilities!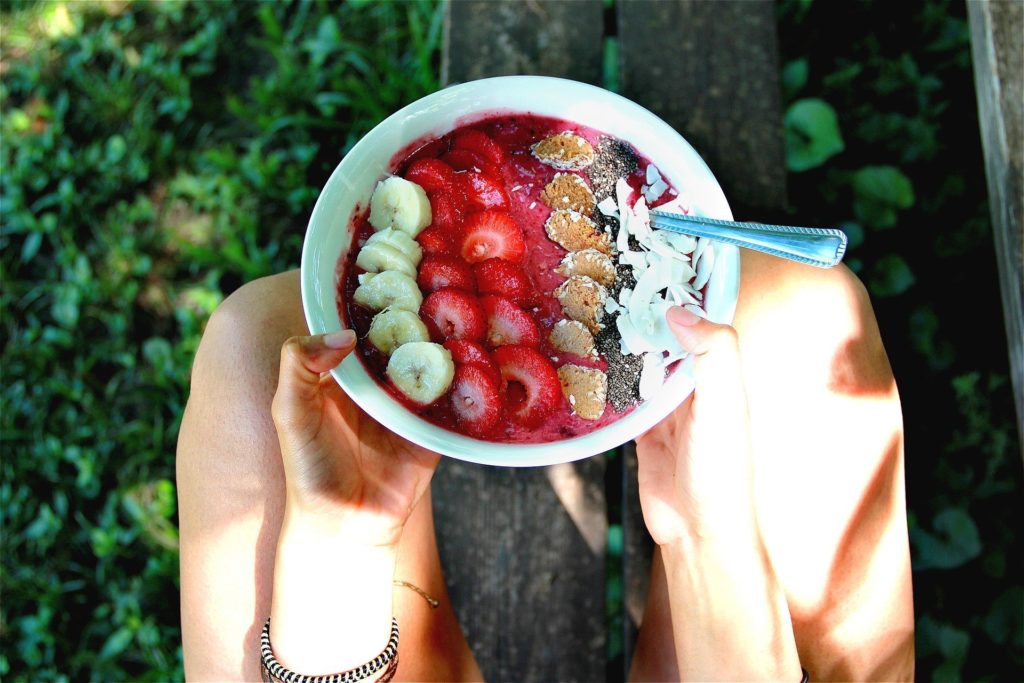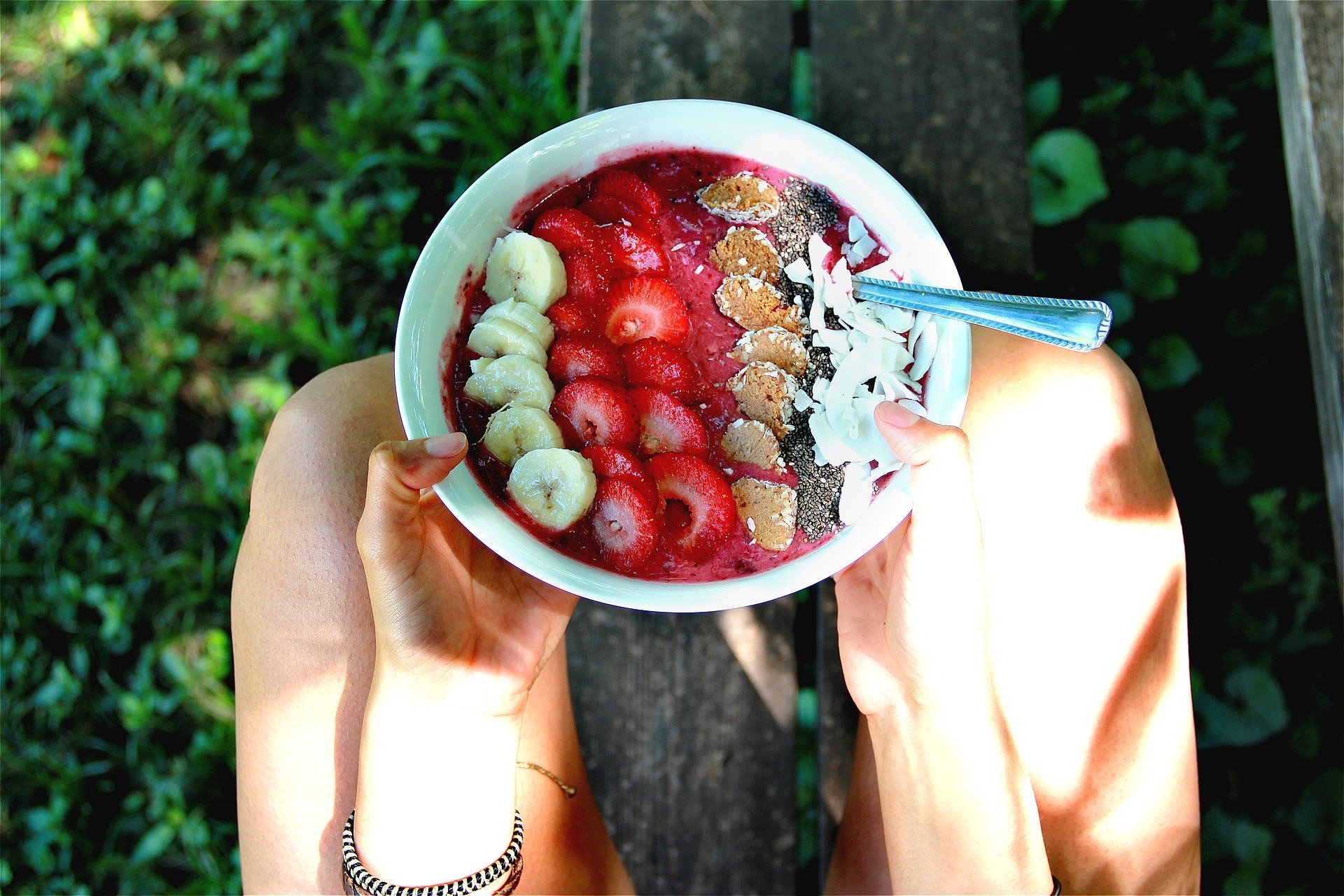 Cold Brew Coffee. I didn't list cold brew coffee in the Five Foods because it's technically a drink, not a food. So, I'm giving it an Honorable Mention because it gained such popularity in 2016 but I am guessing 2017 will be the year for Cold Brew Coffee! 
What's so special about cold brew? First of all, let me make sure you understand that cold brew coffee is not regular coffee poured over ice! When it comes to the process for making the coffee time replaces heat. Basically, instead of heating up water and pouring it over ground beans the beans are coarsely ground then added to water and allowed to sit for up to 12 hours. Here are some tips if you want to make your own cold brew.
Deceptively simple, cold water brewing extracts the delicious flavor compounds (and some of the caffeine) from coffee beans, but leaves behind myriad bitter oils and biting fatty acids, including undesirable elements such as ketones, esters and amides. The cold brew process creates a perfectly balanced and distinctively smooth cup of coffee – served steaming hot or iced cold.(source)
I'd also like to mention an ingredient that should be gaining popularity in 2017: Aquafaba. You probably rinse it down your drain, but chefs in France are making culinary masterpiece recipes with this ingredient. Aquafaba is a word that was invented only a year ago and literally translates: water bean. Aquafaba is simply the water that is drained off of soaked beans, mostly chickpeas (garbanzo beans).
Aquafaba is a vegan's answer to egg whites and can be used in making meringues and even cocktails such as eggnog and whiskey sour. Although, if a bartender substituted aquafaba in place of the egg whites, would it be called bean-nog? Egg whites certainly contain more protein, however, in recipes where egg whites are eaten raw, using Aquafaba could reduce the risk of foodborne illnesses.
You can also find premade condiments such as Sir Kensington's new Mayonaise spreads: Fabanaise and Chipotle Fabanaise. (I've only been able to find the Chipotle flavor at Earthfare and Whole Foods so far. We started buying it in mid-2016 for sandwiches and even nachos.
Make sure you are following my accounts on social media or signed up for updates from my site as I'll be sharing some fun "bowl" recipes in the upcoming year. Harmon and I created this Yin and Yang Bowl recently using Black Rice and White Rice meaning we used Forbidden Rice and Sushi Rice. Getting children to eat something other than white rice is easier if you mix it 50/50.
Happy Eating!