Last Updated on June 29, 2022 by Rebecca Huff
Pet fur got you down? Keep reading!!
We have introduced our beloved pets on our YouTube channel in the past. Recently someone asked me how I manage the pet fur in our home. Here is a basic rundown of how we keep the cat fur at bay even though we have four cats! (everyone wants their own!)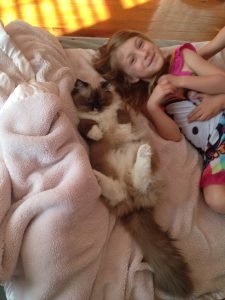 Cathole cat doors that brush kitty's fur when she goes in and out. (I am not affiliated with this company I simply like the product) If you watch the video at the bottom of this post you will get an idea of what the cat doors in my house look like.
Special brushes and combs to reduce shedding include:


Cat mat remover brush

Dusters that catch fur and dust around the home: 

Swiffer Dusters (I buy them at Costco) and the extension kit is great for getting to those hard to reach places like ceiling fans, light fixtures and cabinet tops. Children love dusting so if you have kids let them do this chore!
Air purifiers can significantly reduce the amount of pet fur floating in the air. I have two, one is the Germ Guardian which also helps to reduce germs.  Also (pictured in video below) is this one that I have been using for a number of years. W

hatever you choose, look for a HEPA filter.

Vacuum or Roomba – I have two Roomba vacuums.  We keep one upstairs and one downstairs (we call them Mo after the clean up robot in WallE) and I run them at least once per day. Often I will run them in the morning and again after I go to bed. Since they dock on their own, I can start them and then go do something else.

Extra Extra Large Lint rollers or 

Mega Lint Roller are perfect for getting the fur off your sofa, bed, pillows and blankets. 
Swiffer Dry or washable/reusable lint mop/dry mop (I often get these at Costco, it just depends on where the price is better) 
Clothing lint rollers kept virtually everywhere, in the car, in the garage, in my closet… (can also be purchased at Costco sometimes)

Not wearing shoes in the house helps to cut down on dust and dirt in general. You can find videos about not wearing shoes in the house on our YouTube channel as well.
 Here is our adopted kitty Half-moon playing with a Dynamite Catnip Stick!