Last Updated on June 29, 2022 by Rebecca Huff
Continuing the purple sweet potatoes theme, I've added a breakfast dish to the collection.
We tend to eat eggs for breakfast regularly. It can be a challenge to mix it up and keep it interesting. Some people in our family are happy to eat scrambled eggs day after day, but I like to experiment and try new things.
Plus, I am obsessed with these purple beauties and so are my daughters.
Hashbrowns are one of the more popular dishes people make with potatoes, so it only seemed fitting to try. Using a box grater to shred your purple sweet potatoes may leave a slight purple stain on your hand, but it washes off fairly easily. Not like the stain from beets! It may also turn the edges of your egg whites blue.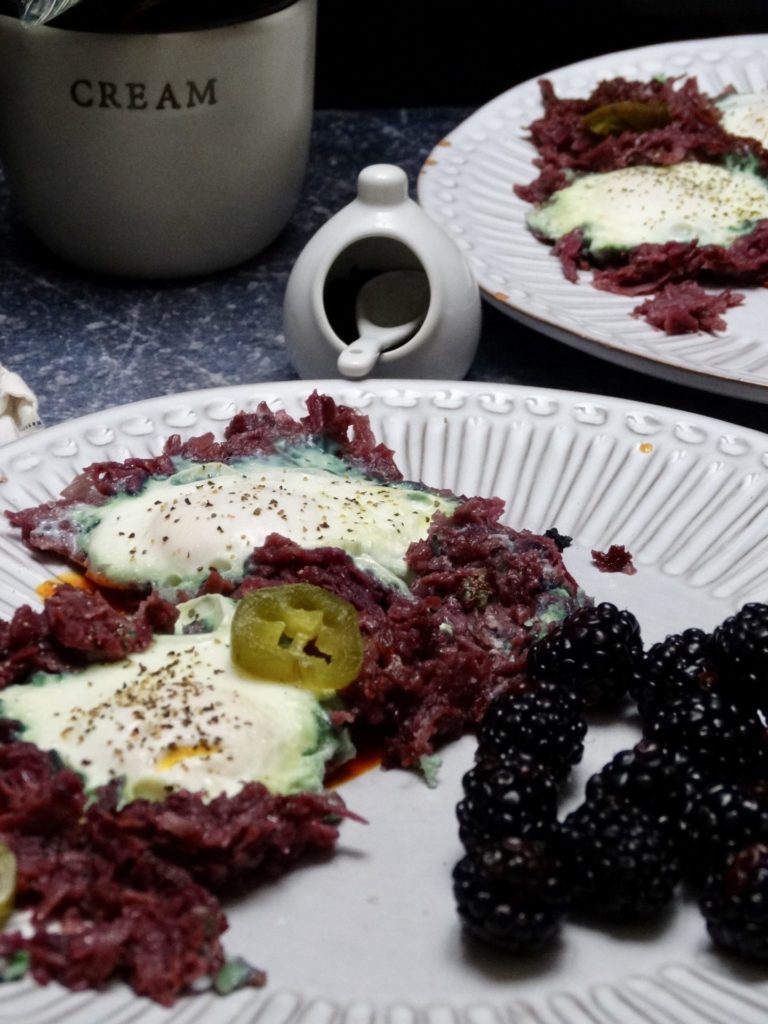 This recipe is easy to make and is an excellent way to boost antioxidants and protein in the morning. Use a pan with a tight-fitting lid to trap the steam which will cook the eggs.
Purple sweet potatoes are a longevity food and full of antioxidants.
Despite its sweet, satisfying taste, the imo [sweet potato] does not spike blood sugar as much as a regular white potato. The leaves are eaten as greens in miso soup. Like other sweet potatoes, it contains antioxidants called sporamin, which possess a variety of potent anti-aging properties.

BlueZones.com
Keep some of these beautiful tubers on hand so you can add this dish to your breakfast rotation.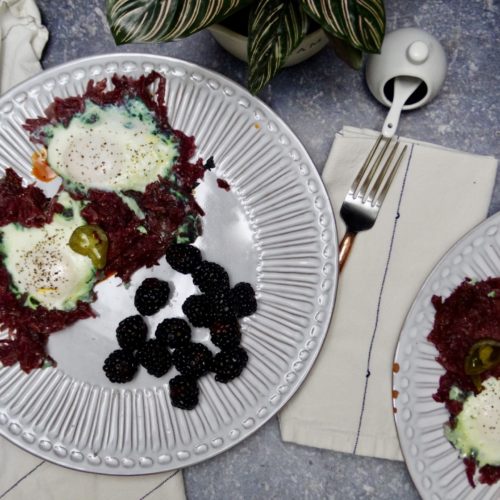 Eggs Nested in Hashed Purple Sweet Potatoes

Dairy Free

Gluten Free

Vegetarian
Tasty hash-browned purple sweet potatoes with eggs cooked to perfection.
Ingredients
3

cups

purple sweet potatoes

shredded with skin on

1

small

onion

shredded

1

garlic clove

minced

4

large

eggs

cage free or organic

butter or oil

salt and pepper to taste
Instructions
Mix shredded potatoes, onions, and minced garlic in a bowl.

Oil pan and heat over medium, then add shredded purple sweet potatoes, cook and stir for 5 minutes.

Make 4 nests and make sure your skillet is oiled/buttered where you plan to put the eggs.

Gently put one egg in each nest. Add a tablespoon of water to the pan and top with the lid.

Cook till yolks are done the way you like and sweet potatoes are tender with crispy edges.

Add salt, pepper, and optional hot sauce if desired.
Nutrition
Calories:
331
kcal
Carbohydrates:
45
g
Protein:
16
g
Fat:
10
g
Saturated Fat:
3
g
Cholesterol:
372
mg
Sodium:
253
mg
Potassium:
861
mg
Fiber:
7
g
Sugar:
10
g
Vitamin A:
28843
IU
Vitamin C:
8
mg
Calcium:
124
mg
Iron:
3
mg
Recipes in this series
One of the first recipes I tried to create in this series was cookies. I was in for a really neat surprise. If you check out my Instagram post here, you'll see what I mean. Now I'm just trying to decide whether that recipe deserves a place in this series. Let me know what you think.
Read more about purple sweet potatoes here and also in this roasted purple sweet potato recipe. I would love to know if you give this breakfast recipe a try.