Last Updated on August 11, 2022 by Rebecca Huff
For several reasons, I made the switch cream formulas in all of my makeup this year. I am using Cream Eye Shadow, In the Spot Luminizer, and Cheeky Lips (yes, it's a multi-tasking cream!) from The Organic Skin Co. No powders for me this year. The results have exceeded my expectations!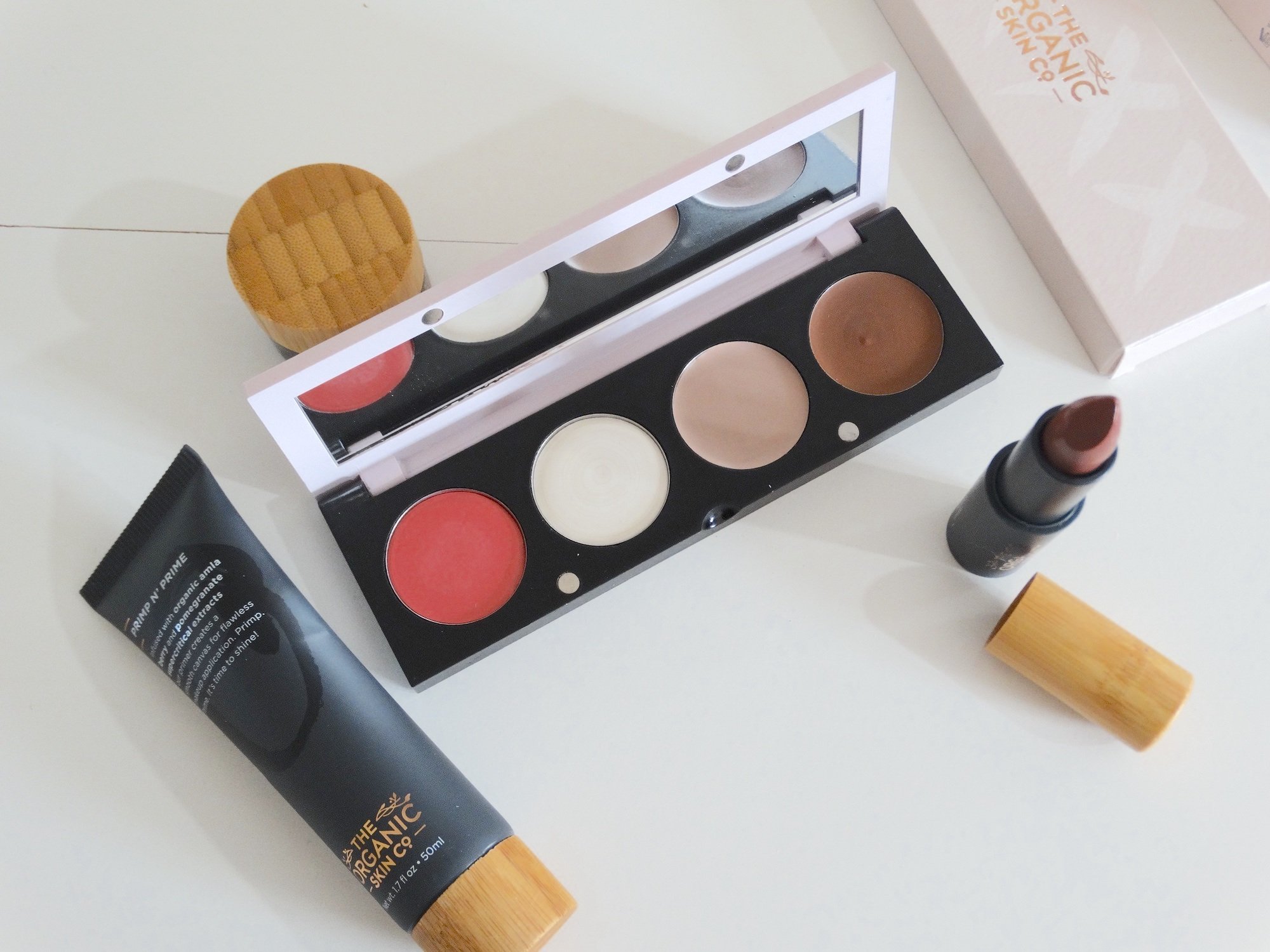 There are so many things I appreciate about The Organic Skin Co and I'm dying to share with you guys!
First of all, the pods that pop into the palette bar are magnetic, so they stay put until you want them out. Love! The palettes are available in three colors.
As you can see in the photo, I got the four pod palette. If you prefer a lot of variety, you'll want the 8 pod palette bar to fill with a selection of cheek and lip creams, cream eye shadows, concealers, and luminizers, so you'll have everything you need to create your signature look!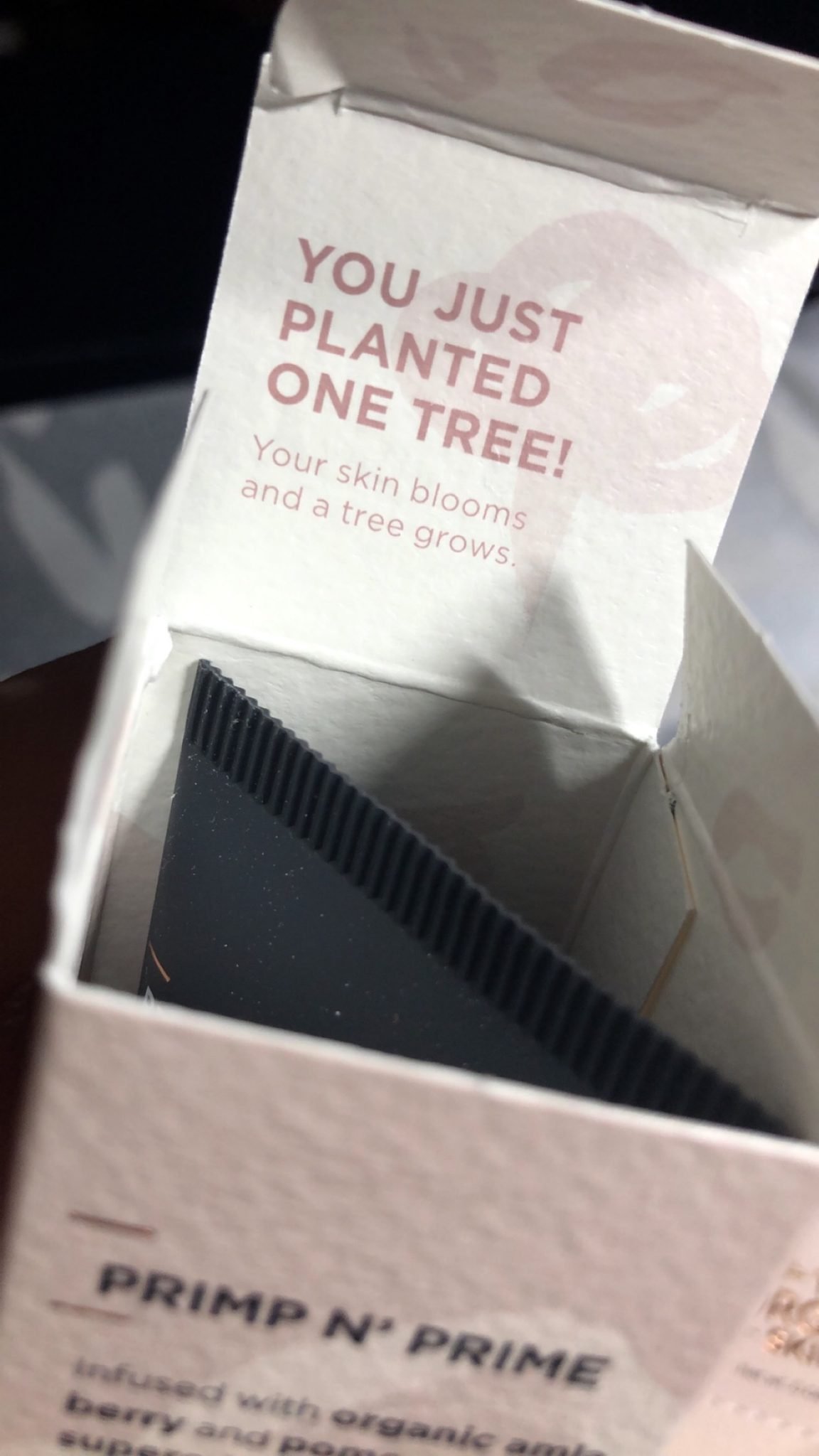 [Tweet "You just planted one tree, your skin blooms and a tree grows."]
We have high standards when it comes to beauty products at ThatOrganicMom! Here are a few of the reasons we are loving The Organic Skin Co products…
Vegan friendly products
Never, ever tested on animals
100% gluten free products
Made with organic ingredients *see note
Supercritical extraction process (the cleanest, purest way to extract all of a plant's goodness and deliver it to your skin – plants like Amaranth, Holy Basil, Vanilla, Turmeric, Calendula, Seabuckthorn, Rosemary and many more natural ingredients)
Packaging is irresistible
The manufacturing plant is GMP (Good Manufacturing Practice) certified, and one of the few facilities in the world that is mainly solar-powered.
For every product purchased the company promises to plant a tree. The family owned company has partnered with Eden Reforestation Projects, who are not only working tirelessly to help reverse deforestation, but also provide jobs and hope to local, indigenous communities worldwide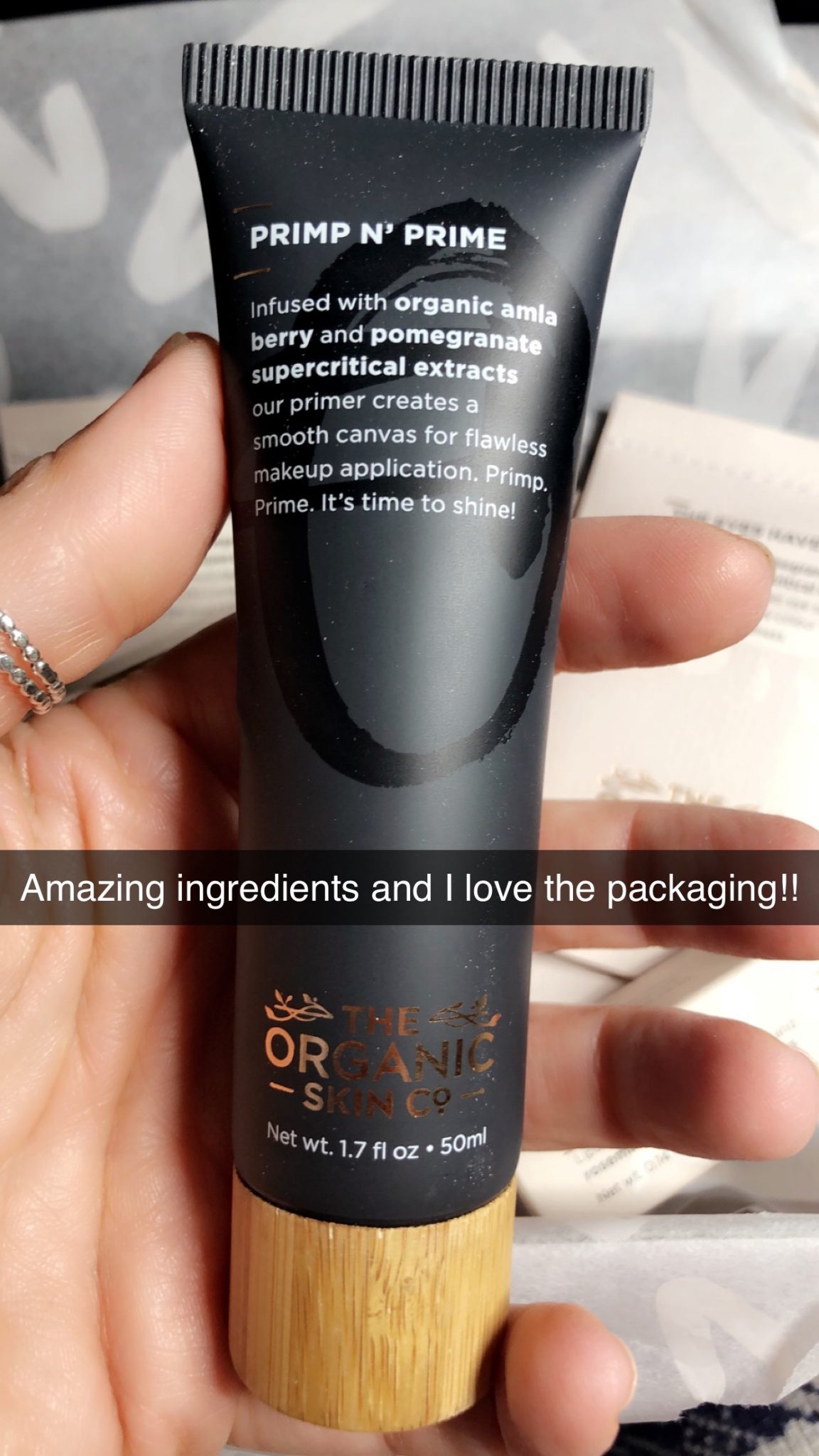 In addition, I am using Primp N' Prime, because, hey, you wouldn't paint a wall without first applying primer so why do it to your face? Plus, this primer is also packed full of good-for-you ingredients:
A shot of Aloe Vera helps to soothe and moisturize the skin.
Illuminating pearls and supercritical extracts of Pomegranate, Honeysuckle, and Rosemary form a natural, antioxidant-rich barrier between your skin and makeup, at the same time as they help your skin to glow.
Amla supercritical extract is a great source of Vitamin C, minerals, and proteins, all of which help promote collagen and skin firmness.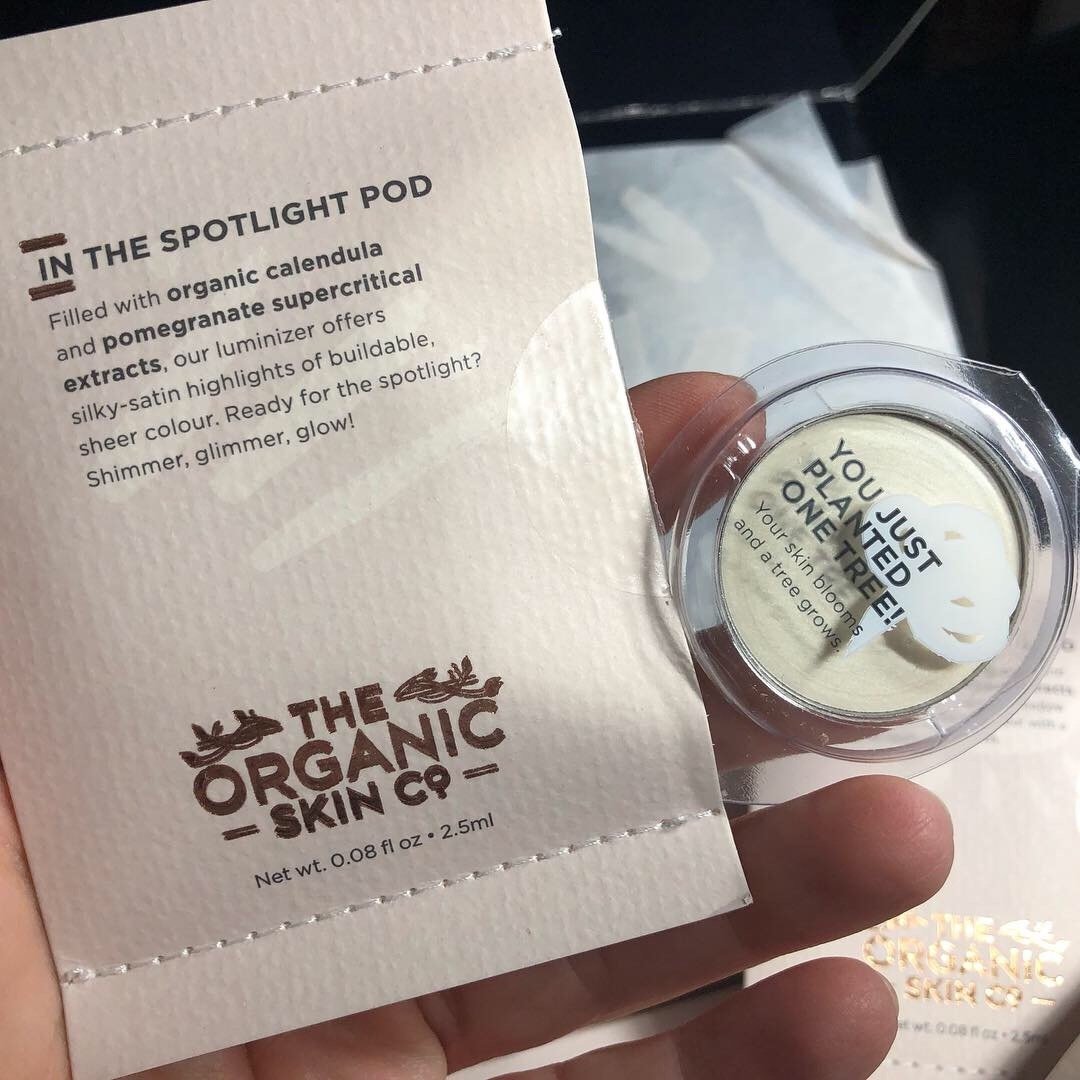 Can I just point out the minimalist packaging? And how adorable are these little pouches with the stitching closure?
Absolutely loved getting this in the mail, right down to the encouraging notes printed on the box!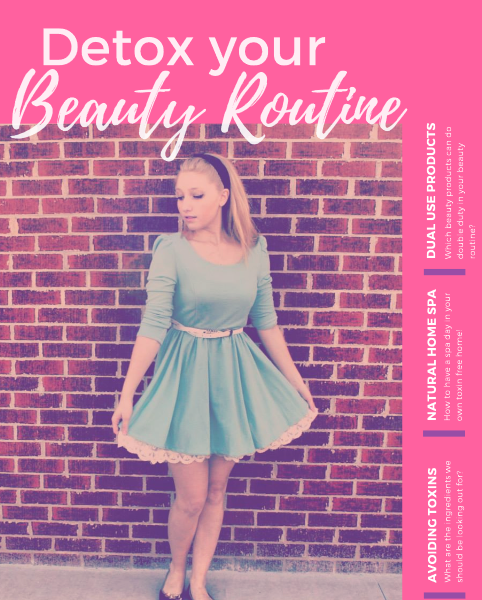 With my fifties on the horizon, I have found that less is more when it comes to my make up routine.
For my everyday look, I simply use mascara, cheeks and a natural shade of lipstick.
With the cheeky lips pod, your make up will be doing double duty – blush and lip gloss!

By the way – if you'd like my free Guide: Detox Your Beauty Routine, just click on the ebook cover here.
For days when I want a little bit more, I have been using a few natural shades of eyeshadow. Though, if you like a pop of color on your eyes, there are so many beautiful shades to choose from.
My oh my how much difference it makes to aging eyes to use a cream-based eyeshadow and blush! Not only does it minimize my wrinkles, but it also blends better. For those who prefer pressed powder, you can get high-performing, long-lasting pressed eye shadows infused with replenishing supercritical extracts of calendula and pomegranate for your palette!
Combine concealer, eye, cheek and lip in your palette for a handy "take it all" make up kit. I'm definitely taking my palette on my next trip to cut down on the size of my makeup bag.
*Note from The Organic Skin Co.: We'd absolutely love for all our products to be certified as 'made with organics' (meaning they contain 70%+ organic ingredients). But a few of our makeup products aren't, because they contain mineral oxides.
So that you know, mineral oxides are wholly natural colors derived from the earth, but sadly, they don't currently sit within the parameters set by certification agencies for recognizing organic ingredients. This means that whilst our products are all-natural, some of them can't be certified as 'made with organics'.
You can easily identify which of our products are certified by the BioGro logo stamped on their packaging, or marked on our website.
Choose the best skincare and cosmetics for your health! Detox your beauty routine!
Want more clean swaps, not only for your skin but for your home as well? Grab the ultimate guide to clean swaps below.