Last Updated on June 29, 2022 by Rebecca Huff
What's the healthiest and safest sugar or sweetener to use in baking and sweet treats?
By Dr. Emily Ventura and Dr. Michael Goran, authors of Sugarproof and recent guests on A Healthy Bite discussing the dangers of added sugars.
Many families have been doing more baking while home during the pandemic, and homemade treats can bring comfort during uncertain times. This is a fun activity to do with kids and it's especially a win if what you make is also relatively healthy. We get a lot of questions about which sugars are best to use at home to improve the nutritional content of the treats.
So many parents spend extra money on unrefined or more natural seeming sugars like honey, maple sugar, coconut sugar, or agave, thinking they are healthier. There are countless recipes online that use these options and tout being "refined sugar-free." But the reality is that these sugars are still forms of added sugar that we recommend using in moderation. There are some slight advantages to a few of these less refined options. For example, coconut sugar contains a small amount of a fiber called inulin. Honey and maple syrup have some micronutrients and a better flavor profile. But these properties don't make these sugars important/essential sources of nutrients for kids and ultimately they should be seen for what they are: added sugars.
Of the more natural seeming options, there are a few that we explicitly recommend you avoid because of their high fructose content. The first of these is agave. It may seem like a healthy option, but it can contain up to 90% fructose, which is an even higher percentage than high fructose corn syrup.
Fructose is processed in the liver and it especially hard for growing bodies to handle. A diet high in fructose can cause the development of non-alcoholic fatty liver disease, which is now increasingly common in kids. We also do not recommend fruit juice concentrates, fruit sugars, or pure fructose, as they are high in fructose as well.
You may wonder if some of the more natural forms of low calorie sweeteners might be a good idea, like stevia, monk fruit, or sugar alcohols. We just don't know enough about the potential long term side effects of these options and are not comfortable recommending them to kids. What we do know is that low calorie sweeteners are considerably sweeter than regular sugar and they can reinforce preferences for sweet tastes and lead to greater calorie intake during the day.
So what do we recommend instead? For all of our recipes in Sugarproof, we sweeten with whole fruits like bananas, mangos, or apples, or dried, unsweetened fruits such as dates or figs. The advantages of doing this are that you retain the fiber of the fruit, which slows down the glycemic response, and you get extra vitamins and minerals that are not found in added sugars.
In addition, you help get your kids used to more natural and subtle forms of sweetness. To give you an idea of how you can use whole fruits to sweeten baked treats, we are sharing our recipe for our Sugarproof Blueberry Banana Muffins below. As compared to standard blueberry muffins which can contain around 7 teaspoons of added sugar each, ours have none, and are balanced with protein and fiber as well, which helps give kids steady energy. You can also find more recipes on the blog on our website.
In Sugarproof, we do not suggest a diet that is completely free from added sugars. We are parents too, and we know this is just not sustainable for kids. Some regular treats are fine from time to time. We give suggestions for how to raise kids who are able to still enjoy sweet treats but be satisfied with a more moderate amount and appreciate the flavor of whole foods and more subtle forms of sweetness. If your family is going to make a recipe that calls for a regular type of sugar or one of the less refined types, try halving the quantity of sugar that you use. Often it still tastes sweet enough and the texture is not altered. Or you can just make a half batch, freeze some of the treats, or share them with neighbors.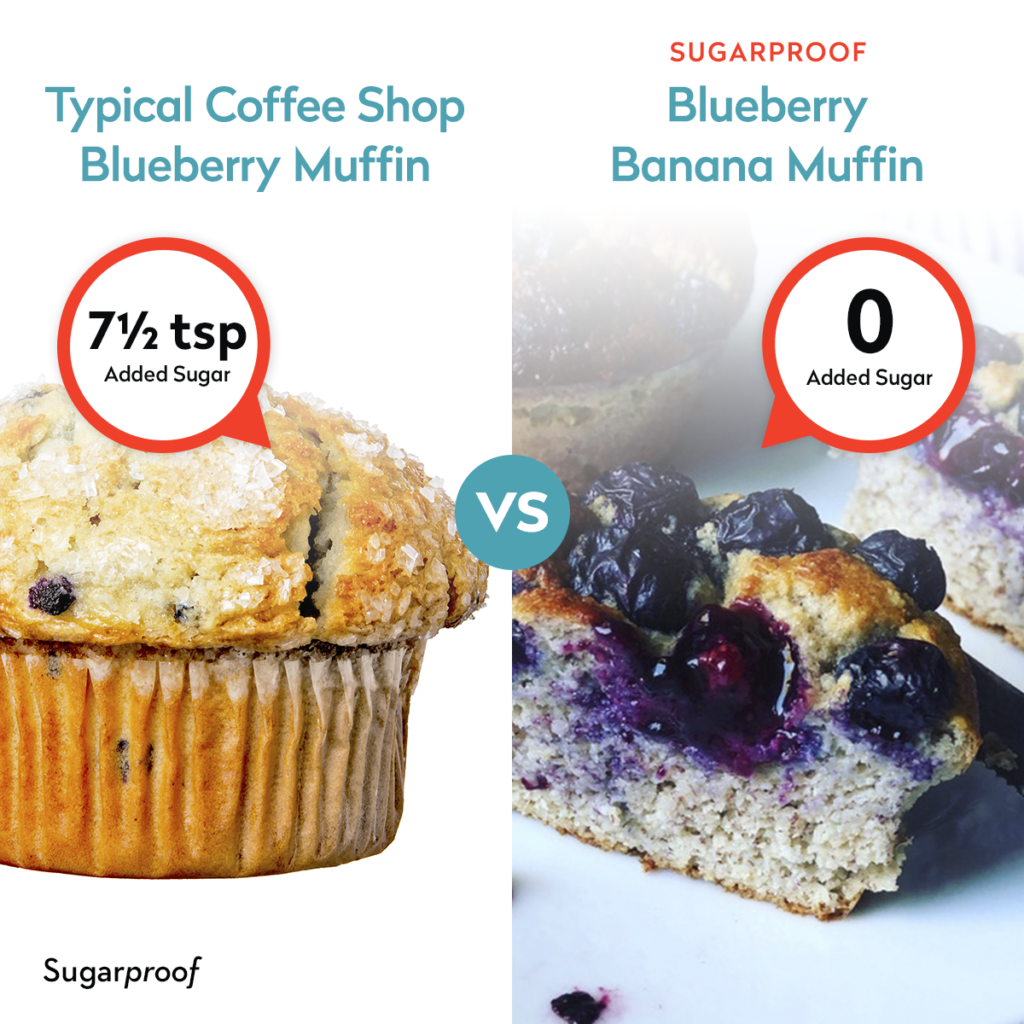 Sugarproof Blueberry Banana Muffins
Makes 12 muffins
A blueberry muffin from a coffee shop can easily have around 7 teaspoons of added sugar, whereas our Sugarproof muffins are sweetened only with bananas and blueberries and have no added sugar. Because the batter is made with oats and almond flour, they are high in fiber and also in protein. Making the batter in the food processor (or a blender) is the secret to giving them a light texture. But if you don't have one, you can still make these by mashing the banana by hand and buying pre-ground oat flour (or using whole rolled oats) and mixing the batter in a bowl. Note that this recipe was tested with medium to large bananas. If using very small ones, consider adding an extra half or whole banana.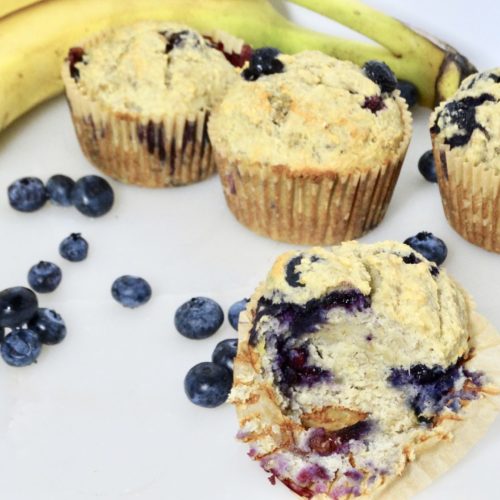 Sugarproof Blueberry Banana Muffins

Dairy Free

Gluten Free

Sugar Free

Vegetarian
Ingredients
Oil of choice for greasing the muffin tin

¾

cup

rolled oats (not instant)

½

tsp

salt

½

tsp

baking soda

4

large

eggs

4

bananas

medium to large in size

zest from one lemon

optional

1

tsp

 vanilla extract  preferably with no added sugar

2

cups

almond flour

1

cup

fresh blueberries

rinsed and well-drained (you can substitute frozen)
Instructions
Preheat the oven to 350°F.

Grease a 12-muffin pan with an oil of choice, or use paper liners

Put the oats, salt, and baking soda in the bowl of a food processor or blender. Process them into an even-textured flour.

 Add in the eggs, bananas, lemon zest if using, and vanilla and process until smooth.

Add the almond flour and process until well-combined.

Pour or spoon some batter into each muffin cup, filling them halfway. Sprinkle a few blueberries in each cup, then distribute the rest of the batter. Top the muffins with the remaining blueberries, gently pressing them into the batter to anchor them.

Bake for about 30 minutes, or until golden brown and a toothpick inserted into the middle comes out clean.

Allow to cool for about 10 minutes before removing from the pan.
Notes
VARIATIONS: 
Gluten-free muffins:
Use gluten-free rolled oats. 
Nut-free muffins:
Substitute the 2 cups of almond flour for ½ cup coconut flour. (You need much less coconut flour, as it absorbs moisture.) 
Grain-free muffins:
Omit the oats and increase the almond flour to 2½ cups. 
Other berry muffins:
Replace the blueberries with other berries of choice, such as strawberries or raspberries. 
Banana-nut muffins:
Omit the blueberries and add ½ cup chopped nuts like walnuts or pecans in their place along with ¼ teaspoon of a warm spice like cardamom or nutmeg. 
Nutrition
Calories:
190
kcal
Carbohydrates:
18
g
Protein:
7
g
Fat:
11
g
Fiber:
4
g
Sugar:
7
g