Podcast: Play in new window | Download
Subscribe: Apple Podcasts | Google Podcasts | RSS
Last Updated on June 29, 2022 by Rebecca Huff
Life lessons aren't usually learned easily. Keisha Blair was thirty-one years old. The happy mother of two young children, one just eight-weeks-old when her husband died unexpectedly from a rare disease at only age thirty-four.
Unable to comprehend what had just happened, Keisha walked out of the hospital room with her husbands' personal items in a white plastic bag. One thing she did know at that moment, life is short.
Life is Short
Keisha stumbled through the next few weeks making plans to bury her young husband, losing 40 pounds in only a couple of weeks. Devastation, sadness, overwhelm, coupled with having an infant and toddler to care for took its toll on her. She began to second-guess herself, have regrets and her thoughts went around in circles.
She thought so much about her husband, Garfield, and what legacy he had left behind. After doing so much thinking, she realized that she needed to take drastic action to figure out who she wanted to be and what legacy she wanted to leave behind. So, she put her things in storage and took a sabbatical.
Keisha realized she did not want to take on a victim mentality harboring self-pity. She began journaling as a hobby, a way to organize her thoughts, and plan for her future.
By sheer chance, several months before his death, Blair and her husband had consulted with their financial professional, who urged them to buy life insurance policies, given that they had a toddler and another baby on the way. That prescient moment gave Blair, who recently founded The Modern Widow site, financial security for herself and her two young sons—and a new take on the future. "While you don't know how much time you have, you still have to think about how long your life might be, as well as what the next generation needs." ~NYTimes
Life Lessons
On sabbatical, Keisha learned to really tune in to her intuition. This was part of her grieving process. She "learned the hard way as loss and grief made me [realize] that living life "business as usual" — constantly in survival mode — is no way to live." ~ Thrive Global
She and her two young children ate a predominantly organic, whole-foods diet. Meals she made with her own two hands, savoring the process.
Keisha practiced spiritual self-renewal by praying and meditating and helped others. Along the path to her healing, Keisha realized that her "own healing would come by reaching outward not inward."
With spiritual transformation, the focus of your life has gone through an evolution- its not focussed on the valleys anymore — it's now focused on turning those valleys into mountaintops — through serving humanity and achieving happiness in the now. ~ Thrive Global article
This was just the beginning of what was to be Keisha's viral post, comprised of 40 lessons she had learned from her husband's early death. Later, the book would be expanded and reorganized into Holistic Wealth: 32 Life Lessons to Help You Find Purpose Prosperity, and Happiness.
You can also grab the awesome workbook to help you work through the book. The workbook is a road map that shows you how to build a thriving and healthy life where you prioritize what is most important.
After receiving an Advanced Reader, I knew I had to talk with Keisha, and also provide a copy of her book for my adult daughters. I want them to cultivate these strengths and continue building the mental toughness needed to weather life's inevitable storms and setbacks.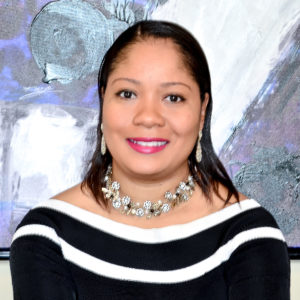 Meet the author
KEISHA BLAIR is a trained economist, with extensive experience in the public, private, and not-for-profit sectors. She was part of the Prime Minister's delegation to the World Economic Forum in 2018 as well as the East-Asia (ASEAN) Summit in Singapore.
She led on events such as the Most Powerful Women Summit in Montreal, Canada and the Fortune Global Forum. She is a graduate of the Executive Leadership Program at Harvard University's John F. Kennedy School of Government and has an MSc in public policy from Carleton University in Ottawa.
She has been profiled in The New York Times and is a contributor to the New York Observer and Thrive Global.
Meeting Keisha was an honor and I immediately felt a kinship with her. Her book is now resting on my nightstand, full of highlights and sticky notes with passages I want to apply to my life. I know you will enjoy her book as much as I did.
Show Notes
You divided the book of 32 lessons into four parts:
Intentional Life Purpose
Financial Independence
Physical and Spiritual Nourishment
Goodwill and Strong Relationships
Intentional Life Purpose
When we live life just putting out fires, we have no time to think about how we will move forward. This is how I lived my life through my early 40's but with the help of my therapist, I am learning the skills to be more intentional. I wish I'd had this book as a young woman!
Hobbies sometimes go along with what you are going through in life; we need them to get us through different situations. My hobby is knitting, what's yours?
You talk about discovering the real you, how does one do that? For Keisha, she'd already had her life goals set, but when her husband passed away, she had to think about how she was going to move forward. Her goals came under a different light. Now she had to think about really what did she want to do and what legacy she would leave behind.
Financial Independence
Having your own financial identity.
Developing your financial identity
Law of Abundance
Core assets.
What are some things we can do to gain financial health?
What is your yearning for in life?
How do you like to invest?
Debt – What do you recommend to someone living paycheck to paycheck with debt to boot?
Physical and Spiritual Nourishment
I love that you gave up sugar and fast food, and turned to more organic, made from scratch meals. You followed the Dash Diet, do you still? See some of Keisha's recipes here: KeishaBlair.com
Goodwill and Strong Relationships
Service to others is more important than the highest-paid position. We didn't get time to chat about this in today's episode, but maybe Keisha will come back in a future episode to talk more about charity, volunteering, women helping women, and building strong relationships?!
Keisha recently wrote an article for the Observer: Serena Williams Discusses Financial Abuse – Here Are Strategies to Fight It.
Please help us help others by sharing this post so more women can learn about Holistic Wealth and the Life Lessons Keisha has shared in her book. If you are in need of encouragement, join our women's support group, Hopelively.