Last Updated on June 29, 2022 by Rebecca Huff
A common theme around the table at our house is how much we have in the travel fund, where we might like to go next or remembering places we've been. When we might not be able to travel to Turkey right now, we can always explore with food.
Food is an important part of cultural identity and it is a universal way to connect or interact with other people.
Sharing warm bread with a friend or meeting for coffee to discuss business are activities that happen all over the world.
Exploring Turkey through food
Turkish cuisine is part of a Mediterranean diet, which is considered incredibly healthy by doctors. Turkey is an interesting and diverse country with beautiful landscapes and warm, welcoming people.
The different regions of Turkey offer a variety of customs and foods. Turkish cuisine is a celebration of clean flavors that allow the main ingredient to shine.
Are you ready to whip up some Turkish food in your own kitchen? I know I am!
For this exploration, you'll need some ingredients that you possibly already have on hand, plus some that you might not have heard of before. Ready to start? Me too!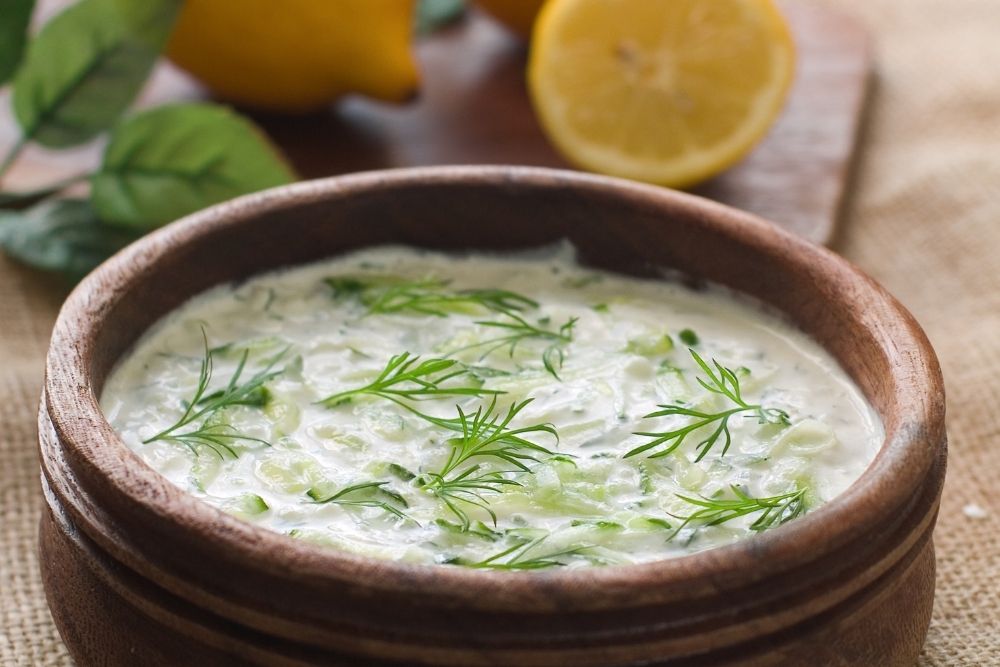 Spices
Spice shops and markets are popular in Turkey. Here are a few of the spices you'll find in the most popular dishes.
Aleppo pepper is bright and salty in flavor and is known as pul biber. Some say aleppo peppers have flavor notes of raisins or pomegranate. (I think it tastes a bit lemony.)
Allspice lends a warm flavor to desserts and also savory dishes in Turkey.
Generous amounts of Black pepper in Turkish cuisine is bright and well, peppery!
Cinnamon in stews and pilaf as well as sweet dishes is a traditional taste combo.
Turkish Paprika is one of the best in the world. Paprika in recipes using meat, poultry, and bean dishes are so tasty. Choose from smoked, sweet, Spanish, Hungarian Paprika.
Cumin is adds an earthy flavor to many savory dishes.
Saffron goes a long way and that's a good thing because it is quite expensive. The fragrant spice turns rice yellow and has a distinctive flavor.
Urfa biber is a dried Turkish pepper that is maroon-colored and has a smoky, almost chocolate flavor. This pepper lends flavor to meatballs, baba ganoush, and hummus, among other dishes.
Sumac tastes amazing on popcorn, but in Turkey cooks use it on meat, vegetables, in stews, and more.
Meats
Bread and meat are popular street food in Turkey. Thin slices of meat on a rotating spit or meatballs, you'll find plenty of meat dishes in Turkish cuisine.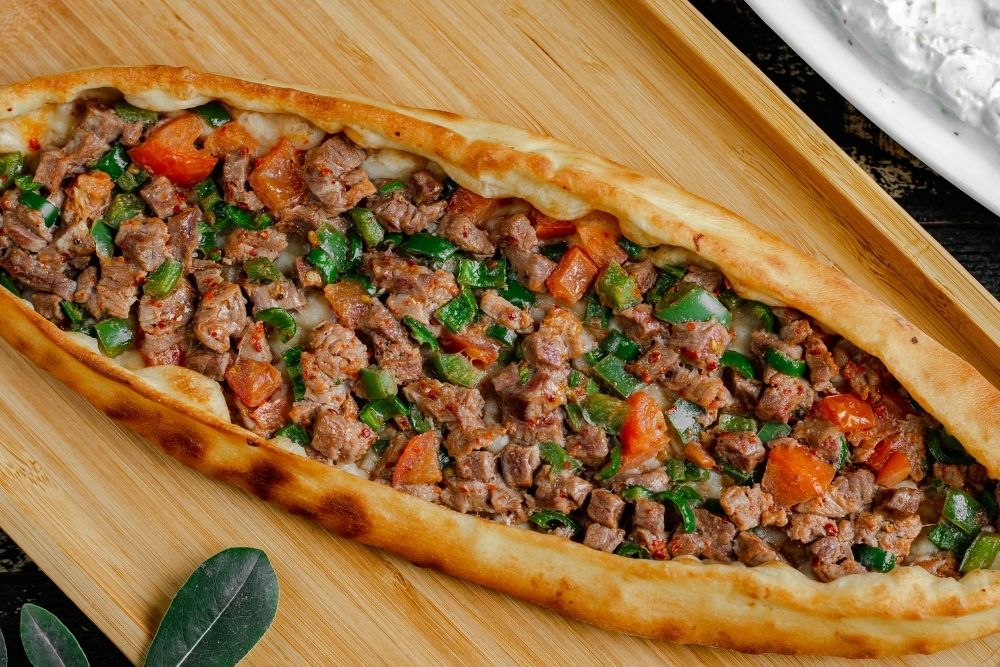 Turkish pastrami and sujuk (sucuk) are two of the cured meats that you'll find in Turkish kitchens. The smoky flavor adds depth to dishes. You can use an Italian salami in recipes that call for sujuk.
Lamb meat – Try Lamb Kofte (meatballs) with garlicky yogurt sauce and muhammara (walnut, red pepper and pomegranate molasses dip)
Kebabs – Mix Turkish spices with ground meat, onions and garlic then pack onto large metal skewers, kebabs are grilled over high heat and then served alongside tomatoes, fresh parsley and yogurt. Kebabs are one of the most popular Turkish dishes.
Ground meat for Pide filling, in meat balls, and many other dishes.
Beans and Grains
It makes sense that beans appear in many dishes since they're grown in nearly every region of Turkey. Grains such as bulgur, wheat, and corn are used to make breads and other baked goods.
Lentils – Enjoy these little legumes in Turkish lentil soup or toss them in a salad.
Bulgur – In salads, Turkish Bulgur Pilaf or even in tabbouleh, bulgur wheat is a staple part of Middle Eastern Cuisine.
Chickpeas – Blend and mix with lemon juice and tahini, add a few seasonings and you have hummus.
Fruit
Eat grapes and figs fresh or dried; they are abundant in many regions.
Lemons are used abundantly in cooking, so keep them in bowls and baskets all over your kitchen!
Dried fruit is also popular. Think figs, apricots, and dates to chop into breakfast dishes and desserts.
Pomegranates are used for their juice or to add flavor to meat dishes, desserts and more.
Tomatoes are popular and can be eaten raw or mixed into sauces, stews, and salads.
Vegetables
Corn, eggplant, cabbage, garlic, and onions and many other vegetables are used to make nutritious main and side dishes.
Turkish green bell peppers are different from the sweet bell peppers we use here in the states, however, a red bell pepper makes a suitable substitute if you can't find them.
Part of the reason I enjoy exploring other cultures is to find new and interesting ways to get more veggies into our diet. Turkish cuisine does not disappoint!
Dairy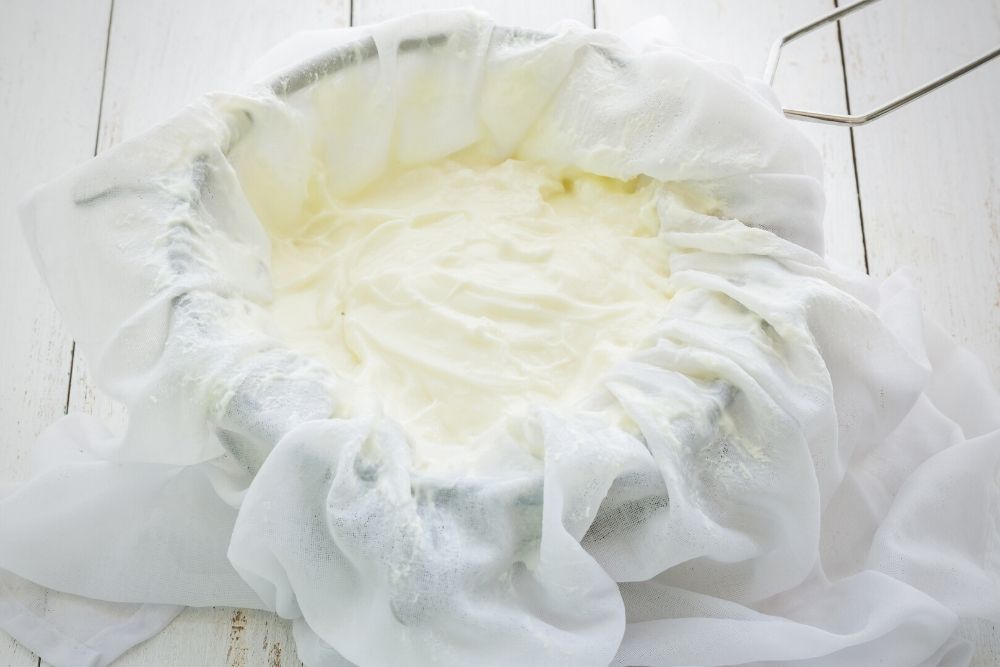 For breakfast and of course in many other dishes, cheese makes a debut. Look for Turkish cheese in a well-stocked dairy section, perhaps at Earth Fare, Whole Foods, or another specialty store. When "Wild Oats" was a grocery store, we received advice from the very skilled fromager who worked in the cheese department. To this day, we still eat some of the recommendations Dino gave us!
Turkish yogurt is thick and creamy and served with almost every meal. Strained to make labneh which is thicker than Greek yogurt, dairy products are often used to make dips (meze). Pair yogurt with bread as they do in the Middle East, for example in the case of Turkish Borek. A savory pie made with cheese and herbs, wrapped in a flakey tender crust.
Feta cheese mixed with olive oil and sumac to make a tasty middle eastern appetizer that can be scooped up with crackers or bread.
Nuts, Herbs, Olives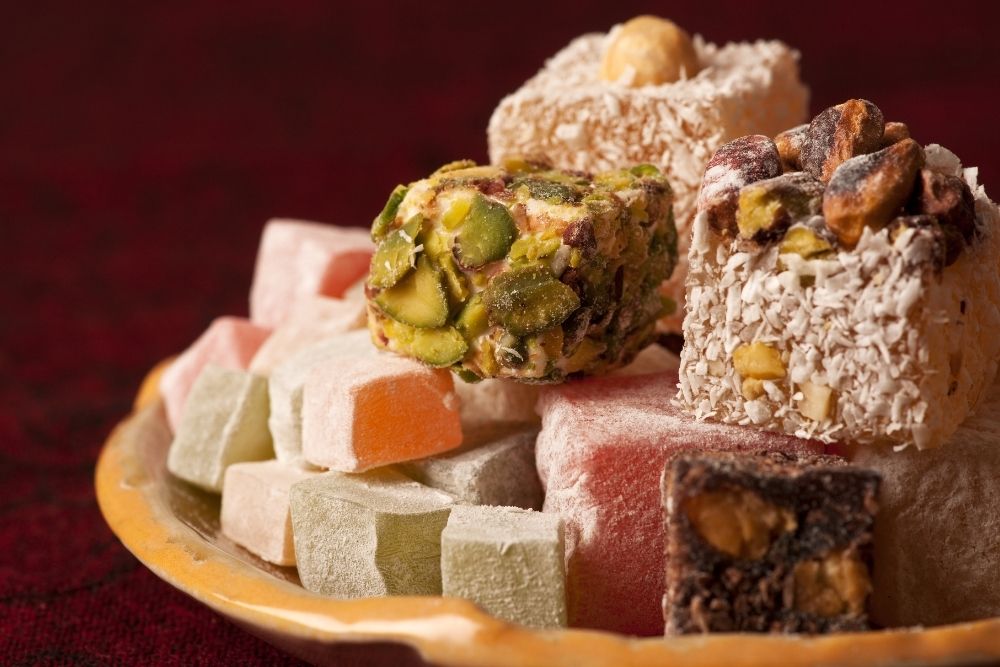 Walnuts, almonds, pistachios, and other nuts in sweet and savory dishes add tons of nutrients to the Turkish diet. Pistachios are often found in desserts as well as rice dishes.
Olives and olive oil are grown, produced, and served with most meals.
Herbs like parsley, mint, dill, oregano, and thyme are grown all over the country and are key in many dishes. Parsley is used as the main ingredient in many dishes; you can use flat-leaf or Italian-style parsley, whichever you can find.
Dried mint is also quite popular. Mint is added to tea, yogurt dips, and even meat dishes. The first time I tried mint in a savory dish I was pleasantly surprised!
Other Miscellaneous Items to Add to Your Pantry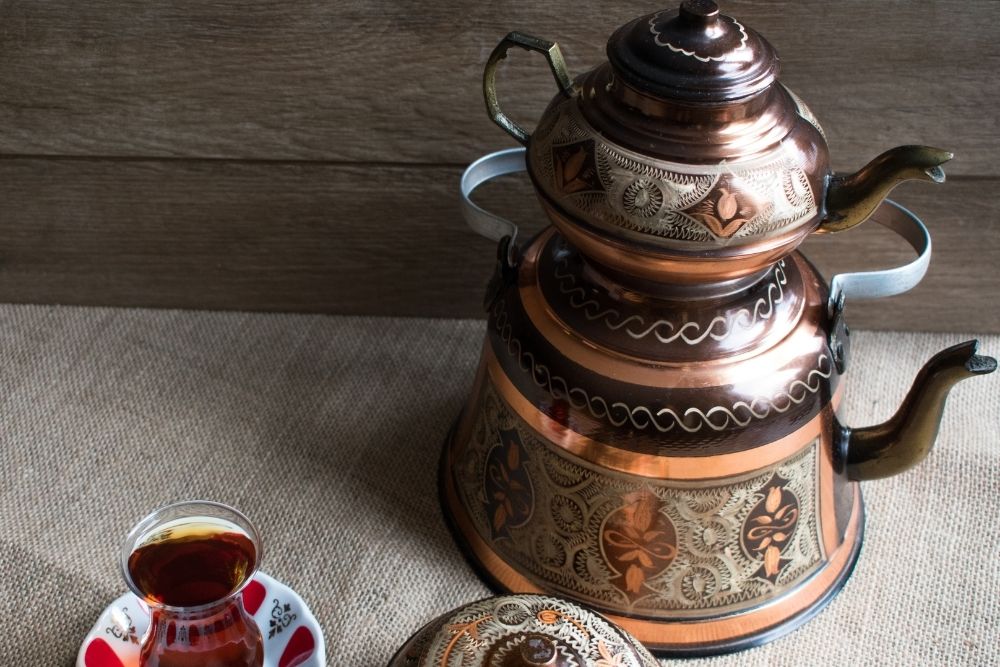 Turkish Coffee and black tea are served in copious amounts. Tea is brewed in special stacked teapots. The bottom one is used for brewing and the top one is for boiled water. Add the tea to your cup, then top it off with hot water.
Coffee is thick and black, usually served in espresso cups with sugar on the side. Ikarian Coffee is often referred to as Turkish Coffee and is a Blue Zone food.
This method of boiling finely ground coffee beans creates a foamy, rich creaminess to the resulting coffee. The fine grind delivers more concentrated antioxidants, boiling instead of filtering and brewing extracts more of the healthy compounds in the coffee, and the resulting coffee also has less caffeine than in you'd get in a typical American cup of coffee. So it's healthy and delicious.

Blue Zones
Honey is often eaten along with breakfast and to flavor desserts, like baklava. Yum!
Tomato paste is used in many traditional Turkish recipes. Salça looks similar to ketchup but is a thick, deep red paste made from peppers or tomato and salt. Since I couldn't find Turkish tomato paste, I used the tubes of tomato paste from Trader Joe's which is very concentrated and has a deep tomatoey flavor.
Pickled vegetables are served with most meals
Pomegranate Molasses (nar eksisi) and Grape or Mulberry Syrup (pekmez) are used to make a dip for breakfast or to flavor soups, salads, or vegetables.
Tahini is another important staple. It is made by grinding sesame seeds, similar to peanut butter.
Turkish Cookbooks in English
Istanbul & Beyond and Turkish Delights are the two cookbooks written in English that I have used to explore Turkish cooking. You might also enjoy Milk Street Tuesday Nights Mediterranean.
I made the Tahtakale Market Wings which requires not one, but two marinades! There is something to be said for the technique though because the wings were perhaps the best I've ever tasted.
Turkish Cookbooks Written in English
Istanbul & Beyond and Turkish Delights are the two cookbooks written in English that I have used to explore Turkish cooking. Although, I will mention that both books have a lot of content that is not recipes, including information about the country and photos of people and ingredients. My children enjoyed looking through these books and reading about how people live in Turkey.
You might also enjoy Milk Street Tuesday Nights Mediterranean.
Turkish Recipes from Authentic Turkish Blogs
Cheat Manti, Kiymali Makarna – Pasta with Turkish ragout sauce, garlicky yoghurt and Pul biber olive oil. Besides having the longest name ever this recipe is so flavorful and can be made with ingredients you likely already have in your pantry right now.
Read an excerpt about Turkey's staple foods in this post about Turkish culture. Watch me cook some of the recipes mentioned in this post in the video below.