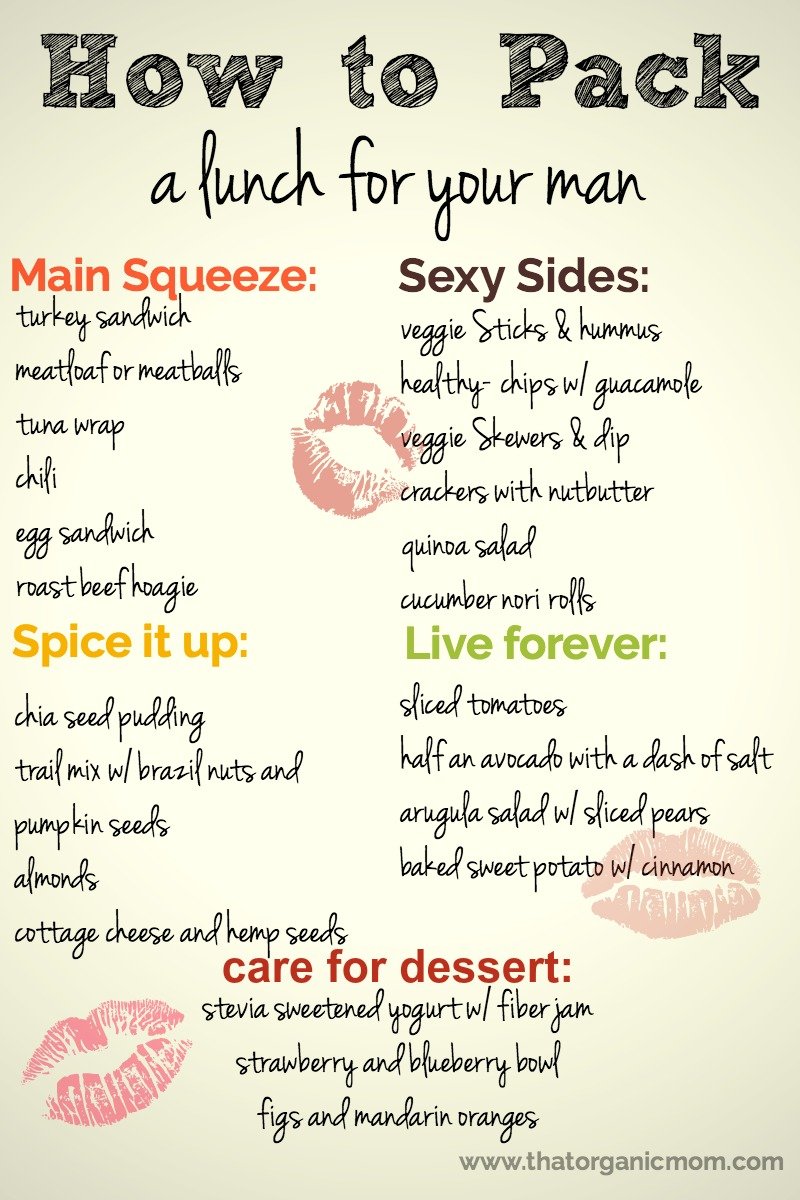 Money and sex are two things couples fight about most. Pack your husband a manly lunch and you'll not only save money, but you might just improve your sex life.  If you really want to pack a lunch that your man will appreciate, take some time to choose your ingredients wisely. I think we all want our guy to live forever, am I right? Take care to pack health building foods that will help him get through his day with plenty of energy left for you when he gets home! Don't forget to PIN this post so you can refer to it when you need inspiration or have the lunch packing blues… Also, don't be afraid to pack leftovers, your man will appreciate you thinking of him and saving money by not tossing perfectly good food.
Some of my favorite manly ingredients are:
grass fed beef
pastured eggs
wild caught tuna, sardines and wild caught salmon are all rich in vitamin B-12 for energy
organic valencia peanut butter (cause he loves peanut butter and won't stop eating it!)
raw cheeses
yogurt
amasi
quinoa
beans
hummus and hummus made with white beans
hearty chili made with ground turkey breast or grass fed beef and veggie puree
tomatoes
avocadoes
cucumber
snap peas, snow peas
arugula is known to increase muscle oxygenation
spinach
sprouts, any variety
brazil nuts are great for mens health
almonds
cashews are high in zinc
seeds such as flax, chia, hemp can be made into bars
unsweetened coconut flakes can be sprinkled on just about anything
pumpkin seeds help prevent prostate cancer and other problems
sprouted grains
seaweed
berries are full of antioxidants and fiber, and are also low in sugar
figs are good for reproductive health
Celtic Sea Salt, Pink Himalayan Sea Salt or REAL Salt
green tea, unsweetened
water bottle
Avoid things like:
energy drinks
sugar and foods with added sugar, high fructose corn syrup, etc.
pasteurized dairy foods
fruit juice, electrolyte drinks, and vitamin waters
processed meats with nitrites or nitrates
pasteurized and imitation cheeses
table salt
packaged meals with chemicals and MSG
foods with added canola oil, soybean oil and corn oil
Take a minute to follow my blog so you will stay in the loop! Just add your email address by filling in under "get the goods" and you will receive notification anytime I write a new post. Such as my posts on packing a healthy lunch one, two, and three and my most popular post on meal planning. Don't forget to check out What I buy at Costco. Thanks for reading and now, Get Packing!