Podcast: Play in new window | Download
Subscribe: Apple Podcasts | Google Podcasts | RSS
Last Updated on October 10, 2022 by Rebecca Huff
The toxic chemicals used to treat clothing remain on the fabric, even after washing. Chemicals such as formaldehyde, stain blockers, flame retardants, and more are endocrine disruptors.
These can penetrate the skin and lead to serious health conditions. Exposure to these chemicals, often used in fast fashion, is shown to cause multiple abnormalities in the reproductive system of women, even in minimal doses.(1)
Clothing is one of the most significant environmental problems, along with housing, transportation, and food. Not only that, but many manufacturers don't pay factory workers a living wage.
What's the answer? Learn to be ethically fashionable for your health, the sake of the environment, and for humanity.
The more you know, the less you need.

Yvon Chouinard
What is Ethical Fashion?
Throughout the full life cycle of a garment, from manufacturing to disposal, making choices that are responsible towards the environment, people, and animals. Using textiles created in a responsible and conscious way. Materials, dyes, labor, and even buy back programs are part of sustainable and ethical fashion.
Are ethical, sustainable, and slow fashion all the same? Technically, most of us mean the same thing when we talk about these terms. However, each of us may hold different ethics. In the end, slow fashion is a movement meant to provide better quality products that consumers are able to hold onto longer, thus slowing the need for disposal. Slow fashion may include limited items as well as made to order clothing.
Sustainable fashion is entirely based on a more environmentally and socially conscious production. Overall, the combined goal is similar.
Fast fashion is sold in high volume with a pretty low profit margin, for example a popular example is Shein. Workers being underpaid and overworked along with dumping untreated waste into local waterways.
Many clothing manufacturers such as Shein and others may say they're working on sustainablity, but the proof is not forthcoming. Supply chain transparency, fabrics, and waste management are three big areas to look at when deciding if a company is ethical or sustainable.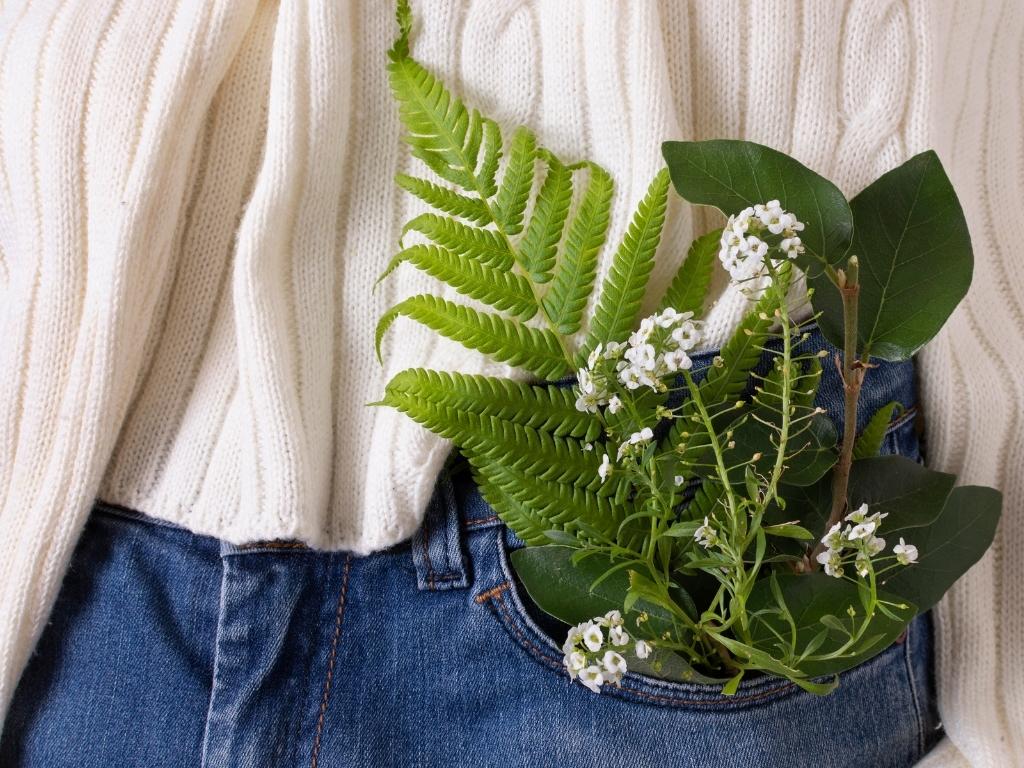 Options for Being Ethically Fashionable
The fashion industry has a detrimental impact on the environment – in fact, according to EcoWatch, Fast Fashion is the Second Dirtiest Industry in the World. It is up to you, the consumer, to vote with your dollars.
To make it easier, suggestions are listed below to help you get started becoming ethically fashionable.
All of these recommendations may not suit your lifestyle. One or two of them will be enough to help you stay stylish and make ethical clothing purchases.
Purchase second-hand clothing
Undoubtedly, the most economical way to be ethically fashionable it to purchase clothing second hand. Second hand purchases reduce carbon emissions, save lots of resources, water, and energy.
When you buy clothing from a second-hand shop, you are making a sustainable purchase. Every time you buy used clothing you are keeping one more item out of the landfill. Your purchase also keeps local thrifts shop in business and your dollar going back into your local community. Win-win.
You can make your ethical purchases even more effective when you shop for sustainable clothing brands at a second-hand shop! Being budget-friendly and ethical are two of the main reasons why I buy more and more of our clothing from second-hand shops.
Speaking of buying locally
Local clothing shops and boutiques are another good way to make an ethical choice in clothing. When you shop at a local boutique, you can ask where they clothing came from, see the quality and support your local business owners.
If you still prefer to purchase your clothing brand-new, consider taking your items to a second-hand or consignment shop so that they will be reused and kept out of the landfill.
You can be ethically fashionable by donating your gently used quality clothing to a homeless shelter, battered women's shelter, or local church that has a freebie-closet.
Ethical Fashion Costs More
Unfortunately, ethical fashion is more expensive than fast fashion. Why?
First, the garment workers creating those clothing receive a living wage. This means they aren't working unreasonably long hours and they're paid enough to afford the basic necessities of life.
The second reason ethical fashion costs more is that it is higher quality. Consider this concept. You pay $100 for a pair of jeans that you wear once per week for a couple of years. The cost per wear ends up being less than $1. (That's why Kristian has the option of making payments on jeans.)
Slow fashion garments are built to stand the test of time. That's another reason they're more sustainable and ethical.
If you dislike the idea of buying second hand clothing, but find ethical fashion is stretching your budget, consider a minimalist approach. Two pair of sustainable brand jeans is better than a dozen pair of fast fashion jeans. They'll likely fit better and definitely last longer.
What To Look For in Ethical Fashion?
So how do you go about finding fashion brands with sustainable practices, ethical working conditions, and a small carbon footprint?
Research your favorite brands looking for their sustainability initiatives. If they don't meet the mark. Learn which certifications to look for so you can support the companies that line up with your goals.
Sustainable designers use renewable resources, eco-friendly materials or deadstock fabric to reduce waste. They incorporate earth-friendly production processes that reduce carbon emissions. Fair labor practices are employed and high quality materials are used to produce small batches.
Certifications such as:
OEKO-TEX
GOTS Certified
Fair Trade Certified meets rigorous social, environmental, and economic standards.
Bluesign Certified which supports suppliers and manufacturers in their sustainable, resource-saving production of clothing and textiles through on-site assessments
Many brands using sustainable materials also have a buy back or recycling program. Some even have a section on their website to sell "previously loved" items.
Identifying Sustainable Fashion Brands For New Clothing
Kristian outlines some good points in this podcast episode. Design, labor, and materials that are kind to the earth from seed to garment. (Find transcripts at the bottom of this post.)
Hire a tailor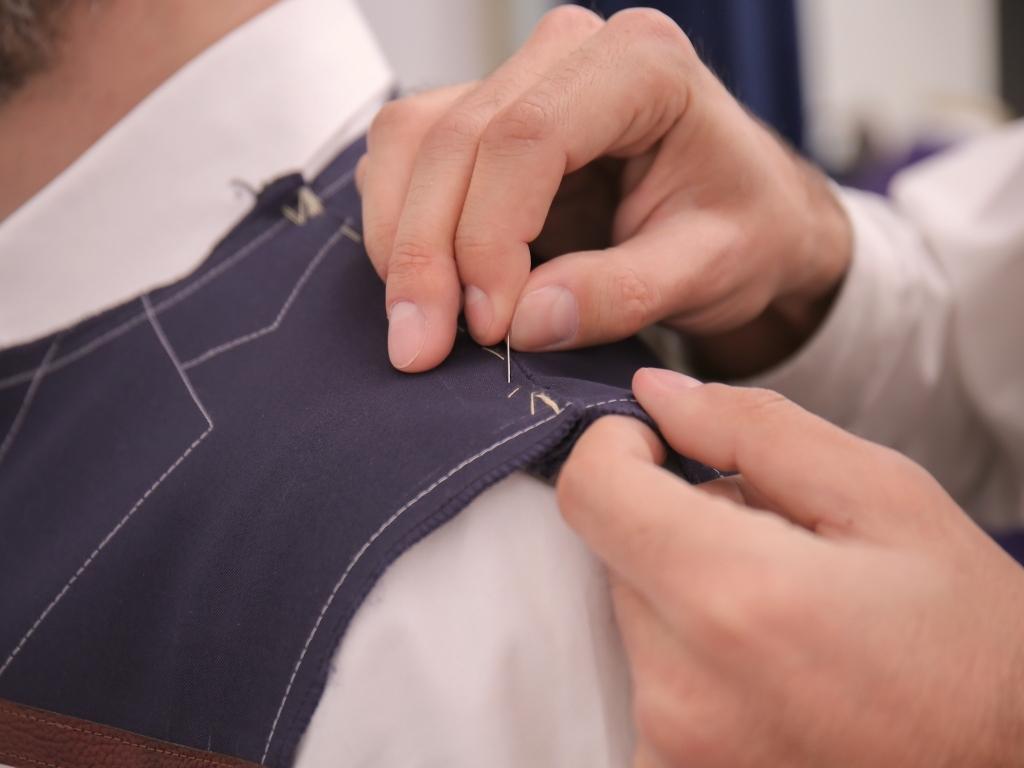 As discussed in this podcast episode, tailored clothing tends to be better quality.
I know this is one that many will opt out of. Still, it is a viable option. Especially if you are like my friends and I who appreciate fine-looking unique clothing styles! Do a web search for tailors near you or an alterations shop. You may be surprised at how affordable this can be.
My daughters have their military uniforms altered, my husband has his clothing altered sometimes. I've purchased high quality sustainable jeans that were a bit too long and had them hemmed. So, it just makes sense to check out this option.
Of course, with Slowjeans.co you can get your exact measurements taken excluding then necessity for having them tailored.
Meet Kristian Hansen Founder of Slo Clothing
Kristian Hansen, AKA 'The Jeans Guy', is an award winning serial Entrepreneur, explorer, content creator, and mission-driven founder currently on a journey to solve the climate crisis through eco-conscious capitalism, the power of consumerism, and data. His company, slø, is part of the slow fashion revolution giving function, fit, and quality back to the masses starting with jeans. Kristian and slø are redefining what it means to build companies through community and creating clothes that make everyone feel confident and make their lives easier.
After Kristian's viral TikTok, over the pocket discrepancy of male and female jeans he posed the question "what do your dream jeans look like?" to the TikTok masses. Over 600,000 people, returned over 800,000 suggestions sparking the unprecedented community-driven, community-owned project: slø. Visit the website at slojeans.co
What to look for in fabrics
Ethical clothing is made from materials that are grown or manufactured in an environmentally friendly way. Many people automatically assume organic cotton is the best choice.
Organic cotton is a sustainable alternative to regular cotton as farmers do not use pesticides to grow the cotton so workers aren't exposed to chemicals. Organic cotton, still requires a lot of water to grow and is a rather expensive industry.
If you are going to spend the money on organic cotton fabrics, look for the GOTS-certification so that you will know it is worth what you are paying.
To make one pair of cotton jeans requires 2,108 gallons of water, 659 gallons to make a cotton t-shirt. According to hidden water in everyday objects.
Recycled cotton is a sustainable choice as it has the potential to help reduce water and energy consumption and keep clothes out of the landfill. You will also find recycled denim in packing materials sometimes when you buy from eco-friendly companies. Make sure to recycle your denim after you wear it out! Some manufacturers make it into nontoxic insulation. Last time I checked, the company had collected 2.5 million items of denim which diverted more than 1230 tons from the landfills.
The Amazing Hemp Plant
Hemp is considered the most versatile plant on earth as it can feed, clothe, clean and medicate, humans! Not to mention, hemp is a durable fabric that only gets better with time. With each wash and wear, the material becomes softer. When you are ready to discard hemp clothing, it is biodegradable.
Organic linen is a natural and sustainable fabric which is also biodegradable. Eco-friendly linen is naturally moth resistant and robust, so it lasts longer than other materials. Linen is made from the flax plant and is breathable yet absorbent without holding bacteria. Compost linen to keep it out of the landfill!
For non-vegans, wool is an incredibly environmentally friendly option. It is wrinkle-resistant, so it stays looking good without the chemicals used in "wrinkle-free" clothing. Wool is an excellent water repellant, meaning wool can be a more ethical choice than microfiber.
Unfortunately, microfiber can cause problems for aquatic life and other animals long after manufacturing. Even if you don't care about animals, but really, who doesn't – it's showing up in water and food consumed by humans! Microfiber beer anyone?
Choose organic fabrics when the option is available. Fast fashion is an ethical disaster. When you choose high-quality clothing made with ethical materials, you may pay more. That's okay because this clothing is typically higher quality and buying less clothing is very ethical!
If you do prefer the feel of polyester fabric, opt for recycled polyester which uses PET from plastic water bottles broken down into fibers. The process takes 33-53% less energy than virgin polyester. "Garments created from recycled polyester can be recycled again and again with no degradation of quality."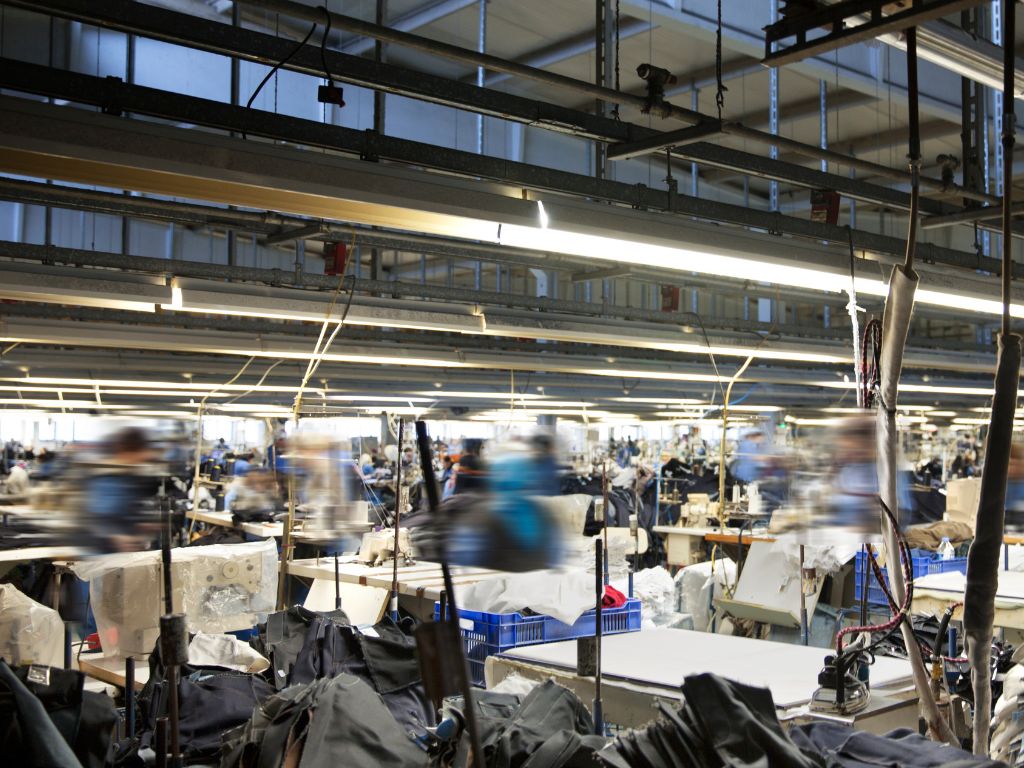 Which clothing brands are best?
Many clothing manufacturers will donate a percentage of the proceeds from each purchase to support fair wages. Rather than take up space and your time writing about which clothing brands are best, I recommend downloading the app Good On You.
Register your email and then look up brands to see how they measure up. Type in the brand and get the rating.
Type in "Free People," and you'll see the rating "not good enough." If you click on the result, you will see that the company has not set concrete goals to reduce its environmental impact and more. The app will give you suggestions for similar brands. Be prepared for a surprise.
We also like B Corporations like Jelt, who turn plastic water bottles into neat elastic belts! Kristian's company slojeans.co is a great place to buy your perfect fit jeans.
Another tip is to keep your eyes open. At one point in my life, I shopped Victoria's Secret. Later I stopped because it seemed the quality was on the decline. In 2019 I decided to try the store again.
During checkout, an employee was standing at the register cutting up perfectly good clothing. I stared in disbelief. Finally, my curiosity got the best of me, so I asked what on earth she was doing. Apparently, returns are destroyed as a store policy. That was the last time I walked into that store and I will never go back. (Yes, never, I am all-or-nothing that way.)
We can't be aware of every single unethical practice that clothing manufacturers commit but we can help by talking about this openly. Sharing what you know or simply avoiding fast-fashion can be a great benefit.
Help others become ethically fashionable by sharing the ideas in this post!
I am not an expert when it comes to fashion, but being responsible with my clothing purchases is something I care about deeply. Meeting others who are working hard to make a difference is always an honor. Please listen to, rate and review this podcast episode.
Podcast Transcripts

Rebecca: So Kristian, if you don't mind, tell us a little bit about how you got into the slow clothing and ethical fashion movement.


Kristian: Sure. So I've been kind of, I've been in the fashion industry for five or six years now. Actually almost seven now. I originally kind of started the way that everyone did in, in retail.


Kristian: I started to kind of climb the ladder. I was going to business school at the time and I got a job in in sourcing, in materials. I grew up traveling, so I had a lot of experience in traveling and international business. And so I started working for a a large, fast fashion company. And they sent me on these different sourcing trips to basically go and check out different factories, go and check out you know, different materials and fabrics and, you know, different things for different collections that they were considering in the future.


Kristian: And to be completely honest, it was horrifying. It was the, the worst of the worst of humanity and some of the, the worst conditions that you could even imagine back to back to back and the prices that people were paying for these clothes versus what it was costing to manufacture versus what these laborers were being paid versus the quality of these materials.


Kristian: It was shocking and I at that point kind of made it my life's mission to try and do it right, Because I met a lot of great people along the way that said, It doesn't have to be this way. This is how you could do it better. This is how some people are doing it better. And so from that day forward, I figured, okay, I'm gonna do my own thing and I'm gonna take everything that I learned and I'm gonna do it the right way.


Kristian: So, Rather than go down the fast fashion route, we've gone down the slow fashion route and try and create everything sustainably, ethically, using only manufacturers and, and facilities that we ourselves can go and vet and peek around every corner and make sure that when we deliver a product to our consumers and we say, Hey, this is a sustainable, ethically created product, I know for a fact that that is the truth and that's something that's very deeply important to us.


Kristian: So that's kind of long, little bit of a long-winded about how we got into it and how we got started.


Rebecca: So basically you let your conscience be your guide.


Kristian: Essentially. Yeah. I, I feel like if a lot of people did that the world would be a little bit of a better place.


Rebecca: Wow, I, as you were telling me how you got started, I really could feel the pain of going and seeing those things in person.


Rebecca: I have had a couple of experiences with seeing the waste in fast fashion. One time I went into a very popular Intimate apparel, clothing, store, and mm-hmm , not really thinking about fast fashion or anything like that. I went to purchase a couple of things and there was another cashier standing at the counter cutting up underwear.


Rebecca: Literally taking scissors and cutting up perfectly good clothing. And I was like, What are you doing? I was so shocked that someone would tear up a perfectly good, you know, piece of clothing and she said, Oh, it's a return. We have to cut them up. I was just shocked. And then I started looking into it after that and I was amazed.


Rebecca: So, can you tell us a little bit, I mean, that's just like one tiny tip of the iceberg that I saw. Tell me what, what do we mean when we say ethical fashion or what, what do you consider sustainable? I mean, because everyone has different ideas of sustainability. You see a lot of clothing brands that say, Oh, we're sustainable.


Rebecca: But when you look into it, you know, maybe they're not so sustainable by our def definition. So can you tell me a little bit about what you mean by those terms?


Kristian: Absolutely. Now, I think at the very essence is that, you know, it's, it's really important. I think to be very transparent with people in the sense that manufacturing anything isn't sustainable.


Kristian: And that's just the grand reality of things. Anytime we create something new, there is a cost and there is a carbon cost and there is human capital involved and there is literally a monetary cost. And you'll hear a lot of brands and a lot of people say things like, you know, zero emissions of this and you know, completely sustainable manufacturing in this.


Kristian: That's, that doesn't exist. But what does exist is doing it the best way that we can possibly do with our current given technology. And what that means is not just doing it in one of the 10 steps that takes to produce something that you can slap a label on the product that says sustainable. Maybe you're buying sustainable fabric.


Kristian: Right? And that's the, you know, the, the starting point. But where did the cotton come from that made that fabric? Was that cotton created in a wart horn country where people potentially aren't even being paid to pick that cotton; because slavery is a major issue in the global cotton trade to this day. So is that cotton certified?


Kristian: Could you tell me where that cotton comes from? The answer for most brands is no, but their fabric is sustainable because the way that it was, you know, created in the weaving house in the European country that they bought it from was sustainable. So for me, Creating sustainable clothing means understanding your impact at every single step of the creation process.


Kristian: From the seed going into the ground, that creates your cotton to the final packaging that your, your customers end up receiving when you deliver that package. Do you understand the climate cost? Do you understand the human capital cost, and do you understand? Basically from from point A to point Z, what it took to create this product before making those statements about sustainability.


Kristian: So to me, if a brand goes outta their way and says, We've done, we're using sustainable materials, we're working on trying to find better ways to source cotton. We're working on trying to find better ways, you know, for waste, water reduction, those kinds of things that says to me they understand their process.


Kristian: And that's significantly better than hiding behind the label. So that would probably be my definition of, of creating clothing sustainably. Mm-hmm. .


Rebecca: Right. So , it's really a lot for a consumer to think about. Someone's just going to buy jeans and they, you know, they care about the environment and they care about other people in other countries in the world in general, but they're in hurry and they just have to get some clothes.


Rebecca: So, Absolutely. In what way do you think. I mean, truthfully, and I, I understand transparency. I think it's great and I'm all for it. I do a lot of personal looking into the clothing brands that I purchase from, but just, you know, for the average consumer, how do we identify these brands that are sustainable?


Rebecca: How do we find ethical fashion just for the average


Rebecca: person?


Kristian: It's a huge challenge. And to be honest, it's, it's on the brands to be better. There is so much of, you know what a lot of people call greenwash ing you know, the idea of trying to label something as sustainable when in reality it's not.


Kristian: Mm-hmm. . There, there was a big lawsuit in recent years where, you know, large sustain or large fast fashion brands were labeling. This is a sustainable product, and they literally meant the tag that that statement was printed on. They were literally talking about the paper. It was recycled paper. They weren't talking about the actual shirts or whatever else it was on there.


Kristian: And they went to court and they won. And it's, it's a unbelievable disservice to consumers. So for me, if, if I was just basically say to people, look through the grand scheme of things is. It's a really tricky rock and a hard place ideology right now. I don't blame people for buying fast fashion. It's affordable.


Kristian: People, a lot of people don't have tons of expendable income right now with the way that kind of, you know, the world is moving. Inflation is rampant. Jobs. People are losing their jobs left, right, and center. I get it. If someone says, I only have $20 to spend on jeans right now, I am buying the $20 jeans.


Kristian: But the reality is we gotta think. Do we need these things and is there a way to potentially invest in a better version? Mm-hmm. ? So I'm a big believer in longevity and investing in a product, if possible. So rather than buying a $20 pair of jeans five times a year because they don't last. Invest in that 80 to a hundred dollars pair of jeans if you can plan it, if there's ways that you can do it.


Kristian: It's why with us, we try and break. We have the option to break things up into four payments, but the grand scheme of things is if you just look at the price tag, the price tag essentially tells you whether it's sustainable or not. If you are buying a shirt, For $5 I, I'll tell you truthfully, the cheapest material that you can buy at the cheapest fabric market on the planet, that's probably a dollar 50, maybe $2 of that cost.


Kristian: So where did those $3 go? How much did they pay? The person who made that, how much did they pay? The person who died that, how much did they put in terms of packaging and shipping and getting it to the point that it was in your hands? $3 doesn't go that far in the grand scheme of things. So as.


Kristian: Unfortunate as it is, look at the price tag and if there are ways that you can, you know, find ways to invest in better products, that would be my number one suggestion. They're gonna last longer. They're better for the world. They're better for your closet, and they may feel like they're worse for your budget at first.


Kristian: But the grand scheme of things, they're not.


Rebecca: Seriously, I agree with that so much. And actually just last week I was shopping with my 14 year old daughter who's just starting to care about the clothing that she wears, and I took her to what I consider a, you know, pretty sustainable clothing company in the jeans.


Rebecca: The, Well, they weren't really jeans, they were a corduroy, but what she was wanting to get were like $120. And she was like, Yikes mom, I don't want you to spend this much money. And I'm like, Look, you are happy with just a few outfits. Like she'll wear the same pair of pants over and over with, you know, whatever.


Rebecca: And so I was like, I would much rather spend this much on one pair of pants that you're gonna wear repeatedly until you outgrow them, than to buy you a bunch of them from, I won't throw anyone under the bus, but there's a lot of things on TikTok and , Instagram reels where people buy these loads of clothing from a particular overseas fast fashion brand. I'm sure you know who I'm talking about. But you know, and she's not interested in having hoards of clothing either. She has a specific taste, but she and I had a great conversation about how it is better to own one quality item than 10 items that are gonna fall apart the first time you wash them.


Kristian: Absolutely. Absolutely. I think it's, and that's brilliant. I mean, there's this, you know, this big resurgence right now in in the ideology of having a capsule closet. The idea of having 10 incredibly interchangeable basics that you can mix and match like 50 different outfits with a good pair of blue jeans can be a part of 20 different outfits.


Kristian: It's very easy to style into a variety of different things. So why buy. You know, every three months, a pair of $20 jeans that you tear a hole in the thighs or they don't work, or you don't like them, or they don't fit properly, and constantly replace those. If you were just to stack up all those, you know, all the clothes that you're discarding every single year, simply because they're falling apart.


Kristian: That's one person's, you know, output. So I love that. I, I, I really appreciate that you're teaching that to the, the next generation, cuz that's, that's so important moving forward in fashion. Right.


Rebecca: I agree. Two things that I thought of one, I think If you do like to have a ton of clothing, you know, maybe consider buying second hand.


Rebecca: That's one tip for people who are on a limited budget or who prefer to have a lot of different pieces of clothing. Second hand is pretty sustainable. And then the other thing I think, you know, with jeans like I, I buy sustainable quality jeans and I don't wash them every single time I wear them if they're not dirty.


Rebecca: I mean, jeans are durable and they're pretty resistant to stains. Don't you agree? I think that you can make a pair of jeans last a long time if you take good care of them, and that doesn't mean wash them every single time you wear.


Kristian: Absolutely. On our jeans we have care label and, and you know, the care label that everyone has, you know, the confusing little symbols that very basically nobody knows what they mean.


Kristian: And then we've put them in, in I, we have a little section that just says, Not in confusing symbols. Don't wash these every time you wear them. Really? Wash them as little as possible because there's, like you're saying, the grand scheme of things. Unless you're going out and working in them, you know, and you're doing something that you're sweating and all this is, you're going for a night out and you're wearing your good blue jeans, they don't need to go in a laundry basket.


Kristian: That denim, that material, that weave, it's designed to, to hold its own, I promise you don't smell bad, and the more you wash them, The more they break down, essentially, especially with heat lot of people don't consider that now that, you know, stretch materials are in stretch, stretch, denim, stretch, everything that stretch ultimately comes from polyester or elastin or tencel.


Kristian: And in more sustainable brands that stuff is very, very damaged by heat. Mm-hmm. , the more you basically put those blue jeans in, the hot washer in the hot water. All of those pe, basically all of the binding material in your jeans are breaking down. Mm-hmm. , and they are not gonna last. People get holes in the thighs, they get holes all over the place, and they're like, Oh, why aren't my jeans lasting?


Kristian: Where are you putting them in the wash every day at a hundred degrees? And then putting 'em in the dryer at 200 degrees and then putting them right on your body and walking outside into the cold. That's why they're breaking every time.


Rebecca: Right, Right. So unless you're like mucking out a horse stable, no real reason to wash them every time.


Rebecca: And I actually don't put my jeans in the dryer. I hang them to dry cuz one it saves, electricity not using the dryer and it makes my jeans last longer. So you mentioned your jeans in the label. Can you tell us about your jeans and like what, what's special about them?


Kristian: Absolutely. So essentially our, our jeans movement was built on TikTok.


Kristian: It was built on the idea of just asking people, What do you want? I bought a pair of women's jeans at a thrift shop, second hand. I love, I love shopping at thrift stores. I think it's great to give products a second life. And I bought a pair of jeans that I thought looks fantastic.


Kristian: It was in the middle of the pandemic, so there was no changing rooms. Just bought them $7. Great, great name brand. Walked away, put them on the next day and was walking to the Metro and I'm trying to put my wallet in my pocket and it wouldn't fit in my pocket. And I'm like, Oh my God. These are women's jeans.


Kristian: Okay, that's, that's okay. Sure. I'm six three. So typically just expect them to be men's jeans if they look like they fit, because typically there aren't, you know, my inseam in women's clothing and yeah. So I'm like, okay, cool. So I made a TikTok and I just said ladies, is this like what you live with?


Kristian: Do your pocket suck this badly. I'm, I'm, I'm really sorry. Is this for real or is it just these pants? and it went very viral and all of the women of the world, basically, millions of people reached out and were like, Yes, they suck. They suck. They're awful. And so I said, Hey I'll make you jeans.


Kristian: I'm already in the sustainable fashion industry. I had never made jeans. I had been intending to tell me what you. And we made a form and over 700,000 people let us know what they wanted. Oh. And so we spent about two months going through these suggestions and we built a pair of jeans. And to answer your question about what makes them different, were built basically for function and fit.


Kristian: You know, we found that the vast majority of people fall outside of a traditional size range, or they fall in between sizes. Or they fall in a strange, arbitrary number, especially in the women's you know, fashion industry where you're talking about who, what is a, what even is a size. 10. What? What does that even mean?


Kristian: And no one even knows what that means. And why are you a 10 in one brand and a 12 and another and an eight and some in a three and another? How does that even work?


Rebecca: Or a 36 or 32 in a different sizing scale.


Kristian: Exactly. Exactly. And so what we've decided to do basically is. We built a huge size range, the biggest size range on the market.


Kristian: We built a jean that is adaptable and flexible. We're using a system of gussets in the thigh area and in the hips and the thighs. It's a, a double reinforcement, so for the people that typically blow out the thigh area, We've got extra, basically seams and fabric there to ensure that that doesn't happen.


Kristian: We've got a gusset on the side of your hip to ensure that there's a better fit in the hip section. For women that have different shape, there are basically different shapes, different ratios from waist to hips. We have all of that continuing into consideration. We. The waistband is adjustable, so you can pull them in or out two inches.


Kristian: So depending upon, say the time of the month or depending upon, say you go out and you eat or you drink and you're like, These are definitely feeling a little tight. You can pull them in or out externally. And they're all ethically and sustainably made by an amazing family run, fifth generation manufacturer in Italy.


Kristian: So we use Italian fabrics manufactured in Italy. Great people. I'm just there last week, going back there on Thursday to check in on production. And that's really at the core of what we're trying to do is make sure that when you receive those jeans, you were a part of that whole process. You told us what you wanted.


Kristian: You've seen us test these fabrics. You've seen, I'm bringing you inside the factory, I'm showing you who's cutting and sewing these deeds. So that's really at the core of our project. Ultimately what we've tried to create


Rebecca: I love that. That's incredible. I did read your story, I think bits and pieces of it on your website. I don't have TikTok, but that's amazing and so awesome that you were able to reach so many people. And I think I read Your jeans Sold out the first time tell me a little bit about it.


Kristian: We did. How did it go? Sure. Yeah. So I mean, our goal with their first launch, we called it our soft launch. Essentially, we're trying to create a system that's never been, this never happened before. There's really no mass scaled. Slow fashion system and the idea of people putting in an order and us creating specifically for them, like you mentioned earlier, you know, we don't ever want to be one of those brands that's cutting up perfectly good products, that has products sitting in a warehouse that basically get sent to a landfill because they're unsold.


Kristian: So being part of a slow fashioned system means we don't guess we create for you. If there's a pair of jeans that has been sent to you, it's been made because you ordered them, you told us what you needed. We took your sizing, we matched you to a size, and those jeans were made for you. And so we wanted to make sure that the system actually worked.


Kristian: So the first, first launch, we basically just tried to put a cap on the numbers. We did one style in a couple of different rises in three different colors. And the idea was just, Hey, let's see if there's interest and we'll put a cap on it. And at the end, if we sell out, great. If we don't, no problem.


Kristian: And then at the end of this month, in October, We're launching five new cuts and new colors and rises as well.


Rebecca: Wow, That is amazing. So if someone's listening and they wanted to get a pair of jeans, what, what's the process? How do, how do we find you and how do we go about getting us a pair of sustainable jeans?


Kristian: For sure. So you, you can go to our website, slowjeans.Co. Or you find me on TikTok. I'm sure there will be some links. But the, the process is, is a little bit unique and, you know, we've, we're trying to really educate people on what it means to create something in a slow fashion system.


Kristian: So when you come on, it's all about sizing for us because one of the number one least sustainable things about eCommerce and buying things online is returns and exchanges. And so we have returns and exchanges if you need it. But the number one problem with selling massive amounts of things. I go and I send you a package, You don't like it, you send it back to me.


Kristian: I send you another one. That's a lot of carbon burn. Mm-hmm. . So sizing and ensuring that we are getting you the perfect fit the first time is very important. So, coming onto our website, you have three different sizing options. You can measure yourself, we'll show you exactly how you can measure yourself if you have a tape measure.


Kristian: Where on your body that you need to do that. You can just submit those four measurements to us. We have a 3D sizing system where if you have a smartphone, you can take two photos of yourself using our software, and we can collect 80 measurements of your body with about 97% accuracy. We take those measurements and we match you to the perfect size.


Kristian: Or if you're like me and you are a very standard size, I am a 34, 34, just about everywhere. You can also shop by those sizes, and so basically, come on, you get size and you build your jeans. You tell us what color you'd like. You tell us what rise you'd like. You tell us what cut you'd like, you. And we will create that for you.


Kristian: Again, those jeans are being made specifically for you and so you have that option where everything is always in stock because it will be created for you in Italy and sent to you as quickly as we possibly can.


Rebecca: I could not love that anymore. Okay, Yeah, so I can go to slow jeans.co and get, do all my measurement things, and I can get on the list to get a pair of jeans when you do your next production. Right.


Kristian: Absolutely. Yeah. Okay. Exactly.


Rebecca: Definitely gonna do that. So if you're listening and you want a pair of jeans to all of Christian's links are gonna be in the show notes, so make sure to go to that organic mom.com and find all of the links to look at Christian's website and see these jeans and order yourself a pair.


Rebecca: I love everything that you told me about your company and the reason you started it, I just feel a real kindred spirit with you about your care for the earth and the people that live on it. So I just wanna say thank you so much for what you've done, what you're doing, and thank you for being a part of my podcast.


Kristian: Thank you. I really appreciate you having me and, and helping us spread the word. It's, it's always great to connect with like-minded people and like-minded listeners and you know, the, it kind of feels a little helpless sometimes. Right? Especially in this industry and when these fast fashion companies are pumping out 50 collections a year.


Kristian: And so I really appreciate people like you and people who listen, you know, to, to just thank you for caring because it's very easy to not care. Mm-hmm. . And so even if you're listening to this, that's phenomenal. And you are an amazing person. So thank you very much.


Kristian: Right. I think we need to start a new movement, the anti haul.


Kristian: Exactly. Honestly. Yeah. I just, you know, to me it's, I I just wish we moved back towards, you know, the way that they made clothes in, you know, the early 1900s, late 1800s where it was a, it was an experience, you know, you went to a tailor or a seamstress and you had a suit made, or you had pants made, or you had a dress made and it was made specifically for you.


Kristian: Yes. And it was made to last a long time. And there was, you know, we still have that prestige in, you know, Tailored suits from these different places, but I don't understand why that doesn't extend into everything else. And I think it's largely because the fast fashion industry, you know, they have their hands on everything, but the anti haul would be, you know, it'd be great because we, we wanna make clothes for you. And that's way more personal than going on and buying 25 $3 t-shirts for real,


Rebecca: Kristian, seriously. When my dad was alive, when I was a young girl, that was a long time ago. But when I was young, my dad had his clothing tailored. He had tailored shirts and tailored suits. And do you know that when he died, he could still wear the suits that were made for him whenever I was a little girl?


Rebecca: So I have photos of my dad in Handmade. You know, Taylor made clothing when I was in like second grade. And then when I was in my forties, He was still wearing those suits and button up shirts that some seamstress in his town had made for him, and that's the way clothing should be. He didn't have to replace his entire wardrobe every season because he had clothing that was quality made and that fit him.


Rebecca: And of course he stayed slender all of his life, so he didn't have the thing that a lot us women have where we kind of start, you know, needing bigger clothes. Yeah. But at the same time, you know, he took care of his clothing and they were well made and they lasted. And I think that's what you're doing and I love it.


Kristian: Thank you. I appreciate it.
Sources

Piazza, Mauri José, and Almir Antônio Urbanetz. "Environmental toxins and the impact of other endocrine disrupting chemicals in women's reproductive health." JBRA assisted reproduction vol. 23,2 154-164. 30 Apr. 2019, doi:10.5935/1518-0557.20190016
https://chemtrust.org/furniture/ (and fabric)