Last Updated on June 29, 2022 by Rebecca Huff
Classic red chili sauce with its aromatic, tangy flavor is even better when you make it at home using organic ingredients. My homemade organic enchilada sauce combines smoked paprika with the smokiness of chipotle powder. Perfect for your favorite dishes, including beef, cheese or chicken enchiladas.
Yes, I know you can buy enchilada sauce in a can, but why would you when this one is so easy to make? I've tried many canned sauces, but none of them wow me. Plus, it's very hard to find enchilada sauce made with organic tomatoes. I prefer organic when possible, especially when it comes to thin-skinned produce. Tomatoes, strawberries, lettuce, and others.
Another reason is that for decades I've made an effort to avoid monosodium glutamate (MSG) in my cooking, many canned sauces contain MSG.
Instead of cornstarch used to thicken the sauce, I'm using organic all-purpose flour. You have the option of using gluten-free flour, or organic cornstarch if you make your own at home.
These are a few of the reasons I started making my own enchilada sauce a few years back. Mainly, I like cooking and it's fun. Once you make enchilada sauce at home, you won't want to go back to the store-bought variety!
How to use Red Enchilada Sauce
Red Enchilada Sauce is often used on, well, enchiladas! But that doesn't mean you can't use it on pasta, rice, beans, eggs, and other dishes.
For example, you can use it to make my mom's kraut burgers. Her recipe is a family favorite around here. I'd love for you to try it and let me know what you think.
Try using the red enchilada sauce on top of an omelet filled with Mexican cheese and topped with sour cream and chives. It's delicious!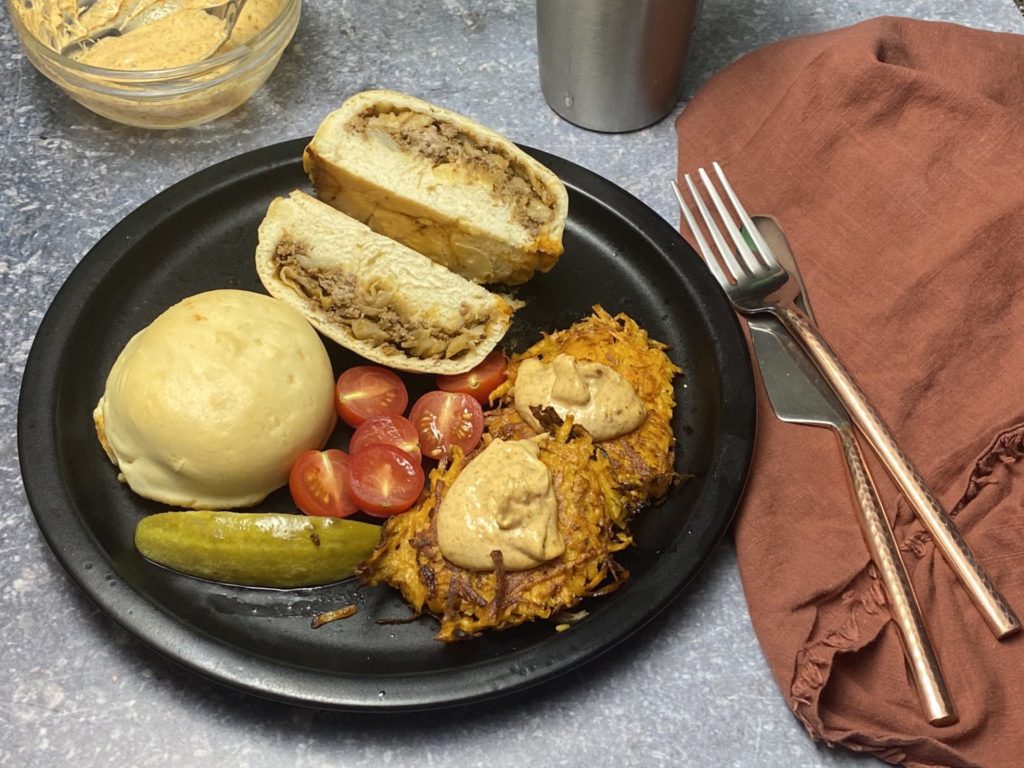 Making a Rue
Before you start preparing the enchilada sauce, I think it helps to note that you are beginning with a roux.
A roux is basically just flour and fat combined and heated to thicken sauces. Nothing fancy about that, right? You'll find a roux used in making many gravy dishes. In this case, it is used to thicken our sauce. The consistency will not be as thick as gravy.
In traditional Mexican cooking, lard is used for the fat. If you use lard in cooking, you can swap out the olive oil and use lard instead.
Using broth is part of what gives this enchilada a deeper flavor and elevates the nutrition profile at the same time. If I have some made, I'll even use bone broth in this recipe instead of regular broth. You could use chicken or even vegetable broth but I love the flavor of beef bone broth in mine.
We roast marrow bones, enjoying the delicious and nutritious marrow inside. After roasting I use those bones to make healthy bone broth to drink. I also use it in recipes like this one.
Seasoning mix
At first, I tried using a taco seasoning mix, but the flavor wasn't right. That's when I started experimenting with mixing my own. I found a handwritten recipe in my old recipe box. That original recipe wasn't very flavorful. So, I started using that as the base, but I adjusted the spices according to my taste.
My goal has been to add my paper recipes to this website. They'll be here for my kids to use when they want something they grew up eating.
The reason I had my enchilada sauce recipe on paper? When I was pregnant with my sixth child I craved enchiladas and made them frequently.
I'd also encourage you to experiment with the amount of organic chili pepper and other spices you use. Adding more or less, depending on how intense you like your enchilada sauce mix.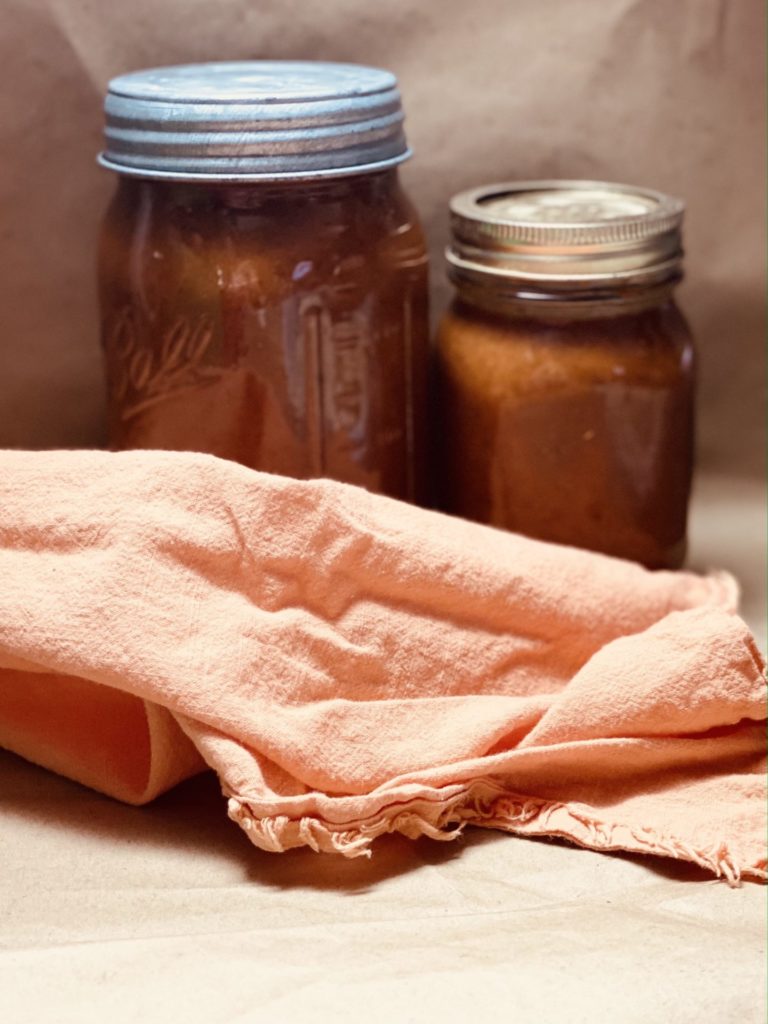 Make it your own
You can play with other peppers to come up with your own unique seasoning mix. I like a bit more spice to mine, so sometimes I'll add ancho chili pepper. This pepper is hotter and will take the heat up a notch. You can find USDA organic spices and spice blends at Thrive Market.
If you like green chilis you can always add some in, then blend with an immersion blender. Sometimes I'll saute onion and garlic in the oil before beginning my roux.
Use my recipe as a base to create your own organic enchilada sauce to use in Mexican inspired dishes. You can also scale back the tomato sauce if you like a less tomato-y flavor. I like it to shine through a bit more and never can find a use for the last two ounces of tomato paste in a six-ounce can!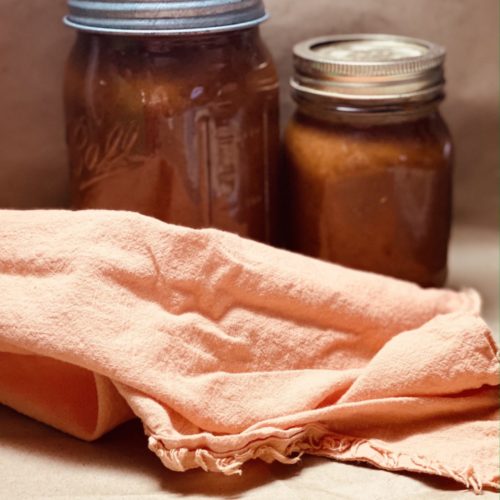 Homemade Organic Enchilada Sauce

Dairy Free

Sugar Free
Red Enchilada Sauce is often used on, well, enchiladas! But that doesn't mean you can't use it on pasta, rice, beans, eggs, and other dishes. For example, you can use it to make my mom's kraut burgers.
Ingredients
½

cup

olive oil

½

cup

organic all-purpose flour

3

tbsp

ground organic chili powder

2

tsp

ground organic cumin

½

tsp

dried organic oregano

2

tsp

organic garlic powder

1

tsp

Himalayan sea salt (or to taste)

½

tsp

coarse ground pepper

6

oz

organic tomato paste

1 and ½

quarts

beef broth

1

tbsp

balsamic vinegar (if you don't have it use apple cider vinegar)

1

tsp

chipotle powder, optional

1

tsp

smoked paprika, optional (or just organic paprika if you can't find smoked)
Instructions
Mix the dry ingredients together in a small bowl: flour, chili powder, garlic powder, oregano, cumin, salt, and pepper.

Pour the oil into your dutch oven (or medium-sized pot) and warm the oil over medium heat.

When the oil is hot (but not smoking), add the flour mixture; it will sizzle, stir vigorously as it turns into a rue.

Immediately add the tomato paste into the rue, stirring well. Right away, start to slowly pour in the broth while continually whisking.

Increase heat to medium-high and simmer sauce gently, adjusting heat as necessary.

Keep at a low simmer, whisking regularly to avoid scorching, allowing the mixture to thicken, under 10 minutes.

Remove the sauce from heat and stir in the vinegar.

Taste and adjust seasonings if necessary, adding salt and pepper according to your preference.
Notes
Start with making the roux.
Helpful tip: measure out all the ingredients before you start. Have them lined up next to your dutch oven so you can move quickly through the steps with success. You don't want to be measuring when you should be whisking.
Nutrition
Calories:
80
kcal
Carbohydrates:
5
g
Protein:
2
g
Fat:
6
g
Saturated Fat:
1
g
Sodium:
498
mg
Potassium:
146
mg
Fiber:
1
g
Sugar:
1
g
Vitamin A:
144
IU
Vitamin C:
2
mg
Calcium:
8
mg
Iron:
1
mg
If you decide making enchilada sauce just isn't for you, I recommend choosing a no-junk blend from Thrive Market. It's also a great place to pick up certified organic groceries. Look for corn tortillas, black beans, organic tomato paste, etc., for making homemade enchilada recipes.