Last Updated on June 29, 2022 by Rebecca Huff
My older daughters and I have been making creamy new potatoes for nearly two decades. When we first started making the dish, the recipe was entirely vegan. We used Follow Your Heart Veganaise and a plant-based butter substitute.
If you are vegan, you could certainly swap out those two ingredients and it will be absolutely delicious.
Since I am no longer vegan, I use grass-fed butter. Now I use my favorite avocado oil mayo that I buy at Costco. These delicious creamy new potatoes pair well with my Mom's Kraut Burgers.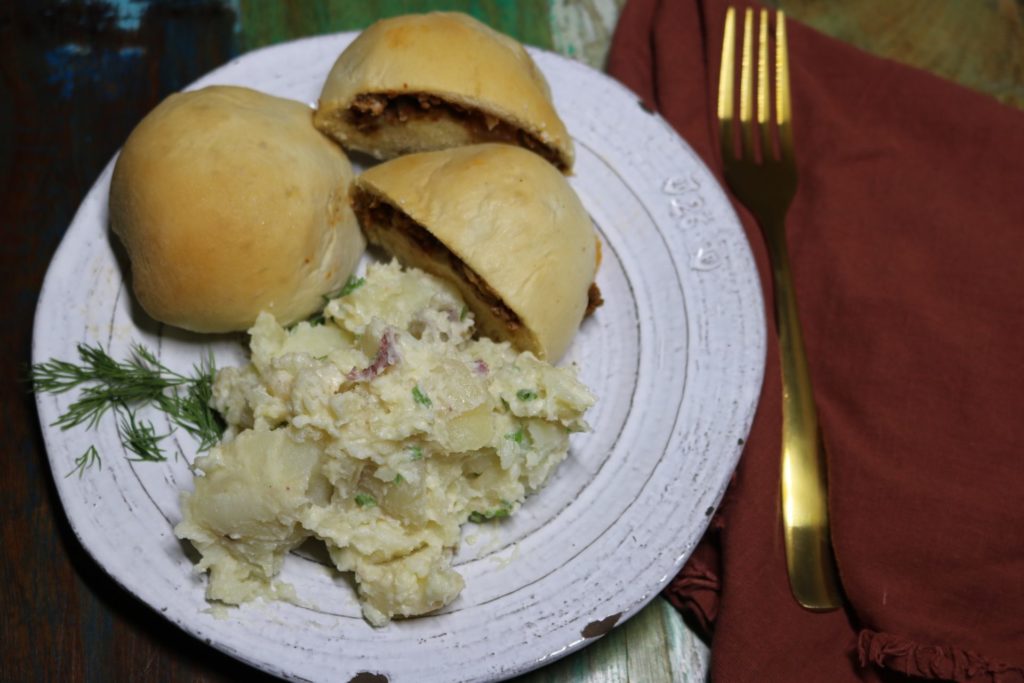 Similar to creamed potatoes but also slightly reminiscent of potato salad baby potatoes are fork-tender and oh so tasty! This recipe doesn't depend on whole milk, sour cream, heavy cream or any other type of dairy product to lend creaminess.
Red-skinned potatoes
We've always used small red skin potatoes in this recipe and I don't recommend using large potatoes. Leave the peeling on, it is full of nutrition and adds texture and taste.
Red potatoes are particularly healthy because of the thin, nutrient-filled skins, which are loaded with fiber, B vitamins, iron, and potassium. Half of the fiber of a potato comes from the skin. On red potatoes, in particular, the skin is already super thin, so it doesn't detract from the taste or texture

Black Gold Farms
This potato salad is delicious hot, cold, or room temperature and packs well for a potluck or gathering. Pairs well with other veggies such as green beans and can easily be made on the stovetop while you are preparing other dishes. Put the potatoes in a beautiful serving bowl and sprinkle it with chives. If you don't have chives, fresh parsley works too.
Other Tips
Always use low heat when keeping cooked potato dishes warm since they are so easy to scorch.
If you don't have red new potatoes, we've also used gold baby potatoes and they are quite yummy.
For a little flavor boost, you could sprinkle with black pepper and a pinch of paprika.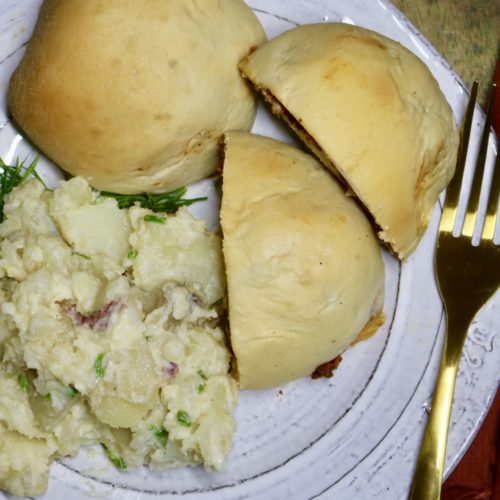 Creamy New Potatoes

Sugar Free

Vegetarian
Not your average potato salad
Ingredients
10

new red skinned potatoes (small potatoes)

washed (not peeled)

1

teaspoon

Himalayan Sea Salt

3

tablespoons

mayonnaise

1

teaspoon

fresh dill

or 1/2 tsp dried

1

tablespoon

chives

chopped

1

teaspoon

lemon juice

3

tablespoons

butter
Instructions
Put potatoes in a pot and cover with filtered water, bring to a boil.

Simmer until potatoes are fork tender.

Add butter, mayonnaise, lemon juice, dill and chives.

Season wiwth salt and pepper to taste.

Serve warm or cold, or even room temperature is perfectly fine.
Nutrition
Calories:
167
kcal
Carbohydrates:
17
g
Protein:
2
g
Fat:
10
g
Saturated Fat:
4
g
Cholesterol:
15
mg
Sodium:
483
mg
Potassium:
393
mg
Fiber:
2
g
Sugar:
1
g
Vitamin A:
197
IU
Vitamin C:
19
mg
Calcium:
13
mg
Iron:
1
mg
Hope you'll give this recipe a try. To be honest, I put it on my website so I wouldn't have to search for the paper recipe anymore. This year, 2020, I have been decluttering (probably along with the rest of the world) and I decided to eliminate all of my handwritten recipes.
This is one we still love and hence its appearance here.
Pin this recipe!