Last Updated on August 11, 2022 by Rebecca Huff
No one will believe these Chocolate Chip Peanut Butter Dessert Balls are sugar-free! Yes, they're that good.
Just let them go on thinking it's unhealthy.
While "chocolate peanut butter balls" might make you think of buckeyes or the Reeses Peanut Butter Cup type of dessert, these are a bit different. They are cheesecake meets buckeye.
Friends have described them as similar to truffles. Looking at the macros you might call them peanut butter fat bombs. No matter what you call them, they'll satisfy your sweet craving without blowing your diet.
Keto Peanut Butter Balls
Originally I created these no bake nut butter balls for the Trim Healthy Mama group I hosted at my home. It was such a huge hit that I kept it in my rotation even when I switched to a keto diet.
This recipe works as a dessert for Low Carb dieters, Ketogenic, and other Sugar-Free Diets! I originally created this recipe for the Trim Healthy Mama diet, but it works just fine for those using the Ketogenic diet for weight loss or health.
You can use any sweetener you prefer. A couple to try are Pyure Organic Confectioner or Swerve confectioners. If you don't avoid sugar, you can simply use organic cane sugar.
For those of us who prefer keto recipes or desserts without sugar, you can make keto peanut butter balls using powdered monk fruit, allulose, or erythritol. All will give good results. (My children make them with maple syrup sometimes, my youngest daughter has a strong sweet tooth.)
THM Friendly Chocolate Peanut Butter Balls
My household likes creamy peanut butter as the base for these. I've used crunchy peanut butter as well and it adds a nice satisfying crunch. If you prefer not to use peanut butter, substitute with almond butter. Cashew butter is delicious, for sure, but the carb content is a bit higher. If that matters to you, stick with peanut or almond butter.
Speaking of substitutions, these are amazing with an additional 1/4 cup of chopped macadamia nuts.
They're delicious just as they are without a coating or being dipped. Still, if you want to go the extra mile you can also make a peanut butter hardshell or chocolate hard shell to coat them. As you can see in the video below, we used sugar-free chocolate chips.
You can also use unsweetened bakers chocolate and add your own stevia or other sweetener to save money. Bakers chocolate is usually less expensive than sugar-free chocolate chips. Another method for coating them is to mix coconut oil with cocoa powder and the sweetener of your choice.
Tips For Making Chocolate Peanut Butter Balls
You can use a cookie scoop to keep the size uniform, but you might still want to shape them up a bit by hand. Chilling the dough a little bit before rolling can help.
Nana hand rolled these (I teased her for not getting them round) and I coated them in a hard shell. I also asked her to roll out 24 instead of 12 this time so we'd have more.  I used these cute little animal pics so we wouldn't have to get our fingers messy! Not always perfect, but definitely delicious. My son doesn't like to touch food and always prefers to use picks or utensils for everything, even these.
Once you've added the chocolate coating (if you decide to do so) let them harden on a wax paper or parchment paper lined baking sheet until they're dry to the touch.
They store well for about two weeks in an airtight container in the fridge. You can keep them at room temperature if your house is on the cool side, but they probably won't last as long.
If you liked this recipe, you might want to check out my menu plans. I come up with a few ideas from time to time! Here's one of my favorite THM menu plans.
Chocolate Peanut Butter Balls – THM Friendly

Gluten Free

Keto

Low Carb

Sugar Free

Trim Healthy Mama
Ingredients
8

oz

Neufchatel Cream Cheese

⅓ less fat

¾

cup

crunchy peanut butter

or smooth if you prefer

½

cup

of Confectioners Style Sweetener

Like this one

¼

cup

Lily's Dark Chocolate Stevia Sweetened Baking Chips
Instructions
You won't find many dessert recipes that come together this easily! Simply throw the first three ingredients into a mixer and mix until combined. Turn off mixer and add the chocolate chips stirring just till combined. Form into 12 balls.
Video
Whether you use these as Keto Fat Bombs or a simple Keto Dessert, you'll enjoy eating them all the same. You'll be happy knowing your dessert contains zero added sugar and you're sticking to your goals. Because nut butter and cream cheese both contain protein and fat, these could be considered energy balls!
A
If you make these, please tag me in the photo so I can see your beautiful creations! I'm on all social media as ThatOrganicMom ~
Like these? Then you will LOVE my other keto snacks and low carb recipes.
For example try my  Low Carb Salted Caramel Peanut Crunch Chocolate Bars made with Catalina Crunch cereal and topped with melted chocolate. See how yummy they are!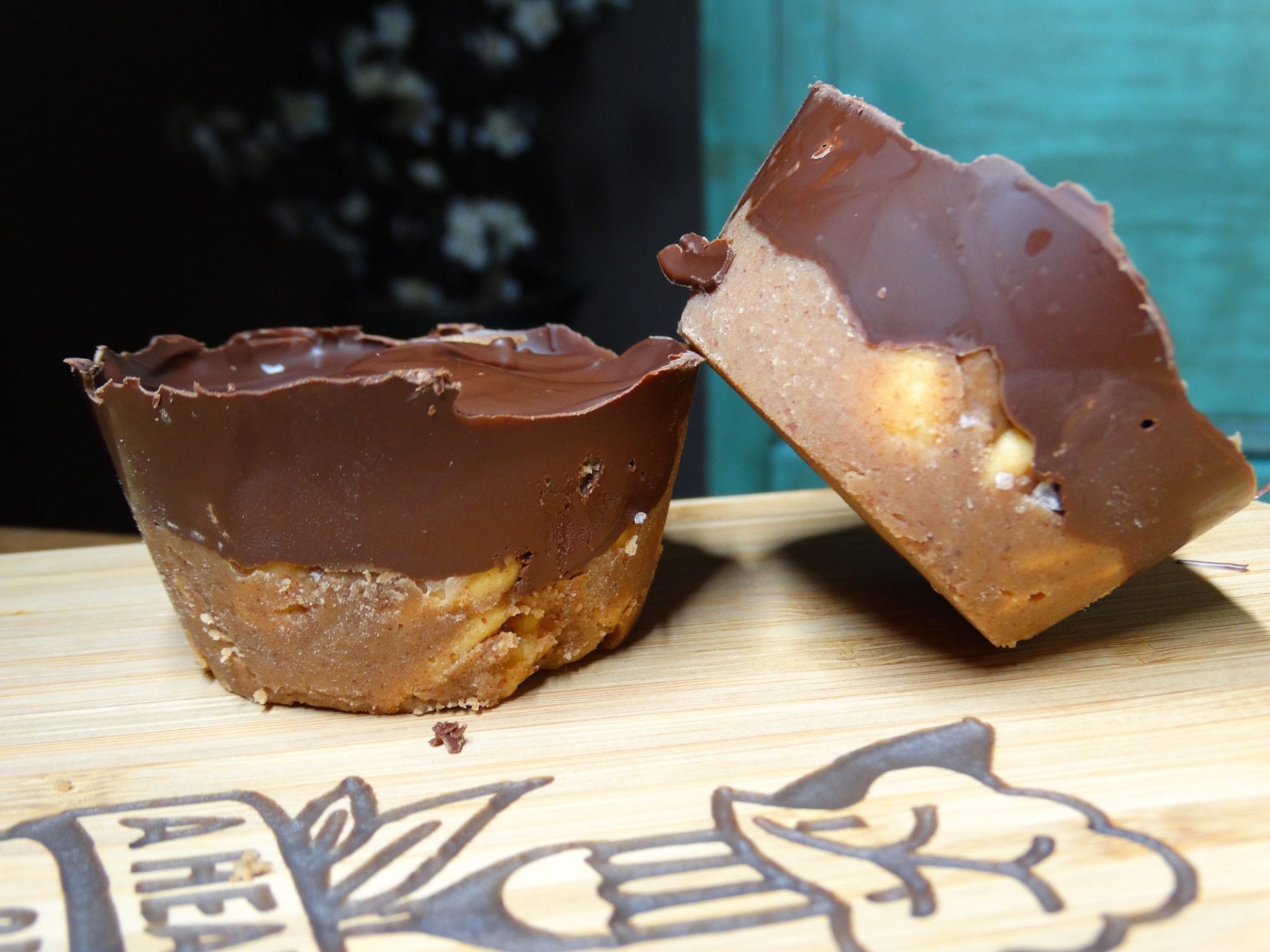 There are lots more delicious recipes you can try in the Cooking Section of this site. Get updates and new recipes here.