My kids love this dessert that is a hybrid between a crumble and a cobbler.
This isn't the usual type of recipe I would normally share on my site in that it includes sugar. I try to avoid sugar as much as possible for my entire family. I personally quit sugar over a decade ago, but on occasion I will allow the kids to have it. Mostly when one of them wants to bake something.
I have tried to teach my children to have a taste more for savory foods than sweet. When berry season is here though, I just can't keep from letting them enjoy a nice berry cobbler. My mom and my grandma used to make these for us with fresh picked berries when we were growing up. There's something to be said for tradition, right?
Anyhow, I guess I feel like I need to share this recipe with a disclaimer that eating sugary foods on a regular basis is not healthy. Sugar does lower the immune system and can cause weight gain, just to name a few reasons why I don't recommend eating it often.
When we do use sweeteners in a dessert for the kids, I try to use maple syrup, honey, coconut sugar or monkfruit. This recipe tastes delicious with coconut sugar, but I tested the recipe out multiple times using various forms of sugar including Sugar in the Raw, which is available in bulk from Costco.
Don't worry if you can't get fresh berries, using frozen will work nicely too. In fact, here is one that I made with frozen berries.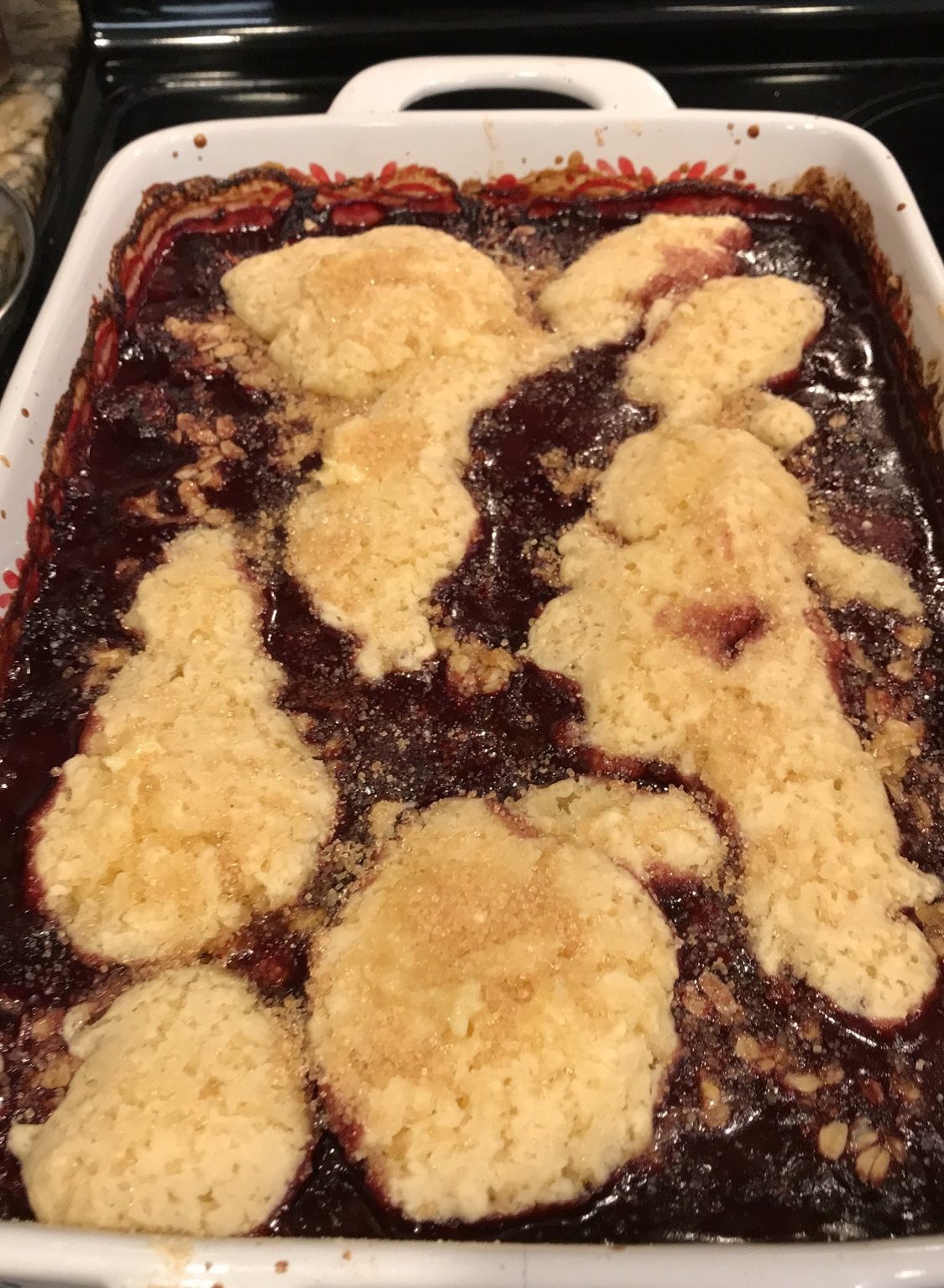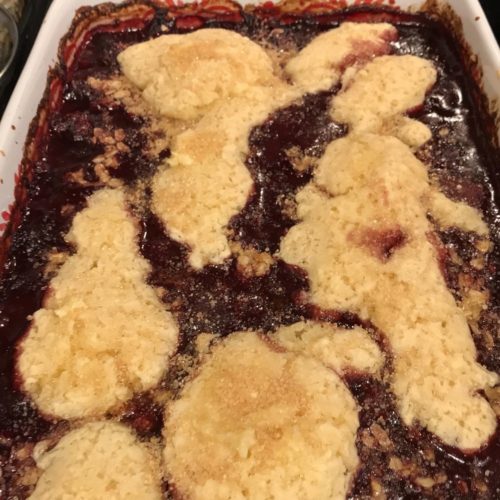 Berry Crumble with Cake Clouds
Ingredients
3

pounds

of mixed berries

fresh or frozen

1/2

cup

turbinado sugar

or other sugar of your choice

1/2

cup

water

1 1/2

cups

oat flakes

1/2

cup

plain flour

also works with gluten-free flour blends

1/2

cup

sugar

4

tablespoons

coconut sugar

can substitute brown sugar

stick of butter

1

cup

self-rising flour

3/4

cup

water
Instructions
Simmer berries in 1 cup of water with added sugar for about 15-20 minutes while preheating oven to 350 degrees.

Mix together oats, flour, sugar, brown sugar in a bowl.

Add in 3 tablespoons of cold butter cutting up with a fork or

pastry blender

*see link on blogpost (Alternatively, you can use a cheese grater with the butter)

Add berries to a 9x13 casserole dish and top with oat mixture, bake for 15 minutes.

While baking, measure self-rising flour into a small bowl, stir in water a little at a time making sure not to get dough too runny. You want to be able to scoop it with a spoon without it running off too much. 

Remove berry dish from oven and dollop the "cloud-dough" on top. 

Using a cheese grater, grate remaining 5 tablespoons butter on top, if desired sprinkle a bit more turbinado sugar on top and return to the oven.

Bake until toothpick comes out of "clouds" clean - let cool at least 10 minutes before eating.
The first time I made this recipe it was a complete accident. It was winter and I was trying to use up the foods in my freezer in preparation for the spring/summer and fresh fruits, vegetables, etc. I started out making a mixed berry crumble with a large bag of mixed berries from my freezer. The result was way too wet so I decided to add some cobbler "cake" on top of the crumble.
It was so unbelievably good that it disappeared right away. Unfortunately, one of my sons was at work when I made it so he only got a tiny bite of it and asked me to make one for him the following day. My Snapchat friends had to follow the drama as I tried repeatedly to remake that first dessert.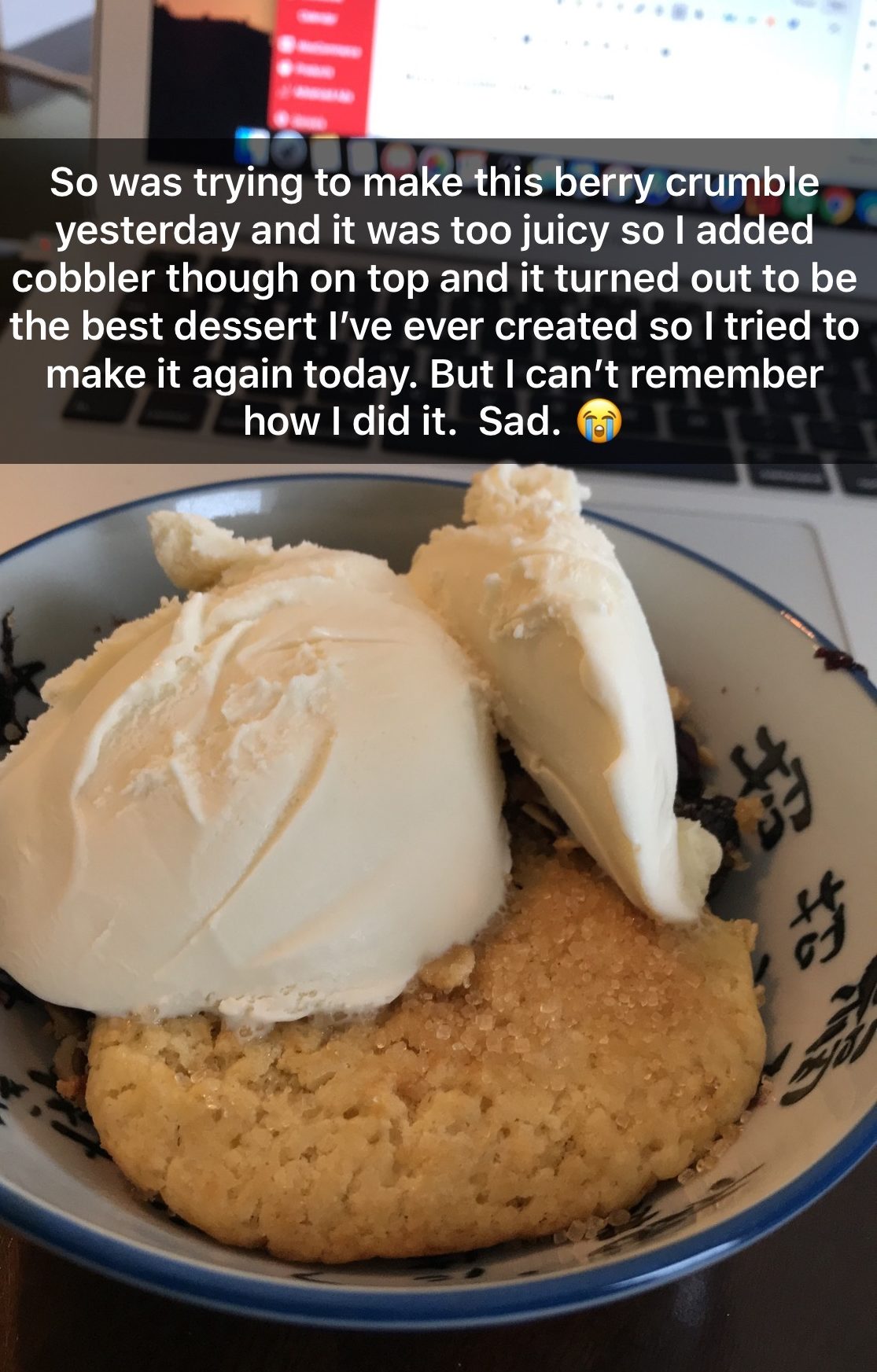 Finally got it down and we've been making it this way ever since! Hope you enjoy!
If you prefer sugar free desserts try my Cocoa and Berry Wonder Wraps!