Last Updated on June 29, 2022 by Rebecca Huff
For those of you who love hummus but not the macros that come with chickpeas (garbanzo beans); meet Baba Ghanoush. If you've already met, you could skip down to the recipe – but you might miss something I do that is pretty unique when it comes to this dish!
Jump to Recipe
According to Wikipedia,
Baba ghanoush, also spelled baba ganoush or baba ghanouj, is a Levantine appetizer of mashed cooked eggplant mixed with tahini, olive oil, possibly lemon juice, and various seasonings.
Baba Ghanoush is similar in texture to Hummus, only instead of chickpeas, we use roasted eggplant. Chickpeas have 34 grams of carbs per cup; eggplant has five grams of carbs per cup. So if the goal is to go low carb or to get more vegetables into your life and you love hummus, why not make Baba Ghanoush instead!?
First unique ingredient
I found this delicious Olive Oil by accident in Earth Fare a while back; I'm on my third bottle. It has Organic Meyer Lemons and California Mission Olives crushed together. When you put it on stuff, because really, it's for drizzling on food such as goat cheese and figs, your taste buds get happy. It's not a fake lemon flavor, and it hits you with a lemony zing on the finish.
I also use it in my Tabbouleh recipe. Did I mention that I love food?
Anyhow, this olive oil is worth looking for. OH – heck yeah, I just popped over to Amazon to see if by any great chance it was there, and low and behold it is. So yeah, I got mine from Earth Fare, but you can also order the same thing from my affiliate link: Organic Meyer Lemons crushed together with California Mission olives. Obviously, look for it locally first to reduce shipping, etc.
If you prefer, just mix Meyer lemon juice (I'd include the pulp and some zest) with extra-virgin olive oil.
Second unique ingredient
Another little tip is that when I take my roasted eggplant out of the oven, I let it rest on a salt block. (Not absolutely necessary but fun and adds a layer of flavor.)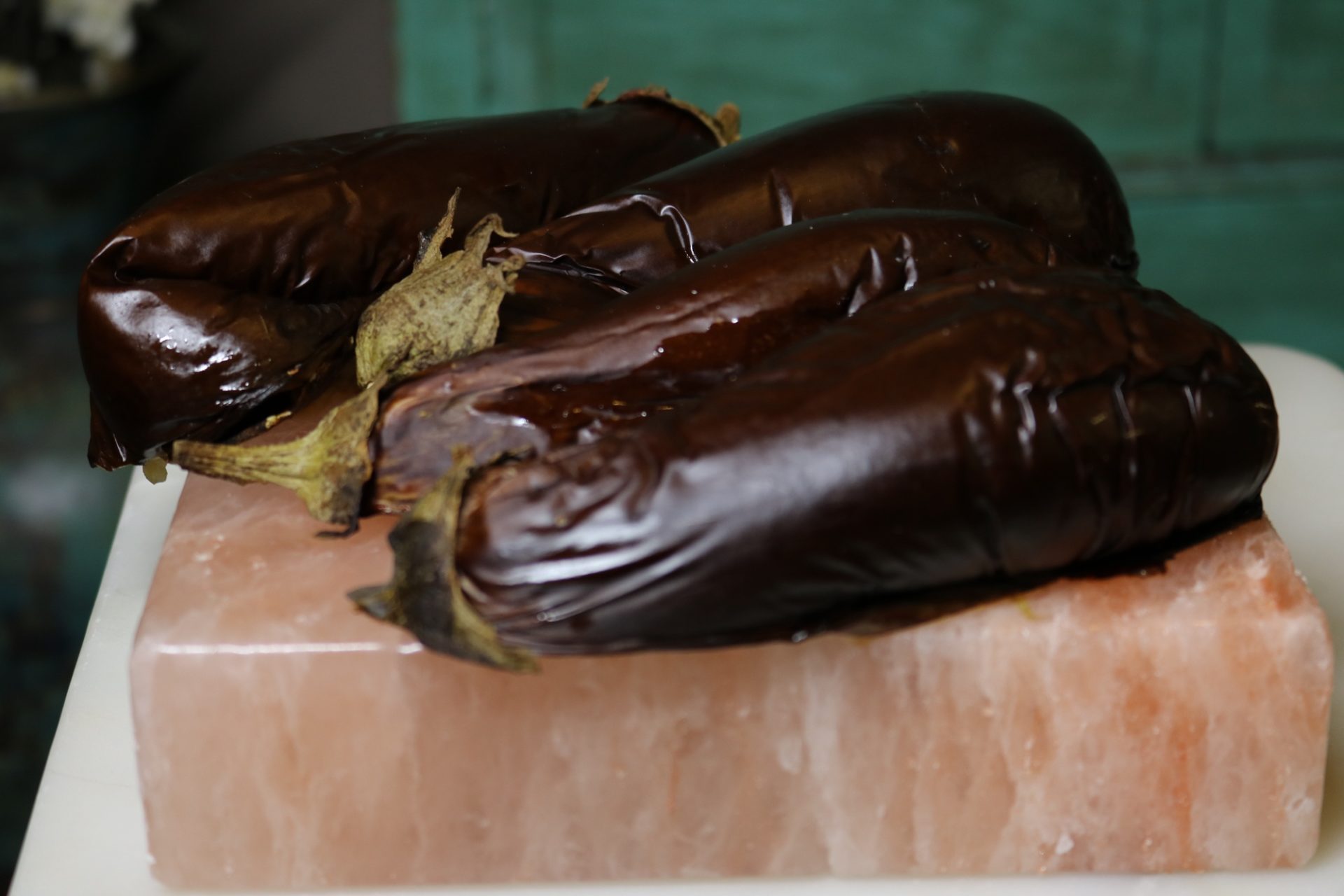 The eggplant soaks up salt and intensifies the flavor and it is divine. If there are any juices left on your salt block, pour them in the container with the other ingredients for added flavor! (See the juices on my salt block in the photo below?) Don't forget to rinse and dry your salt block.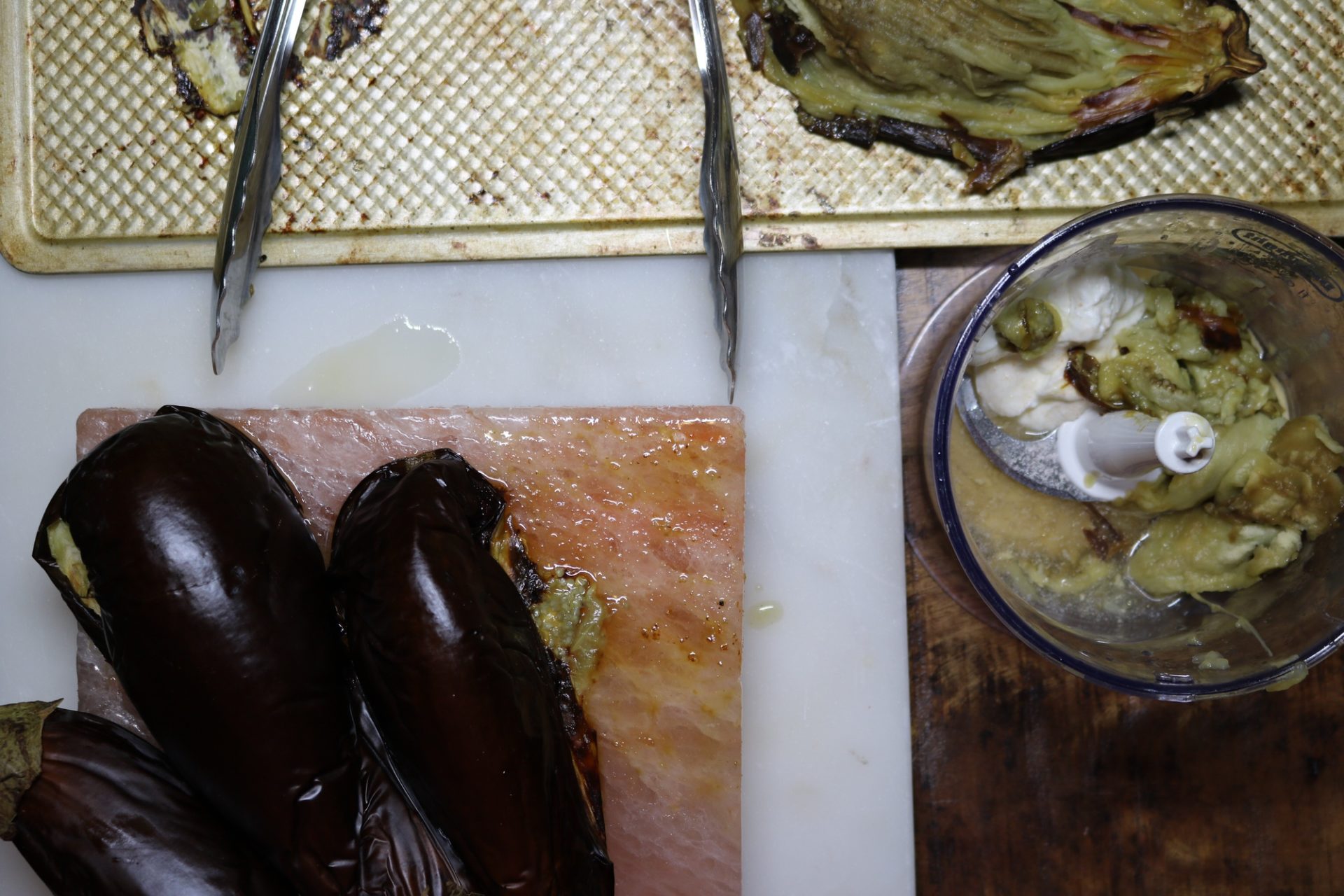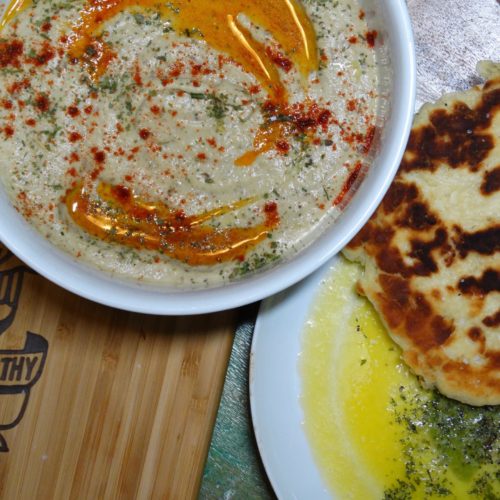 Baba Ghanoush with Meyer Lemon Olive Oil

Dairy Free

Gluten Free

Keto

Low Carb

Trim Healthy Mama

Vegetarian
Low-carb cousin of hummus, this delicious dip-n-spread goes great on crudites or low carb crackers.
Ingredients
2

medium/large eggplants

washed and cut in half lengthwise

3

cloves

roasted garlic

2

tablespoons

tahini

2

tablespoons

yogurt

Juice of 1 lemon or 2 tablespoons Yuzu Rice Vinegar *see note

1/4

tsp

cumin

Salt and Pepper to taste

Paprika

for topping

Organic Meyer Lemon Olive Oil

for drizzling on top (if you can't find this, you can just use regular olive oil mixed with the zest of a Meyer, or regular, lemon
Instructions
Preheat oven to 450 degrees.

Put a little olive oil on the cut side of the eggplant, then place cut side down on a baking sheet.

Put in oven for 15-20 minutes.

Remove from oven and let cool slightly.

Once cool, remove eggplant skin, saving the flesh of the eggplant into a food processor or blender.

Put the cumin, eggplant, yogurt, tahini, roasted garlic, lemon juice or vinegar, S&P into a food processor and blend till smooth. (Do not include olive oil, finishing herbs and paprika)

Drizzle with olive oil and sprinkle with paprika and dried herb blend. (Italian herbs or a mixture of parsley, chives, dill weed, marjoram, thyme, basil, tarragon)
Notes
Found the Yuzu Rice Vinegar at Earth Fare as well, the only link on Amazon was for a case of 6, which was really expensive, so if you can't find it locally, just use lemon juice.
If you have Sumac or Smoked Paprika on hand, sprinkle some on top for a burst of flavor.
We love eating Baba Ghanoush alone, with pita bread, flatbread, tortilla chips, Keto Naan, other vegetables (raw or cooked) and I've even used it as a spread on a sandwich. Goes great on the side of a salad just as a little dip of yum.
Try exploring Mediterranean food, you can stock your kitchen with essential Turkish pantry ingredients.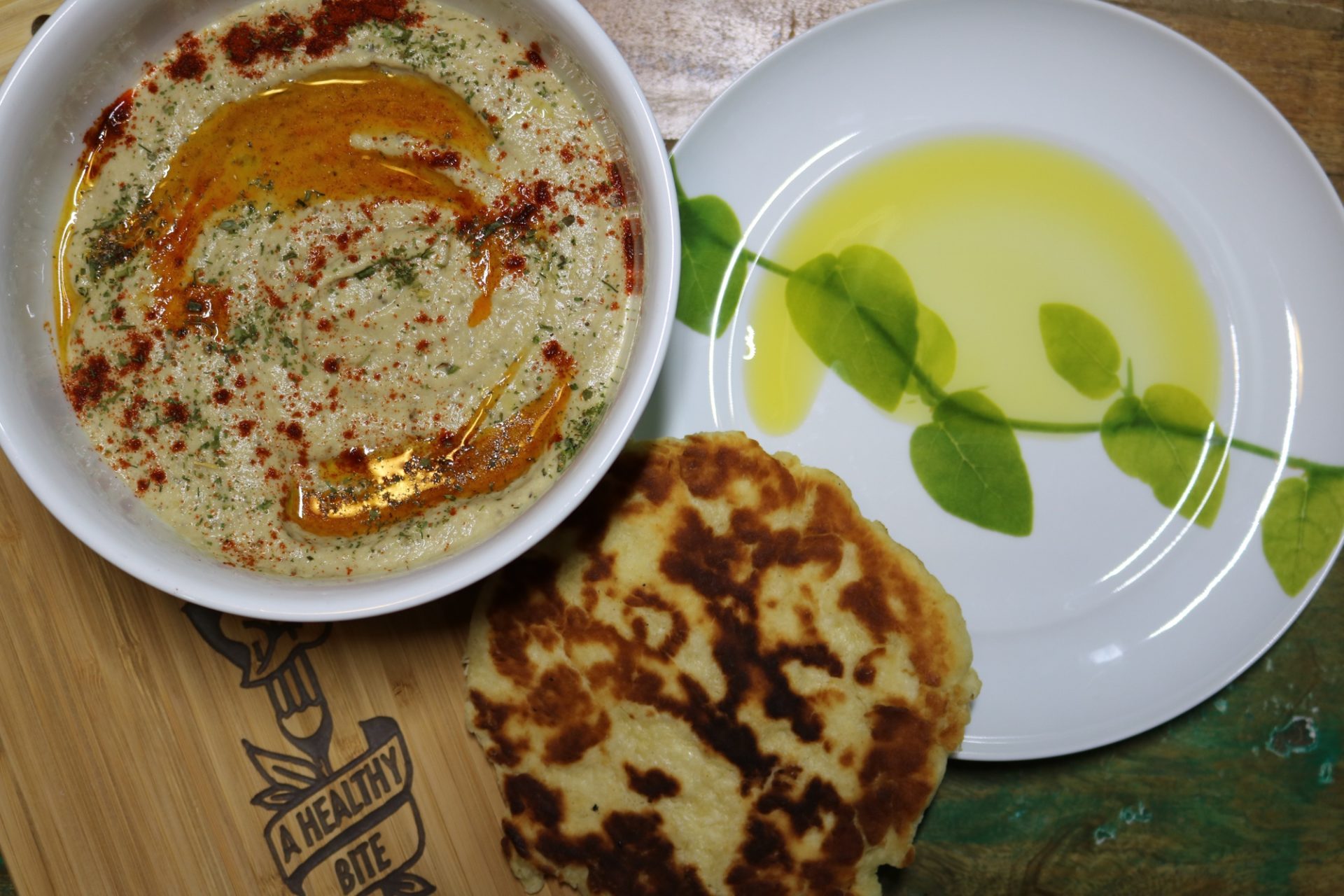 As you can see, my kids like to dip Yogurt Flatbread into the Baba Ghanoush. The recipe we use is from the current cookbook club selection, Milk Street Tuesday Nights. For fun chatter about delicious foods, join the online cookbook club. See you there!