Last Updated on June 29, 2022 by Rebecca Huff
Sushi lovers rejoice over this delightful Matcha Tahini Mango Tuna Sushi!
Even my kids were crazy about my Matcha Tahini Mango Tuna Sushi. I hope you are on the matcha train because this delicious green tea powder packs a lot of goodness in a tiny amount! Here are just a few of the benefits provided by Organic Matcha.
Improves skin health
Increases focus
Boosts the metabolism
Gives you all day energy
Contains up to 137 times the EGCG of brewed green tea!
I know you want to try this recipe and culinary grade organic green tea powder by Kiss Me Organics. Green tea powder from Japan is said to be among the best you can buy and this one certainly exceeded my expectations. I believe you will enjoy it just as much as I did.
What makes this sushi recipe super special is the matcha tahini drizzle that tops the mango tuna rolls. Not only is the matcha tahini drizzle amazingly delicious but it is also very nutritious! I combined ginger, matcha, miso, tahini, tangerine juice, rice vinegar, and coconut aminos. This can be put into a squeeze bottle for the easiest and most beautiful application.
I combined ginger, matcha, miso, tahini, tangerine juice, rice vinegar, and coconut aminos. Just stir the ingredients together until smooth. This can be put into a squeeze bottle for the easiest and most beautiful application.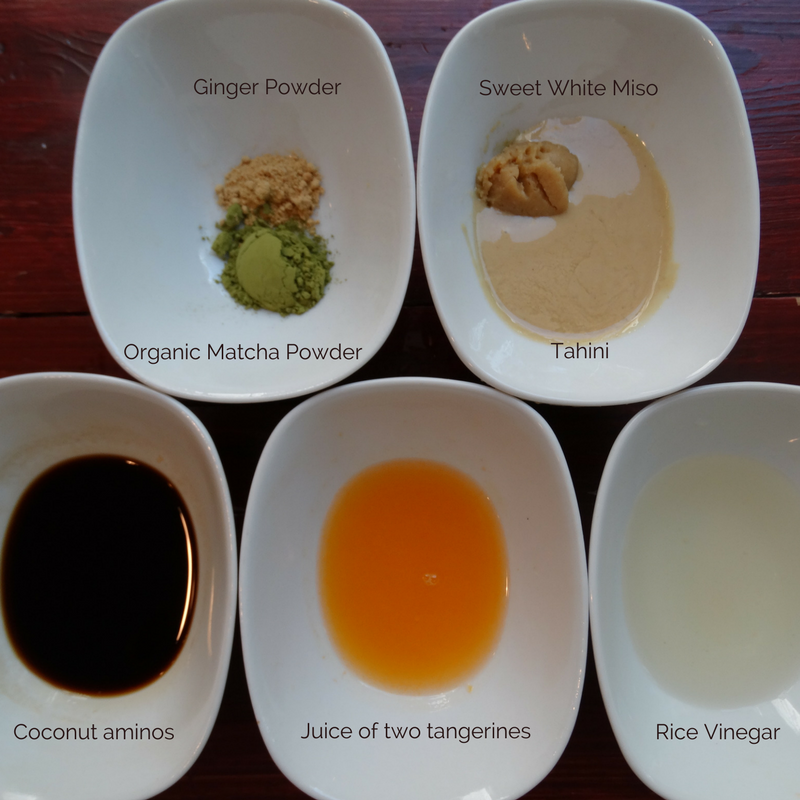 You'll want to start the sushi rice first so it will have time to cook and cool down. I really like to use my Zojirushi Rice Cooker (I've had it forever and it's still going strong) but you can just cook it on the stove top if you don't have one.
Peel and slice the mangoes into enough slices for six rolls, I cut mine into about twelve good size pieces. Don't skimp on the mango because it really makes this sushi roll stand out.
While your sushi rice is cooling, you can cook the ahi tuna steaks. I splurged on a large bag of sashimi grade ahi tuna from Costco. Sprinkle a generous amount of salt and pepper before cooking. The key to perfect tuna steaks is to have your pan really hot; you want to hear a sizzle when the tuna hits the pan.
I put about a teaspoon of toasted sesame oil in my pan but you can use whatever oil you have on hand. Allow the tuna to cook over medium-high heat for 2 minutes per side; you want a sizzle not a burn!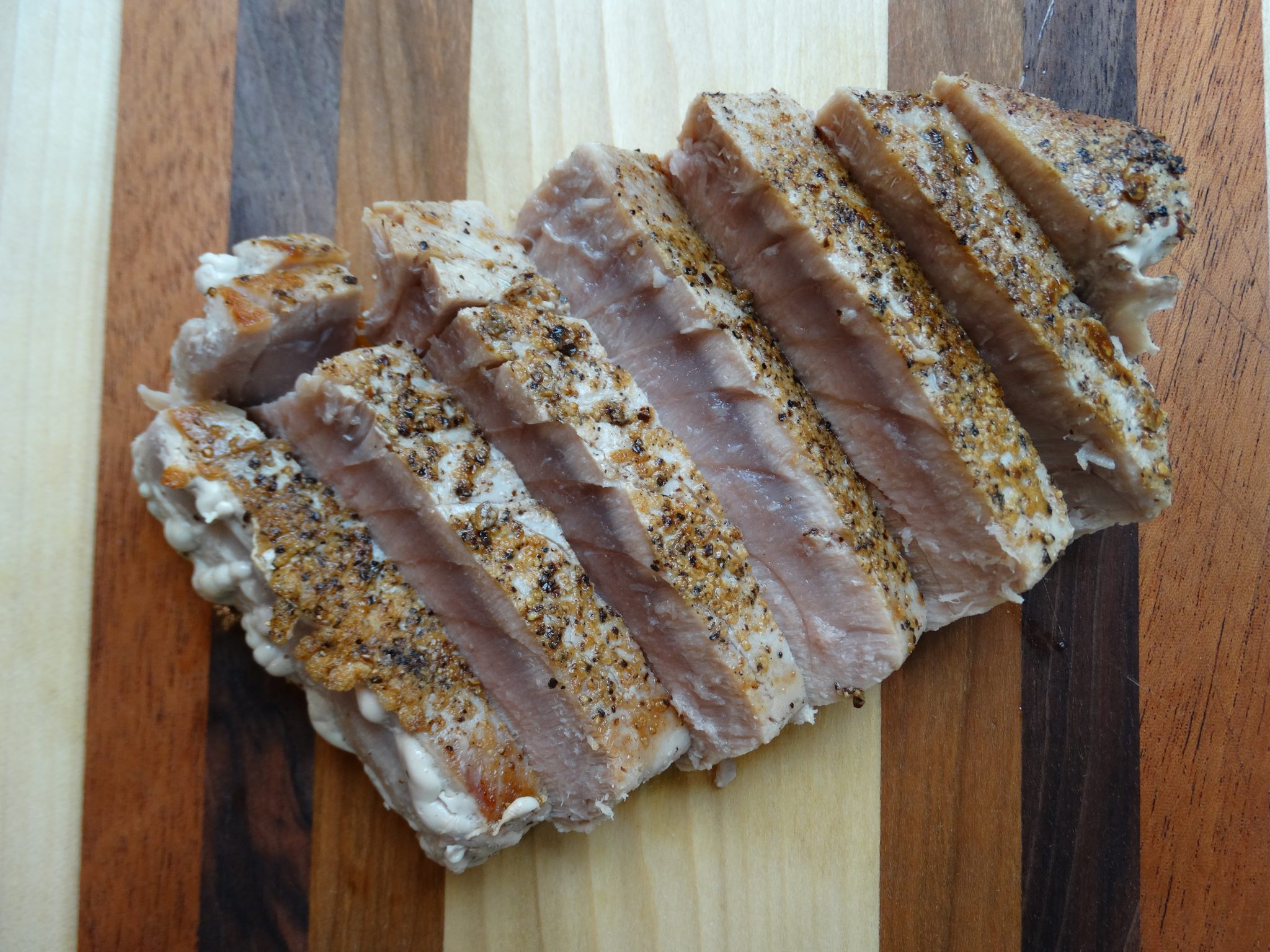 Once the tuna steaks are cooked, slice them with a very sharp knife against the grain (or flake?) of the tuna steak holding it on either side to keep it together. The tuna should be seared on the outside and lightly cooked on the inside, medium rare, or if you like it well done, cook it 3 minutes per side.
Roll your sushi!
If you have a sushi mat place your Nori sheet on top then add 1/6 of the rice on top of the Nori sheet. Spread the rice over half of the nori sheet, add the mango and tuna, then roll! Don't worry if you don't have a sushi mat you can still roll just fine; sometimes I don't even use mine.
When you get near the opposite edge, wet the noril just a bit with a few drops of water to help it seal. By the way, this is a great cooking project for kids. My teenager and my nine year old helped me make the sushi pictured in this post. The only part they might need help with is the rolling and cutting.
Next, you will need a very sharp knife; I sharpen my knives each time I make sushi rolls. It also helps to have your knife wet before each slice. So I keep a small bowl of water near my rolling area so I can dip my knife in it and also use it to seal the Matcha Tahini Mango Tuna Sushi rolls.
When you cut the sushi you want to cut it in half, then cut those pieces in thirds so that you end up with six pieces of sushi per roll. Alternatively, you can cut in half then cut in half again till you have eight pieces; but I have found that less than six pieces causes the fillings to squish out the ends.
Plate the sushi. Next, using the squeeze bottle or a baggie with the tip cut off, add a drizzle of the Matcha Tahini across the cut side of the sushi pieces. If you like you can add a few drops of sriracha on top of that. Additionally, you might like to sprinkle a few more sesame seeds on top.
The sushi can be served as is or with wasabi and coconut aminos or soy sauce. My entire family loves Sushi Sonic Wasabi.
Seaweed Free and Low Carb Options
We also made a Matcha Tahini Tuna Bowl (pictured below) as well for those who don't care for seaweed. Just add rice (or riced cauliflower) to a bowl, top with tuna steak, add veggies and matcha tahini sauce.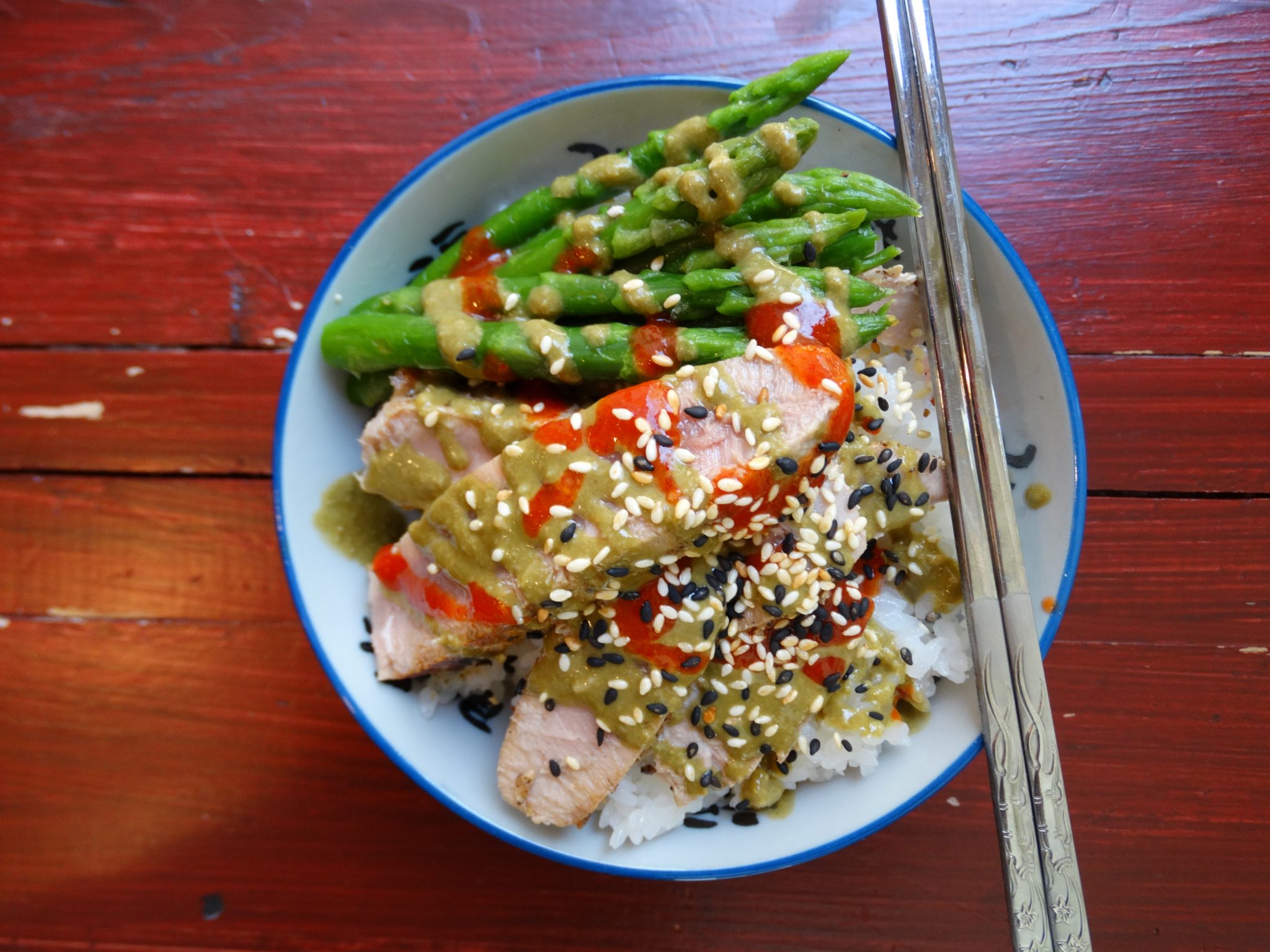 For a low carb friendly roll or bowl, use riced cauliflower mixed with enough cream cheese to hold the cauliflower together. When I make cauliflower sushi I add salt, pepper, rice vinegar and just a tiny bit of Swerve Confectioners to make it taste more like sushi rice. (*pictured below is the riced cauliflower sushi)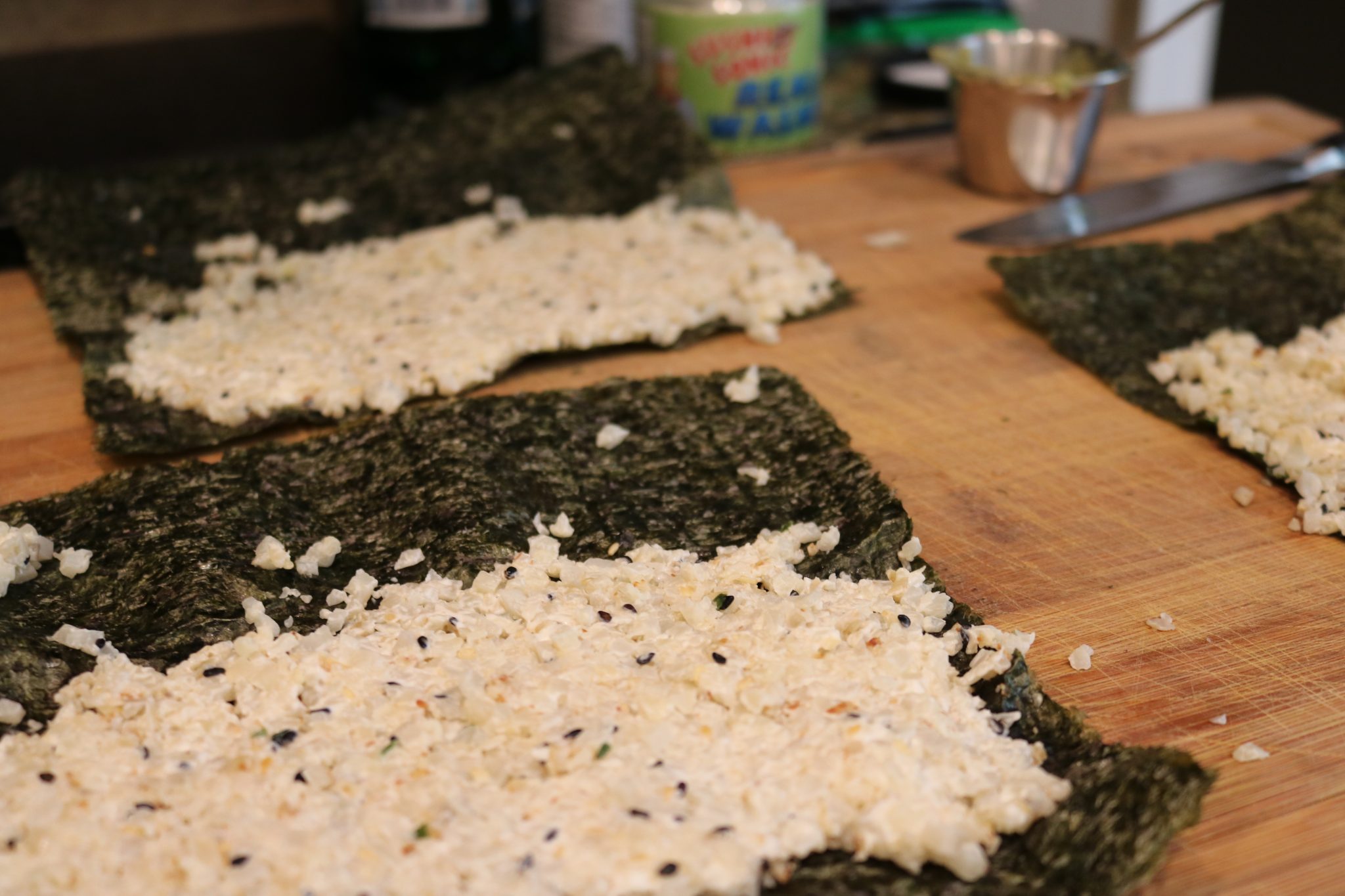 If you can't find sashimi grade ahi tuna you can substitute regular tuna, sockeye salmon, or any fish you like. (Regular fish must be cooked through!)
Matcha Tahini Mango Tuna Sushi

Dairy Free

Gluten Free

Sugar Free
Ingredients
2

Ahi Tuna Steaks

if cooking medium rare make sure to purchase sushi grade - I found some at Costco

3

cups

sushi rice

plus salt, vinegar and sugar if you like to flavor the rice

2

mango

6

sheets of nori

SAUCE

juice of 2 tangerines

or 1 orange

2

TBSP

tahini

2

TBSP

rice vinegar

2

TBSP

coconut aminos

or 1 TBSP soy sauce + 1 TBSP water

1

TBSP

Sweet White Miso

or other mild flavored miso - or extra tahini

1

tsp

ginger powder

1

tsp

organic matcha green tea powder (culinary grade

black and white sesame seeds

optional

sriracha sauce

optional
Instructions
Prepare sushi rice according to package instructions or rice cooker instructions.

Mix all sauce ingredients combining well, add to a sauce bottle or baggie for easier application.

Add salt to taste, and if you like flavored sushi rice, mix a tablespoon of rice vinegar with a teaspoon of sugar (or swerve) stirring to coat rice evenly.

While sushi rice is cooling peel mango and slice into about 12 pieces.

Season ahi tuna steaks with salt and pepper, add to a hot skillet or pan, searing and cooking each side for 2 minutes for medium rare or 3 minutes for well done.

Slice tuna against the grain.

Onto Nori, press 1/6 of the sushi rice covering about 1/2 to 2/3 nori sheet.

Top rice with mango and tuna at the rice end of the sheet of nori.

Starting with the end of the nori roll tuna and mango towards the "empty" end of the nori sheet.

Use a few drops of water to seal the edge of the nori to the roll.

Slice (it's easiest if you use a very sharp knife dipped in water between slices, cut in half first, then cut the halves in half as opposed to working from one end to the other, this way the "stuff" won't squish out.
Notes
Use traditional sushi rice or for low carb option use riced cauliflower mixed with just enough cream cheese to make it "sticky" add sesame seeds for more flavor!
Save this recipe for Matcha Tahini Mango Tuna Sushi! Also in this series and delicious: Matcha truffles, matcha donuts, and matcha kiwi cooler!
SaveSave
SaveSave
SaveSave
SaveSave
SaveSave
SaveSave
SaveSave
SaveSave
SaveSave
SaveSave
SaveSave
SaveSave
SaveSave
SaveSave
SaveSave