Podcast: Play in new window | Download
Subscribe: Apple Podcasts | Google Podcasts | RSS
Last Updated on June 28, 2022 by Rebecca Huff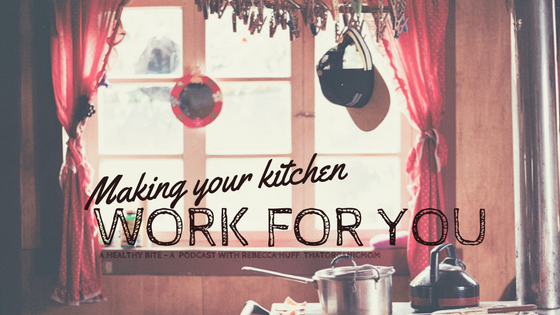 Show notes: Making your kitchen work for you
Make your kitchen work for you with a few easy steps! What does your perfect kitchen look like? Take some time to write down what those hopes are. Maybe like me, you want a place to socialize with your family while you are cooking. So the first step is just to imagine your perfect space.
NEXT, we need to look around and identify the items that bring us negative feelings… maybe you've had a juicer for two years that you never use and every time you look at it the sense of guilt bring you down. Or maybe you have some junk food that you hate to be wasteful with by throwing it away but know you shouldn't eat. Whatever it is that brings you down, gather them up and donate them!
Take a look around at your counters if they clutter hides the surfaces, you won't be able to use your kitchen how we imagined back in the beginning step.
If you've ever followed any decluttering guru, you will know that horizontal spaces are not for storage. I tell my kids all the time the floor is for furniture and feet, that's it…not a place to store your stuff. But really, if your counters are clean then your kitchen is more functional, it will appear larger, and you will be more interested in getting in there with a good healthy attitude to prepare some real food meals.
Download transcripts for the complete notes by clicking the "transcripts" link under the media player bar!
Listen to this podcast on iTunes.
What is a podcast and how do I listen?
A podcast is a free downloadable audio show that enables you to listen and learn while you're on the go. To subscribe to my podcast for free, you'll need an app to listen to the show from.
For iPhone/iPad/iPod listeners – Grab your phone or device and go to the iTunes store and search "A Healthy Bite." This will help you to download the free Podcasts App (produced by Apple) and then subscribe to the show from within that app. Every time I create a new episode, you'll get it downloaded right on your iDevice.
For Android listeners – Download the Stitcher Radio app (free) and search for "A Healthy Bite."
For podcast enthusiasts – If you already listen to podcasts and have a podcatcher that you prefer, the feed you'll need to add is https://www.thatorganicmom.com/feed/podcast
For those who don't have a mobile device – You can always listen to the show by clicking the audio file at the top of this page. Or go to: https://www.thatorganicmom.com/podcast
Also, it would mean a lot to me if you could leave a review for A Healthy Bite on iTunes! Some upcoming shows include:
Tips for Fighting Inflammation
Sending your child to school with a bodyguard
Eating for Energy
Exercising for Energy
Sleep like you mean it
Clean like your life depends on it
So make sure to subscribe using the instructions above so you won't miss out on future episodes of A Healthy Bite!