Podcast: Play in new window | Download
Subscribe: Apple Podcasts | Google Podcasts | RSS
As parents, you'll face countless important decisions over your child's lifetime. One of the most important is the living space in which your child will grow and sleep.
One of the most exciting things parents-to-be do while they are waiting for the arrival of their bundle of joy is designing the baby's nursery. Browsing Pinterest for inspiration may turn up plenty of results for every theme imaginable! However, first, take a moment before clicking on those magazine-ready shots to think about the health and safety necessary for such an important space.
Sensory Design Expert
Deborah DiMare is is a sensory and health-driven design expert. As the leading ethical design expert, she has created courses to help parents create a space that will contribute to the well-being of their children. Deborah is a leading authority in designing environments that promote optimal mental and physical health for the special needs population including Autism, ADHD, sensory difficulties (SPD), and all related differences.
Fabrics, lighting and furniture all contribute to a client's physical & emotional well-being. There are over 80,000 dangerous chemicals and poisons that are legal to use in fabrics. We believe that is unethical, unnecessary and dangerous. Our focus is creating environments to keep you and your loved ones happy, healthy and strong.

DiMare Design
You can find Deborah's nursery course here use coupon code THATORGANICMOM25 to get 25% off. Make sure to subscribe, so you'll be notified when the next episode of A Healthy Bite is published. Deborah will be back to talk about setting up a healthy, non-toxic space for sleep.
Resources
Meet Deborah DiMare: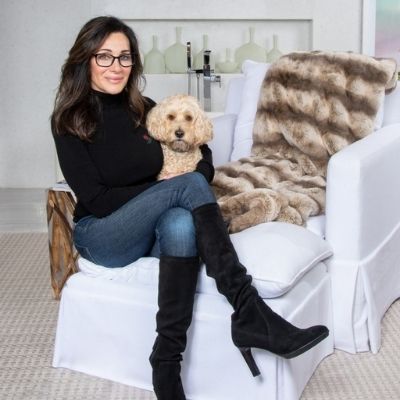 Deborah is a renowned interior design consultant, author, educator, and pioneer of the ethical/wellness design movement. She has been executing beautiful living and sensory environments that contribute to the mental and physical health and well-being of people and the protection of animals and the planet for nearly 20 years. Her company, DiMare Design, is the only 100% cruelty-free design consulting firm specializing in the creation of organic, optimal spaces, and sourcing vegan textiles and sustainable furniture that bear zero-to-low toxins.
Deborah also heads VeganDesign org, where she educates consumers and designers about humane & healthy design through virtual courses, a blog, and a full online shop of cruelty-free, vegan and low toxin furniture, décor & curated spaces.
Transcripts

How Parents Can Design a Nontoxic Nursery with Debra Dimare


[00:00:00] Rebecca: Hello everyone. And welcome back to another episode of a healthy bite. I'm excited to bring you today's guest Deborah DiMare. interior design consultant, author, educator, and pioneer of the ethical wellness design movement. She has been executing, beautiful sensory living environments that contribute to the health and wellbeing of people.


[00:00:23] And the planet for nearly 20 years today, we will be discussing how to surround our children from the moment they enter this world with the most non-toxic, positive environment, crucial to their physical and mental development. And that is why Deborah is here to share and give us guidance and teach us a little bit more about how to design a nursery with non-toxic furniture and cribs and other decors that will not harm or affect the mental and physical development of our newborn babies and children. Make sure to stick around to the end of this episode, Deborah will be sharing a special discount. That's only for listeners of this podcast for her special online baby and kids room design course.


[00:01:13] So make sure to check the show notes for that and stick around. Let's get into today's episode.


[00:01:19] Announcer: Welcome to a healthy bite. You're one nibble closer to a more satisfying way of life, a healthier you and bite-size bits of healthy motivation. Now let's dig in on the dish with Rebecca Huff.


[00:01:35] Rebecca: So before we really get into the topic, I always like to ask my guests, tell me a little bit about yourself and how you got into what you do.


[00:01:46] Deborah: So I've been decorating now for probably nearly 20 years or so. And I was the typical decorator, you know, just designing everything with, fur, and wool and silk and feathers and all those animal-based products and my family and I are really involved with animal rights. We love animals. They're a very, very integral part of our life. I came out here because in my office my partner has his dog here every day.


[00:02:12] I just love animals and I'm on the board of farm sanctuary. I'm involved with PETA, the animal rights organization. And so I always say you have to be ready for change, you know? Because once you see the dark side of certain things, you then, kind of can't go back, I think the average person, and I'm always getting feeds on, you know, videos and things on my feet because of being involved with animal rights.


[00:02:37] And there was one that kept coming up on from PETA and it was about dog leather and I never opened it, but I guess that day I was ready for change. And I opened this video on dog leather and it was horrific and it was tragic. And it was indescribable. And when I think about it, I still get goosebumps and I want to cry.


[00:03:01] And that was the day that I decided that I would no longer use anything derived from animals. And what happened was I really entered a rabbit hole because I quickly realized it just wasn't about animals. It was also about health and toxins and child labor and the planet and the environment. And I started to learn and research and read because I had to understand all of this because it just wasn't about not using wool or silk or fur or feathers or leather.


[00:03:38] And because of this research that I had done, I sort of became the expert, which I didn't even know. I have become the expert. Designers started contacting me and asking me about cruelty-free and chemical-free alternatives. And I created a course. And then I created another course, the nursery course, and we developed a membership, and we just kind of became the go-to for all things, chemical and cruelty-free and it's it's been really, really interesting and never stopped learning.


[00:04:09] It's okay. And I feel very privileged and blessed because I love what I do. And every day I wake up with such mojo. Yeah.


[00:04:19] Rebecca: So you mentioned toxins and health, so I'm interested What kind of toxins and like, you know, problems are there with, say, for example, children's furniture, nursery furniture. When someone that's one of the big things, you know, when you find out you're pregnant, you want to have this beautiful nursery for your baby to have this wonderful place to come into the world. What are some of the toxins that are out there and what do parents need to avoid?


[00:04:47] Deborah: Rebecca? They're over 80,000 chemicals that are approved in the textiles industry and guess what percentage are tested less than 1%. It is insane when you start to discover what is legal to use in children's furniture, bedding. And their spaces let alone adults, but for children, for newborns, for infants. Leather, for example, leather contains over 250 toxic chemicals lead arsenic chromium, carcinogens, ammonia.


[00:05:26] So when you see little leather beanbags advertised or leather rockers for children, it's crazy. Furniture anything animal-based wool blankets, bedding, mattresses that contain wool. Wool, is filled with pesticides. Anything animal based is filled with pesticides because they're animals. So even if in the finished product, they say free from pesticides, it's not true because initially there were pesticides and that's, that's called greenwashing, which I think is an important term for your, for your listeners to understand.


[00:06:01] Greenwashing is when a company will say, get this crib mattress. It's organic latex. You're like, wow, it's organic, isn't that awesome. That's called greenwashing, because guess what? Latex is dangerous for babies, whether it's organic or not, you stay away from it because latex is an allergic material like balloons.


[00:06:29] So adults can be allergic to latex, but they know they're allergic to it. When a baby is born, you don't know if it's allergic to latex. So babies die over allergic reactions to latex. So, but they're legal to sell. So greenwashing exists in almost every product. Most companies greenwash by saying that, for example, if you buy a little metal table, it'll say there's no toxic lead in this table.


[00:06:56] Well guess what? The metal doesn't contain lead to begin with. So, but the average consumer doesn't know that they get sucked in.


[00:07:05] Rebecca: Right. I have an entire article about greenwashing because it's just so prevalent, especially in the food industry. And even my kids pick up on it. Like they'll slap gluten free on anything like potatoes; gluten-free well, guess what?


[00:07:19] Potatoes have always been free anyway. Right?


[00:07:23] Deborah: Exactly. So it goes, I mean, I have a list here. I have, I have my little nine toxic chemicals to stay away from and they're PBTE flame retardant, which is one of the biggest contributors to intellectual disabilities, including autism, much of our furniture and fabrics contains that PFAS.


[00:07:40] I don't know if you guys have heard of that, it's called the forever chemical. It stays in your body forever. And it's in a lot of upholstery and it's completely legal. Formaldehyde, which is in life. It's in many, many products, never buy wrinkle-free sheets for children, because the reason they're wrinkle-free is because they contain formaldehyde and it never goes away


[00:08:02] Rebecca: I have an article about that too. It's crazy. People think, oh, they're there, you don't have to no iron sheets. Well, there's a reason there are no iron! They're treated with chemicals!


[00:08:12] Deborah: That's right! You know , and I think people also don't realize; babies sleep. 75% of their time is spent sleeping in their younger years. And when we sleep is when our body grows and repairs itself. So whatever we're surrounding ourselves with our body is inhaling and exhaling and being absorbed into our pores. So sheets, especially, and here's another greenwashing thing, organic printed sheets. The sheet can be organic, but guess what, the dye…? Chances are, unless they say they're nontoxic organic led dye-free paint are not, it's not organic. You can equate it to, I always say an organic apple, the apple might be organic, but is the red dye that they put the on the apple after, is that organic, but yet it's being sold as an organic apple. So it's the same,


[00:09:03] Rebecca: so many loopholes,


[00:09:05] Deborah: I mean, Azo Dyes same thing Azo Dyes a very, very, very dangerous diets ,banned in Europe. I don't know. To date, it's not banned here; so when you're buying sheets, if it doesn't say no Azo Dyes, chances are it contains Azo Dyes. So you want to stay away from that? I have here, wool, as I was talking about before contains a ton of pesticides, very, very dangerous leather, pesticides of silk, fur, pesticides, all of these, anything animal-based stay away from very, very, very dangerous for children.


[00:09:37] Phthalates which I'm sure you've heard of also; it's a group of plastics. You'll find that in flooring and also upholstered goods, drapery, and lots and lots of products.


[00:09:47] Rebecca: Right? Well, that was going to be my next question for you. And I do want to hear all of the nine things to avoid, but I'm curious as to what is the alternative, because I know "pleather" is plastic leather and it has its own set of problems.


[00:10:02] Deborah: Yes, it does. So I always say there's two meters. The hierarchy to me, the best thing you can ever use in any space, especially a childs space would be a GOTS certified organic cotton. G OTS stands for the global organic textile standard, which you've heard of; that is the Cadillac and the granddaddy of all fabrics.


[00:10:25] And you would want to choose a GOTS fabric that is non-animal based. Now people say, but it's not as durable . No a faux leather or real leather is not as durable. It's very durable compared to a cotton. To me, that would be the most ideal, ideal fabric in the world to use.


[00:10:45] Because it will contain hardly any pesticides, hardly any toxins, it's clean. And that's what you want to surround your baby and your child. Now durability up until about a year ago, it was like, oh, it's not as durable, but I say, it's, it's kind of like, you have to choose, I'd say to a client.


[00:11:04] Yes. It might not be as durable. But look at it this way. Chances are you going to be going to the doctor a lot less because you're surrounding yourself with healthy items and going to the doctor is a lot more expensive than buying another set of sheets.


[00:11:16] Rebecca: Right? Because these chemicals in these fabrics that are, you know, made from animals and stuff like that, they cause what kind of problems with kids?


[00:11:25] Deborah: Intellectual disabilities have increased. What I think 400% you have ADD, autism, you have asthma, respiratory illnesses, you have fertility issues for parents, and for children, there was an article about, I forget which chemical, maybe it was PFAS that when pregnant women were surrounding themselves with it, babies were being born boys with their genitalia, like disformed I mean, it was so there's, it's endless the kind of issues that these chemicals induce upon human beings and babies are fragile; toddlers are fragile. They're small babies breathe. What? 64,000 times a day, they inhale, you know, so it's, if they're treated as the elderly, they're considered part of the fragile population is seniors, babies, and people with mental health, mental and physical disabilities are all part of the fragile population. And we're fragile too, you know, but for babies and toddlers, it's really incredible what is legally allowed to be sold to very believing and very trusting parents.


[00:12:36] So what you can do is what I always suggest is that you have to become your own advocate. And I say, education is power. It really is. You have to go into a store and know what to look for. You have to read tags don't count on the salesperson; chances are, they don't know. And many salespeople have never been asked these questions.


[00:13:00] You know, we, we put together resource guides for nursery guides for parents. We've put together guides for adults. And when we were calling the companies confirming facts about products that we were reading, do you know, most, even the support staff at these big companies couldn't give us the answers because they had never been asked these questions.


[00:13:19] So you really have to become your own detective and your own, you know, I always say no one is going to advocate for your child like you, right. And you have to be your, your child's advocate when they, when they're in school with what they eat, who they surround themselves with and the environment they're surrounded by.


[00:13:38] So when you choose a crib and you choose a crib mattress, for example, you better make sure that that crib mattress is number one organic; doesn't contain wool, doesn't contain foam, even certi pure foam, which is a bunch of garbage is tremendous offgassing with that you want an organic cotton mattress, something like a nature, Pedic crib mattress, completely clean, completely clean, no off guessing.


[00:14:06] It's also absorbs the water in the proper way. You don't develop bacteria. Because bacteria is very dangerous. When, when mattresses don't have protection on them and natural, organic non-toxic protection, babies are breathing in that mold and they develop respiratory issues. So you have to treat your babies like a fragile egg. I mean, really there's so many, so many pollutants around.


[00:14:31] Rebecca: So you've talked a little bit about their sleeping area. What are some of the other spaces for maybe an infant or even a toddler, or even maybe an older child, as far as, you know, creating their little spaces inside of their room? What, what, what a parents typically look for.


[00:14:49] Deborah: Well, I think, you know, from me for designing, designing for adults and children is about sensory design. You know, maybe because I never had the proper schooling and my business started organically many years ago. I approached design as now and a very experienced decorator, but also as a mother, you know, and sensory design is key.


[00:15:11] Sensory design is basically about creating an environment that's optimal for your children to thrive mentally and physically, we all are sensory creatures and our environment shapes us and creates who we are. It has a, it's a very integral part of who we become. So for a baby and a toddler, even you want to create three areas you have to think of a calming area, an area of focus and an area of play. And you can create that in the, you can create that in a closet. You don't need a big space for it.


[00:15:44] During COVID I did so many interviews on homeschooling and virtual virtual spaces for kids. And I, as I would say on those interviews, I'm saying to you now, a place for a child to become and have focused, let's say could be something as simple as throwing a tablecloth over a little table and having them go under that, their cocooned, giving them a little cushion to sit on, or a little chair if they need that rocking motion. If your child, if your child is very you know, has a lot of energy and they need things to anchor them, having a little rocking chair on the floor with a tablecloth under an end table, that's a great area for calm or focus because they can have a book there or they can just be zenning out and, you know, You can have on the floor, books and little clear bins with, with toys in them, with decals, and you can put a nice little cushion there and they can sit there and they can also, that can be their time for focus.


[00:16:44] You can have squish balls. You can buy a hundred of them for two bucks on Amazon and have them all throughout the space. They're wonderful for children, for anxiety or while they're trying to learn something to squeeze. And as far as play, it's sort of the same thing for play. You can create also these little bins and you can put stuff, toys and things that excite them.


[00:17:06] If if they like to draw, if they like to scribble, they like play dough and you could just have these little pockets of spaces within a room. And it's perfect. And so to me, yeah, so to me, it's like, and you can create these spaces also. Let's say you have a playroom as well, besides a bedroom. You have the bedroom as there is place for sleeping and perhaps for calming.


[00:17:30] And then if they have a little play area that can be for play& for focus. And again, it can be in even something sometimes putting a chair facing the the wall. As opposed to out to where they can see conversation, if your child has issues with concentration. There's all little tips and tricks. You know, a lot of, a lot of parents have very energetic boys.


[00:17:54] So having things like squish balls, having little roller no, where you rub your feet at their, their little wooden roller balls, you put them under their feet and they can roll their feet back and forth. While they're sitting in the chair. It's a place for them to release that excessive energy. When they're, when their energy is released, then they can concentrate.


[00:18:14] So for a child with autism who is sometimes is very hypersensitive to touch and texture. So if they have a tag on their shirt, they can't concentrate because they feel that tag on their shirt. Well, if you get rid of the tag , now they can concentrate. So it's the same with, with neurotypicals as tape people, without any issues.


[00:18:34] Rebecca: Wow. That is fascinating. Really. And I know a lot of kids have the, I mean, even. Kids that don't necessarily aren't falling on the spectrum, have issues with certain things like the tags or the seam across the toe. I mean, kids are very sensory and I think they notice these little things. Like I said, whether or not they fall on the spectrum, I think a lot of kids are aware of these sensory things. So that's a really good tip. Speaking of today. I know parents are going to listen to this and they're going to be like, oh my God, I never thought about that. That's so scary. what do I do, how do I or, you know, because especially, I feel like pregnant moms and, you know, with our first pregnancy, it's just terrifying.


[00:19:19] There's so many things that can go wrong. There's so many choices to be made. There's so much to learn and it's can be very overwhelming. So where, where do parents start? What do they do?


[00:19:31] Deborah: Okay. So I think the first place to start, you know, is when you become pregnant. Congratulations, and you're like, oh my God, I want the most beautiful nursery in the world. I think the first place, the first place to start is big pieces. First. That's what I always say, because start with the big pieces, the dresser, the rocking chair, the crib. If you're nursing a nursing station, start with that, and hope. Hopefully you choose pieces that aren't cute and trendy and theme based.


[00:20:03] I'm not personally a theme based kind of decorator, but I get it. And if your child is in love with Spiderman at four years old, then yes. Do the lamps in Spiderman do bookends, but don't buy furniture with Spiderman because guess what? Next week they could not be into Spiderman and they could say I can't stand Spiderman.


[00:20:22] So it's the same thing with, with when designing a nursery for your child. Especially if you don't know the sex, gender neutral is huge now in design. Because the trend is, is that girls and boys are no longer have to have the light pink and the, and the baby blue anymore. I mean, you can still do that, but I'm just saying what the trends are.


[00:20:43] So when you're choosing furniture choose nice, I personally choose adult furniture that it looks like adult furniture and it can be transitioned to adult furniture. I will buy a great dresser for someone, and then I'll just buy the changing table to put on top that way that furniture can last for 15 years.


[00:21:04] You know, when I buy a rocking chair, I'll make sure if I want the cushion to have a baby look to it fine, but that rocking chair can be used. By my child or could be moved into another room with a child, gets older and it looks great. So think for the future, don't think for the immediate now that's number one.


[00:21:22] And buy the big pieces first.


[00:21:25] Rebecca: I love that tip.


[00:21:26] Deborah: Yes, because also remember less is more and those pictures that you see, you know, on Instagram, those gorgeous nurseries and celebrity names. Just know that it probably took two days to set up the shoot for that nursery. And that is not real life. I, the other day I posted something on Instagram.


[00:21:46] I don't know. I just was in a mood. It was, I was doing something about white, how I like white as a blank canvas, even for children's spaces because soon enough there'll be a ton of color in the space with the toys and the, this and the, that. And it was a picture of this little girl in this white room with like a sheer tent.


[00:22:02] And you could see it was press permanently. I just wrote, "really?" cause they like annoyed me at that. Like assuming like a pregnant woman would say, oh my God, I want that space for my baby. That is just not real life. Your child is going to throw up on that sheer thing, you know, it's, it's going to be a mess.


[00:22:18] So big pieces first think practicality.


[00:22:20] Energy to me that's also super important. What kind of environment do you want to create for your child to live up to, in a way? So for us, we love animals and we love nature. So we wanted our children to have a love of animals and nature.


[00:22:41] So having baby animals on the walls, having greenery, things that, that embody the environment and all animals was important to us. If you're someone who is very proud of your ethnicity, create a room that shows that, you know, include pictures also in this space. And these are all very inexpensive things to do, of the family.


[00:23:04] That way they learn faces and that becomes a fun game and they can be black and white photos. They can be colored photos, they can be funny photos of grandma and grandpa. They can be photos of mom when she was pregnant. You know, think of things that you want your children to look at and smile and feel really good about and love.


[00:23:25] And you can share that with your child. So think about the kind of energy you want that nursery or a child's room to have. Because it will change, but think about it for that, for that moment and use things that are easily replaceable and movable and recyclable, nothing should be . You should think of anything besides the big pieces of furniture as permanent, including the rugs.


[00:23:49] I love wall-to-wall cheap rug or a huge area rug. Get an organic cotton one inexpensive because that rug in a year is going to look like poo! because it's going to be poohed on and then you can just roll it up, donate it, whatever, recycle it. So rugs to me are very important that you don't spend a lot of money on rugs at all, because your baby is going to, you're going to be on the floor a lot with the baby, and it's really going to get ruined, furniture as far as make sure.


[00:24:22] Try to. I mean, there's so many certifications that to me is still kind of bogus. Like there's the GreenGuard certified. You know,, it's okay. Nothing is, unless you're going to get a completely handmade, custom non-toxic raw piece of furniture, which is very expensive. You know, you, we, we have lines that we'd like on our site that, that meet certifications, you know, of what we think are the best of the best. There's nothing perfect. Unless it's completely non-toxic. But GreenGuard certified I guess, is okay. As far as furniture mattresses, as I mentioned before, to me, that is the most important purchase in the entire space. The mattress is key.


[00:25:01] That is it. Like if you can't get anything, just get a good mattress. And I do tag companies like a Naturepedic because they really focus on, on healthy, healthy, healthy mattresses for babies. And it's impressive. So the mattress is key. The big furniture is key, the energy, the walls, of course, painting, you know, choose nontoxic paint.


[00:25:24] I like Farrow & Ball . It's a little expensive. But it's, it's, it's very, very safe paint. They have, what's called very low VOC, volatile, organic compounds. VOCS are very dangerous and VOCs off-gas So the gasses is still come off. So you paint a wall and you know how they tell you to wait a couple of days so the smell goes away. Well, the smell could go away, but guess what? The gas is never dissipated ever. And your baby's breathing that in, especially when they're sleeping: 75% of the time. So pick something like a Farrow & Ball , again, a little expensive. You know, certain lines. I really believe in, you know?


[00:26:06] Rebecca: If someone's listening to this and they're like, oh my gosh, my child is in this room and, you know, we used, this paint. And I didn't think to check if it had VOCs what are they going to do? I mean, can they paint over that? Does that reduce the offgassing or, I mean, a lot of people are already in a home, and they have maybe are already exposed to this, like I know that there are air purifiers that remove VOCs what else can be done?


[00:26:34] Deborah: I don't know. I don't know the answer to that question. I'm going to get back to you on that. That's a very good question. I would think that there's, there has to be a way to scrub it off, I would think. And I'll find out for you and I'm going to let you know.


[00:26:48] Rebecca: Okay. I'll put it in the show notes.


[00:26:50] Deborah: Yeah. Yeah. That's a very good question by the way. Very good.


[00:26:55] Rebecca: Furniture and energy.


[00:26:56] Deborah: Right? So furniture. So now let's say you have existing pieces, then you're in that space. If they are pieces that you can move out or donate. I would do that because especially in your child's room, it's a sacred space. Treat it as a sacred space and treat everything you put into that room as something that you want to be as clean as possible.


[00:27:22] And that's something that people will ask me. Well, someone donated a crib to me, or they donated you know, shelving or they donated a dresser unless you know that it's non-toxic, I wouldn't take it. So if chances are, if it's really old, It probably or could have lead it being, it could be painted with lead paint.


[00:27:41] So is it worth it no? Same thing with cribs , you know, they don't have the regulations that they now have. So I'd be very wary of taking things that are donated. And if there are things like wall art or things that are special, make sure you hang them high enough. So the baby can't get to them and mouth them.


[00:28:00] Cause you know, baby's mouth, everything. So let's say it's a, it's a pretty piece of art. It's a cute frame or something. And you're like, okay, I'll put it in the room. It's so small. Keep it away from the baby in case they ever get ahold of it.


[00:28:12] Ceilings. I never ignore the ceiling. That was one of my little trademarks when I first started my business, because I always say that when a baby and an adult goes to sleep at night, I want them to see something positive. And when they wake up in the morning, I want them to see what's something positive. So the ceiling is a great mural. You can put something that makes your child smile and giggle.


[00:28:37] It could be the silliest thing, like a sticker. It could be anything that makes them smile. We had, I had found this little lamp when I was doing my twins when they were little, their bedroom, and it was $15. I found it at like a, an old store when I was walking by and it was metal star. Sure. You've seen them before.


[00:28:56] And it had holes. And we put in the ceiling and at night the routine came to turn the turn, the light and the room would just buzz with all the lights going all around. And my twins, they loved it. And it was like, it was a way to end the evening and we did it for years and it cost very little. So don't ignore your ceiling.


[00:29:19] Okay. So think of something positive. Speaking of ceilings, you want to put a fan, even though fans are pretty ugly. You want to put a fan in an infant's room, especially it will reduce the event of SIDS by 72% because it cools off the room.


[00:29:39] Really?


[00:29:40] Deborah: Yes. So put in a simple fan, something very simple that just blends in.


[00:29:45] If you have a white ceiling put in the white fan simple and then do something cute around it, something happy, and that makes them giggle. So let the fan just kind of disappear. That's what I suggest, but definitely put a fan in the room. I strongly suggest that.


[00:30:00] Rebecca: Wow. I had not heard that before.


[00:30:03] Deborah: Yeah. Yeah. Storage. You want to have storage everywhere you can. Every nook and cranny, because you can never have enough storage. The child's nursery is tiny, tiny, or even if the, if the crib is in them, in the bedroom with you for, for the, for a year or two, think of storage.


[00:30:21] So any little piece of furniture you buy it better, have a drawer , it better have a shelf. It better have something. And of course things on wheels are wonderful because that's also great for toddlers that have a lot of energy. You can get the little storage bins on wheels, you put stuff in it and you let them go back and forth, motion back and forth, back and forth, back and forth.


[00:30:40] Push, pull motion, push pull. Very good for you for children with a lot of energy.


[00:30:45] Rebecca: That's a great tip. I never thought about that. Awesome. Well, I know that there's so much more that we could talk about. We could talk for hours, I'm sure about all of these things, but we only have so much time. So I'm curious. I know you said you had a course. Can you tell us a little bit about what this course involves? Like who is it for? What's entailed in it.


[00:31:07] Deborah: Sure I am. So I have to say I'm so proud of this course. It was such a labor of love and have a few courses, but this one is without a doubt, my favorite. And it's all about how to decorate to beginners course for parents, for moms to be especially pregnant women.


[00:31:25] Because once you have the baby, I don't know if you have time to like take a shower. You know, I, at least I didn't, I think. It's all about how to decorate an easy, I hold your hand for. How to even do a nursery layout, how to decorate a chemical and cruelty-free nursery and kids' room for your children.


[00:31:44] And I give you my personal decorating tips. We teach you everything from soup to nuts. You don't have to think, it's only two hours. I wanted it to be short. It includes tons of coupons, worth hundreds of dollars, which in itself, like pays for the course three times over. We include sheets. We include guides. We include all these things, but easy, because I know I don't have patience or time.


[00:32:10] And that's how I wanted this course to be. I also, in the course, not only am I in the course talking about chemicals, talking what to look for, what to avoid, how to decorate, literally, how to approach it. I talked to you about. Patterns and fabrics and colors and how to mix, how to match, how to create gender neutral, how to create a girl's from a boys room, themes, everything we go over, all the decorating stuff.


[00:32:33] But in addition, I also talk about what cleaning products to use. And I have, for example, Lisa Bronner of Dr. Bronner soaps, which is the soaps that I use in my own home. She's on a module talking about how to clean furniture. I have the founder of Naturepedic on talking about just mattresses, which is amazing because he's an engineer at heart.


[00:32:55] We have Lisa Lisa Cortez, who talks about sleep and how to create the best environment to sleep for babies. Sleep machines, things like that. She talks about the pros and cons of everything. We have someone talking about fabrics, Patty Grossman from Ecotextile. She's amazing. She's like our fabric guru.


[00:33:14] She comes on and talks about fabrics and materials. What to look for, what to avoid. It's an awesome course. And I'm just, I love it. And it's again, it's only two hours and it's easy. It's a beginner's guide and you leave the course knowing exactly what to do. And if you want, the course has the entire course, if you want, we help you grow a Pinterest board, if you want.


[00:33:37] So when you're done with the course, that's it, you know exactly, you don't then have to, you know, there's the courses that you take it and then you have all this work to do. This is not what I wanted. You know what I mean? Like you take the course and you're like, oh my God, why did I get that course? Now? I like need 75 hours to put this together.


[00:33:54] It's not like that when you're done, you're done. You'll have the room, done.


[00:33:59] Rebecca: Wow. Yeah. I love that. You have no idea how many courses of what and thought what have I gotten myself into? Honestly, I can honestly say that I'm a little bit of a course junkie, so I don't even have a baby anymore. And I want to take your course,


[00:34:14] Deborah: but you know, what's funny. I tell adults to take the course, cause it's really the same things you're learning. Basis, you know, it really is. It's all the same information.


[00:34:24] Rebecca: So you're saying you have like clickable links where people can find everything,


[00:34:29] Deborah: everything it's like, it's, like I say, it's like, I, I like, I'm like the dummy-proof because it's a dummy-proof course, you know, beginners course for decorating a, safe, non-toxic kind nursery because kids room, because I'm also a believer in energy. And I think that the last thing you want to do is bring tragedy, and despair into a child's space. And that's what you do with a lot of these things. And I don't know, it's I do, I believe in energy. So you're, you're also bringing, you're promoting a very positive environment for your child, right?


[00:35:02] Rebecca: Very helpful. Very useful. I know a lot of parents will definitely want to get a hold of that course. So where can they find it?


[00:35:10] Deborah: They can go to dimaredesign. and we have a nursery page and on the page, you'll see that the course right there. You just click on it and we give you a discount code for 25% off the course for your listeners.


[00:35:25] Rebecca: Awesome. So if you're listening, make sure you go to the website thatorganicmom.com and get the links to Deborahs' site so that you can take advantage of the special discount she's offering for listeners. Check the show notes. There'll be a lot more information there. So as I always say, just always go back and check the show notes.


[00:35:43] You'll find everything that we've talked about and more there. So, Deborah, thank you so much. This has been so fascinating. Really kind of wish I had a room to decorate now.


[00:35:54] Deborah: Have another baby.


[00:35:57] Rebecca: Oh Lord. I'm done with that.


[00:36:02] Deborah: As my mother says, kitchen closed.


[00:36:06] Rebecca: Exactly. I appreciate it because I know this is going to be beneficial for so many new moms out there. And it's just, so it's really hard. It's overwhelming for young moms. Now there's just so much to think about, worry about, so this is very helpful.


[00:36:20] Deborah: Yeah. There's so much information and there's so much slick marketing. And I mean, when we were creating the course, I'm looking, I said, I don't know how a mother nowadays puts together like a nursery because when my kids were little, it was very limited. It's kind of when I was pregnant, there was one maternity store and the dress cost $300. And I wore it to death because there were no, you know, it was like such a novelty to get a maternity dress. It was like my big expense, you know? And So it is it's overwhelming and I don't want it to be an, it shouldn't be.


[00:36:49] So I really, I really bring it in for you and, and hold,. I think it's about holding your hand and just saying, trust me, I have to experience, this is what I, I think you should do.


[00:36:59] Rebecca: Right? Definitely very knowledgeable about the subject. And I appreciate you so much. Thank you for being


[00:37:07] Deborah: thank you so much, Rebecca.


[00:37:12] Announcer: Thanks for listening, please rate and review so other people can learn about this podcast. Find out more about sleep hygiene, eating healthy, tasty recipes, zero waste lifestyle, and lots more on that organic mom.com. Help us spread the word people and stay healthy. .
Watch this Podcast On YouTube
If you enjoyed this episode, please take a moment to rate and review it; here are instructions on how to do that. We'd be most grateful if you shared this episode on social media.