Podcast: Play in new window | Download
Subscribe: Apple Podcasts | Google Podcasts | RSS
Last Updated on September 13, 2022 by Rebecca Huff
So you want to know how to stop drinking energy drinks, and you've probably tried giving them up before without success? You are already aware of how hard it is to quit. I see and hear of young adults, and even teenagers who are consuming these beverages on a daily basis, and quite frankly, it worries me.
Adolescents are reportedly the fastest-growing population of caffeine users in America. Research indicates 83 percent of teens drink caffeinated beverages regularly, and nearly 96 percent consume them occasionally. Caffeine isn't the only substance in energy drinks that give consumers a jolt.

USNews
Experience Quitting Energy Drinks
My husband will freely admits he had an energy drink addiction. That was before he went cold turkey on and quit energy drinks for the last time. (He discusses this in the podcast episode at the top of this post.)
In this episode we are having a casual conversation about the health issues it was causing for him, how he felt, and the strategy he used to get through the caffeine withdrawal symptoms.
Something we didn't talk about in the podcast episode that I will mention is that he quit drinking soda twenty years ago. I introduced him to coffee when we met and he still drinks it, but not all day for energy. He drinks a cup in the morning and a few cups during the day.
Coffee did not replace his consumption of energy drinks. In fact, he says he drinks less coffee now than when he was on energy drinks.
As my husband said when I asked him, a cup of coffee does not give you the same energy levels that the stimulants in energy drinks do.
That is because energy drinks contain more than caffeine. In addition, people tend to chug energy drinks, whereas they'll sip coffee. So the caffeine delivered from a cup of coffee is incremental rather than a blast.
Addictive Ingredients in Energy Drinks
Anyone who has tried to stop drinking energy drinks knows they contain addictive ingredients. Although most labels will boast "green tea," "ginseng" or "B12" to give you an energy boost. That is not natural or healthy and it is akin to greenwashing on a health care level.
Some may contain guarana, caffeine, creatine, ginseng, taurine, and a variety of vitamins, protein, carbohydrates, amino acids, and minerals. B vitamins are known as energy supplements and many energy drinks contain B12 and others in excessive amounts.
When you overdose on most B vitamins the excess is excreted in the urine, however, it is important to note that B12 is a fat-soluble vitamin that is stored in the liver.
B12 is stored in substantial amounts, mainly in the liver, until it is needed by the body. If a person stops consuming the vitamin, the body's stores of this vitamin usually take about 3 to 5 years to exhaust. Merck
Some energy drink companies are quick to point out that the caffeine content in energy drinks is less than that in coffee. In most cases, that is true.
As I mentioned, energy drinks contain other harmful ingredients such as synthetic Taurine. In its natural form, Taurine is an amino acid produced by your body. It helps to regulate energy levels, your nervous system, heart beat and more. Added to energy drinks is another way to greenwash consumers.
For my husband, I suggested, he'd be better off to take the amino acid L-Theanine with a cup of his coffee to improve brain fog and increase focus than to drink an energy drink. Scientific studies show this simple amino acid amplifies the benefits of coffee while reducing jitters and other side effects.
Both my husband and my sons agree that L-Theanine capsules are far more beneficial than an energy drink. (They were doctor recommended to me over a decade ago.) We get ours in bulk through the link above. Read more about how L-Theanine can help with anxiety and even help you focus in school here.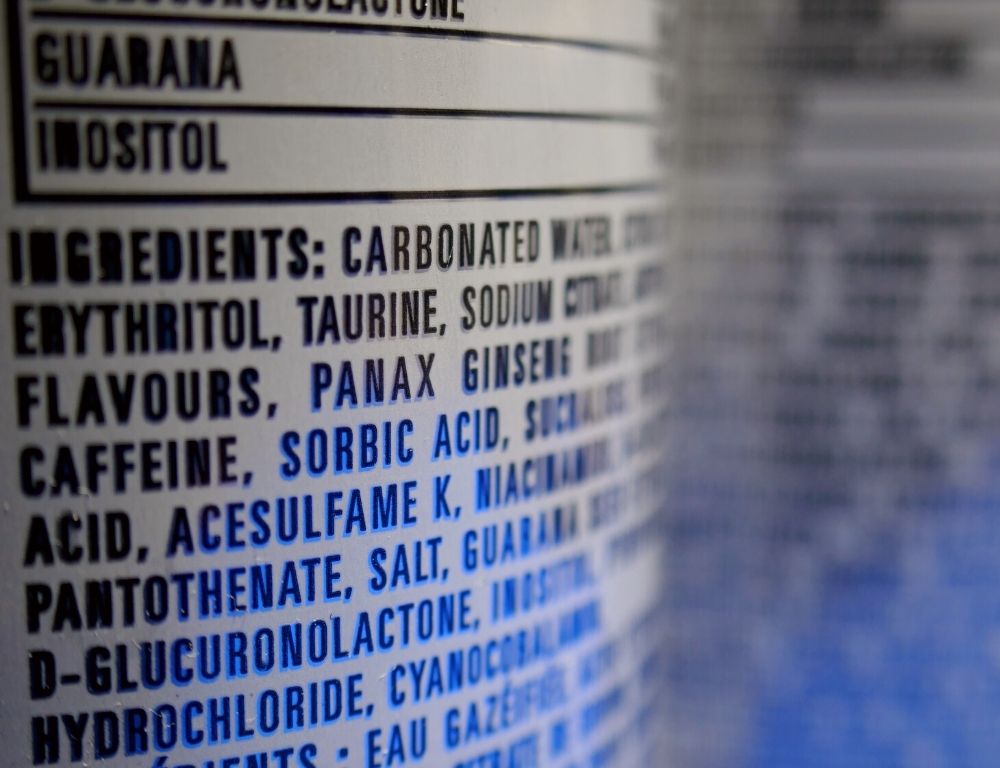 Health Issues from 10 Years of Energy Drinks
My husband experienced weight gain, particularly belly fat, which is an indication of blood sugar imbalance.
weight gain
growing waistline
unstable blood sugar levels (pre-diabetes or metabolic syndrome)
heart palpitations, increased heart rate
high blood pressure
increased anxiety
Benefits from Giving Up Energy Drinks
These benefits are from having given up energy drinks for three months, however, the weight loss came pretty quickly, within the first month of quitting.
weight loss (15 pounds)
stable blood sugar levels
In addition, there were other odd benefits he experienced after he stopped drinking energy drinks. For one, his spice tolerance got better. When he was on energy drinks, eating a habanero pepper, or anything hotter, would give him hiccups.
Since giving up energy drinks he can eat spicy foods without a problem.
Tips to Stop Drinking Energy Drinks
My husband followed the strategies outlined in 14 Ways We Avoid Metabolic Syndrome which included stabilizing his blood sugar levels.
When it comes to trying to wean yourself off of energy drinks, my husband says it doesn't work. Actually, he said, "get a straw, and suck it up." He recommends going cold turkey.
However, my advice is to focus on wellness instead. If you are also drinking soft drinks and sports drinks, you may be more successful if you give up all three. You can give up soft drinks using my "Quit Soda" Guide (it is free.)
Eat protein when you feel like reaching for an energy drink
Sleep when you can, you probably need to catch up.
Try adding in exercise. I know it sounds crazy but moderate exercise gives you energy.
Replace the energy drinks with healthy alternatives such as water, unsweetened tea, kombucha, and yes, even coffee (We drink Purity Coffee – you can save 10% with coupon code TOM10 on any roast!)
Try Wellness Shots instead, made with real food, they actually contribute to better health.
More on Coffee
Health experts everywhere are confirming the health benefits of a moderate number of cups of coffee per day. As of 2016, the USDA Dietary Guidelines Advisory Committee states that 3–5 cups of coffee were "tied to health benefits, including a reduced risk of cardiovascular disease and type 2 diabetes." Recently, a major study published in the British Medical Journal that reviewed results from over 200 meta-studies on coffee and health demonstrated the same thing.
But there is also evidence that even more coffee can increase health benefits even further. For example, while 3–4 cups per day were linked to a 25% drop in diabetes risk, but every additional cup up to 8 cups lowered that risk 5–10% more. Drinking 4–5 cups of coffee decreased stroke risk by 12%, but drinking more than 6 cups almost doubles that number to a 23% lowered risk.

Purity Coffee
College Students and Energy Drink Addiction
When we've talked about energy drinks with young adults and teens, one of the common comments we hear is that energy drinks are FDA approved. Yes, that is true, the FDA has approved the ingredients in the beverages. The problem is that FDA approval does not equate to safety.
Young College students reportedly consume energy drinks for a variety of reasons:
difficulty concentrating
insufficient sleep
lack of energy
paired with alcohol while partying
Multiple health concerns are associated with drinking energy drinks combined with alcohol. Because you're reading this article, I am guessing you care about your health enough to avoid or at least regret combining the two. For more information ask your healthcare provider or read the CDC warnings about the danger of mixing these two substances.
Final Notes + Quitting Caffeine
The bottom line is, if you want to break a caffeine addiction, you'll need to give up coffee as well. Make note that coffee often contains several more milligrams of caffeine than do energy drinks, but caffeine isn't the main concern for most people searching how to quit energy drinks.
In my husband's case, he wanted to give up energy drinks because of the "paragraph of ingredients" and what it was doing to his health. The caffeine consumption wasn't the issue as much as the artificial sweeteners and other ingredients.
If you are like him and aren't as concerned about the amount of caffeine in a few cups of coffee, but you'd like to give up the red bull, then consider focusing on stabilizing your blood sugar levels.
You can improve your mental health and eliminate the unwanted side effects that come with overconsumption of energy drinks by focusing on eating more healthily, exercising, and making sleep a priority.
Eventually, the fatigue and brain fog will clean and you'll beat your addiction.
You can watch this episode here:
Transcripts

Quit Energy Drinks


[00:00:00] Rebecca: I thought it would be fun for you to be a guest on my podcast today because so many people are, I hate to say it, but addicted to energy drinks.


[00:00:11] Shawne: That addiction's a good word for it. It is an addiction.


[00:00:14] Rebecca: It is. Okay. I'm gonna bring you a cup of coffee.


[00:00:25] Okay now, are you ready for this?


[00:00:30] Shawne: I'm ready.


[00:00:30] Rebecca: Cool. This is going to be fun.


[00:00:34] Shawne: Looks like it!


[00:00:35] Rebecca: It's fun for you. Cause you got to watch me run up and down the stairs. So I I'll just ask you, if you don't mind to tell us a like a little bit about how you got started drinking energy drinks, why you started and you know, what it felt like and all of that kind of stuff. Because when we first met you didn't drink energy drinks.


[00:00:58] Right.


[00:00:59] Shawne: I didn't even drink coffee.


[00:01:00] Rebecca: Didn't even drink coffee. I got you on coffee. Sorry about that.


[00:01:05] Coffee has a lot of health benefits. So if you drink it in moderation, I think so. I mean, I guess you can get really sticky on which things are healthy and which things are not healthy to use for energy. And I think that if you drink coffee in healthy, moderate amounts, it's okay.


[00:01:26] But anyways, the topic of this is energy drinks. So we're going to stick to that subject, even though we're drinking coffee. So if you don't mind to tell us how you got on energy, drinks and stuff.


[00:01:38] Shawne: So I had a, I had a full-time job and I decided I was going to try a second career. So I was starting pretty early and working pretty late, you know, six, seven days a week. And. I guess I made a comment to somebody about feeling tired, wish I had more energy and they introduced me to rockstar energy drinks, and I drank one and I was like, wow.


[00:02:05] And I felt like I could do anything. So I other than maybe a week here and there where I'd try and stop drinking them and then get off of them. I drank them pretty much nonstop, two, three of them a day for 10 years, I just came to believe that's how I had to function or what I had to do to function.


[00:02:32] Rebecca: So how did it, I mean, there was a difference between the days that you drank an energy drink and the days that you didn't, what were the days that you didn't drink an energy drink like?


[00:02:44] Shawne: Foggy, very tired, hard to concentrate, felt like it was a real time lapse in trying to make a decision or, you know, it just like you lost your, lost your edge and feel like I could do my job or even interact with people without them.


[00:03:03] So I even drink them on my days off because it was just what, like cleared the fog and let me feel like doing things. Talking to people.


[00:03:12] Rebecca: And so it felt like brain fog when you didn't drink an energy drink


[00:03:17] Shawne: It did.


[00:03:19] Rebecca: But did you know all along that it probably wasn't that good?


[00:03:23] Shawne: Oh, I knew it wasn't good for me. I always used to say, well, it's one of the healthier energy drinks.


[00:03:30] Rebecca: I know. I've heard that a few times


[00:03:32] Shawne: cause it I guess it didn't have a lot of sugar in it, but it had, you know, another paragraph of stuff on the back of the can that, I just made it a point not to really dig into what it did or what it was.


[00:03:43] And I just drank them.


[00:03:46] Rebecca: Well, just for the record, I've had so many companies that make energy drinks reach out to me to promote their drinks on my website or whatever. And I've turned them all down because I personally have I always felt like energy drinks were a little scary when we first got together.


[00:04:06] I don't know if you'll, I know you remember this. There's no way you could forget, but I was driving from my house to your house. It was, we lived 12 hours apart. So I was driving to you and it was late at night. I was feeling tired, a little sleepy, and I thought I need something to keep me awake cause I don't want to stop.


[00:04:26] And so I stopped and got like a caffeine pill or some kind of a, this is my one and only experience with any kind of energy thing. And I took it and I don't think that stopped shaking for probably 24 hours after taking one of those.


[00:04:43] Shawne: I remember it well.


[00:04:45] Rebecca: Yeah, that was kind of scary and I've never really, I mean, up until that point, I think I never really felt like I needed energy. And that was just a one-time thing, but I have been blessed and I'm thankful that I've been able to stay home to work. I've never had a job that was so demanding that I had to rely on something to get me energy, to do it.


[00:05:11] I think that's what happens with a lot of people is that they have something they just have to do. And they feel like, and I know this was your case. I know maybe some people, when they're younger, they think, oh, you know, that energy buzz does feel kind of good, I guess. And I think maybe they just like that, but I know in your case, it was I need to provide for my family. So I need to bust my butt at work. I need to really do a good job. I need to crank it out. And that's why you were drinking energy drinks at first, it was because you had two jobs, right?


[00:05:47] Shawne: It was. ,


[00:05:53] I was talking to one of my friends and I was saying that my husband's going to be on my podcast.


[00:05:57] And they were like, oh, are you guys going to talk about living apart together? And I was like, no, we're going to talk about quitting energy drinks. You know, now that I'm thinking about it, that probably would be an interesting topic since the living apart together podcast and article on my website are the most read and most listened to things that I have on the internet.


[00:06:17] But I just thought that because you had such a good experience with getting off of energy drinks, that it might be something that other people would find useful, because like you said, you were drinking energy drinks for 10 years.


[00:06:30] You were pretty dependent on them.


[00:06:32] I was on your days off,


[00:06:35] Rebecca: even sometimes you wanted an energy drink.


[00:06:38] Shawne: I believed I needed them to function. And when I'd try to stop drinking them, I'd feel bad. And I just couldn't get through my head that there was another way to deal with that. That feeling, you know, the only thing I could think of was just too go get a, a can of energy and chug it down and then I'd feel good for, you know, four or five hours and then I'd do it again.


[00:07:06] Rebecca: So if you drink an energy drink all day, then when you got home, how would you feel?


[00:07:11] Shawne: Wired. So it becomes a kind of a vicious cycle. You kind of Jack yourself up all day full of energy. So you feel like you can do whatever it is you want to do. I'm not saying that it was really required. It's just like you get it in your head. This is the only way I can function at the level I want to function at.


[00:07:31] So I put something in me to give me that energy. But then when it's time to come home and go to bed, you can't just turn that off. You know? So I would drink at night to, you know, kinda calm my body down. So drinking the energy drinks means you, don't have to, but whatever, I did drink alcohol at night to like shut my body down while drinking the alcohol at night.


[00:08:00] Kind of guarantees you're going to need the energy drink to get you rolling in the morning. I mean, at the, at the worst times, I would say that I would drink my first energy drink, while I took my shower, , it was, it just becomes a, a cycle and you can do it for quite a while.


[00:08:20] And then it, your body eventually, it's just like, This is a lot. This is hard to kind of where it on you. It's hard, hard cycle. It's a hard cycle to break because you don't think you can afford to invest the time it takes, to break it. It's not like you think you can just, go lay in bed for a week and get over your addiction, just life goes on.


[00:08:47] Rebecca: Yeah. I do want to talk about how you knew that it was like, okay, I gotta get off of these, but before that, so you said you would drink alcohol at night to kind of cause you're, you're basically pumping yourself up and then you've got to calm down to go to sleep. But you're, you're talking about mostly like red wine.


[00:09:09] Shawne: I mean, just different stages sometimes, you know, I like a, a good whiskey or a good bourbon, or, you know, you know, sometimes you go for years just drinking wine or whatever alcohol in general. I mean, and enough of it to, you know, if you're driving home and you feel like you're practically vibrating, obviously you can just walk in the door and go to bed, so you have to drink and you have to drink enough to, knock that out, and Go to sleep. So, I mean, you don't have to, you don't have to, but that's part of the cycle. You don't have to drink the energy drinks either, but if you drink the energy drinks, you have to do something to, is out or you're gonna, lay in bed till four in the morning, not going to sleep.


[00:09:56] And then you're gonna sleep for a couple hours. And then when you get up coming in energy drinks, are you going to need to get through the day? Because now you didn't sleep. It's just kind of like a upper downer, like just got to keep trying to keep it all balanced, where you don't overdo it.


[00:10:14] Rebecca: So how many times do you think, I know you've probably lost track. How many times do you think you tried to quit drinking energy drinks?


[00:10:23] Shawne: Several times a year for 10 years.


[00:10:27] Rebecca: And what was the longest you were ever off of energy drinks before now?


[00:10:32] Shawne: I think I made it like a, a week or so about probably five, six years ago.


[00:10:44] Rebecca: So fast forward to this year. You, you went and got a new pair of glasses and you kept noticing that like some days it seemed like the glasses were accurate in the prescription and some days it felt like you couldn't see that well,


[00:11:03] Shawne: yeah. So actually before I went and got the new glasses, I was struggling with my vision. Like, it just, it seemed really blurry, especially when I was at work and it would. And I realized that sometimes it was blurry and sometimes it wasn't. And I didn't quite understand why that was. And then I went and got new glasses, even though, if your vision sometimes blurring sometimes not, it doesn't really make sense that it's your glasses, but I got new glasses and I was kind of having the same issue there and it started making me think about what kind of things affect your vision or cause your vision to fluctuate. And obviously I'm around you and all the stuff you talk about and have been sharing for however many years, some of it I absorbed and some of it I've just kind of heard, you know, but then I realized.


[00:12:05] And we started testing my blood sugar and realized that, blood sugar fluctuations can affect your vision.


[00:12:16] Rebecca: I mean, back up. So you, you started complaining about your vision and then we talked about how having blood sugar imbalances can cause you to have vision disturbances. It can cause problems with your eyesight.


[00:12:36] And so that's when I had the idea to, or actually, maybe you even had the idea. Do you remember if it was you or we talked about it? What. Well, I remember we talked about your eyesight and, and you were telling me, because like one day you're like, these glasses are wrong, you were really frustrated.


[00:12:57] And then one day you were like, they're fine. And, and I said, your, your vision, like if the glasses work today, they should work tomorrow or whatever, this is, this isn't right. It has to have some, there has to be a different cause. And between the two of us, we talked about monitoring your blood sugar levels.


[00:13:14] We had a blood sugar monitor, which we've had for years, because for awhile, I did Keto, and with being on the ketogenic diet, you check your ketones to see if you're in nutritional ketosis. This particular monitor will check ketones and glucose. So I had that already in the cabinet and I'm kind of geeky with stuff like that.


[00:13:39] I like to know what my body's doing. I like to like, know what my family, you know, how healthy are we, what's what's going on. And so I had this and sometimes I would just say, My family members, blood sugar, just because I wanted to know how they were doing. So we had talked about with the vision and then we checked your blood sugar and it was pretty high.


[00:13:58] Do you remember what it was that morning?


[00:14:00] Shawne: I want to say one 30, something like 1 39.


[00:14:04] Rebecca: I thought it was like 1 43 ish.


[00:14:06] Shawne: It was very high.


[00:14:09] Rebecca: It was pretty high, for first thing in the morning. Yeah. The thing about it is you're in pretty good shape.


[00:14:18] Wouldn't you agree? So it was kind of a surprise. Don't you think? Were you a little surprised when your blood sugar was that high that morning?


[00:14:28] Shawne: I was.


[00:14:30] Rebecca: And so when, when we found that your blood sugar was at high, I remember directing you to an article I had written a while back 14 things that we do to avoid metabolic syndrome, but we had been living separately for a couple of years.


[00:14:46] Whole nother podcast episode, but we'd been living apart while staying married and being together. And we were living in two separate apartments . And so I wasn't like right there for every meal or every little thing that you, which I still can't be because you're at work and I'm at home, but you probably drank more energy drinks, and then wine at night or whatever.


[00:15:07] When we lived separately, I feel like.


[00:15:10] Shawne: Probably.


[00:15:13] Rebecca: So after you read the article, we talked about you eating more protein and less carbs and trying to, because the other factor about this that always has tipped me off that your blood sugar was a little bit out of balance, was that you always would say, you know, I need to get something to eat. Sometimes you would be like, I really need to eat something. And at work you would always say that everyone was always amazed at how you, how frequently you ate, right?


[00:15:41] Shawne: Yeah. Like once an hour I'd have something to, you know, some bowler plate or something.


[00:15:48] Rebecca: It must be nice to have such a fast metabolism. But you, I would send food with you. And it always was quite a bit of food because thankfully you always eat whatever I make for dinner. You take the leftovers with you for lunch the next day. And this, you know, you might have three or four items that you take with you and eat a little here and there.


[00:16:10] It's not like you were eating a full on meal every hour, right?


[00:16:14] Shawne: And I just kind of grazed all day long. Cause if I went for more than an hour or two without eating, I'd get dizzy and lightheaded and I would feel bad.


[00:16:26] Rebecca: Right. So with all of these signs you realized, okay, my blood sugar is definitely kind of out of balance. I need to pay attention to this. So what did you start to do?


[00:16:37] Shawne: So, I mean, I knew I needed to get off the energy drinks, but what I didn't know was what to do when I got that feeling. Cause I had to do or felt I had to do something when I'm, when I'm at work, I feel like I have to be pretty sharp and quick and engaged. And you know, if to do that, I had to drink energy drinks then, so be it. So, you made a comment that I'm sure you'd made before over the years, it just didn't. click, or sink in or something about eating protein when I get that feeling So, I mean, I still have to remind myself when I get that feeling that that's what I need sometimes. Cause right now maybe I'll reach for a cup of coffee or something, and that doesn't really solve the problem, like when I'm at work. But you told me to reach for some protein and eat protein. Anytime. I felt like I needed an energy drink. Obviously I'd have some stuff that I brought with me from home.


[00:17:36] We had a vending machine at work that had beef jerky in it. And that became, like my emergency go to like, to the point where the guy that stocks the vending machines, like what happened, nobody's ever bought this stuff, now, every time I come here, it's like empty, you know? And I bet I eat, four of them little bags of beef jerky a day for the first week, like, I'd start to feel like I was gonna.


[00:18:02] You know, like I was crashing and, And I knew I could get a thing of the beef jerky part a part of the way I can do something sometimes too is if I tell everybody I'm going to do it, then it's like, it's like a matter of pride, it's like a failing or so I told everybody at work, what I was doing, that I was going to stop drinking them.


[00:18:23] That I'd found a way to kick them. That I could eat protein to give me the energy I needed or to get rid of that feeling. Now if I was going to go drink an energy drink, I'd have to drive five miles down the road and hide in the woods to do it or something. Cause, , I told everybody, I'm off of them. So but it's been what, three months now or something, and sometimes I still get that feeling I'm tired or maybe I didn't eat exactly the right thing. So. I feel like my blood sugar is getting off or just whatever it is, whatever that feeling was that always made me want to reach for an energy drink and I'll go get a thing of that jerky.


[00:19:03] Or if I've got something suitable in the fridge at work, I'll eat it. And I mean, five, 10 minutes later, it's the feelings totally gone. And what's funny, is there still one rock star in the fridge at work? It's the cans starting to fade, it's been there for a while. Nobody drinks it, it's like the last one I bought and it's just sitting there.


[00:19:25] Rebecca: Yeah. So, and that's funny, it's kind of like when someone quits smoking and they keep that last pack of cigarettes.


[00:19:37] Shawne: Yeah. Yeah, I see it. I see it every couple of days. I notice it's sitting there


[00:19:44] Rebecca: as a reminder of what not to do.


[00:19:46] Shawne: Yeah. It doesn't have any appeal anymore.


[00:19:48] Rebecca: Yeah. Because I mean, really it might've solved the energy crisis for a few hours or at best, but then the next crash was always harder. Right.


[00:20:02] Shawne: Yeah, that, and I'd be scared to drink one for the same reason that, it's probably been 17 years since I had a cigarette, you know, and I work around people who smoke all the time, you know? And every once in a while, if you're in that frame of mind or you're really stressed, you look at them and you're like, huh, I want a cigarette, but you don't have one.


[00:20:24] I don't have one because I'm afraid that if I had one. Then I'd have another one. And next thing you know, I'd be a smoker again. So I mean, to me, staying away from the energy drinks, it's just like, I look at it and I'm like, I don't want to go back there. So. I guess I'll go find me some beef jerky, although it's getting kind of old, but if I, if I eat right, if I plan ahead and think it out and I'm careful what I eat, then I'm good.


[00:20:53] Rebecca: But there's other things besides beef jerky that you ate, honey?


[00:20:57] Shawne: Well, I know all the stuff you sent with me, or I would one of the favorite things everybody eats at work. There's a little hole in the wall, barbecue joint in town called Jack's barbecue. And I'm a cheeseburger conniseur, and it's probably one of the best outside of your own home cheeseburgers that you can get.


[00:21:15] And, you know, we probably order them at work three, four days a week. Well, if I don't have any food with me, you know, then that's what I order. And when it gets there, you know, it's an inch and a half stack patty's with everything imaginable on them. And I just peel the bun off, throw it in the trash and eat it.


[00:21:35] And, you know, it's like a salad and some protein and stuff.


[00:21:41] Rebecca: Why don't you order it without the bun?


[00:21:46] Shawne: I don't know. You have to meet Jack. I don't even know if I could explain to him why I wasn't going to eat the bun it came on or what they would then do to my burger. Yeah.


[00:21:56] Rebecca: Yeah. But whenever Jack listens to this podcast, then he finds out you're throwing away buns. How's he going to feel about that?


[00:22:06] So Jack can start making your, your burgers without, without the bun so we can reduce food waste.


[00:22:13] But anyways, besides that, I just hate throwing food away. It's a, a whole nother podcast, but anyway, so you, you realized that if you could just get your blood sugar stabilized, that you would feel better. And I know sometimes when you're at home on your day off, instead of reaching for an energy drink, you'll just go take a nap.


[00:22:36] I mean, you can't do that when you're at work, but, I think really it boils down to just taking better care of your health, right.


[00:22:45] Shawne: Not artificially getting that energy you need, but giving your body, the fuel it needs and resting. When you need to, the other benefit to not drinking all the energy drinks is not needing so much to wind yourself down when you get home at night or medicate yourself to sleep or whatever.


[00:23:05] I mean, I still enjoy a glass of wine, but, there's a big difference between a small glass of wine, a couple nights a week and half a bottle of wine. So it Yeah, it just helped me feel better and kind of level me out and helped me lose some weight that was kind of annoying. So,


[00:23:25] Rebecca: so how much weight did you end up losing?


[00:23:28] Shawne: I'd say about 15 pounds fluctuate every day between like 13 and 15 pounds. Less than what I weighed before. So, oh, I'm happy about.


[00:23:42] Rebecca: Yeah, that's probably, you know, a lot of that, it's kind of like, drinking a soda, energy drinks have sweetener. I know you tried to buy the healthiest ones or whatever, but they all still have something in them to make them taste good. Otherwise people wouldn't drink them. I mean, they might drink them, but not as heartily if they didn't taste good. And I don't know, even the healthy ones as you would call them, I would always look at it and think, this isn't healthy. I know there are probably energy drinks out there that have some healthy ingredients and, possibly even, I don't know what it is.


[00:24:22] I'm sure someone, if you're listening and you know what the healthiest energy drink is, you can You can let us know you can comment or send me an email and let me know what that amazingly healthy energy drinks. I do know that there are some energy drinks that have, B12 and other supplements.


[00:24:38] Jen saying there are natural herbs and ways that you can boost your energy in a more nutritious way, a way that's not gonna Rob your health, but at the same time, if you feel like you need energy every single day, then something's wrong. And especially, if you have all these other signs like you were having with the vision and the feeling like you were going to crash and getting dizzy and just feeling exhausted and all of this.


[00:25:07] Shawne: Yep. So thank you. Thank you for finally getting it through my head. The protein thing is really what helped. I mean, I've known that I needed to stop doing it, but I just, I mean, I just need to know, I need a simple, how to accomplish something, you know, and if I can get it, you know, if I can't get it through my head for how to.


[00:25:33] How do I accomplish what I'm trying to do? And I'm usually pretty decent at that, but some things I just, that protein go get some protein. When you feel like you're going to need an energy drink, or you feel like you're going to crash or your vision's messing up, or, and, and that's, that was the, the trigger.


[00:25:53] I mean, the motivation was there. No, I didn't like the way I felt. I didn't like the way I kind of medicated myself at night. I didn't like the fact that I had, a little bit of weight that needed to go away, but I just, couldn't really get it through my head process to just, stop. I mean, yeah, I could stop, but I couldn't in my mind, I wouldn't be able to function and do the things I needed to do so.


[00:26:20] Rebecca: Yeah. And I would say like, as a side note that it's not just eating protein, it's also, I mean, because you cut way, way, way back on carbs. And so the thing about it is sometimes carbs can act like sugar or act like. Kind of, you know, in your body similar to what an energy drink would do. If you're eating, say a donut or something, you might have a quick little boost of energy from eating, say candy bar or something, but then you're going to crash later when your blood sugar crashes.


[00:26:51] So it's kind of the, the reason that I said to eat the protein was because protein helps to stabilize your blood sugar. But at the same time, if you're still eating a ton of carbs, If you were pairing that protein with carbs, like especially empty carbs, which you really didn't eat that much, but still, if you had just been replacing it with say like an energy bar or something like that. I don't feel like you would have had the same success, but what you did was the protein and cut back on your carbs. I mean, we didn't try to get you into ketosis or anything like that, but you are definitely more following a low carb lifestyle.


[00:27:35] I mean, you're not legalistics about it or like, oh, I can't have that, you know? Sweet potato, or I can't have that pancake the Sunday morning or whatever, but for the most part, during the week, you cut back on carbs.


[00:27:49] Shawne: Yeah. Dramatically. I mean, yeah, you're right. I won't pass up on a, a really nice slice of bread or, but I don't eat what I consider like pointless, garbage carbs, you know, I only, you know, chips or just some ordinary white bread or the bun on a burger, but if it's a, you know, slice of everything bread with avocado on it that went with my breakfast this morning, I'm in so that, and then just really consciously trying to avoid sugar. At work there's a big freezer that's almost constantly full of impressive assortment of blue bell ice cream, that's everybody's thing. Probably three weeks ago, I I kept looking at the butter pecan like, I really liked butter pecan so, you know, I've filled a cup with butter pecan ice cream, and I ate it and I was like, that's pretty good. And the next day I did it again. And then I'm like, I could feel myself actually starting to like, feel bad from it. And now it's easy to look at the ice cream in the freezer and be like, I'll pass.


[00:29:01] It's gonna, it's gonna taste really good. Cause I really liked butter pecan ice cream, but I know I'm gonna feel a negative effect from it, 40 minutes after I eat it. ,


[00:29:12] Rebecca: That's such a good point. I'm glad you brought that up because it is so important. And I think that's what you've learned to do is to listen to your body.


[00:29:20] And that's something that I feel like I've been doing for years, because I had to, if you have a problem that you have to deal with, and some days you feel like you can't get out of bed, then you have to learn to listen to your body. You have to learn to figure out what it's telling you. And one of the things like I also would enjoy drinking alcohol, but it always, always made me feel bad. So I don't, I just don't drink alcohol. I rarely, maybe twice a year have some alcoholic beverage to drink. It's super rare because the first sip I take of it, it doesn't matter if it's organic wine or, whiskey, it doesn't matter what it is. It always makes me feel bad, so I just choose not to drink it.


[00:30:04] But I do think it's so important to listen to your body and what you were saying. But not just that, but also the fact that you weren't just listening to your body. We also, and I really wish I had said this earlier, but we also monitored your blood sugar as we were going along. In the beginning, I checked your blood sugar, a couple of two or three times a week, I think to see.


[00:30:26] You know, do we need to go to the doctor? Do we need to see, like, what should we do? Because I have a really good functional medicine doctor that I feel like could be helpful in that situation, but I felt like it could be taken care of with just some lifestyle and dietary changes. And we did monitor your blood sugar.


[00:30:45] And the last time we checked it, how low was it?.


[00:30:49] Shawne: I want to say like low nineties in the morning .


[00:30:52] Rebecca: It was way lower than that.


[00:30:54] Shawne: I don't know. I know I won the contest I'm morning cause we tested everybody's no,


[00:30:59] Rebecca: was really low.


[00:31:00] Yeah. All I know is I won. So that's all that mattered. So I don't remember exactly what it was either, but we did monitor your blood sugar levels while we were going through all of this, just to make sure that you were doing okay, because I didn't want, If you had a problem, clearly we would have been trying to figure out do we need to do something different?


[00:31:22] But I mean, and this is the thing I think with metabolic syndrome that people think it's just black or white. Like either you are a diabetic or you're not a diabetic, there's so much leading up to becoming a type two diabetic. I mean, there's, there's so much, it's so preventable. And I think a lot of people don't realize.


[00:31:43] A lot of the little signs and signals that their body sending that is a tip off that, you know, they may be have pre-diabetes or they're heading there. So it's really important to monitor and check these things and, just to be really careful, but so.


[00:32:01] Shawne: Say a lot of people are not fortunate enough to be with somebody who actually knows and understands all that and can remember it. And, you know, just like when you asked me what my number was here there, you know, I don't remember, but you remember all that stuff and you understand it and makes it easy for me. It does. I mean, all I gotta do is, you know, kind of listen and follow along and pay attention and, you know yeah. Discipline myself to, you know, do the right thing, but I don't really, I don't have to figure it out.


[00:32:37] You know, I just have that. So


[00:32:44] Rebecca: I guess, I mean, but I do think, you know, people can be more aware and I guess that's probably part of why I do what I do, because I think, you know, it's not like you have, I think doctors are great and I definitely want to have a doctor if, need stitches or my arm is broken or whatever, but just for the daily functioning of your body, there's so much you can do, paying attention to your body and knowing, you know, what, what feels right and what doesn't and you know, what things are healthy.


[00:33:14] I just think it's, it's really important. And I guess that's part of my mission is to help people to be more aware and to take care of their bodies because you only get one. And when it starts to fall apart, it doesn't feel too good. Yeah.


[00:33:29] You pretty much just learned to stabilize your blood sugar levels and you, you mostly eat food from home..


[00:33:37] Shawne: Yeah, usually it's all I can do to eat everything you send with me, but, you know, if I ever do need something, that's pretty much my go-to is I just get like you know, cheeseburger with all the fixings on top of, you know, tomato and onions.


[00:33:52] And I mean, I don't know, maybe that's not a super healthy thing, but it, it seems, you know, it's not junk food, you know, I don't ever eat fast food or anything like that.


[00:34:03] Rebecca: So right when you're talking about Jacks, it's like a, it's kind of almost like a home cooked burger, I guess.


[00:34:09] Shawne: Yeah. I mean it is. It's it's pretty good. So yeah, I don't really, I don't really eat much of anything else. If I, if I'm driving or I'm just, you know, need a quick snack, it pretty much is always like you know, you can buy little packs that have likesliced up meat and cheese in 'em or, you know, it's just that that's kind of thing I go to and, you know, maybe have a cup of coffee and drink.


[00:34:34] Plenty of water.


[00:34:38] Rebecca: Yeah. And there's other things you can do listed in this article. I had listed 14 things and one of the things that really also helps is, is exercise. Just getting extra as if you can only exercise a couple of times a week or two or three times a week, that also will help you to have better blood sugar levels.


[00:34:55] Exercise is tied to your blood sugar, but that can also be very helpful just to walk, you know, on your lunch break.


[00:35:01] So thank you for sharing that with us. I just felt like it was super important. Cause I know there's so many people that depend on energy drinks. Even one of our sons, our older son, he had started drinking energy drinks and I feel like it's unfortunate when a young person starts to rely on energy drinks. So young, cause the younger you are, you are the better your body should be working. And to start relying on an energy drink so early in life, it just seems like it's setting you up for hardships later. So my, my thought would be if you've never had an energy drink, don't start drinking them.


[00:35:43] Shawne: And I actually tell people that cause you will probably get addicted to them and. Maybe you'll kick them, maybe you won't. So thanks for helping me kick him. And it's nice to finally be a guest on this podcast that I heard so many times.


[00:35:59] Rebecca: You're welcome. Thank you for being a good sport. Will you come back and talk about living apart and living together.


[00:36:06] Shawne: Well, I'd be honored. Any subjects you want to talk about


[00:36:09] Rebecca: You're the best.


[00:36:11] All right. So that's pretty much it. If you're listening and you've had to have any questions that we haven't covered, if there's anything that you want to know, you can reach out to me and I'll make sure to ask Shawne and get the answer for you and let you know.


[00:36:25] If you have any specifics, want to know exactly, you know, what he did or how he did something that we did not cover? Yeah. Feel free to reach [email protected]. Thanks for listening.


[00:36:37] Shawne: Thank you.
​Source: