A bedroom oasis will help you get quality sleep, night after night! Hopefully, you spend at least a third of your day in your bedroom. If not, you should be! Having a peaceful oasis to go to when your work day ends and a calm spot to wake up in is one of the best gifts you can give yourself.
When furnishing your bedroom, think minimalistic. In other words, try to keep the exercise equipment, desks, computers, and other hobby supplies out of the bedroom. Having a lot of furniture and other "stuff" in your bedroom leads to feelings of chaos and reduces the calming effect your bedroom should have on you.
I do have one chair in my room for when I wake up early to read devotions before the other family members get up. It is in the far corner of my room and doesn't take up much space. It actually balances the room nicely. I keep a cashmere throw on it so I can snuggle up to read and relax.
In addition to carefully selected furnishings, try to reduce clutter by clearing the tops of the dressers and nightstands. It only takes a few minutes each morning to make your bed. Try it, as this really can make your bedroom seem more luxurious. If possible avoid having family portraits, etc. hanging on the walls. Instead, opt for one or two large pieces of art that make you feel happy or calm.
The best lighting for your bedroom is a dimmable lamp. Being able to turn down the lighting creates a warm, inviting atmosphere. Overhead fixtures are great for when you need to clean your room or look for something, but when you are just hanging out in your bedroom, use soft lighting. Also, try using blackout curtains or shades on your window if street lights or city lights come in your windows.
I like to keep a couple of robes in my room to give it a cozy feel. One for warm weather and one for hot weather works nicely. I also keep a pair of bedroom slippers in my room and a few special items in a decorative box beside my bed. In this box, I keep lip balm, hand and foot lotion, a small notepad and pen, as well as a small bottle of Calms Forte for when I really need a good night's sleep but I have been stressed out during the day, or I have not been sleeping well.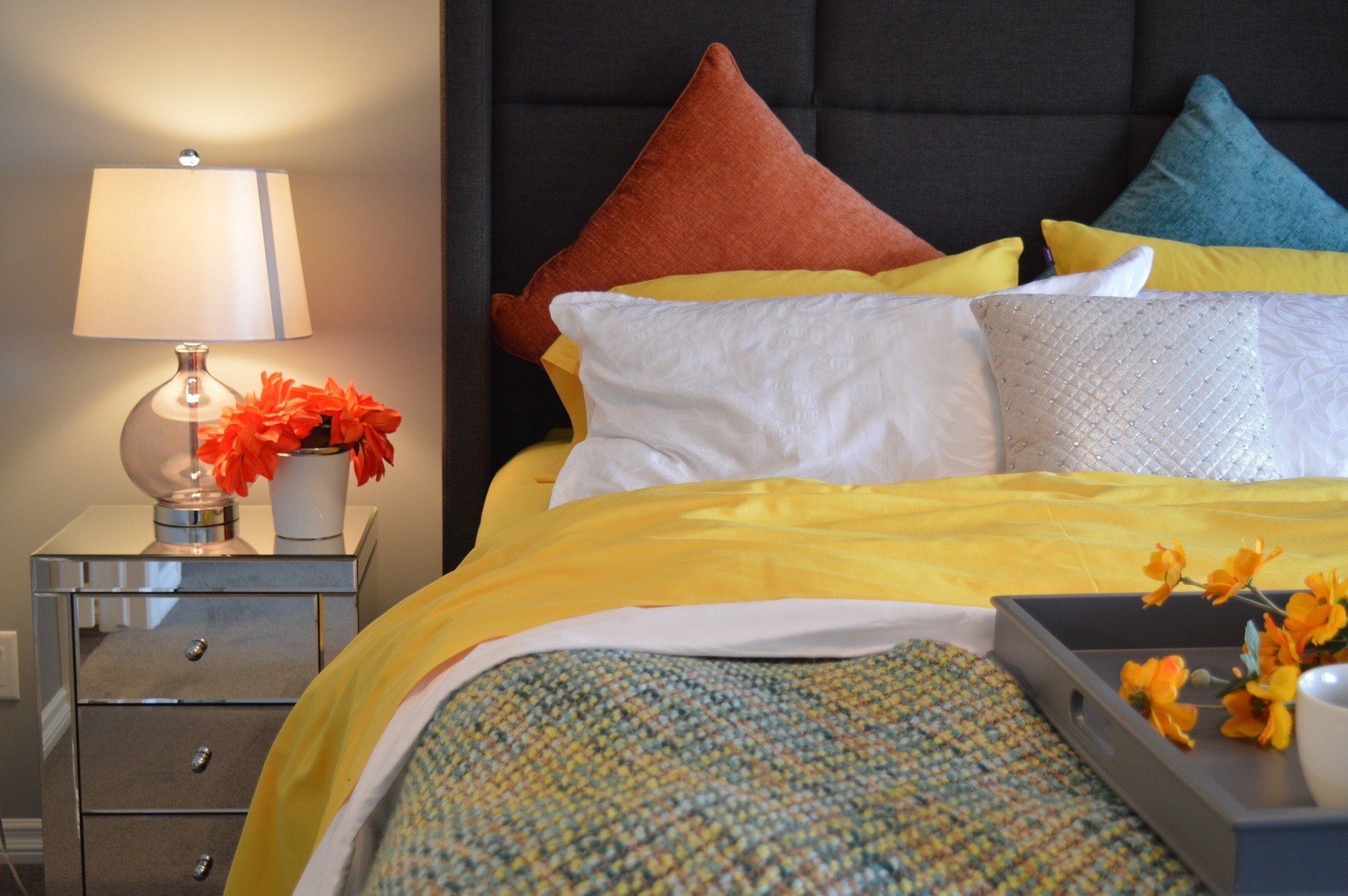 When I go into my room at night I always take a glass of water in case I wake up needing a drink (that way I don't have to walk all the way downstairs to get a drink from the kitchen).
Keeping plants such as Mother-in-laws Tongue in your bedroom will detoxify the air and can help you sleep better.
There are certain essential oils that I use to help promote sleep at night in our home. One oil I always keep in my home is lavender because it is so versatile. I like to put it in the diffuser an hour or so before bedtime. I also use it in my dryer on our sheets and clothing for the calming effect it brings. If you use a diffuser, try to use one without a glowing light in your bedroom as even small lights can disrupt your sleep cycles. I have them in the bedrooms, bathrooms, and kitchen and my house smells wonderful in a safe way.
Last but not least, as I have written in previous articles, it is important to sleep on a toxin-free mattress. For our bedroom oasis, we choose mattresses from The Bed Boss. I also encourage you to sleep on organic sheets like I suggest in The Truth About Sheets.
Join the Sleep Challenge for free tools to help you get a great night's sleep in your own bedroom oasis! If you have a hard time sleeping you can grab my free Sleep Hygiene Handout.
Don't miss out on this VIP Special for the TOM Tribe for a 20% discount from The Bed Boss using coupon code TOM20:
SaveSave