Podcast: Play in new window | Download
Subscribe: Apple Podcasts | Google Podcasts | RSS
The podcast episode above is about how to have an online (or in-person) cookbook club. The article below will explain why cooking as a hobby will contribute to better health. At least it has for my family and I believe it will for you, too. The transcripts for the podcast episode are also at the bottom of this post. Just wanted to point out that it is different content that goes together, so explore both.
In addition, I hope you'll join and cook along with us in A Tasty Bite – my small online group, but even if you don't, I still hope you consider cooking as a hobby.
Leaving Home without Cooking Skills
When I rented my very first place and became responsible for preparing my own meals, I soon realized my cooking skills were lacking. At that time if you wanted to learn to do something you either found someone who knew, went to school, or consulted a book. I did all three!
Learning from Friends and Family
If you have friends or family who are skilled at cooking, ask them to let you be their sous chef. At the very least, offer to do their dishes and they'll likely let you hang around and learn.
Lucky for me, I was living in Germany at the time I needed to gain cooking skills. I was surrounded by a diverse group of people. Some were my colleagues in the Air Force who were from all over the US and had wide a variety of tastes and therefore, cooking methods. 
Others were my German and French friends. We rented our house from a middle-aged couple who lived in the upper portion of a huge house on a cherry farm. The entire downstairs belonged to us. The German husband made his own homemade schnapps which he encouraged us to watch and taste. While the wife turned out huge spreads of food including my favorite, Apfelkuchen. His two daughters showed me around the countryside, into France, and from them, I learned the food etiquette of Germans.
From another coworker, a person of color, I learned which types of cheese will melt and which ones won't and the fact that Velveeta was not really cheese at all. She taught me how to put together simple recipes that her mom taught her and her siblings when she was a kid like a barbecue sauce that was not from a bottle.
During the time I was stationed in Germany, many Germans and French civilians worked for the US Government. One of my coworkers was an older French woman from whom I learned you do not have to be a professional chef to attempt fancy French Cuisine. Another coworker's wife was Mexican American and she introduced me to spices and flavors I'd never tasted before. A Cuban boyfriend introduced me to guacamole and many other tasty foods.
Learning from My First Cookbook
Being on my own so far from my loved ones, I wasn't able to ask for help in the process of cooking foods I was familiar with such as biscuits and gravy. Phone calls were expensive.
Shopping at the Base Exchange, I picked up my very first cookbook. Of course, it was a simple Betty Crocker, red cover cookbook, but I learned how to cook the basics. Pot pie, meatloaf, and muffins were among those first recipes. Nothing fancy, just what I'd consider regular food. I still remember making my very first quiche. That cookbook got me hooked on cooking my own food.
Still, this was before the age of tv shows about cooking were as popular as they are now.
When I returned to the states I had access to more people and new recipes from friends and family. I asked my grandma lots of questions because I considered her a great cook who always had good food on the table. My aunts and of course, my mom, were also a source of learning new skills.
Then I subscribed to Taste of Home magazine and began experimenting with new foods. These meals I shared with my huge church family, since being a military town, we all needed one another and grew close over good food and fellowship. Those were the casserole days. Followed by the grilling days of long Savannah, Georgia summers.
Turning Towards Healthier Cookbooks
Later, I discovered the cooking section in Barnes and Noble, and well, the rest is history. That's when I started to learn the health benefits of certain foods and began to gear my cooking more towards the fruit and veg department. I transitioned through every stage of diet from raw vegan to keto. 
My love of cooking and sharing a good meal has only grown stronger since then. I don't exclude food groups anymore but I do make it a goal to use whole ingredients.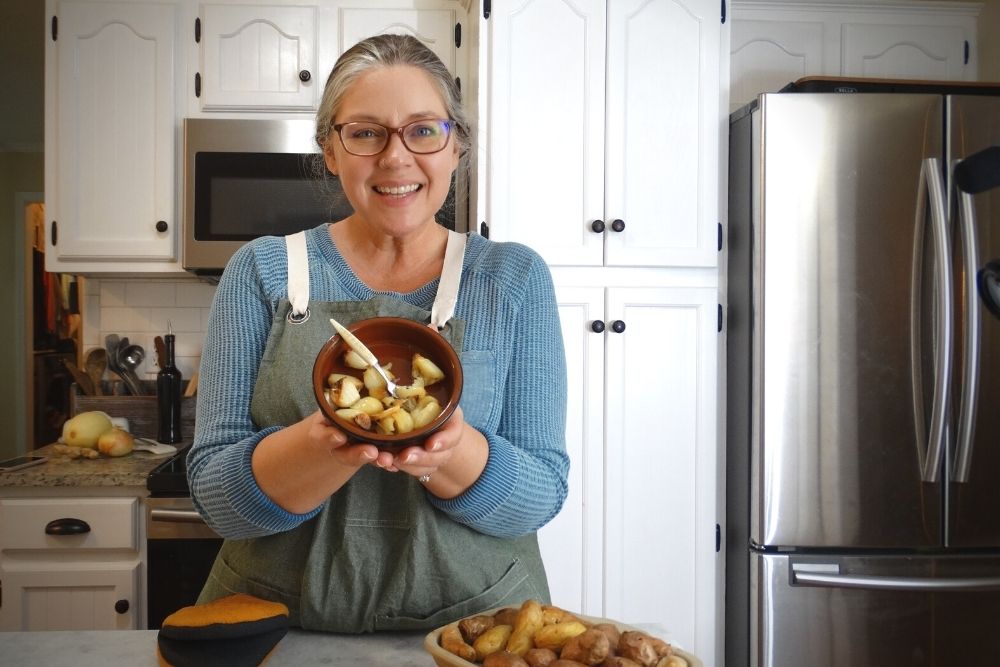 Why Cooking as a Hobby is the Best Hobby!
My family members enjoy the fruits of my cooking hobby on a daily basis. In addition, all of my six children knew the basic cooking techniques to prepare pretty much anything by the time they were teenagers. I'd even say that all of them are good cooks.
Even my oldest son taught his best friend's mom how to shop for healthier foods and prepare meals at home instead of eating out all the time. He didn't even ask me one question, just made a list and showed her how to plan and prepare some basic meals. She and he
The Culinary Arts Can Open the Door to Countries and Cultures
Another thing I love about exploring the culinary arts is that eventually, you're going to start learning about other countries and what flavors are prevalent there. That leads to learning more about cultural norms in different countries. For example, if you explore Asian cuisines, you'll likely learn to use chopsticks. Most Asian cookbooks written in English have introductions and other explanatory paragraphs.
In these, you'll learn things like don't stick your chopsticks in rice, or leave them crossed on your bowl or the table. How about this one, did you know in China it's considered bad luck to flip a fish? In Germany, sodas are served without ice. You might learn these things while traveling, but you will also stumble across this information in cookbooks.
Korean BBQ by Bill Kim (with Chandra Ram) is Korean with a definite Puerto Rican flair; but we love …
Chinese Soul Food is our current Online Cookbook Club book choice. This cookbook is your friendly …
In April, while browsing the bookstore, I caught sight of a beautiful cookbook cover from a …
Here are some other reasons cooking is the best hobby
Cooking can be relaxing! Just go with the flow and don't get too fussy about techniques.
You'll save money cooking your own food because eating out is almost always more expensive, meal for meal. Eating at home is healthier than eating out at restaurants.
It's easier to control ingredients, so if you're on a low-carb, gluten-free, or sugar-free diet, you won't have to worry.
You can have a fancy bottle of olive oil on your kitchen counter. Most restaurants don't use quality oils in cooking, instead they use industrial oils (not healthy!)
Collecting kitchen gadgets is fun! Check out my favorites at the bottom of this post.
You'll always have friends, they'll want to eat with you on a regular basis!
If you have kids, they won't be too picky about foods because they'll have been expose to a wide variety of tastes, textures, and techniques.
Tips and Notes for Starting
Part of why I created an online cookbook club was to get people interested in preparing their own meals because that is healthier than eating out at restaurants. Another reason is that it is easier to maintain a healthy weight when you prepare your own food at home. Many of my friends tell me they don't enjoy cooking. When I hear this I wonder if they just have yet to have a good experience with cooking. We're all different, but we all need to eat, so I feel that even if you don't pick up cooking as a hobby, you will want to have at least a few simple cookbooks that you can use to prepare some healthy meals at home.
Explore my cookbook review section to see if something sparks your interest. Find the latest cookbook club selection here.
If you want your cooking hobby to lead to health, focus on whole food cookbooks and avoid the ones that call for lots of "cream of mushroom soup" mixed with mayonnaise and sour cream, etc. Not knocking those foods, but they're not as healthy as spring vegetable soup made from greens from the local farmer's market!
Get familiar with the grocery store and don't be in too much of a rush when you're shopping. Read the labels. Get to know the produce section.
Don't be afraid to try new recipes.
Learn to use a meat thermometer.
When using a recipe, always read it from start to finish before you begin.
Grilling takes practice, even though it looks easy!
Cook With Me Video Playlist
A few of my favorite kitchen gadgets
These tools are ones that you don't have to have for basic cooking but they make exploring cookbooks more fun. You probably won't find these in the kitchen of someone who rarely cooks.
Transcript

cookbooks


[00:00:00] Welcome to a healthy bite. You're one nibble closer to a more satisfying way of life. A healthier you and bite size bits of healthy motivation. Now let's dig in on the dish with Rebecca Huff.


[00:00:16] Hey there I am so glad that you have joined me for today. Episode of a healthy bite. I am talking about something today that I am very passionate about and anyone who really knows me knows that I am an avid cookbook collector.


[00:00:33] I confess I can't pass a beautiful cookbook without flipping through the pages. And usually I end up taking it home with me. The first section I had to, when I go to a bookstore is almost always the cookbook section. I just love collecting cookbooks well one of the things that makes exploring cookbooks a little more affordable is the fact that where I live the libraries have a pretty extensive cookbook collection.


[00:01:00] So I can go in there once or twice a week and browse through the cookbooks while my daughter. In TaeKwonDo. And I can just choose a new cookbook that I've never explored before and bring that one home with me and try a few recipes and take it back and get a different cookbook next week. If I stumble upon a cookbook that I love several recipes, I will add that one to my collection. For several years


[00:01:24] I have had a small cookbook club. Typically, when you think of a cookbook club, you think of people gathering together in someone's home, or maybe even meeting in a bookstore to share their thoughts and opinions about recipes from a specific or designated cookbook. And one of the benefits of having a cookbook club in person is that there's usually food. Often members of a cookbook club, we'll meet up several times per year to test recipes and eat together, to chat about the various things they like about that particular cookbook. Sometimes there will be different ways that this happens. It's particularly fun when it's done with a group of your close friends, I've heard all different ways of doing this.


[00:02:11] My favorite is to have a gathering where everyone kind of brings either, an ingredient to prepare together or. If you have a large group of people, each person can bring one offering from the cookbooks. So everyone picks a different recipe, maybe even if you want to get all fancy, there could be a spreadsheet so that there's, you know, main dishes and side dishes, maybe a salad and a dessert.


[00:02:39] It can be as simple or as fancy as people like. So it would be sort of like a cookbook club potluck, kind of a thing where people get together and they share delicious food and good conversation. That to me is one of the most fun things you can do is get together with people you like and enjoy food together. Food is so tied to social interaction.


[00:03:08] You know, you meet people for coffee or you meet people for a drink or you meet people for lunch. It's just easier to have good conversation when food is involved. However for various reasons, people can't always meet for exploring a cookbook and many years ago.


[00:03:25] Well before people had to stay home I decided to create an online cookbook club which I named a tasty bite cookbook club. And for a few years now we pick three to four different cookbooks each year.


[00:03:43] And the beauty of an online cookbook club is that members can participate or they can opt out and just see what everyone else is doing. In an online cookbook club, you can explore recipes with other people. You may see a photo of a recipe that someone else has made and decide that you would also like to prepare that dish.


[00:04:04] Usually I encourage people to share the page number of the recipe out of the cookbook, so that other people can find that recipe in the cookbook more easily. In the cookbook club, we share photos of the dishes that we make, however, one thing that does not happen in a cookbook club is sharing pictures of the actual recipes.


[00:04:28] And that's because cookbook authors work really hard to come up with these recipes and they pay a lot of money for food photography, whether they are having their cookbook self published, or with a publisher sharing recipes online is


[00:04:45] pretty much stealing. So it's important that, people that are participating in the cookbook club get their own copy of the cookbook, whether they do that at the library or the bookstore. A lot of times nowadays you can get a Kindle copy of a cookbook. If you don't want to have a lot of cookbooks on your shelf, that's always a really good option.


[00:05:06] Online cookbook clubs might not sound as much fun as getting together with your friends, but they can be a lot of fun. There's a lot of things you can do You can come up with a hashtag for the cookbook club, You can create a community on a website on social media, or even just through email. I am trying to transition my cookbook club from Facebook to a private shared community that I have called healthologists. If you would like to join, just reach out to me, I will give you the information about How to become a member of the healthologists community. We talk about cooking, healthy food, and we talk about different types of cookbooks. I like to explore cookbooks from various parts of the world. So one time we may focus on a Mediterranean style cookbook. Another time we might choose something that's Asia.


[00:06:04] We just, we can go all over the map with our cookbooks. Sometimes it might be diet specific where we choose a cookbook that is, paleo in nature, or sometimes it might be a whole foods type of cookbook. I just try to make sure that whatever cookbook we choose, that it is mostly based on healthy whole foods.


[00:06:26] There are so many different diet preferences that it's hard to choose a cookbook that fits everyone's specific needs, but there are a few things that I really try to focus on whenever I am picking out a cookbook. And one is that it has good photos. So if a cookbook doesn't have any photos, it's probably not going to be something that we end up using in a tasty bite cookbook club.


[00:06:51] Sometimes I will do like a little voting thing where I might have several different options of cookbooks that we could choose from, and we will vote on whatever cookbook we're going to play with and test next. But typically we do four cookbooks per year and each selection will last for about three months.


[00:07:11] Sometimes I will also put together some menu plans for the current cookbook selection, and I'll create a shopping list and then maybe do a few cook along videos where we can meet on zoom. Or sometimes I will make a YouTube video and show several different recipes that I have made with my family.


[00:07:31] Recipes that we've enjoyed. I do try to write a review for each of the cookbooks that we have as a cookbook club selection. And I try my best to encourage others to join in the fun and celebrate, every different type of cookbook there is out there.


[00:07:46] And I do try to get other people to join in on the fun and test out recipes from our current cookbook selection. And then we try to celebrate getting a meal on the table,


[00:07:58] Cooking healthy foods can be a very rewarding hobby. Maybe cooking on your own and sharing those photos with an online club doesn't appeal to you, or maybe you crave social interaction, or you want to meet up with people in real life.


[00:08:14] And if this is you, I would highly encourage you to start your own local cookbook club. So how I would suggest doing that as to gather your people together, you know, locate those people in your circles, who are foodies, who love to cook, who love food, who love to socialize and invite those folks together to join


[00:08:35] you as you begin your cookbook club and you can get together maybe in your first meeting and decide what your cookbook club is going to do. Are you going to cook and eat together or will each person bring a dish that they prepared on their own from the cookbook club?


[00:08:53] And then share that potluck style or. You could always get together and then cook the meal as a group and divide the bounty. And, you know, it's kind of like cookbook club meal prep meeting. And that's another fun way to do a cookbook club. You'll also need to designate the meeting spot.


[00:09:12] Who has the biggest kitchen, or who has the most convenient location for everyone to meet at? Or maybe it's the person who enjoys hosting guests the most. So. Always ask for volunteers, or you could just rotate the venue where each member hosts one event and you just go down the line until everyone has hosted an event.


[00:09:36] And then you start back at the beginning. So there's a lot of different ways that you can plan a cookbook club gathering. And then once you get your group of people together, you want to decide how to choose a cookbook.


[00:09:49] You could have people nominate cookbooks or, where everyone puts the name of a cookbook, they would like on a slip of paper and then draw out the winner or you could choose a cookbook that's about to be published or just released. Or you could have your cookbook club have a theme. Like for example, maybe you have a lot of friends who follow a low carb diet and you would choose a low carb type of cookbook or keto or paleo on whatever you prefer. Probably the hardest part of coordinating a cookbook club is picking a date that works for everyone.


[00:10:25] And as a side note, as you schedule your meetings, you'll probably want to make a note of any dietary restrictions anyone in the group might have and decide how you want to handle that. So if you have someone with a severe gluten intolerance and they absolutely cannot eat gluten, you might not want to explore a cookbook that's all about bread or pasta.


[00:10:48] Now in planning the meeting, assuming that you are going to coordinate and lead the cookbook club, you will want to make sure that you communicate all of the details to the other members of the group, or you can always rotate the leadership role, allowing each member to coordinate a meeting and take turns doing that.


[00:11:08] So if members are going to cook ahead and then meet to share the food potluck style, you're probably going to need a signup sheet that lets you know, who is bringing what. And I mentioned this earlier about having a spreadsheet. I think that could be very useful.


[00:11:24] Having the host prepare the main dish might be easiest and then have the members bring side dishes to go with or compliment the main dish. And then for clubs that meet up and then cooked and eat together, I highly suggest placing a grocery delivery order and then just divide the cost by how many members show up for the meeting.


[00:11:49] So if you have, planned ahead of time, what you're going to cook and you order it, then have the groceries delivered, you can start cooking whenever they arrive and then you have the receipt. You can just take that and divide it by the number of people who are there


[00:12:04] although I would say that if you do place a order for grocery delivery, you might want to have those delivered the day before, because sometimes a shopper might get something wrong or they maybe don't have an ingredient in stock. So there's always the chance of having one ingredient missing that keeps you from being able to successfully complete your.


[00:12:26] If you plan to cook together and divide the bounty, like a meal prep style cookbook club, which I think is genius, because then everyone's getting a little bit of something to take home with them. You could also place an order delivery style for groceries and then divide the cost of that or you could all go shopping together, which might be a little chaotic.


[00:12:47] Or you could designate two or three people to do the shopping, or everyone could bring a little bit of something so that all of the recipe ingredients are there for you to cook together. And then each person would also of course, need to bring their containers so that they have something to take their meal prep food home in.


[00:13:06] No matter what type of cookbook club meetings you decide on. You'll also need to decide on the frequency of these meetings, which obviously is completely a matter of personal preference amongst the members. If you're a really close knit group of friends, or maybe even living in the same neighborhood, you might enjoy getting together more frequently.


[00:13:27] Whereas if it's a lot of really busy moms with kids that have all kinds of things going on, different activities and sports, it might be all you can do to get together three or four times per year. So you'll have to decide on the frequency of your meetings based on the personal needs of the member. And of course, if you have 15 or 20 people in the group, not everyone necessarily will show up to every single meeting.


[00:13:53] So you can kind of plan as you go. then another thing that you might want to consider is the dish situation. If you're having a club where people get together and eat, you want to make sure that you have enough plates and silverware. Do the members need to bring to go containers or meal prep, containers what will you eat off of?


[00:14:13] And will you be able to take your leftovers home? These are all things that you might want to think about it can also be really helpful if the members have a place where they can chat about this stuff, like a Facebook group or a Google doc, or


[00:14:26] even a zoom call.


[00:14:27] And then the last thing I would really recommend if you're having an in-person cookbook club is to decide ahead of time about the cleanup.


[00:14:37] here's one area where an online cookbook club is a definite winner, no cleanup. If you haven't online cookbook club, you're only cleaning up your own kitchen and your own mess from when you. Those recipes for your family. But if you are meeting at someone's house to cook, eat divide, or whatever you decide to do, you'll also need to plan ahead for how the cleanup happens and who's responsible for that task.


[00:15:04] And I think it's better, even though it might sound a little uncomfortable or awkward to talk about, but it's better to decide in advance how cleanup is going to happen then to show up at someone's house, cook a big meal, everyone E. A couple of people cut out and leave before cleanup happens, or, you know, maybe some people just don't get involved.


[00:15:25] I can't imagine that happening, but it seems like something that you would want to plan ahead of.


[00:15:29] And since I mentioned that, tip another tip for local cookbook clubs. If, if members have children, probably it would be best to decide in advance what the rules are going to be concerning, whether children are involved or not. Although breastfeeding mamas may need to bring their babies if they are going to participate.


[00:15:51] And I think that's where group members just agree in advance, what works and what doesn't, if there's going to be a babysitter or if kids need to stay home


[00:16:01] a lot of times, if the group members are close friends and they have kids. Maybe the children also enjoy cooking. It could be a family style cookbook club with a huge potluck where everyone brings something and they also cook the main dish together.


[00:16:17] If you start a cookbook club that meets every month or every other month to cook together, you might consider buying a cookbook that you all share while you're cooking. And then maybe the host gets to keep that cookbook. If you prefer each person can buy a cookbook of their own and then save it as a memento of your meeting.


[00:16:40] Some might even go so far as to have, a little note put inside the book, maybe date it and talk about, maybe journal inside the front or back cover of the cookbook, just to talk about who was there and what you did and which recipes you enjoy. In the past, when I first started purchasing my own cookbooks, I still remember the very first cookbook I bought.


[00:17:03] It was the red and white Betty crocker, basic cookbook, because I didn't leave home knowing how to cook more than just the basics to get by.


[00:17:13] But in the past, as I have expanded my cookbook collection I will often make notes right on the page of one of my favorite cookbooks. If there's a recipe that I really like, I'm probably going to put five stars. The kids really enjoyed this, or I swapped out an ingredient or I'll make some kind of note, there have been cookbooks where most of the recipes are ones that I've enjoyed, but one, maybe isn't so great.


[00:17:44] And I will make a note of that. "Don't make this again. It wasn't so good," but that's the kind of thing that. I feel like is great about cookbook clubs is that people can talk about how a recipe is written, because believe it or not, there are some cookbooks out there that are just not well-written. Maybe they're not well-organized and they have too many ingredients, or maybe they don't have enough seasonings for your taste.


[00:18:11] Maybe you would do something a bit differently. And that. It's so much fun to get together with other people and talk about how you would have made that recipe, your own, what you would have done to make that food tastes even better, or how you've changed the recipe to cater to your own dietary restrictions and that of your family.


[00:18:32] So I believe that having a cookbook club can be a very fun and healthy hobby, and that is why I've always encouraged people to explore cookbooks. I have an entire page on that organic. All about different cookbooks that I've explored. I have a section of my favorite cookbooks and then I have reviews for each of the cookbooks that we have chosen as a selection for a tasty bite cookbook club.


[00:19:01] If you're listening and you're not part of the online cookbook club, like I said, it's a small little group, but we enjoy cooking and I would love to have you there. So if you're listening and you are intrigued and would like to. Join us in the cookbook club.


[00:19:15] Just find the show notes and you will find a link or you can go to thatorganicmom.com scroll down to the bottom footer of the website. And you will see the cookbook club mentioned there under "all things food" where you can find out what the latest cookbook selection is, and you can join us because food can be so fun and so delicious, and it can be a rewarding hobby. Explore other ways of cooking things. My husband often says that we never have the same meal twice. And that's because I feel like there's so many recipes out there to explore.


[00:19:55] Why would I make the same thing twice? Sometimes we will find a. Recipe from a cookbook selection that we really enjoy. And my kids might request that I make that particular recipe again, for example, a recent cookbook that we tried out called the healthy swaps cookbook, had a recipe in it for a smoky Turkey chili, which has a lot of different seasonings and beans and veggies and stuff like that.


[00:20:25] And then it has smoked kielbasa sausage. Love that Chile. And so I have probably made that at least a dozen times since we first got that cookbook and it's, I pretty much have it memorized now. And my son will ride his bike over to target, to grab the ingredients and bring them home so that I will make that recipe for him.


[00:20:47] So, yes, every now and then we stumble upon a recipe that we call a keeper, but I hope that you'll take the time to check out my favorite cookbooks and join us in the cookbook club. Again, thank you so much for joining me on today's episode of a healthy bite.


[00:21:01] I am so thankful and glad to have you. Have a great rest of your day. And


[00:21:08] thanks for listening, please rate and review so other people can find out about this podcast. Find out more about sleep hygiene, eating healthy, tasty recipes, zero waste lifestyle, and lots more on that organic mom.com. Help us spread the word. Be blessed and stay healthy.
Join us in the Healthologist community where we would love to hear about your adventures in cooking!
Join the Healthologist Community and receive healthy motivation plus instant access to eBooks for overall well-being with an emphasis on eco-minimalism. In the community, members have access to all printables past and future, plus support from other like-minded health nuts and much more!